What's happening: Cinco de Mayo 2015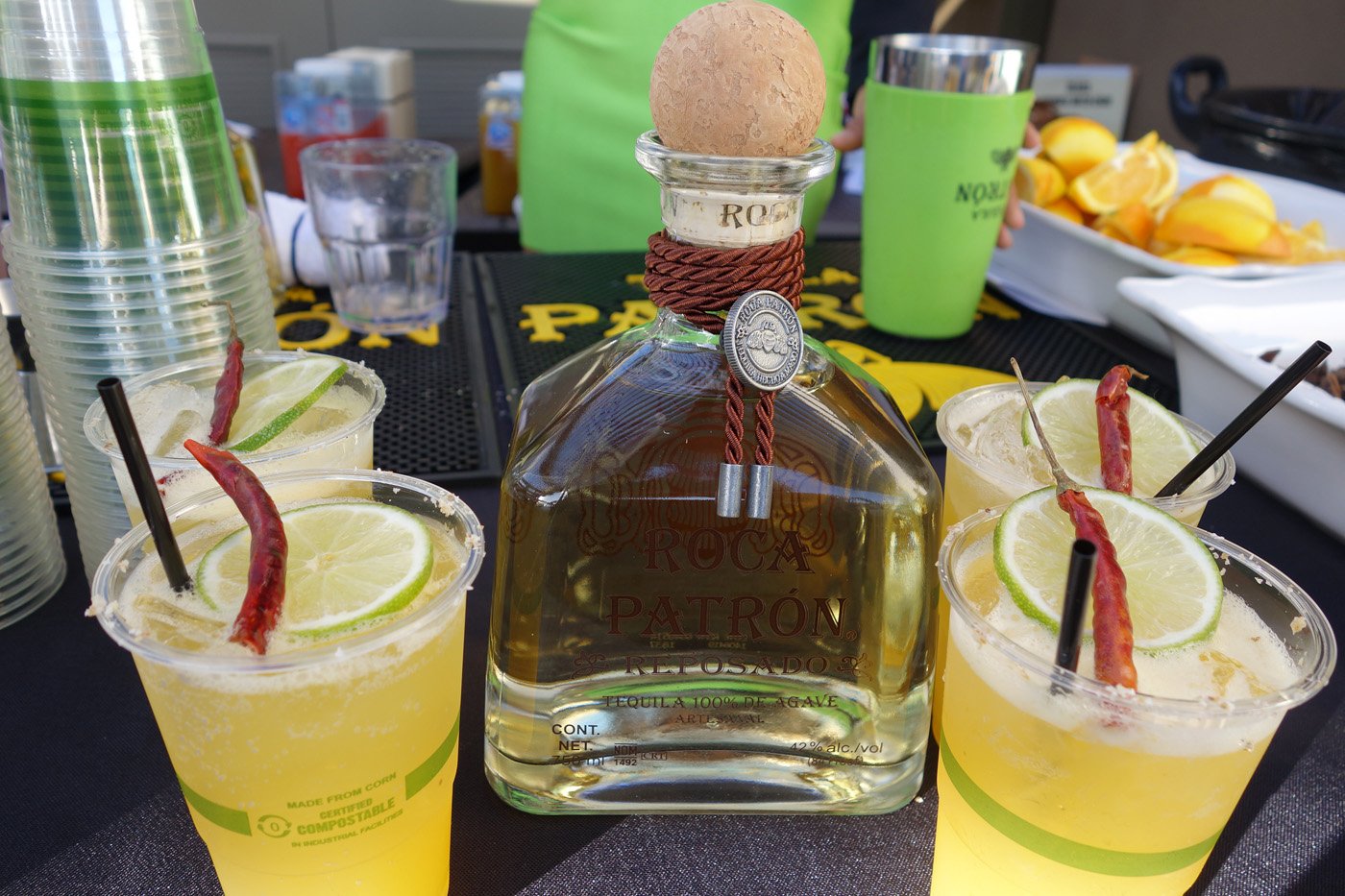 Ready to get your cerveza on (or tequila, if you don't have to be at work too early)? Here's a list of the events happening this weekend and on the 5th of May in celebration of Cinco de Mayo.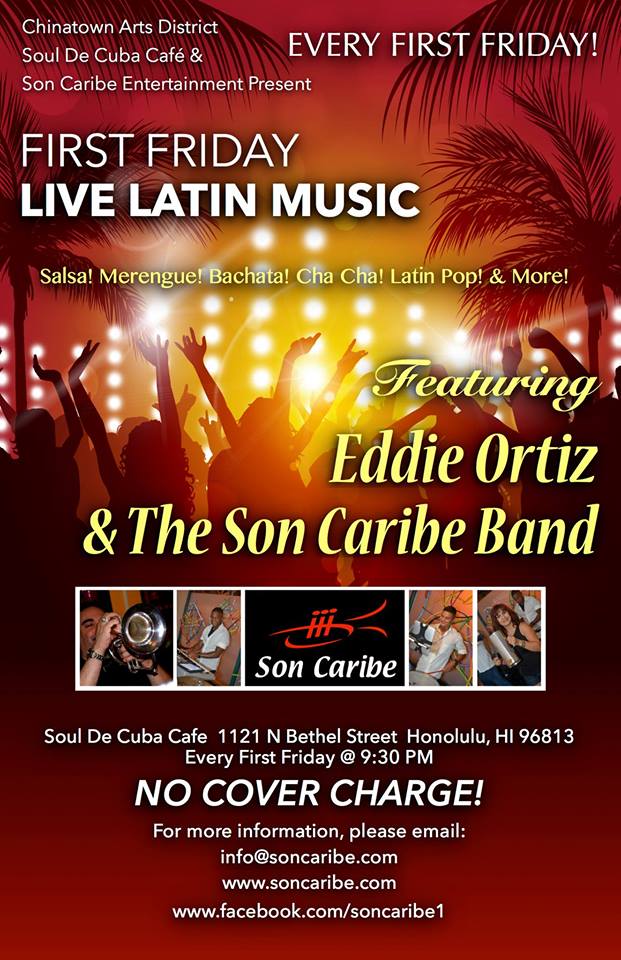 First Friday Latin Music @ Soul de Cuba
Friday, May 1 from 9:30 p.m.-midnight
Soul de Cuba Cafe, 1121 Bethel St.
Free, 21+ to drink
Start your Cinco de Mayo early with The Son Caribe Band, performing for First Friday at Soul de Cuba Cafe downtown. Performance begins at 9:30 p.m., enjoy Cuban food until midnight.
---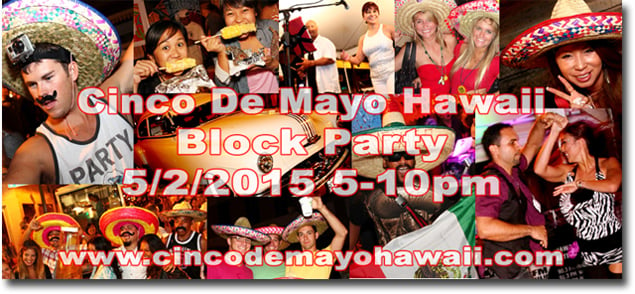 Cinco De Mayo Block Party @ Restaurant Row
Saturday, May 2 from 5-11 p.m.
Restaurant Row, 500 Ala Moana Blvd., and M Nightclub
Free, all ages, 21+ to drink
Celebrate the colors, cuisine, arts, music and folklore of Mexico with the Cinco de Mayo Hispanic Celebration. Then stick around for the after-party from 10 pm.-4 a.m. at M Nightclub.
http://www.cincodemayohawaii.com/d/d/cinco-de-mayo-street-festival-honolulu.html
---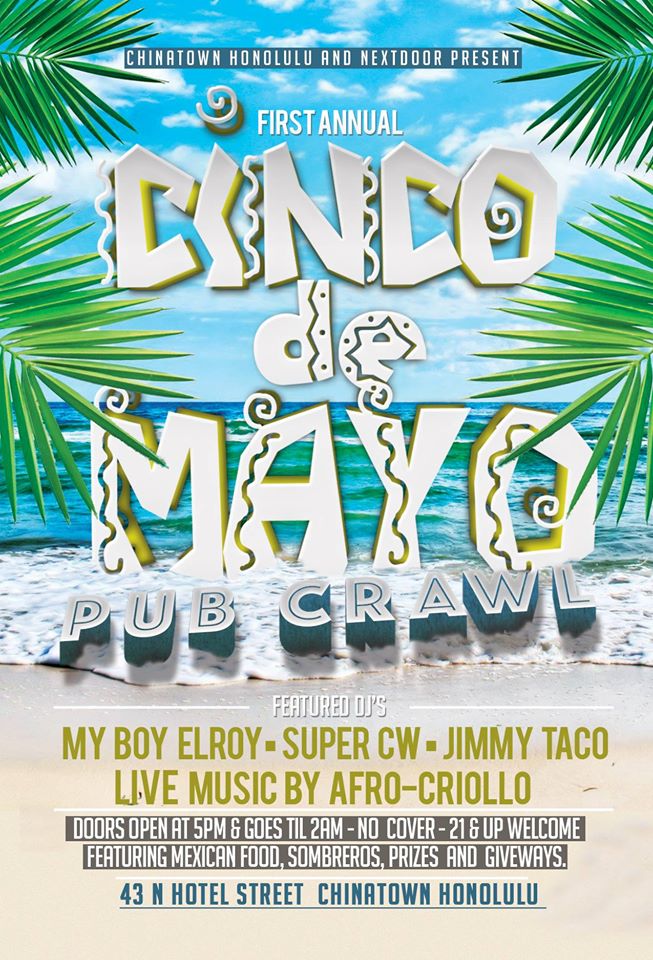 Cinco de Mayo Cantina Crawl in Chinatown
Tuesday, May 5 from 5 p.m.-2 a.m.
16 participating venues including: Eleven44, Proof, Bethel Street Tap Room, The Fix, The ARTS at Mark's Garage, Soul de Cuba Cafe, Smith's Union Bar, The Manifest, Downbeat Lounge, NextDoor, The Dragon Upstairs, Hank's Cafe, O'Toole's Irish Pub, Murphy's Bar & Grill
From the presenters of the ever-popular Zombie Crawl comes this more loosely organized night in Chinatown, celebrating all things Latin. Don't forget to go early and check out the food, like Taco Tuesday at Fresh Cafe, Bethel Street Tap Room's delicious Carnitas Tacos Platos, Tres Leches "Cakelettes," Avocado Ice Cream and Tequila Sunrise Popsicles and the Cocina Pop-up Restaurant at the corner of Nu'uanu & Bethel streets!
Entertainment at the various venues includes:
• Afro-Criollo (latin dance & folk) @ Next Door 7pm-8:30pm
• 2doBem (Brazilian Carnival) @ Eleven44 9pm
• Live Performers @ Soul de Cuba 6-7pm
DJs:
• Nando (el Control 808) @ Manifest 6-9pm
• Da Lion of Judah @ The Fix 9:30pm
• Jimmy Taco @ Next Door 9pm
• Giuliana @ Eleven44
GAMES & CONTESTS
• "Lucky Loteria" bar-hopping bingo: Pick up your Loteria card at Eleven44 and get a free finger mustache for participating. Stamp your card at all bars and turn in to Next Door to win a sombrero!
• "Loco Mustache" Instagram contest: Take a pic of your crazy mustache (real or painted) and post to Instagram with #LocoMustacheHawaii to enter.
• "Sexy Sombrero": Who's sexiest in their Grande Sombrero? Find out at The FIX at 10pm.
• "Hot Head" chili pepper eating contest @ Downbeat Lounge 9:30pm.
• Face Painting: Sugar Skulls & Mustaches @ Manifest 5-8pm.
More info: www.damaniac808.com
---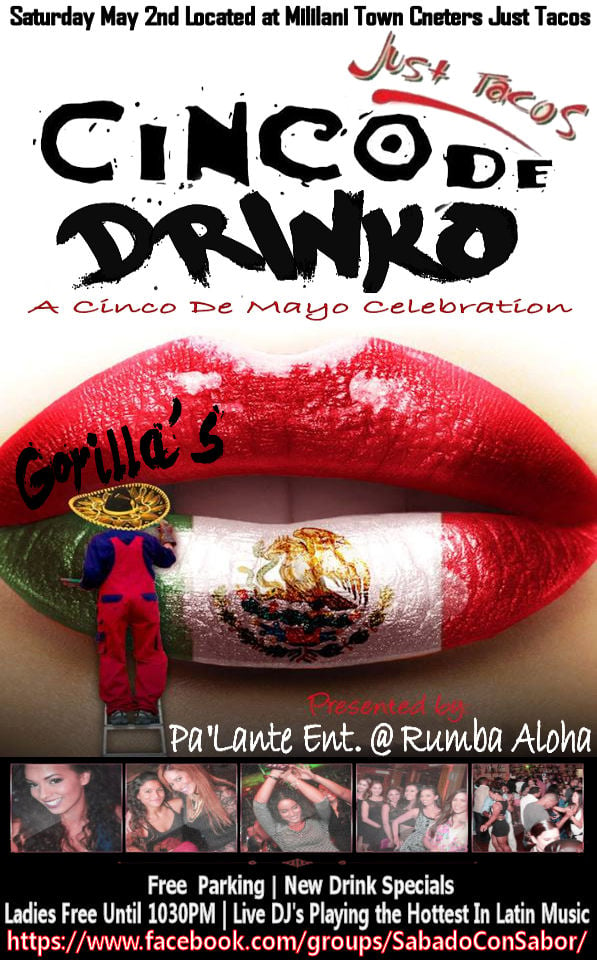 Cinco de Drinko @ Just Tacos
Tuesday, May 5 from 9 p.m.-2 a.m.
Just Tacos Mililani, Mililani Town Center, 95-1249 Meheula Pkwy #193
21+, ladies free until 10:30, then $5 cover until 11 p.m., $10 after 11
Each year Just Tacos celebrates Cinco de Mayo with Sabado Con Sabor, crazy drink specials and DJs playing the hottest Latin dance music.

---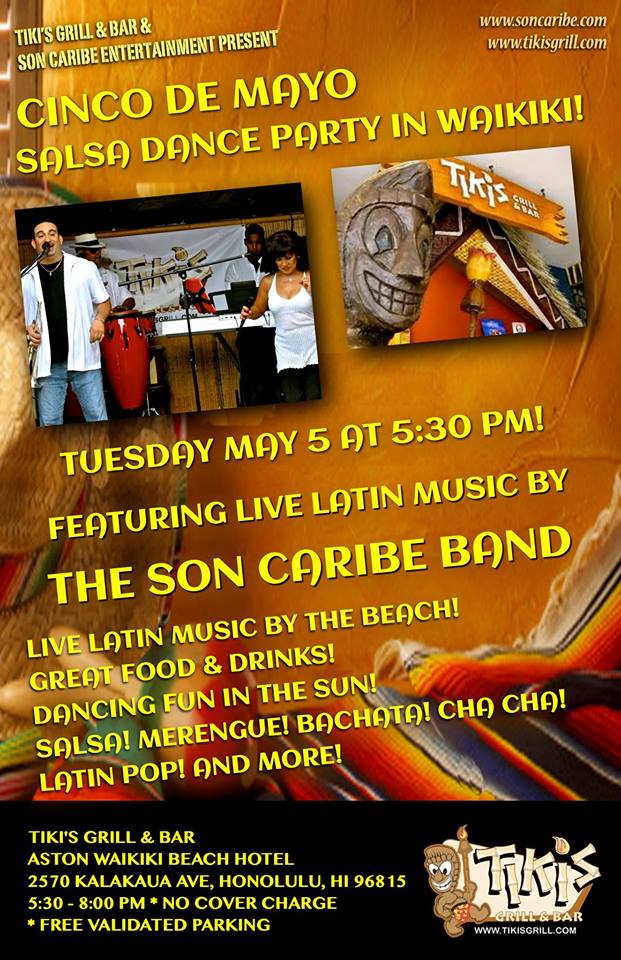 Cinco de Mayo Salsa Dance Party @ Tiki's
Tuesday, May 5, 6 p.m.-1 a.m.
Tiki's Grill and Bar, 2570 Kalakaua Ave.
Free, 21+ to drink
Join Tiki's for dinner and stay for live Latin music and Cinco de Mayo drink specials at the bar.


---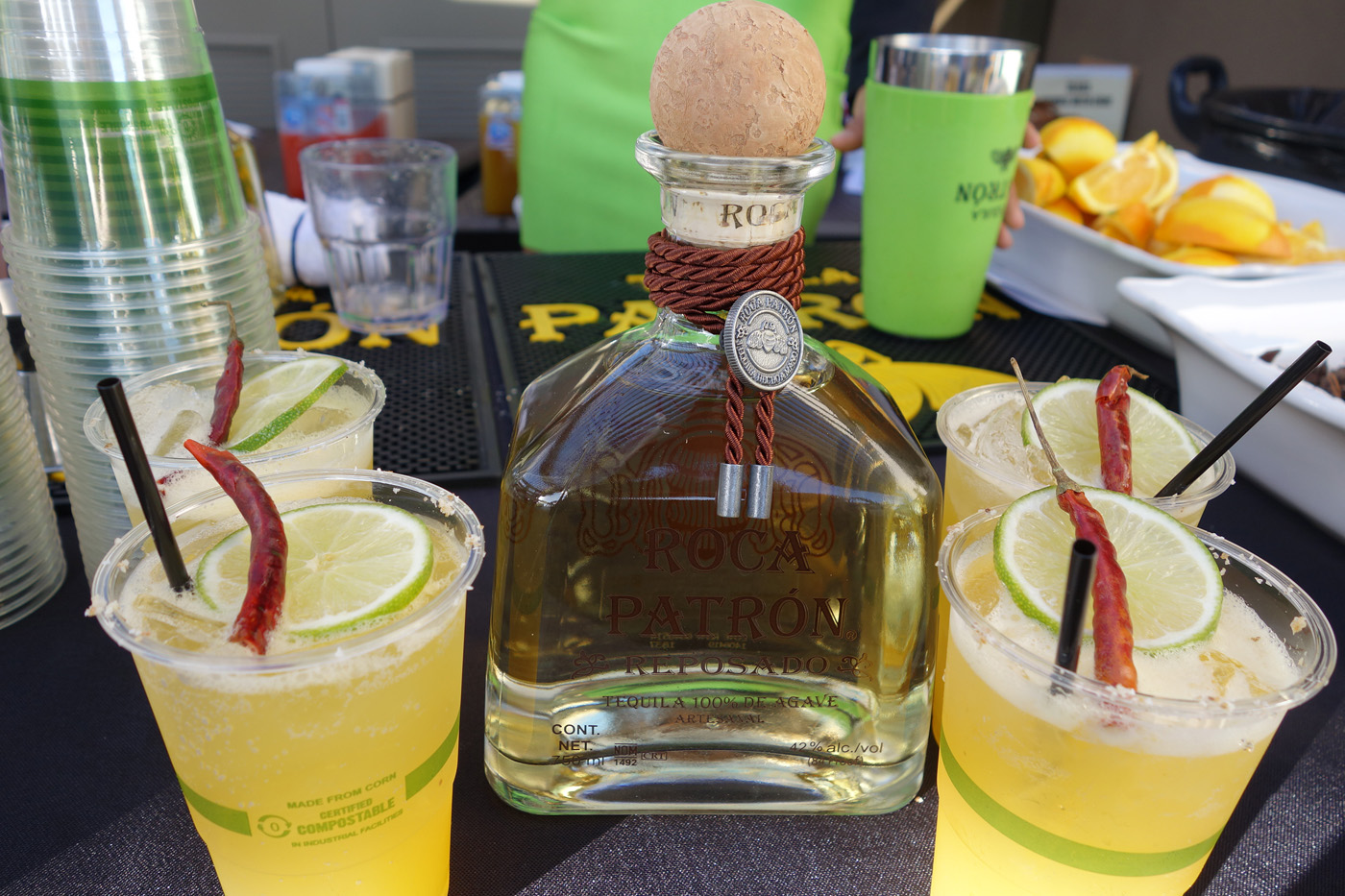 Cinco de Mayo @ Buho
Tuesday, May 5, 11 a.m.-2 a.m.
Buho Cocina y Cantina, 2250 Kalakaua Ave., Rooftop
If you haven't had a chance to check out Buho, Waikiki's classy new rooftop cantina, Cinco de Mayo is the perfect time. Celebrate with their delicious Latin food and free salsa dance lessons all day, with live Latin music by The Son Caribe Band starting at 6 p.m.
---
Cinco de Mayo @ Wahoo's
Tuesday, May 5 during regular business hours
Wahoo's Fish Taco, 940 Auahi St.
Get $3 tacos and $3 drink specials all day at Wahoo's, with live music by Shar Carillo from 6-9 p.m.
---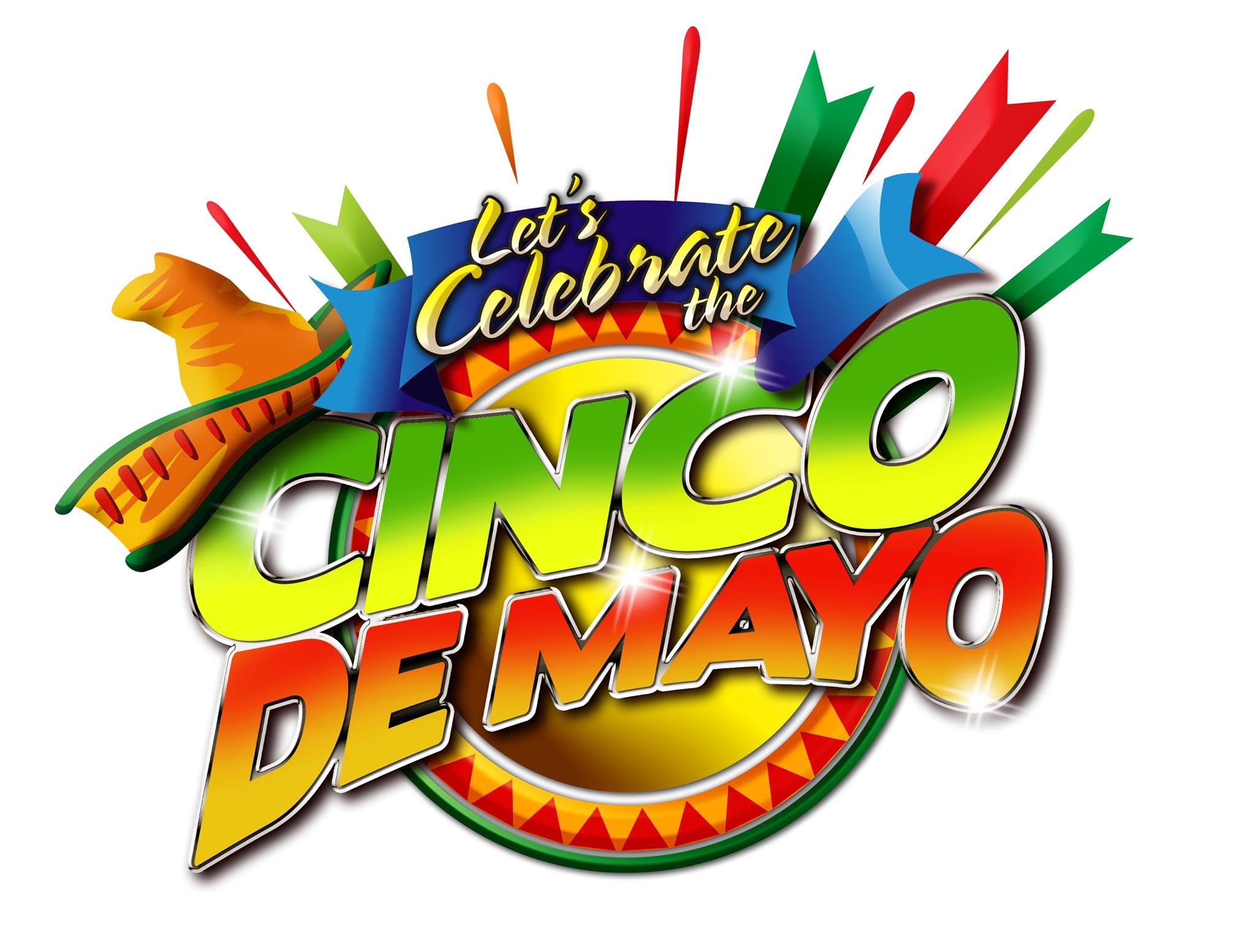 Cinco de Mayo @ Hula's
Tuesday, May 5 during regular business hours
Hula's Bar and Lei Stand, 134 Kapahulu Ave, 2nd Floor
Cinco de Mayo just so happens to fall on Hula's Tequila Tuesdays, and you know that's trouble. Get drink specials and happy hour prices all day and be sure to try their "bacos."
---

Got a Cinco de Mayo event we missed? Let us know in the comments below!