What's coming: Salt at Our Kaka'ako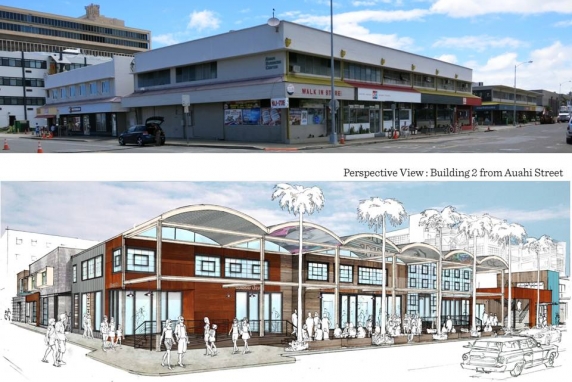 Dramatic changes are coming to Kaka'ako, as construction gets underway this month on Kamehameha School's ambitious Salt at Our Kaka'ako project. To get more details of what's in the works, we visited INK Architects, a Honolulu firm that's been tapped to help conceptualize, design and build four existing structures on the block bordered by Ala Moana Boulevard and Coral, Keawe and Auahi streets.
Although the project already has begun with the debut of Six Eighty Ala Moana residences and an adjacent Starbucks, renovations will kick into high gear in the coming months, as the area transforms from a relatively quiet industrial neighborhood to a lively urban destination for dining, shopping and pop-up events. Next up is 660 Ala Moana Boulevard (at the corner of Ala Moana and Keawe Street, where the Sprint store used to be), which will debut as early as January 2014 as a chic, two-level retail, dining and commercial complex with a completely overhauled exterior and interior.
After 660 is completed, crews will construct a six-level parking structure with about 260 stalls between Auahi Street and Ala Moana Boulevard. The commercial row along Auahi Street (between Coral and Keawe streets) also will be redesigned as a two-level plaza with restaurants, shops, galleries and other businesses. Renovations are also planned for the warehouses behind Auahi Street (in the parking lot where Honolulu Night Market now takes place) and the structures at the corner of Auahi and Keawe streets — all with the goal of creating a vibrant, indoor-outdoor hub, where people can linger as they eat, shop and congregate.
To encourage foot and bike traffic, while creating a hip, arty vibe, the block will be filled with bike racks, outdoor seating and lots of urban art splashed throughout the neighborhood. The mix of tenants is expected to be similar to the current tenants who have set up business on the block, including Paiko, Taste, R&D, Quince and Bevy (a new cocktail bar to open on Auahi Street, masterminded by master mixologist Christian Self). "The idea is to bring life in the neighborhood," says INK Architects principal Maurice Kondo, adding that the targeted completion date for the project is August 2015.
Overall, the aesthetic of Salt at Our Kaka'ako is a return to old Hawai'i, with a goal of preserving the neighborhood's history and culture. Working with initial designs by the New York-based Pompei A.D. architectural and design firm, Kondo and his team won't be tearing down existing warehouses, but rather refurbishing and embellishing them. They plan is to utilize materials that link the neighborhood to its working-class past and pay homage to the natural salt ponds that once dotted the low-lying wetlands in the area.
To establish an industrial look, the INK team are carefully selecting materials for the construction and design, tapping such products as COR-TEN (a weathered steel), bricks, reclaimed wood and metals from Re-use Hawaii. They also plan to expose the trademark, curved lines of the block's Quonset roofs, which over the years have been covered. "We're using materials that are more industrial in nature to go back to the core of what this neighborhood used to be," says Hazel Go, INK's lead designer for the project who had worked on Salt at Kaka'ako while at Pompei A.D.
Here are renderings of what the block will look like when completed.
Salt at Our Kaka'ako