What to drink at Saturday's 100 percent Hawaiian Craft beer fest
Thirty-plus rare and popular beers from all islands are coming to Bishop Museum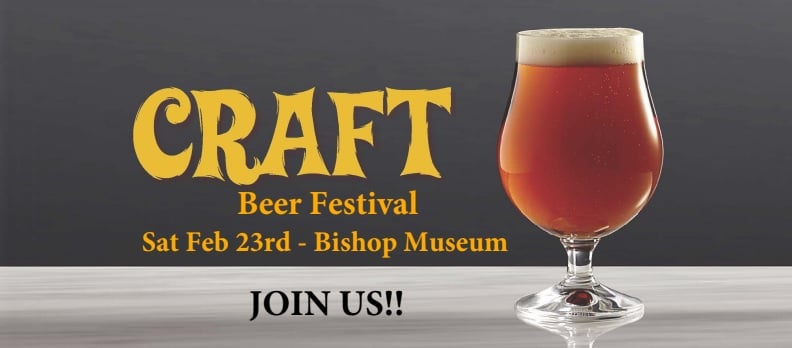 There are so many beer festivals in Hawaii nowadays that it's hard to keep track of them all: The Kona Brewer's Festival (March), Kauai Brewers Festival (April), Maui Brewers Festival (May), Hawaii Beer Fest (July) and the list goes on.
Beer lovers will enjoy them all, but if you're only going to one beer festival this year, it should be this weekend's CRAFT. Twelve breweries from across Hawaii will be pouring only craft beer that's 100 percent made in Hawaii, including at least one made with locally grown "special" ingredients like fruit, chocolate, salt and wild yeast. There'll be more than 30 craft brews in all. And Craft is put on by the Hawaii Brewers Guild, so you'll be supporting true local breweries.
The 12 breweries are Beer Lab HI, Big Island Brewhaus, Hawaii Nui/Mehana (Big Island), Honolulu Beerworks, Inu Island Ales, Kauai Beer Company, Kauai Island Brewing, Kohala Brewery (Maui), Lanikai Brewing, Maui Brewing, Ola Brew (Big Island) and Waikiki Brewing. Tickets are $55 and include a collectible sampling glass and 10 tasting tickets (additional tickets can be purchased).
Check it out this Saturday at Bishop Museum and support our local brewers. Here are our top picks of beers to sample:
Beer Lab Hawaii, Hazy IPA
Known for its experimental style and high-quality, best-in-the-state IPAs, Beer Lab added Oahu-grown tangerines to this version of its classic hazy.
Big Island Brewhaus, Red Sea of Cacao
This seasonal Imperial Red Ale uses sea salt and Big Island cacao to create "a salted caramel chocolate bar in a glass." This brew is a great winter beer that's sometimes available in bottles on Oahu, so give it a try here.
Guava Wheat and Citrus IPA, Kauai Beer Co.
Beers from the two Kauai breweries are not available on Oahu, so this is your chance to try everything they have to offer. These beers from Kauai Beer Co. feature locally grown guava and orange zest.
Ehu Belgian Quad and Hawaiian Wild Ale​, Lanikai Brewing
One of the biggest beers at the festival, Lanikai's Ehu Belgian Quad is a banger at 11.5% ABV, unique in having jaboticaba berries in the recipe – a softer side, if you will. Lanikai will also pour something from its upcoming Hawaiian Wild Ales series, which uses local yeast bioprospected from around Hawaii (be sure to ask the pourers to explain this amazing process).
Jalapeno Mouth, Waikiki Brewing
This version takes one of Waikiki Brewing's staples and adds an extra punch of "super strength double jalapeno" to its profile. You might need to cool down your palate with Waikiki's other offering, the Kahalu'u Blonde, made with lemongrass and turmeric.
Pineapple Blonde, Kohala
You don't see many Kohala beers floating around Oahu, so make this a priority. The Pineapple Blonde is made with Oahu pineapples, and the rest of the lineup will give you a taste of what Kohala is all about: Lahaina Haze New England IPA, Talk Story Pale Ale and Red Sand Amber.
Kiawe Vanilla Porter and Dragonfruit Lychee Cider, Ola Brewing
As we noted back in November, Hawaii's newest brewery started as a cidery, and its cans of IPAs just hit shelves on Oahu. This is your chance to try where it all began in the Dragonfruit Lychee Cider, then move on to one of Ola's darkest offerings, the smokey Kiawe Vanilla Porter.
CRAFT, A Hawaii Craft Beer Festival
Saturday, Feb. 23
5:30 p.m.-9:30 p.m.
Bishop Museum
1525 Bernice St.
Parking at Bishop Museum for $5, overflow parking available after 6 pm for $5 at Kapalama Elementary School
Rain or shine. Food trucks will be on site