What are your favorite cheap eats? Instagram them for a chance to win a meal on us!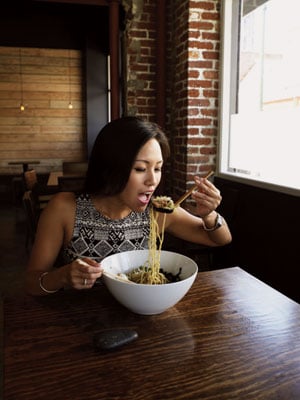 For our Cheap Eats feature in August's Restaurant Guide (ready to download now or on newsstands today), we loved the thrill of the hunt: of finding $4 bowls of fresh udon at Marukame, unearthing a raw ahi rice salad hidden in Sorabol's menu, hustling to get to Vino's happy hour and its oven-roasted lobster ($9.50!), assembling our own spring rolls from a heaping platter of grilled meats and fresh veggies at Golden River.
We know there are many more than the 67 dishes we highlighted in our feature, so we're asking you to join the hunt for cheap eats through our first ever Instagram giveaway, starting today. The rules are simple: snap a photo of your favorite under-$15 meal, post it on Instagram with the hashtag #HNcheapeats, and every week, I'll pick an entry to win breakfast, lunch or dinner on us at one of HONOLULU's favorite eateries.
Track all the entries on our Cheap Eats map on honolulumagazine.com/cheapeats, and check Biting Commentary every Wednesday for the winner.