Welcome to Vegas, baby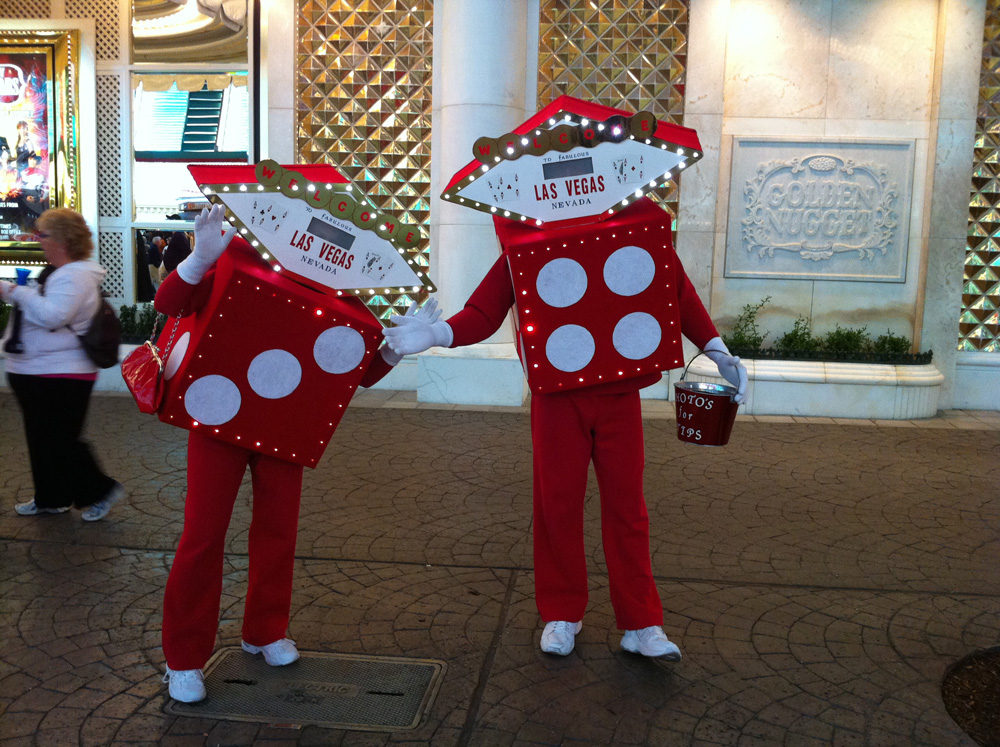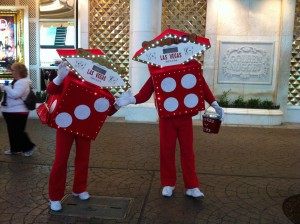 Merry Christmas from Las Vegas!
It's been just 24 hours, but seems like I've been here a long time already due to the time change and just being on the go since I landed — literally. As soon as I got to my hotel at about 11:30 p.m., I headed out for sushi with Twitter friend John Katagi (@Burajiru). Once back at the hotel, I just had to get some gambling in, so I didn't get to bed till about 3 a.m.
Since I had to pick up my car and tweet up with more Twitter friends at noon, I couldn't really sleep in, but I couldn't wake up. I threw on a regular top over my pajama pants, and headed down to the Main Street hotel lobby (figuring few people get up early in Vegas) for coffee. The coffee cart that I remembered is no longer in the lobby, and surprise, people do wake up for breakfast. I had to trudge through the casino and to the mezzanine with unbrushed hair, no makeup, and yes, pajama pants to get my java on. When I finally got my coffee, a woman turned to me and smiled. "First cup today, huh?" I tried not to make eye contact or look at my pajama pants. "Is it that obvious?" I asked. No answer.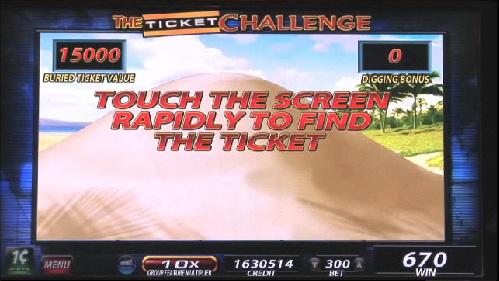 Well, despite the less than stellar start to my day, it turned out to be full and fun. My one lament is that the casinos don't allow photos, because some of the funniest moments happen when you're gambling. All I can tell you is, the hot new interactive slot machine is The Amazing Race machine set, which we played at Main Street Station. It's interesting on its own, but more fun when all four seats are filled. If someone in the set of four slots gets an "Amazing Race" bonus, everyone gets to play. The subsequent Ticket Challenge sent me and Julie into a digging frenzy as we desperately clawed at the touch screen to get our tickets first. Here's a tame version of people digging for their virtual ticket:
Fun, huh? We kind of drew a crowd with our crazy "digging" on the slot machine screen. Can't wait to do it again tonight! Anyway, here's a quick snapshot of what I did, ate, and drank in my first 24 hours:
Sushi Samba in the Palazzo
Picture 1 of 22
My Twitter friend, John Katagi (@Burajiru) took two friends from Paraguay to the Grand Canyon. On the way back, they stopped in Las Vegas on the day I arrived, so we tweeted up.
I arrived at 10:45 p.m., but it's suprisingly hard to find good places in Vegas that are open that late. Thanks to Los Angeles Times' Jen Leo's suggestion, we ended up at Sushi Samba in the Palazzo. Interestingly enough, this worked out since John spends a lot of time in Brazil (thus the Twitter name).
Sushi Samba
3327 Las Vegas Blvd.
702-607-0700
Next: Taking Julie to The Strip after all these years
Disclaimer: Air & hotel were provided by
Boyd Vacations Hawaii
for an assignment for InsideOut Hawaii.
========
You can read all of Melissa's blogs at www.nonstophonolulu.com/urbanmixplate. Follow Melissa on Twitter @Melissa808, on Foursquare as Melissa808, or email at Melissa@nonstophonolulu.com.
My recent blog posts:
Where I'd tell the Obamas to eat
Hawaii: In Real Life ~ Midori-dori
Vegas lucky charms
Hawaii: In Real Life ~ holiday hot chocolate
Vegas, here I come!
Hawaii: In Real Life~building a gingerbread house
Tweets from the road: Marathon 2010
What's up with the knee high socks?
I want a Bit of Sugar!
Terry's Place and the Underground Chefs
What's your passion?