Web Savvy
Taking Your Business to the Next Level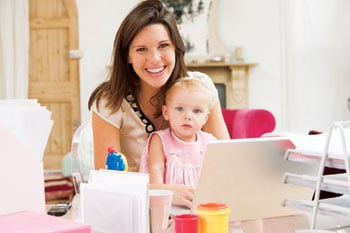 Although I'm not a "teckie," I know how to surf the Internet and maneuver through the World Wide Web. In this day and age, it is important to be a little Web savvy, especially if you have a home-based and/or small business.
Professional websites are advertisements for businesses. As essentially a storefront for your business, your website needs to reflect your image and products. In marketing, this is called branding, the process of creating a unique name and image for a product (goods or service) in consumers' minds through consistent marketing campaigns that attract and retain loyal customers.
There are websites that allow you to "do it yourself," but this option provides a cookie-cutter approach versus one that is customized.
When selecting someone to design and build your website, ask for references. Contact the references and ask about the service they received during and after the website was created and whether or not they were satisfied. Be sure to speak up if you don't like something. Visualize what you want, map out some details and discuss your needs, goals and desires with your Web designer.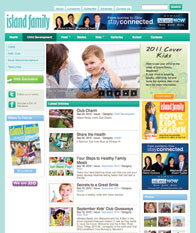 Having just redesigned the Island Family website, this process is very fresh in my mind. If you haven't been to our website lately, I encourage you to check out the awesome changes at islandfamilymagazine.com. The new site is a better reflection of the Island Family brand—simple, fresh, local, relevant, resourceful and family-focused.
You will find stories about health, child development, food, babies, kids and schools. Check out the latest crafts and book recommendations. Learn more about our Kids' Club and sign up for our latest contests. The new site was designed with you in mind—the busy, well-informed parent.
Let me add that our new site wouldn't have been possible without the direction and expertise of Upspring Media. It made the Web development process painless by taking the time to learn more about our business objectives, requirements, wish list and challenges. Importantly, the designer kept us informed and consulted with us throughout the entire process.
Upspring Media is a full-service new media agency that provides software and Web development, Web hosting, search engine optimization (SEO), social media marketing, Web strategy consulting and graphic design support.
We hired Upspring Media after reviewing the quality of its past work, which is displayed on upspringmedia.com. We also liked its affordable rates. The locally owned company also has experience working with many clients in Hawaii's community.
"We enjoy working on big software projects and large websites, but there is something rewarding about helping small businesses get to where they need to get," says Brandon Kurisu, president of Upsping Media.
Take your business to the next level and focus on developing and customizing a website that not only supports your brand but generates the business you deserve.