We tried out: Luxe cinema at Kapolei Commons 12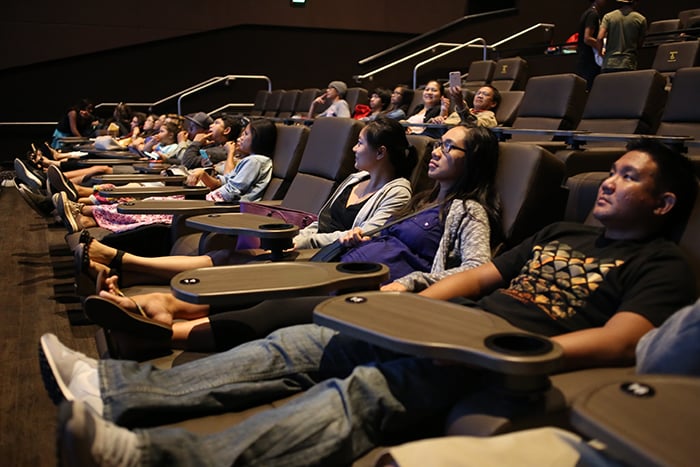 $3 movie tickets at an actual movie theater? Granted it was only for the soft opening, but I figured it would be a good excuse to check out Regal Kapolei Commons 12, the newest theater complex on the Westside. Plus proceeds from the soft opening were going to area non-profits such as Make-A-Wish Hawaii and Boys & Girls Club Hawaii, so I called up a few friends to join me in my philanthropic efforts.
According to the press release, Kapolei Commons 12 is Regal Cinemas' first flagship theater in Hawaii. (I always thought that was at Dole Cannery though.) Being the flagship, it features something never offered in Hawaii theaters until now: electric reclining seats. Every seat, in all 12 theaters. I know, right?
Before we could get to the reclining seats, we had to first purchase tickets. The line was daunting, but didn't concern me, as I had asked my friend to buy our tickets before I got there. He lives down the street. He lives so close to Kapolei Commons 12, he just went home after buying the tickets to wait there instead of in line.
Purchasing tickets is done at the self-serve ticket booth at the theater entrance. Tickets have assigned seating, so go early to get the seats you want. With only three ticket machines, expect to wait in line. That's probably true for most theaters, though. There's also the box office on the side, if you're having trouble with the ticket machines. There'll also be the option to reserve tickets online before you go.
The selection of movies during the soft opening was limited to previously released films, but for $3 tickets, you can't really go wrong. We opted to watch "Mad Max: Fury Road," Oscar nominated for Best Picture in 2015. One of my favorite films, I looked forward to enjoying while relaxing in an electric reclining seat.
After we got our tickets, we debated getting some snacks from the concession stand. Popcorn and soda were also $3 for the soft opening. Three-dollar popcorn is a steal, $3 soda not so much, but for theater prices it's a bargain. According to the press release, there's plans to expand the menu to include gourmet foods like burgers and pizzas, but we didn't want to stand in line to find out. Can you blame us?
Once we got into the theaters, we finally gazed upon the aforementioned electric reclining seats. It was like first-class seating on a plane, except in a movie theater. At least, it's what I imagined it would be like, as I've never had the luxury of flying first class. The seats were leather-upholstered with ample cushioning. A food tray swiveled out from the side, which I used to place my car keys and wallet. Normally they poke me in the side while sitting down, so it was good to have a place to store them.
When the lights went down and the movie started, I tried to recline my seat and ended up failing. I couldn't find the button. My friends found theirs without help, but not wanting to appear incapable, I fruitlessly searched in the dark until I finally found it on the outside of my seat. I began fiddling with it, but nothing happened, at least to my seat. My neighbor's seat, though, began reclining up and down. Fortunately, my neighbor was forgiving and showed me that my button was on the inside left of my own seat. Once I was fully reclined, I gazed up at the silver screen and settled in to enjoy the movie. And enjoyable it was.
The Kapolei Commons 12 grand opening is on Thursday, April 21. Preview prices are good through Tuesday, April 19. The theaters are at the end of Kapolei Commons, the first right after Bank of Hawaii and across the parking lot from TJ Maxx.
Regal Kapolei Commons 12
4450 Kapolei Pkwy, Kapolei, HI 96707
541-5175
www.thekapoleicommons.com