We Tried It! The Home Depot Kids Workshops
5 tips for this free monthly event for keiki creators and builders.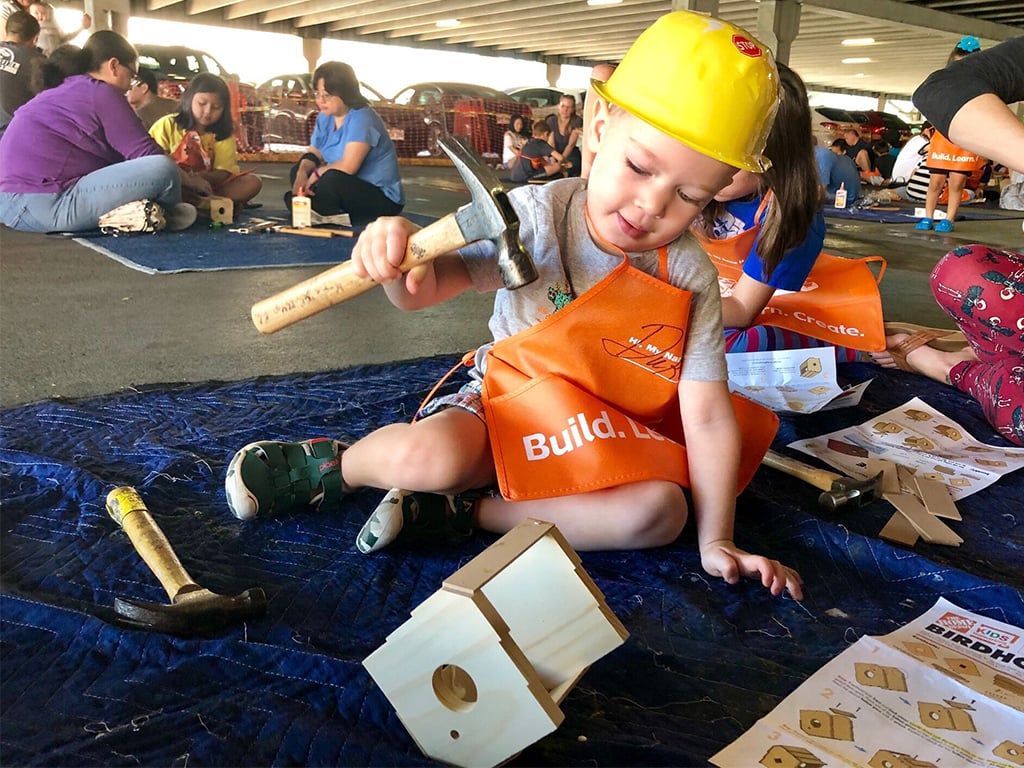 Photo: By Laura Dornbush
Where: The Home Depot Kids Workshop, Honolulu location.
Who: A mom and her 2-year-old son.
When: The first saturday of the month from 9 a.m. to noon.
I first heard about The Home Depot Kids Workshops from a friend in Atlanta with two young boys. My son, Duke, has been obsessed with construction since before he could say "truck," so I had been eagerly waiting to take him as soon as I felt comfortable with him being around real tools. He loves to play with his plastic tools at home and drives his ride-on excavator around our lānai.
The workshops are free and take place at all Home Depot stores from 9 a.m. to noon on the first Saturday of each month. The projects change each month, so children can attend the ones they are most interested in.
This past April, the Kids Workshop project was for keiki to build and paint a birdhouse. I registered Duke's name and my email on The Home Depot website in advance. This helps the staff prepare enough supplies, but you can also walk in on the day of the workshop.
That morning, Duke was so excited to be a construction worker that he wouldn't leave home without his play construction hat. We arrived around 9:30 a.m. and had to hunt for a covered parking spot on the lower level of the structure. If you don't mind parking in the sun, try the upper level. The Kids Workshop is held in the middle of the covered parking lot, where they sell live Christmas trees during the holidays. I was grateful that the workshop area is toddler-proof with barricades and gates surrounding it.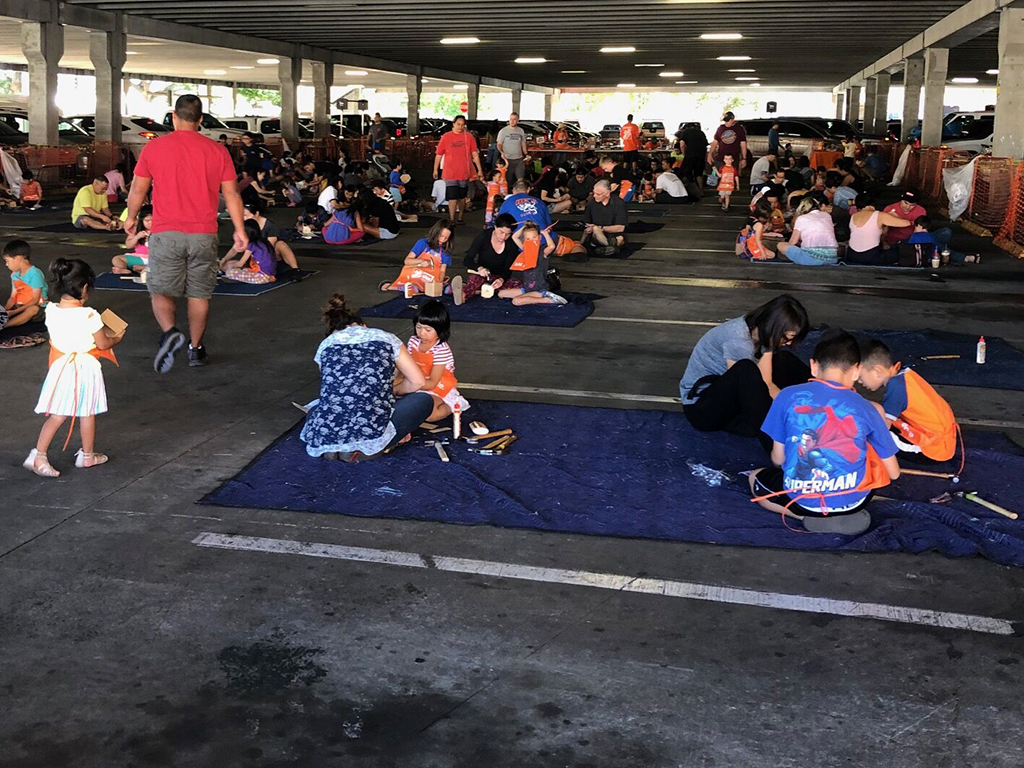 Photo: By Laura Dornbush
We checked in at the welcome table, and the staff gave us a DIY birdhouse kit, which included wood panels, screws and nails. At another table, we received an oh-so-cute The Home Depot-branded apron with Duke's name on it. Then, we headed over to a mat to start building the birdhouse. The Home Depot provided hammers, screwdrivers and glue on each mat.
The Kids Workshops are geared for keiki age 5 to 12 years old. We saw kids of all ages there, including infants in strollers accompanying their older siblings. There was plenty of space to park strollers next to the mats and paint tables.
The event was already busy by 9:30 a.m., so we shared a mat and tools with a mom and her two daughters, ages 9 and 6. While I read the directions, Duke immediately picked up two hammers and started pounding everything he saw—the ground, the birdhouse pieces and my leg.
I had to watch Duke very closely around the tools and small nails. I built most of the birdhouse myself, but Duke was able to assist by handing me each piece, gluing the side panels and inserting the perch peg. He was entertained the whole time and was an attentive little helper.
The 9-year-old on our mat was able to build the birdhouse independently, but her mom assisted with holding the nails steady while she hammered. She was engrossed in the project and took it very seriously. Her 6-year-old sister needed more of her mom's assistance and was impatient to finish building, so she could move onto painting.
When we were about halfway done building the birdhouse, Duke said he needed to go to the bathroom (of course!). As a newly potty-trained toddler, I jump up immediately when he says he needs to go. The staff was helpful in directing us to the bathroom inside the store in aisle 2. Despite the long walk, I was pleasantly surprised at the clean, large restroom, which was also equipped with a diaper changing table.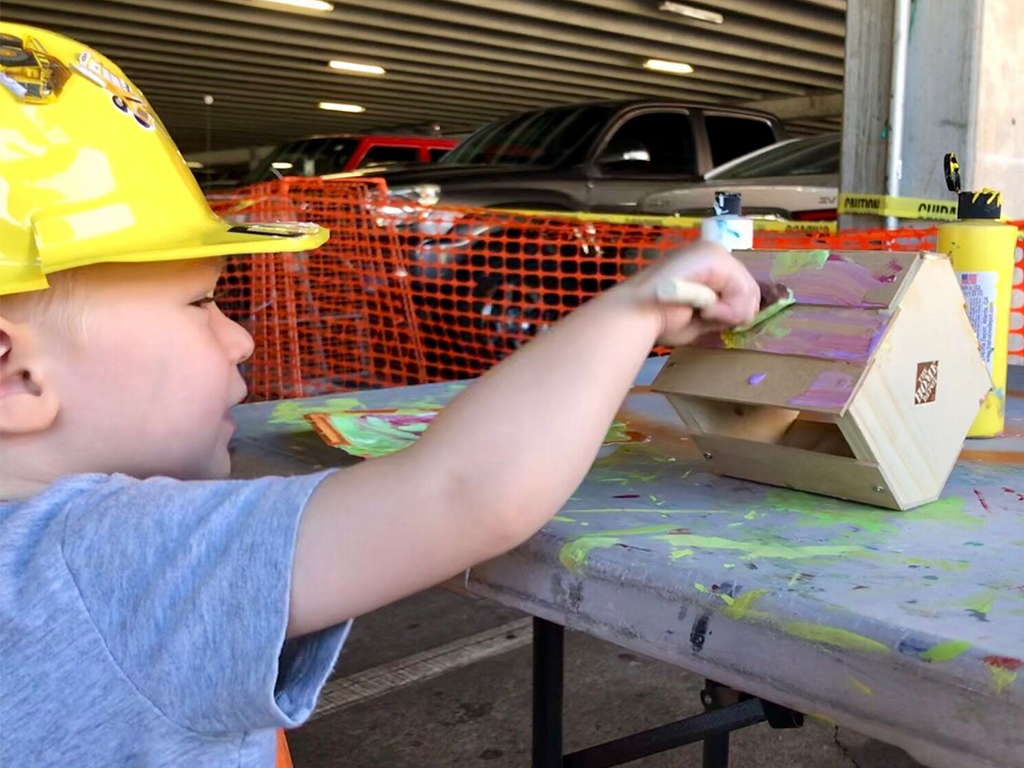 Photo: By Laura Dornbush
Next up was painting! There were folding tables set up with various colors of paint, paper plates and sponge paint brushes. Duke loved picking different colors and dabbing them onto the birdhouse. It was messy, but the paint was easy to wipe off of Duke's face, arms and hands. He was done painting after 10 minutes, but the girls took their time.
The 9-year-old meticulously painted her entire birdhouse white, and her younger sister chose a rainbow of colors. We spent approximately one hour at the workshop, including the restroom break. I would allow 1 to 1.5 hours, depending on your child and the project, but I love that you can go at your own pace.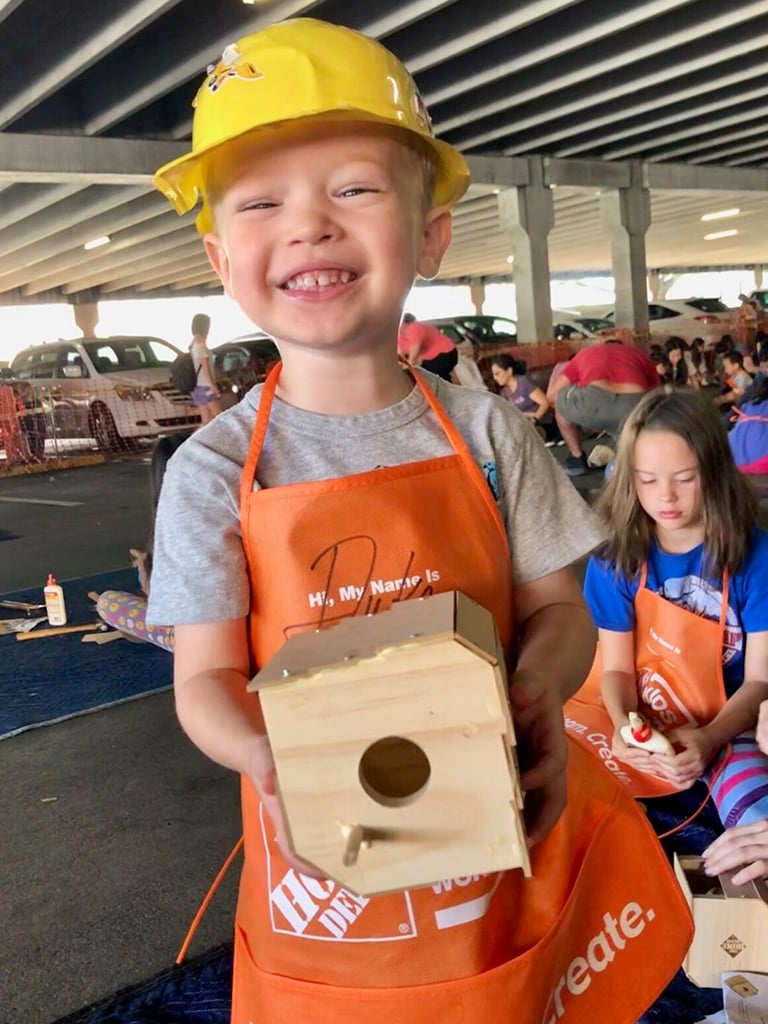 Photo: By Laura Dornbush
On our way out, Duke received his certificate of achievement and commemorative pin with a picture of a birdhouse. We also noticed a boy proudly displaying more than 10 pins on his apron from all the workshops he had attended. Duke is eager to don his apron and hat again to earn another pin!
The Kids Workshop on Saturday, May 4, is a blooming art project where kids will build and paint a picture frame. Just in time for Mothers' Day!
Our 5 Tips
1. Go early. The workshop runs until noon, but the staff cannot guarantee they will have enough supplies for everyone.
2. Wear work clothes. You will be sitting on the ground hammering and painting (depending what the project is). Don't wear a skirt or sundress.
3. Bring a paper bag or cardboard box. While the staff gave Duke a flat piece of cardboard to transport his birdhouse home, I saw another genius mom who brought a paper shopping bag.
4. Partner up. As most kids will need some level of assistance, ideally you would come with one adult per child. The staff is there to help if questions arise, but the workshop is do-it-yourself (not a class).
5. Wipe it off. The Home Depot did provide paper towels and limited wet wipes, but as a mom of a toddler, I urge you to bring lots of wet wipes from home!
The Home Depot Kids Workshops are free and on the first Saturday of every month from 9 a.m. to noon at all locations. Honolulu store, 421 Alakawa St., (808) 521-7355; Pearl City store, 1021 Kamehameha Highway, (808) 455-1200; and Kapolei store, 4600 Kapolei Parkway, (808) 674-6120. To sign up, click here.