We Tried It: Storybook Station (with boys!)
Find out what two little boys thought about makeovers at this imagination wonderland at Windward Mall.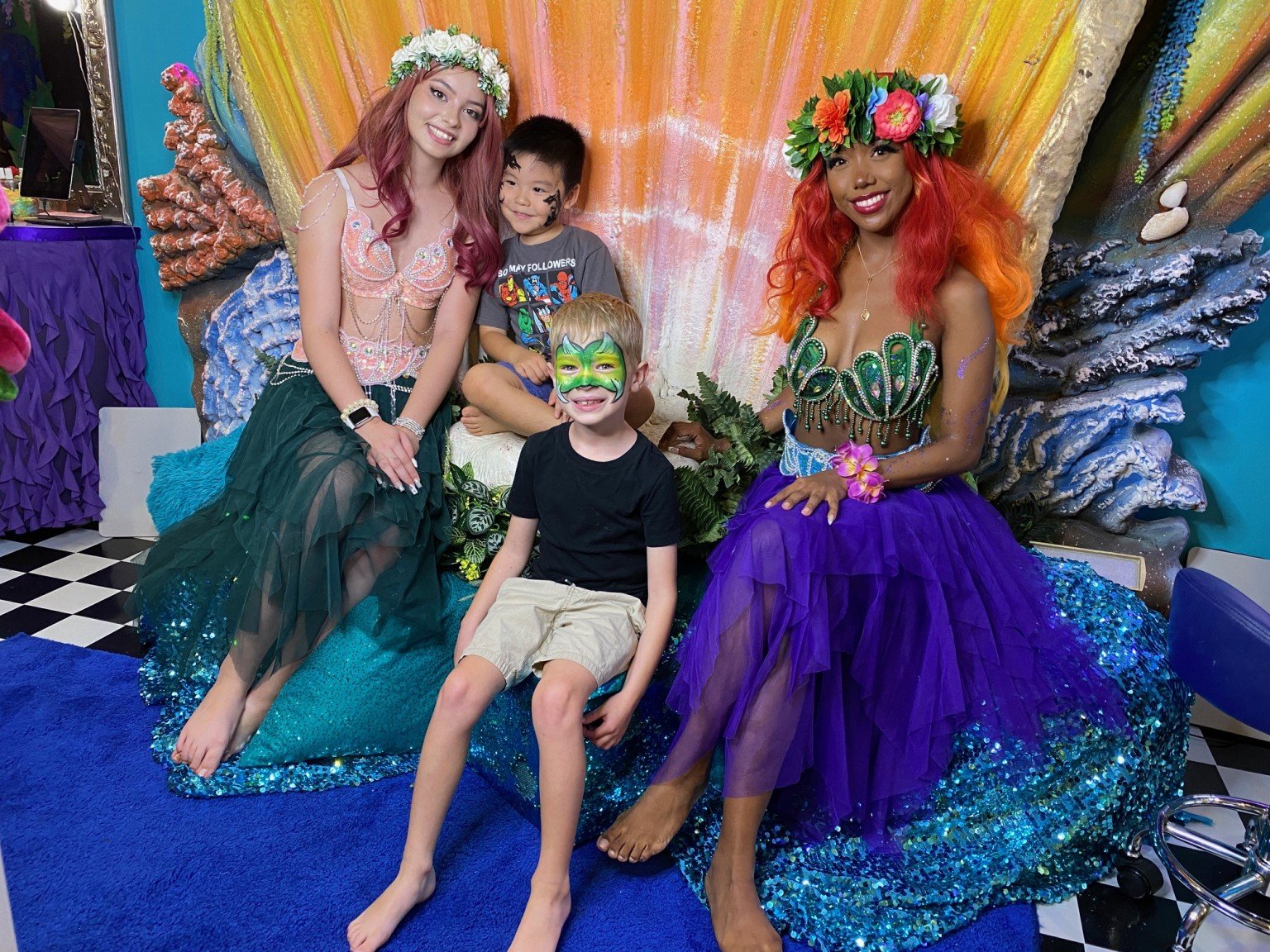 What: A fantasy salon and birthday party venue
Who: Two high-energy five-year-old boys and their parents
Where: Windward Mall
When: Saturday at noon
My son Duke came home from school one day and asked to go to "that Storybook place." A girl in his class had attended a birthday party there and told Duke all about it. When I looked into it, my initial reaction was that it was a princess place just for girls. But, Duke insisted and I am always up for trying something new, so we rallied Duke's buddy, Cameron, who we know happens to love face paint and dress-up, and headed over to the windward side for a day of transformation and play.
By the time we arrived, the boys were literally bouncing off the walls with excitement. We had booked a 'Nails, Scales & Fairytales' one-hour experience, and had the space all to ourselves. After removing our shoes, we were welcomed into the fantasy land by owner Casey Fortuno and her staff of land mermaids (mermaids without fins, of course!).
Cameron was especially impressed with the decorations and rattled off ten questions for the mermaids. One-by-one they explored each themed section together, including a tea party table, enchanted forest, princess carriage and mermaid scene. I, too, must admit that the floor-to-ceiling décor, props and lighting made the place seem absolutely magical.
Next up, the hostesses invited the boys into the magic costume closet. They choose from a wide selection such as princess, unicorn, mermaid, pirate, ninja, dragon, dinosaur and knight costumes. Cameron was quick to choose a ninja outfit, and Duke took his time deciding between the three different dino options, in the end choosing the T-Rex.
Before their transformations were complete with face paint, the boys slipped right into pretend play with each other and marched around the enchanted forest on stick horses. Noticing they had too much energy to sit still in a makeup chair, Casey pivoted to musical games instead: Freeze Dance and Floor Is Lava.
After getting their wiggles out, the boys were ready for face paint. Cameron had big ideas for his look and described his vision, while Duke was more go-with-the-flow about his design. My personal favorite part of the day was seeing their reactions when they got to peek in the mirror at their faces. While the boys didn't get their nails painted, Cameron asked for a special something for his hair: glitter hair spray!
Although transformed into a fierce ninja and ferocious dinosaur, the boys happily played tea party and took a pretend drive in the carriage with the mermaids. When our time was up, they were not ready for the fairytale to end! If you have keiki between the ages of 4 and 8, I'd recommend you put this special spot on your list of to-dos.
Our Tips
Don't arrive early. One of the best parts of the experience is the big reveal when the front curtains are peeled back to reveal the magical space. You won't want to spoil the fun before the scene is set!

Bring a friend.

Although the hostesses are pros at playing pretend, it's always more fun with a playmate your own age.

Let them choose.

Hello helicopter parents! I had to hold myself back on providing input on Duke's costume and face paint, but I'm so glad I let him choose all by himself.

Take lots of photos.

This is a no brainer, but harder than you think when the kids are running, jumping, dancing and don't want to stop to pose for a photo!

Bring makeup remover wipes.

Face paint is GREAT, until it's not so great. This face paint does not dry, so every time Duke itched his nose or rubbed his cheek it got all over his hands and shirt. We ended up removing the face paint on our way home.
Storybook Station offers makeover packages ranging from $20-$149 by appointment. Birthday party packages start at $225 for two guests. (808) 428-9698. 45-056 Kamehameha Hwy., Kāne'ohe, storybookstationhawaii.com