We Tried It: Hōkūlani Imaginarium at Windward Community College
Blast off to space from this high-tech, immersive planetarium offering kid-friendly shows.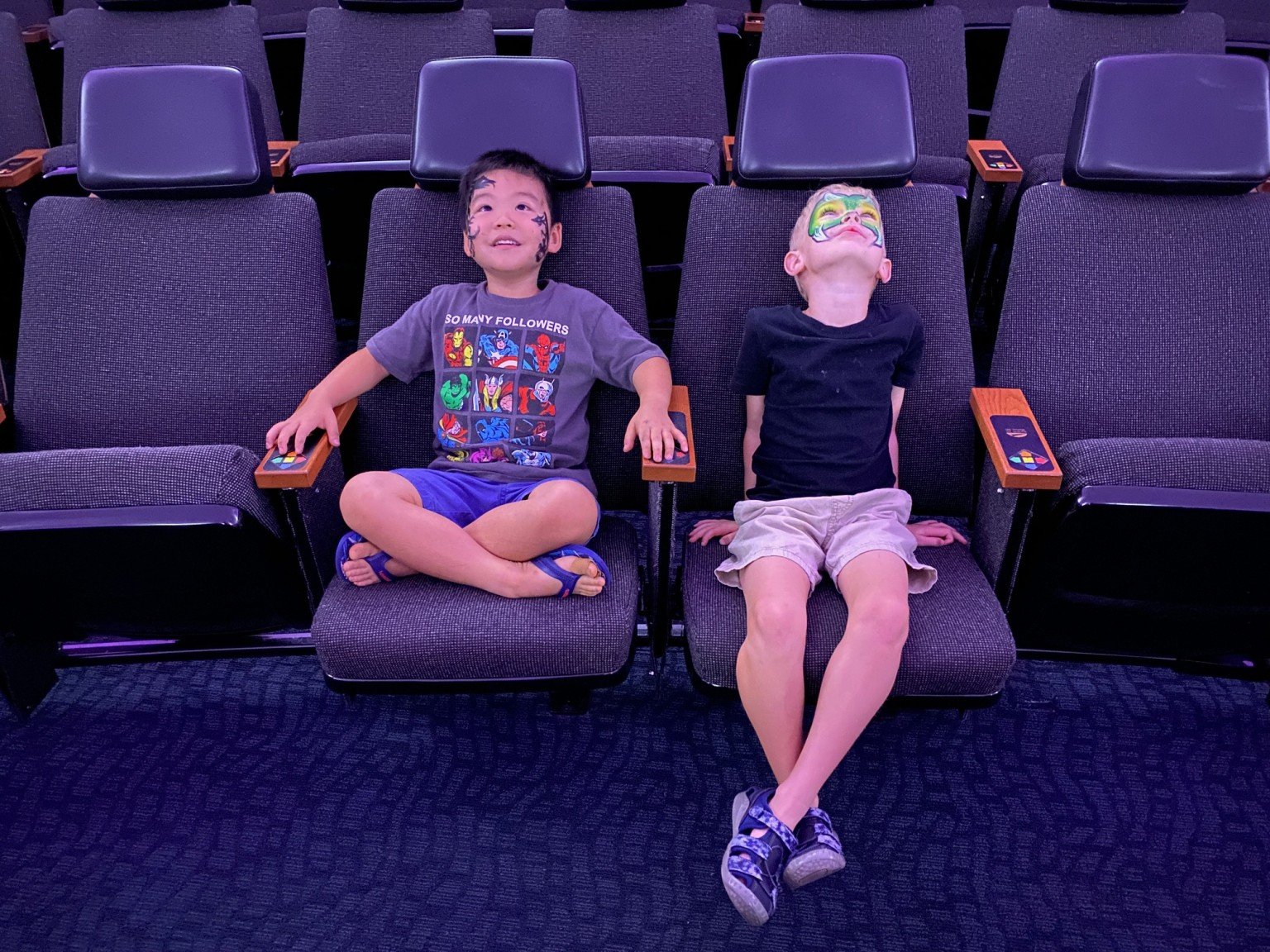 What: A 40-ft diameter dome planetarium with 84 seats
Who: Two high-energy five-year-old boys and their parents
Where: Windward Community College
When: Saturday at 2:15 p.m.
You are probably familiar with the planetarium at Bishop Museum, but did you know there is one on a windward college campus open to the public? For your next family flick day, skip the movie theatre and head over to Hōkūlani Imaginarium for weekly shows ranging from space to ocean exploration, and even dinosaurs. Plus, your kids will think it is too cool to sit in the seats of a real college classroom.
After makeovers at Storybook Station, my son, Duke, and his friend, Cameron, continued their day of imaginative play with a visit to Hōkūlani Imaginarium, meaning 'starry heavens' in Hawaiian. We checked in early at the box office, and met Dineene O'Connor, the planetarium's manager, who invited us to take a peek inside the adjacent Aerospace Exploration Lab, normally only reserved for school field trips.
The hands-on museum is filled with all the things our boys go crazy for: a rocket ship model, Star Wars characters, spin top experiments (think Beyblades) and fighter jet prototypes. This working lab is part of the college's aerospace program, but also invites school groups for learning visits (ask your child's teacher if they can go!). After testing the "planet scales" to see how much gravity would make us weigh on Mars and Saturn, we had to quickly find our seats in the planetarium for the start of the feature.
The show that day was "Kaluokahina: The Enchanted Reef," an animated story about the connection between the ocean and sky, perfect for Pre-K and Kindergarteners. The story reminded me of Finding Nemo, but with an immersive 360-degree screen making you feel like you were part of the story.
"Woah, he bit the screen!" Duke yelled as a shark chomped toward us. The theatre's seats are tilted back, so you have an ideal view of the 40-ft. dome screen above. Even the sound follows the characters from one side of the screen to the other making you feel surrounded by the action.
After the show ended, Dineene led us in a live sky segment where she showed us exactly how the sky would look that night and what stars we'd be able to see. "Oooo. It's like Star Wars," Cameron commented of the dark scene filled with twinkling lights.
It our surprise, the planet Jupiter would be in view! Dineene also pointed out the Maui constellation (alternatively known as Scorpius) and shared the corresponding Hawaiian story. I loved that she shared the Hawaiian names and legends, and even a Korean tale of the triple star (also known as Orion's Belt), in addition to the well-known Greek mythology. Although the boys were excited to stargaze later that night, I knew there would be no way they'd be able to stay up until dark to see the stars—a sign of a fun, successful day!
Our Tips
Choose a show based on your keiki. To ensure your child is interested and engaged, pick a program that will appeal to them. Obsessed with Sesame Street? Go see One World, One Sky: Big Bird's Adventure. Love the Magic Tree House book series? Get tickets for Magic Tree House: Space Mission. There are also several festive holiday-themed programs coming up! Check out the upcoming list of shows

here

, and check the grade-level recommendations for each show

here

.

Bring cash. The box office only accepts check or cash, which also comes in handy for the vending machine down the hall which our boys were drooling over. But note, there's no food or drink allowed in the auditorium.

Arrive in time. I know…as parents we are notoriously late (but we've got a good excuse!). Heads-up that there is no late seating and no-re-entry after exiting during a show.

Consider motion sickness remedies. If you get motion sickness, you may want to wear your nausea wristbands or take Dramamine beforehand. The screen is so large and lifelike, that I felt queasy watching the fast-motion scenes.

Score the best seat in the house. Different from a normal movie theater, the best seats in the planetarium are towards the back, so you have a view of the entire screen.

Ask about coloring books. New for November and December, there will be space-themed coloring books available for purchase at the box office.
Show dates and times vary. $8 General Admission, $6 Children (ages 4-12). Free for children under 4. Hōkūlani Imaginarium, Windward Community College, 45-720 Kea'ahala Rd., Kane'ohe. 808-235-7350. aerospace.wwc.hawaii.edu/imaginarium