We Tried It: Biba Playground App
Play paleontologist and collect robots with this augmented-reality addition to more than a dozen local playgrounds.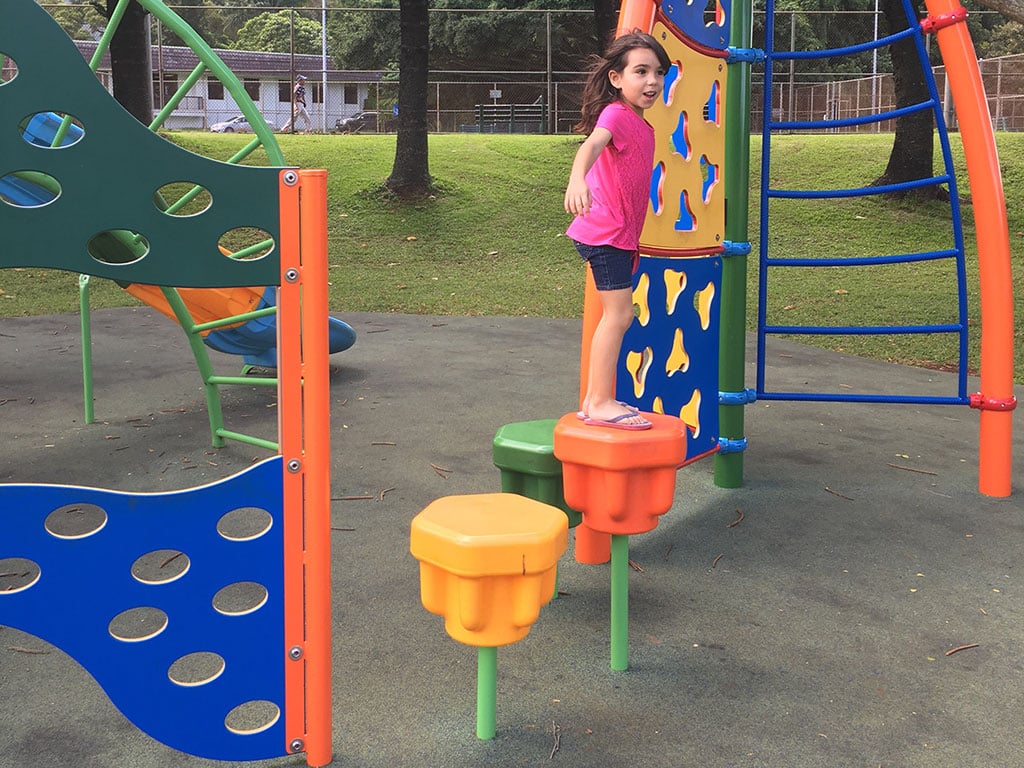 Photo: Chris Damitio
Updated in 2020
Sunny skies, no hurricanes in the forecast and a beautiful day off from work and school. Sounded like a perfect opportunity to give my wife some solo time and hit one of the new augmented-reality playgrounds I'd heard about called Biba.
"Hey Sophia?" I said to my happy 7-year-old adventure partner. "Want to go to the playground?"
It was Saturday morning, and she was already glued to her tablet. In my day, we would have been watching Saturday morning cartoons.
"I just want to play my tablet," she said.
"It's an augmented reality playground," I said. She looked confused, so I added, "It's like Pokémon Go." She was up in a flash, and off we went.
Biba apps add another element of play at parks. All you need to do is download it, enable the permissions and then select the type of equipment you see. From there, you start playing.
Easy-peasy.
As of September 2020, we counted 30 official Biba playgrounds on O'ahu stretching from Kāne'ohe to Wahiawā on playbiba.com. You can also use the app to find the park closest to your location. We picked Kāne'ohe because it was near home. It took about a minute to download the first app. We chose two games, Biba Collector and Biba Dino Dig, and we were off.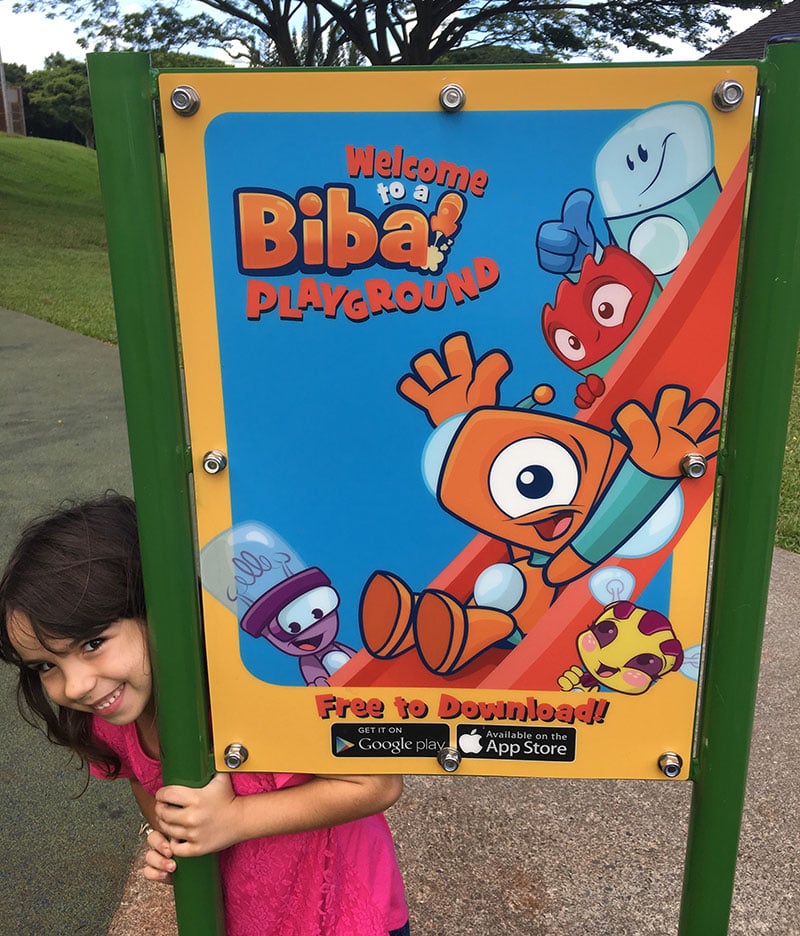 Photo: Chris Damitio
You hold the phone while your kids run back and forth from the playground to complete tasks. The tasks are short—climb up a ladder, swing across the monkey bars, or come down a slide. Biba Collector sent Sophia running to various parts of the playground to "scoop up" invisible Bibots, which she would bring back, and with my help, "drop" into my phone. At that point, the Bibots appeared in the phone, and Sophia completed short actions to take care of them.
After five minutes, the game revealed a surprise. It told us to search for a colored QR tag on the playground. Once we found it, we scanned it to discover a special Bibot. We both enjoyed the teamwork, the imagination, and the fun of this game.
The goal of the second game was to collect dinosaur bones. Sophia has wanted to be a paleontologist since she was in kindergarten and I've worked as an archaeologist, so we were both annoyed that the game kept describing someone who discovers dinosaur bones as an "archaeologist." We got over it enough to enjoy the Dino Digger game, which sent Sophia looking for sections of bones in the playground then reassembling them on my phone to form complete dinosaur skeletons.
Biba added more excitement to our trip to the playground. I liked that it kept Sophia running and exploring the equipment. The Dino Dig game offered fun facts about dinosaurs, but it's hard to give it any educational props because it used wrong word to describe dinosaur hunters.
In the past few years, Biba has added more licensed character games including one based off of Hotel Transylvania We'll definitely play more Biba games in the future.
Our 5 Tips:
Make sure that your phone is fully charged. The games don't require as much juice as Pokémon Go, but after a half hour, there was a serious dent in my battery life.
Donʻt worry if your playground doesn't look exactly like the example. Biba can be played at any place with play equipment. The designated parks have QR codes, which add fun surprises. You may be looking at a climbing wall that looks different from the one on the app. The important thing is that your child has a task in a designated area.
Avoid the temptation to let your kids take the phone (mine wanted to). Part of the fun is the interaction between you and your child. Plus, doing tasks with my daughter kept me from focusing on my phone.
Keep age in mind. Biba offers eight games. The two we tried kept my 7-year-old entertained for about 15 minutes each. Tweens may not be interested at all. There are also a few games designed for multiple kids, which may keep keiki going a little longer.
Take pictures! Sure, the objects are virtual, but the photos can remind you and your child about the day he or she discovered invisible bones and Bibots. Don't worry. Opening your camera or answering the phone will not make you lose your place in the game.