We Tried It: "Beyond Monet: The Immersive Experience"
The whimsical traveling exhibition at the Hawai'i Convention Center is fun for the entire family.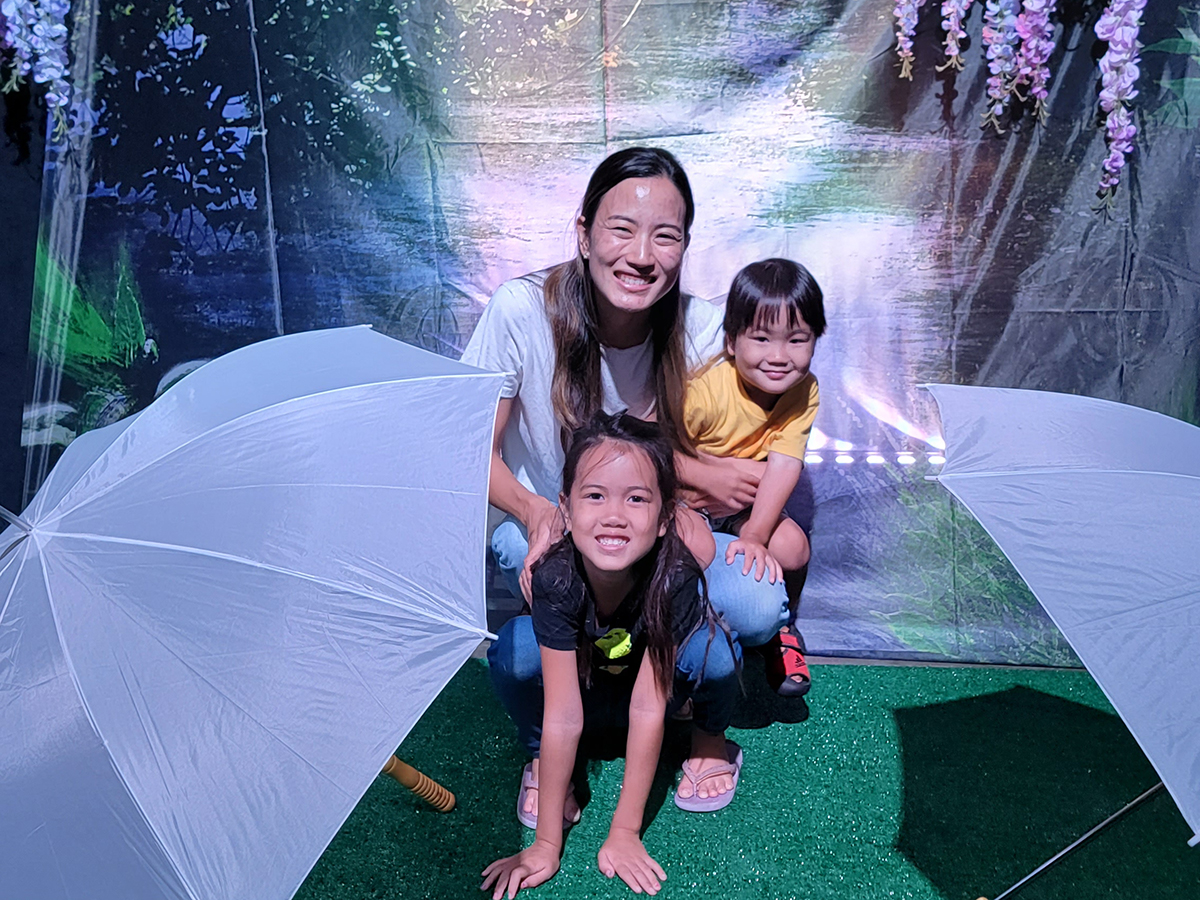 What: A visit to an immersive art exhibit
Who: A mom, her 3-year-old son Noah and 5-year-old daughter Anna
Where: Hawai'i Convention Center, 1801 Kalākaua Ave.
When: Monday at noon
After our wonderful visit last year to an immersive experience showcasing the work of Vincent Van Gogh, my family was thrilled to get an invite to preview the next limited-time art exhibit designed by French-Canadian director Mathieu St-Arnaud and his team. This time, they're featuring the Impressionist artist Claude Monet in the show, Beyond Monet: The Immersive Experience. Taking up more than 30,000 square feet of space at the Hawaiʻi Convention Center and featuring about 400 of Monet's art, the exhibit is an opportunity for guests to become one with his paintings.
---
SEE ALSO: 🎨 9 Things to Know About "Beyond Monet"
---
We got to the exhibit at around noon on a recent Monday. Parking was easy to find in the center's parking structure, and we were able to walk straight across to the elevator to go downstairs to the lobby. I opted to bring a stroller to help with carrying my bag (always heavy with wipes and random toys) and water bottles—and to keep Noah semi-contained.
The exhibit started with the Garden Gallery, a dimly lit room with dreamy installations of larger-than-life flowers and backdrops of glowing koi fish. It's already drastically different from "Beyond Van Gogh," which I remember started with empty hanging picture frames.
We were allowed to briefly step inside the flower installations to take pictures, which both of my kids immediately did, but not to touch them or jump around inside. There are descriptions of Monet's life, career and quotes hanging on the walls. Full disclaimer: I know nothing about Monet except that he was French and he painted water lilies. If I had visited alone or if my kids were older, I would have liked to have taken more time reading. As it was, I was busy keeping an eye on Anna and Noah and making sure they weren't touching anything.
The next room we entered was called The Prism and Anna exclaimed, "It's jellyfish!" Glimmering streamers hang from the ceiling, almost reaching the floor. We have to walk through them to enter the main event and Anna and Noah make a game of not touching them because they're "jellyfish tentacles."
Next was the enormous Infinity Room. Inspired by the Musée de l'Orangerie, an art gallery in Paris, the walls, ceiling and floor were animated and showcased Monet's work in a vast scale. An original music score played in the background and we saw people standing and walking about. Some were taking pictures on the two bridge props that are set up on separate areas of the room. There were selfies happening and definitely some TikToking.
My kids took their time walking through and looking around. My son was especially pleased to see a large train above his head close the ceiling. "Train, Mommy!" he exclaimed. Halfway during our Infinity Room, he had to use the bathroom. We were grateful that the restrooms were right outside the exhibit entrance by the elevators.
We spent more time walking on the bridges and taking pictures. There's one part during the score where the music got loud, almost ominous, and the animation changed drastically—it was a bit overwhelming for my two kids.
As we leave, there's a gift shop and a photo op with a hanging lavender blossom backdrop and umbrellas. I learn later you were supposed to hold the umbrellas up like Monet's 1875 painting, "Woman with a Parasol—Madame Monet and Her Son." Oops! Inside the gift shop, there are keiki-friendly picture books like "Mornings with Monet" by Barb Rosenstock and "Who Was Claude Monet?" by Ann Waldron.
My takeaway: Beyond Monet was whimsical, dreamy, moody and beautiful. And, honestly, it was a refreshing break away from the day-to-day routine of wiping spilled milk and cleaning up Legos off the floor!
Our Tips:
Free for keiki four years and younger. Tickets are free for littles, when accompanying an adult with a ticket.
Strollers are permitted! But note that there are no facilities for storing or parking the strollers, so don't leave them unattended.
Carpool if you're going with friends. Parking at Hawaiʻi Convention Center is a bit steep at $12.
Look, don't touch. We were asked not to touch any of the installations or the walls, so try to keep little hands away.
Tickets are currently available for entry times daily now through July 31, Hawai'i Convention Center, 1801 Kalākaua Ave., monethonolulu.com, @monethonolulu