We Tried It: Astronomy Party with Stargazers of Hawai'i
Gaze into a jumbo telescope for an out-of-this-world family adventure.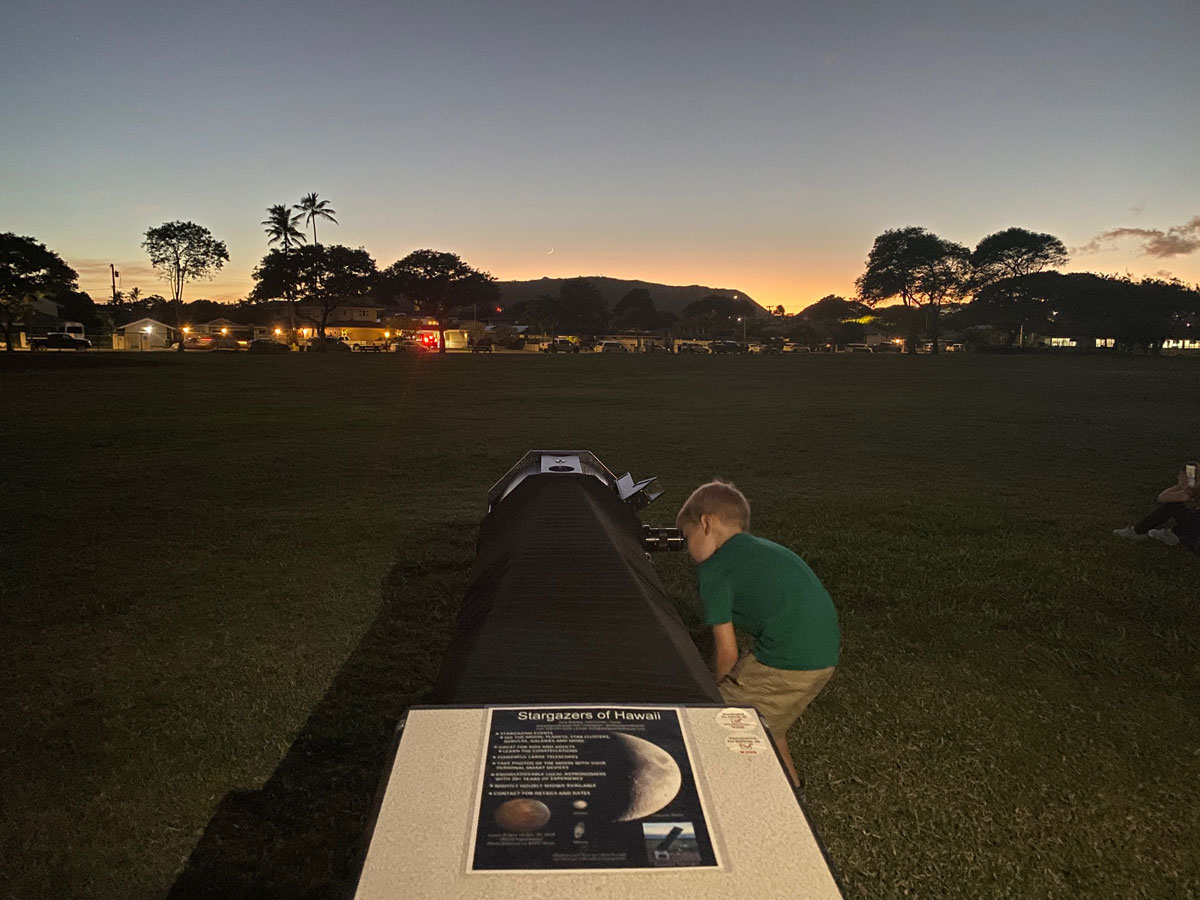 What: A private stargazing show with an expert astronomer
Who: A group of families with kids ranging in age from 2 to 10 years
Where: Kāhala Community Park
When: Sunset on a Friday night
"Friday Night Lights" took on a whole new meaning for us one fall evening when we gathered with our friends and their kids for a crash course in stargazing from local astronomer and NASA ambassador Nick Bradley. He and I had agreed on the best date and location from which to see the planets. It had to be away from the glare of city lights (a must for sky viewing) and it had to be convenient for everyone who attended as guests of our party, hosted by Stargazers of Hawai'i.

We started the evening with a picnic, and the kids took turns on the slide on the playground. After scarfing down bentos, musubis and burritos, my 5-year-old son, Duke, and his 10-year-old friend, Sebastian, hurried off to the middle of the baseball field to watch Bradley assemble his 7-foot-tall reflecting telescope. Meanwhile, the rest of us leisurely finished our dinners.
---
SEE ALSO: 🌱 We Tried It: Our Family Guide to Kahuku Farms Café in Hawaiʻi
---
As the sun began to set, Bradley gathered our group for introductions and a preview about what was in store for the night. His passion for astronomy was evident as he shared his knowledge of the sky, and he promised us planets and satellites and galaxies, oh my! He definitely delivered.
A sliver of the moon was our first target. It was visible even before the sky was dark, perfectly perched over the silhouette of Diamond Head, and we all took turns looking at it through the telescope. Bradley even taught me how to take a photo with my phone through the telescope for a totally Instagram-worthy shot!

Another surprise before sunset was the appearance of the planet Venus. It shone bright and low in the sky. The kids were so excited to see a real planet that they quickly formed a line. Bradley was gentle and patient, teaching the kids how to lean in without touching the equipment (no sticky hands, please!). Even the tiniest 2-year-old tots got a chance, although a few of them were hesitant at first to approach the towering telescope.

As the sky grew darker, more stars popped out of hiding. Bradley used a laser pointer to direct our attention to several blinking satellites passing quickly across the sky. Nine-year-old Livia said, "I think I see a constellation!" Without missing a beat, Bradley delved into the mythology behind Sagittarius, then even shared Hawaiian and Polynesian stories, and celestial navigation and wayfinding techniques.
The showstopper of the night was viewing Saturn in all its glory. The adults gasped, "It looks fake!" and "That's wild!" as we all recognized the iconic rings from our childhood science books. We learned something new, too: Planets don't twinkle, only stars.
---
SEE ALSO: 🌞 This Hawai'i Astronomer Chases Solar Eclipses Around the World Trying to Solve the Biggest Mysteries of the Sun
---
By this time, the kids had lost interest and began a game of soccer in the pitch-black park. The adults were still engrossed as we looked at Jupiter and four of its moons, and Vega, a blue star. Later, we hung around to talk story with Bradley as the kids passed out cookies.
Stargazers of Hawai'i is available for birthday parties and other events. Right now, Bradley's stargazing events at the International Market Place and with the Hawaiian Astronomical Society are on pause, but they should resume when pandemic restrictions allow.
Our 5 Tips
Time it for winter. Earlier sunset times in the fall and winter mean you can start stargazing earlier and still get the kids to bed at a reasonable hour afterward.
Avoid the full moon. While you might think a full moon would be an ideal time for a stargazing party, in fact, its brightness makes it harder to view the planets and stars.
Plan simultaneous activities. Since you have to take turns gazing into the telescope, make sure to have entertainment for the kids while they wait. I was glad we brought a soccer ball to keep the kids busy.
Give out glow sticks. Despite being in town, Kāhala Community Park was dark! Glow stick party favors kept the kids entertained and allowed us to keep tabs on them by following their glow.
Learn how to operate your own telescope. Our friends purchased a telescope during the COVID-19 lockdown and still don't know how to use it. Sound familiar? Bradley is available to go to people's homes to teach them how to set up and operate their scopes.
Stargazers of Hawai'i offers three-hour private stargazing shows across the island starting at $300. (808) 291-6230, stargazersofhawaii.com, @stargazersofhawaii