We Tried It! Aerial Silks Classes at Samadhi Hawaiʻi
Keiki learn to swing on a trapeze and spin into a cocoon.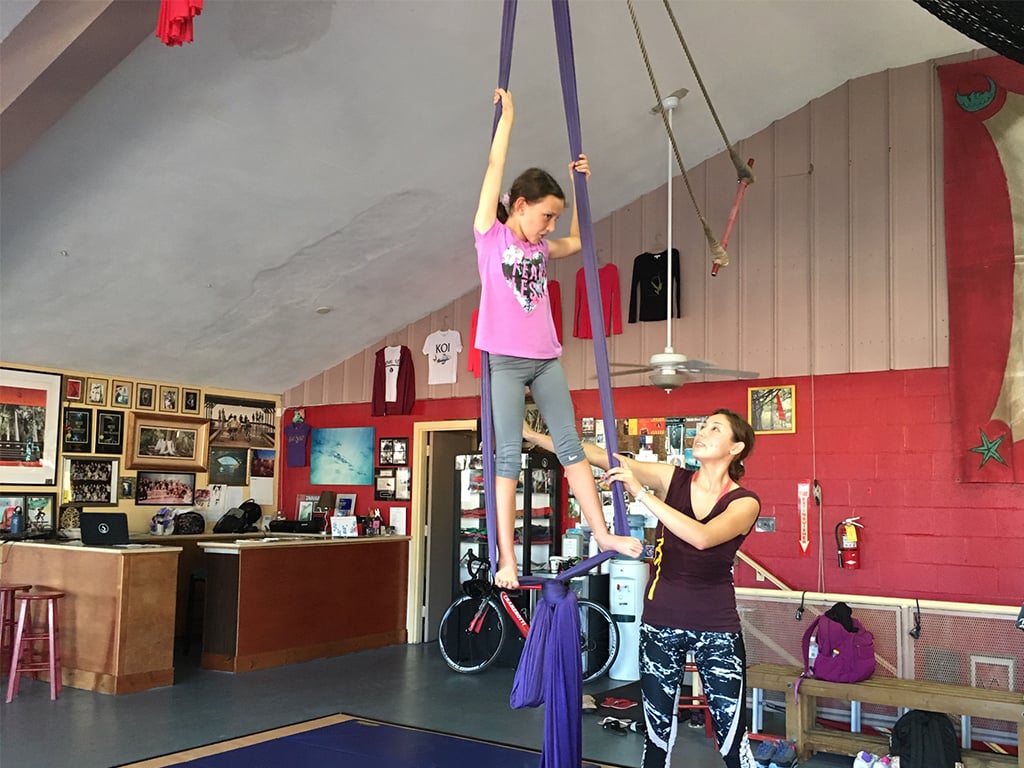 Photo: Beth Blaney
Where: The Kids/Preteen Foundation Class at Samadhi Hawai'i in Kaka'ako.
Who: An 8-year-old girl and two 10-year-old girls.
When: Friday "Fall 2 Session" class from 4:45 to 6 p.m.
My third-grade daughter, who loves to swing and hang upside down, was thrilled to try an aerial class for kids. We mistakenly thought she was trying aerial yoga. Aerial "tissu," or silks, was unfamiliar to us. (Basically, it's aerial acrobatics while hanging from a fabric.) As we entered the large open space, I quickly realized Samadhi Hawai'i is not a yoga studio. The place bustled with small groups and individuals getting private lessons. A few kids tumbled on thick mats clustered throughout the room. A preteen shimmied her way up a long swath of colorful fabric hanging from ceiling to floor.
There was even a trapeze! My girl glanced around the studio and grinned. And to think I had worried that a 75-minute class might leave my fidgety daughter feeling bored.
Samadhi owner, Andrea Torres, greeted us warmly at the front desk. As we signed in, an instructor excused herself to go feed her parking meter. Parking can be an issue. It was pau hana time on Friday in Kaka'ako. Young professionals were making their way to the many bars and restaurants in the area. I had circled the block a few times, but no luck. Thankfully, I nabbed one of the last spots in the SALT parking structure on Keawe Street before the attendant blocked entrance with the "Lot Full" sign. It was a five-minute walk to Samadhi, which is located inside the Boca Hawaii bicycle shop, on the second floor.
While there were lots of cool things to see in the Samadhi studio, the room was hot. There's no air conditioning. It was uncomfortably warm at first, but as the sun shifted and created more shade in the studio, a breeze from the open windows made the temperature more bearable.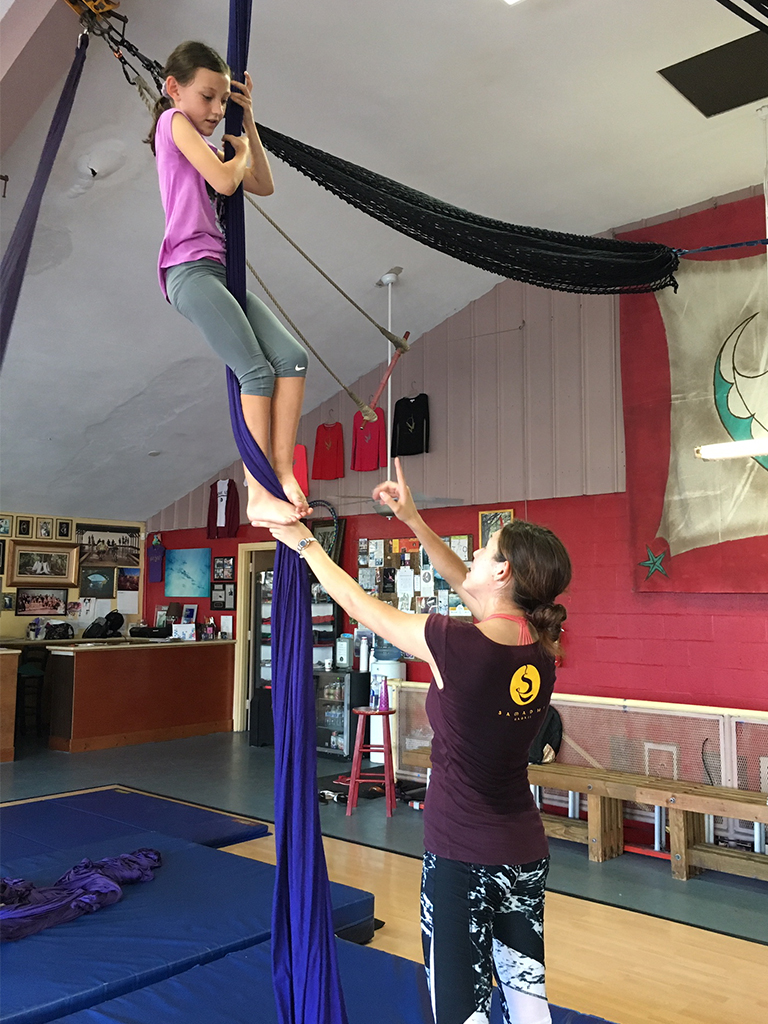 Photo: Beth Blaney
Aurora, a young, fit, super-friendly instructor, invited my daughter to join a small class of two 10-year-old girls. Aurora chatted with the three girls and eased them into a warm-up of stretching, yoga poses and some core exercises, such as side planks.
"She's like Snow White," said a mom seated near me. "I think the girls love her because she's so nice and beautiful." Aurora had a gentle style but kept the girls engaged and moving efficiently from one activity to the next.
After warming up, Aurora began some tumbling and gymnastics drills. I especially liked her attention to form and the pace of the class. Aurora had a knack for taking a familiar move—like a cartwheel, headstand or backbend—and breaking it down to help each student use proper technique to improve her form. One girl easily went backward into a backbend. The other two, my child included, not so much. Aurora assisted the girls no matter their skill level. She provided tailored instruction and guided them individually through practice. She organized the first part of class into 10- to 15-minute segments. After warm ups and a few segments of mat work, it was 5:20 p.m. Time for more challenging acrobatic moves.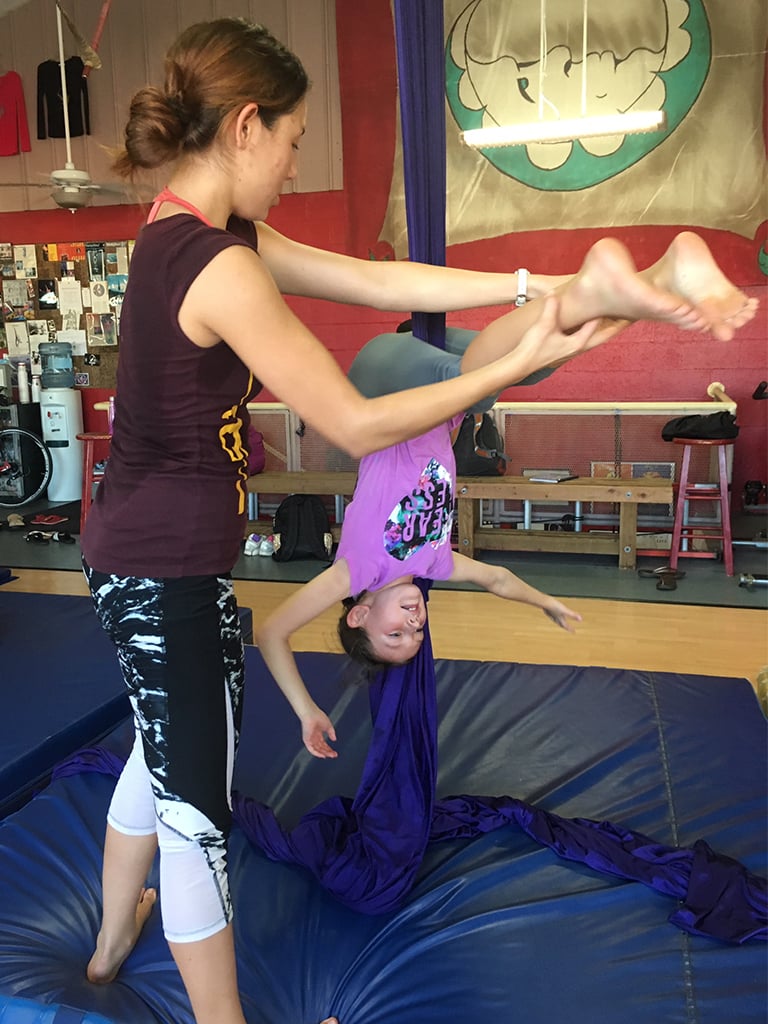 Photo: Beth Blaney
Dazzled by the pretty silks, my daughter wondered aloud during a water break where you get them. My little monkey was excited to climb! But she discovered she couldn't glide up the fairytale-like fabrics effortlessly. Chalk on her hands helped, and so did proper positioning and gripping with her feet. After three tries, she got the hang of climbing. While inching up the silks is hard work, sliding down looks graceful and fun. It seemed worth the climb every time, judging from the girls' satisfied smiles.
Aurora also taught them a couple of aerial poses. The "butterfly" starts out with the student seated with legs tucked in a kneeling position and her body entirely cocooned in the silks. Next, Aurora spun her around for a few seconds and then opened the silks to reveal the lovely creature inside. Each girl popped her head out of the silks during her reveal, and everyone got a kick out of this. The "starfish" required significant upper-body strength to push outstretched arms between two silks. My kid struggled with this pose.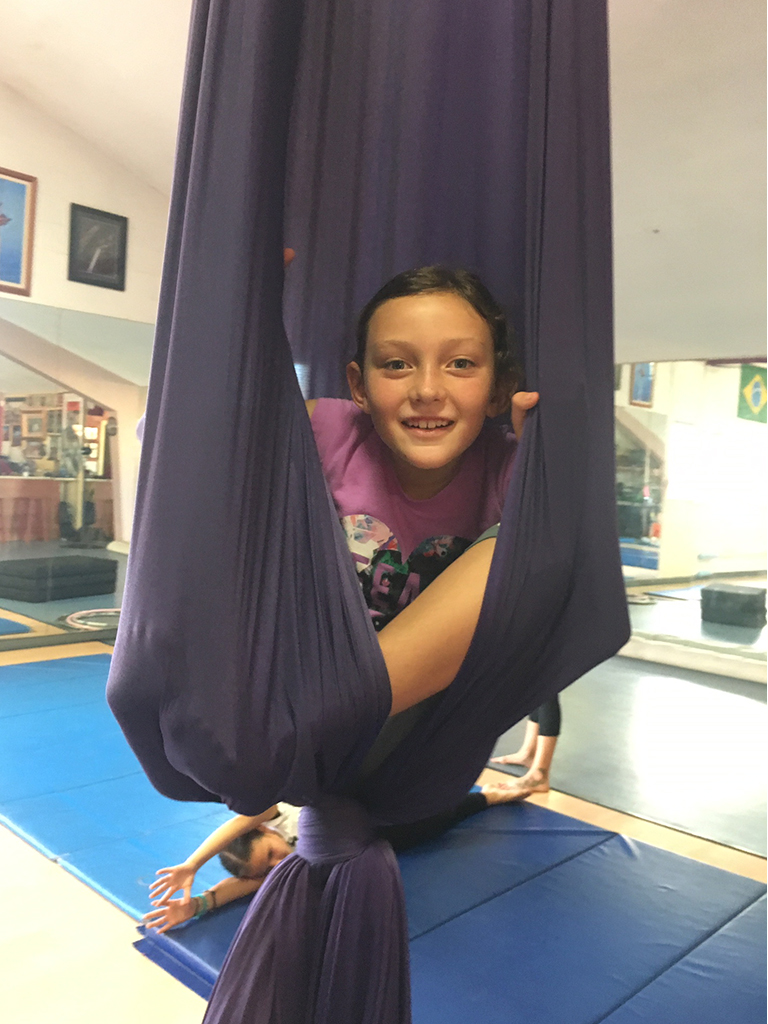 Photo: Beth Blaney
By now it was 5:45 p.m. At 25 minutes, the aerial silks portion of class was the longest segment, and visually the coolest. It was, however, a humbling experience for my daughter. New physical activities usually come easily to her. This introduction to aerial silks was more challenging than she expected. Building the strength needed clearly takes time and practice.
The final 15 minutes of class was spent on the trapeze. The students began with sitting and gradually moved up to standing on the bar, working with balance and posture. For the last move, the girls each got the chance to hang from their knees and swing upside down. Who wouldn't want to come back for more?
When I asked if she enjoyed the class, my girl gave a thumbs-up. She'd like to try it again.
As for mom, I thought the class was chock-full of gymnastic and acrobatic moves well suited to a girl who likes to cartwheel around wherever she goes.
Our 5 Tips
1. Re-park Your Car. If you don't score a decent spot on the street, you'll likely have to park at an expensive paid lot like me. (At the SALT parking structure, the fee was $6 for about 90 minutes.) Samadhi owner Andrea Torres says that after 5:30 p.m., more metered spaces become available closer to the studio. In addition, a few free spots beside the BOCA Hawaiʻi bike shop open up to Samadhi students after 6 p.m. So, depending on your class time, you may want to move spaces to reduce your parking fee.
2. Dress for Movement and Heat. What to wear? Lightweight tights and fitted sleeveless tops work best. Shorts are fine, but capri-length tights will help your child avoid chafing on the inner thighs and behind the knees. Also, tops shouldn't be too loose. It's distracting for a kid to continually have to fix a shirt that's riding up during tumbling and flipping.
3. Bring a Water Bottle. It's hot in the studio, and the kids are working up a sweat in class. Ice water definitely refreshed my little acrobat during the break. Samadhi also sells water and other cold drinks, in case you forget to bring your own bottle.
4. Fun for All Ages. If you have younger children who like to tumble and climb, consider the beginner's class: Aerial Fun for Little Ones. This small class is open to four students, ages 4 to 7. Even moms and dads can get in on the acrobatic fun. Adult classes (16 and older) are open to "new students who want to try something out of the ordinary" and learn the basics of aerial silks. Adult students were arriving for a Friday night class toward the end of my daughter's class. There were a couple teens, 20-somethings and even 50-somethings—women and men. I'd consider the class myself, knowing that it'd be a strenuous workout, particularly for my arms!
5. Take a Stroll. Enjoy the vibe of the neighborhood: take a walk after class. There's a lot to see. My daughter and I especially liked all of the funky art. Stop and pose for a photo by one of the many murals in Kaka'ako. Our favorite was the Dr. Seuss spoof, "Green Eggs and Spam." I only wish we would've picked up dinner from one of the many casual restaurants we passed while walking around SALT. Next time!
6. Windward Side Options. Samadhi Hawaiʻi also has a studio in Kailua. It's located at 50 Kahapai St. in the "Arts at Secret Zone." I met a mom who takes her 10-year-old daughter to both locations, depending on class availability and their family's ever-changing schedule. (Mom and daughter go to work and school, respectively, in town, but Kailua is home.) The owner, Andrea, teaches at both studios. Check out the class schedules on its website.
Samadhi Hawai'i is located on 330 Cooke St., floor 2. Limited onsite parking is available after 6 p.m. Metered parking or private pay lots nearby. Packages of six, seven or eight classes are available per session ranging from $165 to $212. (Sessions last approximately two months.) A single class is $30. The Student Showcase Performance is scheduled at the end of each session. (808) 683-6080, samadhihawaii.com