We did the slime: Midsummer Natto Day Feast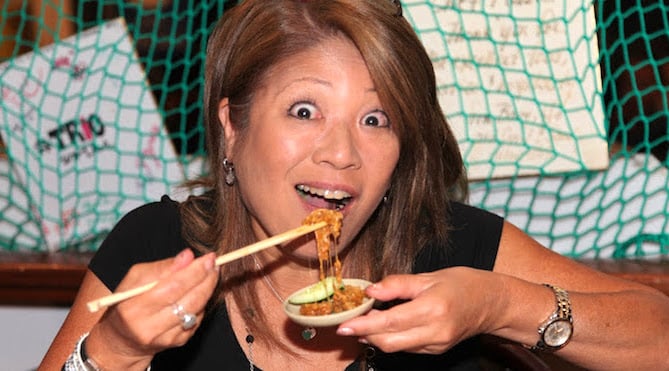 The smell hit you when you opened the door: a wave of ferment, a miasma of promise. Inside Tokkuri Tei on Kapahulu, over 100 people were scooping up natto lasagna, natto gazpacho, natto caprese salad with mozzarella cheese, natto cone sushi and temaki hand rolls, natto mac and cheese, natto risotto with unagi and slimy mountain yam, natto cream puffs and natto malasadas.
The smorgasbord at Sunday night's 5th annual Midsummer Natto Day Feast filled three corners of the restaurant with a cold buffet line, a line of hot dishes (hence the miasma) and a natto dessert table. Here's a quick video of the slime in slo-mo, courtesy of @jjjjeessssssssss: IMG_1034
Diners also got to feast their eyes on a grody, slime-filled bottle of natto beans. The two who guessed the correct number or came closest were crowned the new Natto King and Natto Queen.
Would we do it again? Are you kidding? We do this twice a year! Natto Day falls on July 10, thanks to those punny Japanese (where 7-10 sounds like 'na-to'), but starting with the local Facebook natto lovers group (Natto Day – July 10! on Facebook), which started these dinners at restaurants around town, a certain segment of Honolulu loves natto so much, we had to start a midwinter natto feast too. And every dinner sells out.
After all, when else can natto lovers revel in the stink without getting stink eye?
– Photos by Kiman Wong
Tokkuri Tei
449 Kapahulu Ave.
732-6480
Yes, there's natto on the menu. Do not miss the natto ice cream with Jack Daniels sauce.