Story Lines: Modern Design That Recounts Hawai'i's Unique Past
WCIT Architecture seamlessly fuses beautiful design with elements of Hawaiian history and culture.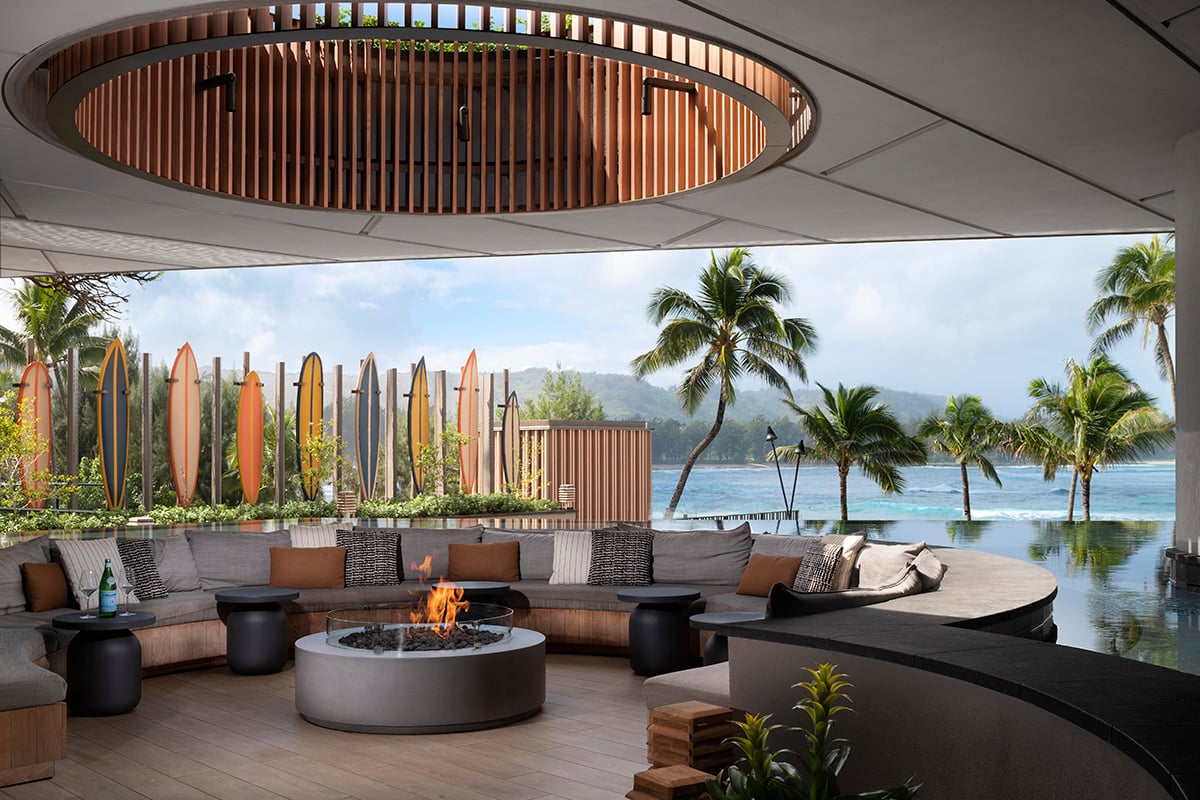 "We simply can't design for the future without looking back," says WCIT Architecture chairman Rob K. Iopa. I first learned about WCIT's unique methodology while on a press tour of the newly revitalized International Market Place. There, Iopa pointed out several elements of its design that celebrate Queen Emma, who was gifted the land by King Kamehameha IV, including large-scale etchings of her quotes on the center's glass elevator, a pond crowned by floating lilies (her favorite flower), and a healing garden that points to her care for her people. They're subtle yet striking details that once learned forever reframe the significance of the space.
The architecture and interiors firm applies this framework, which it calls mo'o methodology, to all of its projects. A celebration of Hawai'i's rich history and cultures, it's built around four key principles: mo'okū'auhau, researching genealogy and history; mo'oka'i, reflecting on the journey taken to arrive at the present; mo'olelo, the sharing of stories; and mo'owaiwai, an understanding of the values that will be left behind.
The impetus for its development came from Iopa's own want to explore deeper ways to express his Hawaiian culture through design. "By using this approach, we are able to tell that story that is found nowhere else and is distinctly and authentically of its place."
The methodology is evident in WCIT's other works, from restaurants and resorts to its civic and public projects. The fiery color and undulating roofline of Hale 'Ōlelo, the home of UH Hilo's Ka Haka 'Ula O Ke'elikōlani College of Hawaiian Language, tells the story of the red scarf laid out by Princess Ruth to stop Pele's bubbling lava flow from wiping out Hilo. The repurposed-surfboard windscreens at Turtle Bay Resort's show-stopping oculus lounge speak to the North Shore's surf culture. The wavy glass façade and columns of the Waiea residential tower point to Kaka'ako's once thriving fishponds and the stiltlike legs of the ae'o that frequented the nearby reefs. And the geometric dividers in the Kīhei Maui Brewing Co. offer a nod to kapa. "We want these experiences to spark curiosity and thought for those who use these spaces, which then can inspire them to share it with others."
WCIT Architecture, 725 Kapiolani Blvd, Suite C400, (808) 592-2345, wcit.com, @wcitarch