Way beyond tacos and burritos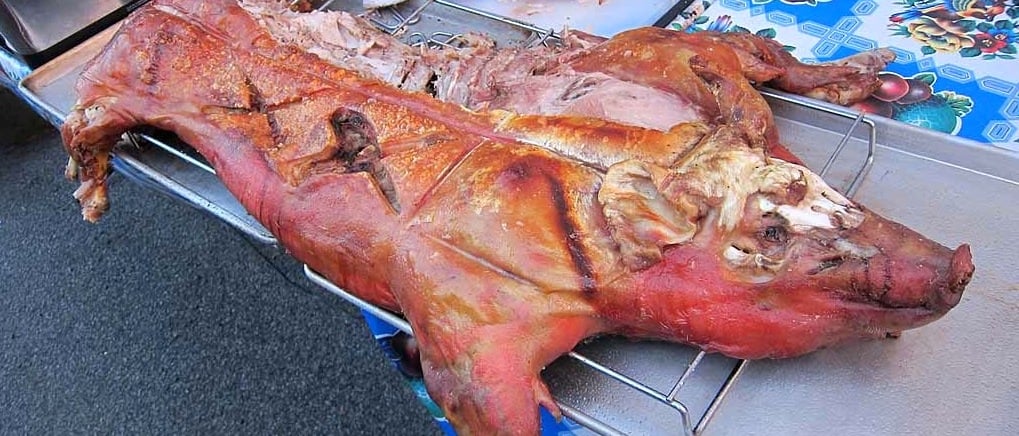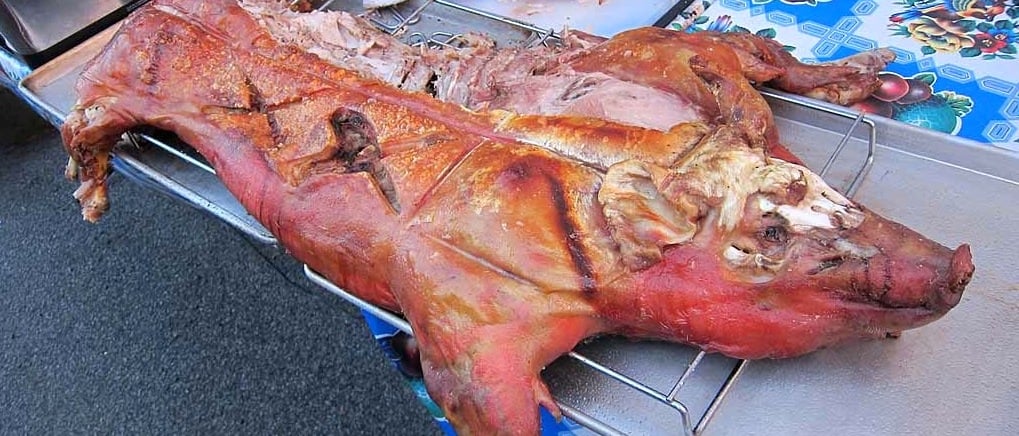 Remember this? It's what Baja Style brought to last summer's Eat the Street: Pig Out! Every time someone ordered a taco, this pork was pulled into fresh handmade tortillas, until by the end of the night the pig had been picked clean. Even if you knew nothing else about Mexican food, you knew that was a pretty awesome taco.
Fast-forward a year, and Baja is the star of Streetgrindz' upcoming second pop-up dinner series. Invitations for a media preview went out last Wednesday; on Thursday Streetgrindz' tiny offices were packed. Amazing bites of delicately smoked ahi with poblanos and cactus leaves. Goat meat cooked to a chicken-like tenderness, and not at all gamey. And a family recipe chocolate-cinnamon trifle inspired by a hot Mexican milk drink. There's more I didn't get to try, including pork belly infused with citrus and garlic and roasted until the skin is crispy, deep-fried baby smelts, baked fish layered with herbs and spices, and baby squid baked in garlic sauce.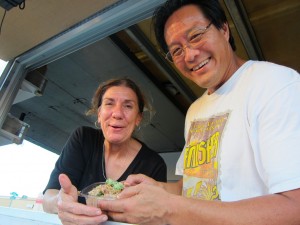 It's the kind of stuff that happens when you turn two high-end Mexican chefs, both former owners of restaurants on the mainland, loose from their food truck. The six-course tapas menu devised by Baja Style's Eric Okamura and Windy Aubrey deconstructs some Latin classics and faithfully recreates others, to the point they harvested the cactus paddles themselves, which is not a pretty or painless task, and found a farmer in Waimanalo who raises huitlacoche, otherwise known as corn truffles or corn fungus, just for them.
The other reason for the media interest was probably because Streetgrindz' first pop-up series, featuring the Lebanese dishes of Xtreme Tacos truck owner Youssef Dakroub, sold out its three-night run in April and had to add a fourth. As with the Arabian Nights pop-up, proceeds from Baja Style's Latin Nights will help the Make A Wish Foundation grant a sick child's last wish.
The rest of the 411:
What: Latin Nights, a three-night pop-up with six Latin tapas courses, an agua fresca bar and flamenco dancing
When: Aug. 9, 10, 11 at 6 p.m.
Where: 661 Auahi St. in Kakaako
Tickets: $75 at www.eventbright.com