Wandering Tokyo, part 2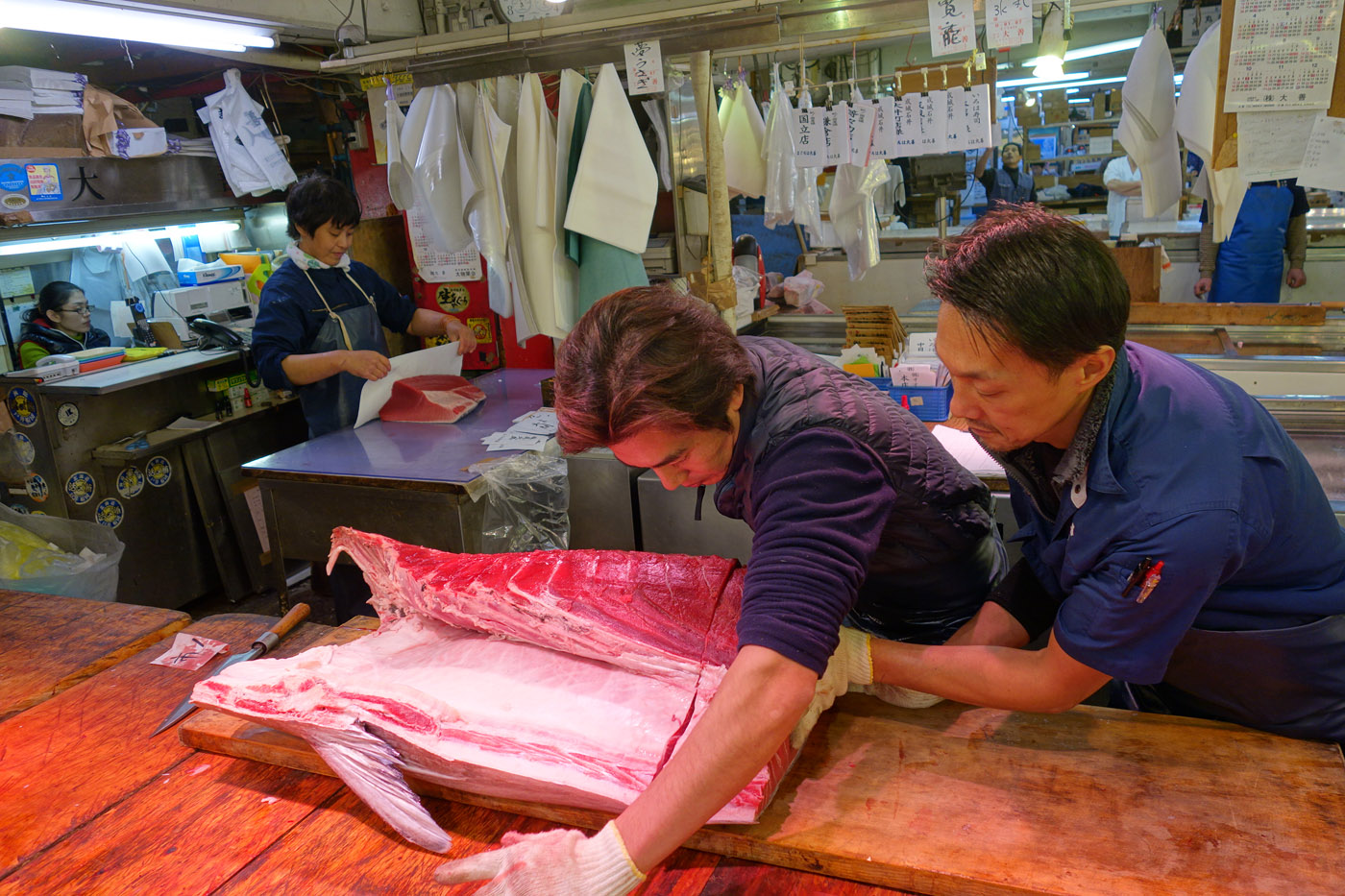 No trip to Tokyo is complete without a visit to the famous Tsukiji Fish Market, the oldest and largest of its kind in the world. In fact, if you're headed there soon, it's a must, because the operations are moving to a new facility in Toyosu in 2016. While the new place is probably more functional and state-of-the-art, I can guarantee it won't have the old charm of the original location. So go now! (Actually, you won't be able to visit from December 1 to January 17, as that's the busy time and tourists will be in the way.)
A couple of people told me to wake up at 4 a.m. to check out the auction itself. Right. I'm sure it's an exciting feast for the senses, but I enjoy sleeping. If you want to go, however, you have to apply to watch at the Osakana Fukyu Center (Fish Information Center) at the Kachidoki Gate, starting from 5 a.m. on a first-come, first-served basis (may start earlier on busy days). They are limited to just 120 auction visitors per day; 60 visitors will be admitted to the auction between 5:25 and 5:50, while a second group of 60 visitors will be admitted between 5:50 and 6:15.
If you're like me you can opt to skip the auction and go straight to the market, a little later. Cross the street to the huge warehouse and wander through the aisles of purveyor booths to see your sushi bar favorites as well as some creatures you may have never seen before. Be careful to stay out of the way, as the market is really not equipped to handle the throngs of gawking tourists.
A lot of people stand in line at the sushi spots adjacent to the market, which are great; you can cross the street to another area with ramen stands and more sushi spots, which are just as good and less crowded. (We did both.)
Since I was short on time, I made stomach space to get to Moke's Bread & Breakfast in Nakameguro. All the Hawaii pancake spots are in Tokyo now, but Moke's is special to me because we helped introduce them to Sanrio, which led to an amazing partnership. The restaurant has been there for a year now, very close to Nakameguro station. And, now that I've tried Japanese pancakes, I know why they are so crazy for ours. (Why can't Japanese restaurants make their pancakes fluffy?)
And finally! In my gallery below you'll also see highlights from our sushi dinner at Kyubei, a popular sushi restaurant. It's about $100 per person, but that's very reasonable when you compare it to the quality of sushi spots of similar calibre in Tokyo. (We actually had dinner there the night before, but I figured this was a better tie in.) You'll see a photo of ebi in the gallery, and if you follow me on instagram you already saw how the chef ripped the heads off the live shrimp, sliced them up and served the nigiri with the meat still twitching. Click here to see it!
Tsukiji Market
These were just the highlights. To see all photos from the trip, click here.
Up next: visiting former Hawaii newsman Ross Mihara with dinner at a ramen kaiseki!