Waikiki Brewing Co. is back in Waikiki
A total renovation makes beer the focus of an expanded space that reopens today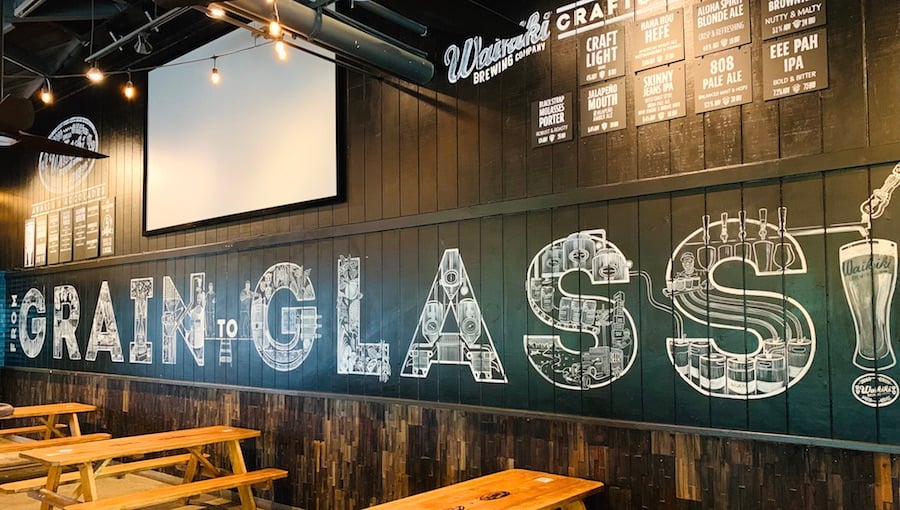 Founded at the corner of Ala Moana Boulevard and Kalakaua Avenue in 2015, Waikiki Brewing Co. outgrew that space and expanded to a larger locale in Kakaako two years later. Now, after a complete renovation, it's back in its original spot at the old Cheeseburger Waikiki location, with dine-in service beginning today. "We really expanded to focus on the beer," says brewmaster and partner Joe Lorenzen. "The vibe is really comfortable, it's a neighborhood pub. Our regulars are our friends."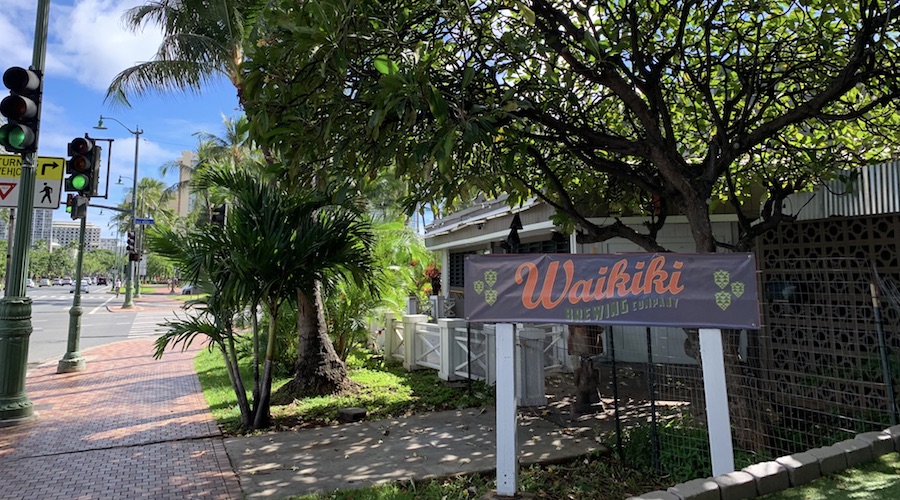 While its Kakaako pub has become Waikiki Brewing's primary brewery and canning facility, the Waikiki location maintains its own brewing system to focus on limited and experimental small-batch beers. An outdoor bar area has 12 taps, while the indoor bar will have 16 showcasing all the brewery's core drafts and limited selections. An area is set aside for regular cask ales, which are small barrel-conditioned beers served at warmer temperatures, often with added ingredients. Opening weekend will feature special beers on tap including a new XPA not brewed since 2015, the last keg of the Lion's Roar Imperial Stout made with local Lion Coffee, and the Quarantine Quad, a Belgian-styled beer brewed to celebrate this strange year.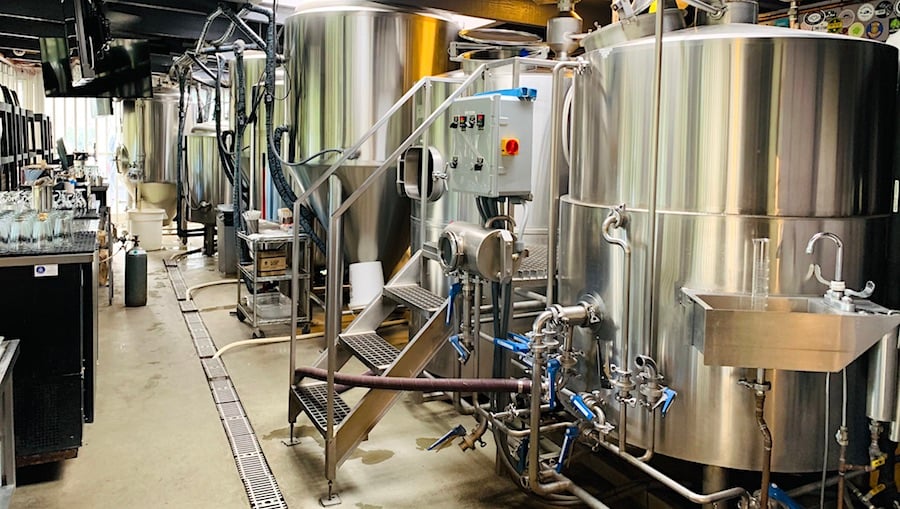 The restaurant side has newly painted black walls, high ceilings, exposed concrete floors, hardwood bar tops and finished picnic tables indoors and out. The focal point of the space is "From Grain to Glass," a mural by local artist Erin Ibarra (@the_artery_design_co). "It starts with the G showcasing the four ingredients of beer [barley, hops, water, yeast]," Lorenzen explains, "and moves on to the process from malting, local ingredients such as fruit and honey, fermentation, and ending with the beer being poured into your glass in the final S!" The details are better enjoyed in person.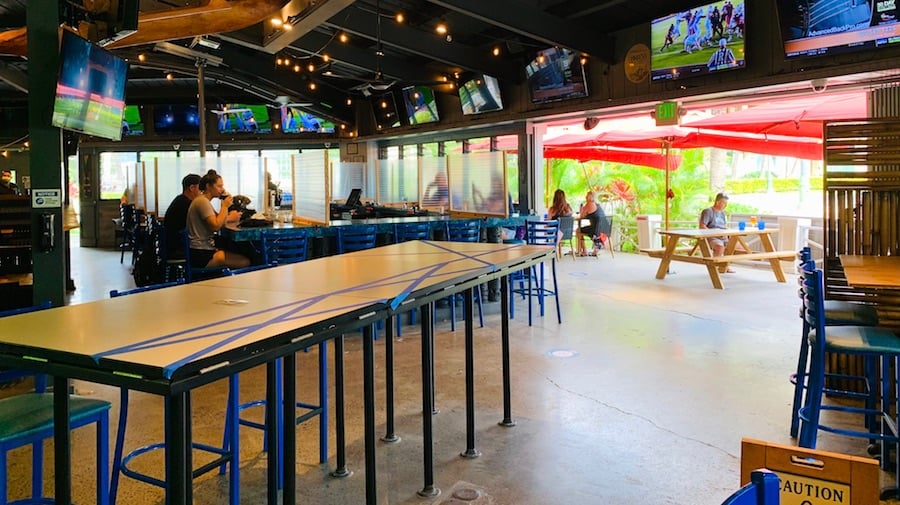 Dividers, table spacing and sanitary procedures are in full force; Lorenzen wants customers to feel safe, and ensure the staff is comfortable as well. "We're excited to bring life, customers and jobs back into this area of Waikiki," he says. "We want visitors to feel this is their neighborhood pub too."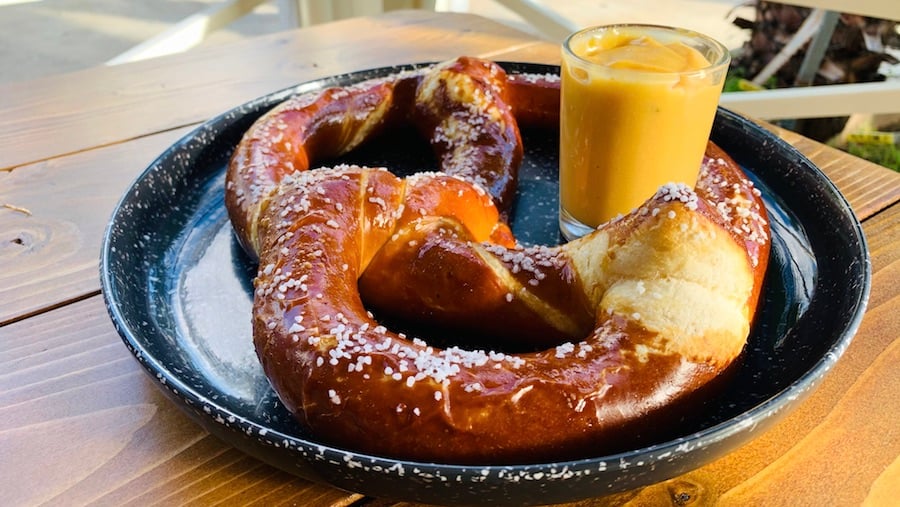 Food and beer lists are accessible online through QR code. Appetizers include a hummus platter with fresh vegetables ($10), chicken wings in homemade beer barbecue sauces ($14), coconut shrimp ($16), and a giant pretzel ($12). Burgers include the Shaved Prime Cheeseburger with prime rib, swiss and cheddar cheeses, horseradish sour cream and au jus ($19). There are also full-size salads ($10-$12), pizzas and sandwiches. On Sundays look for a brunch menu from 8 a.m. to 2 p.m. with a pizza of bacon, egg and cheese ($16), a Snooze Bar-rito ($15) and avocado toast ($13), among other savory morning dishes.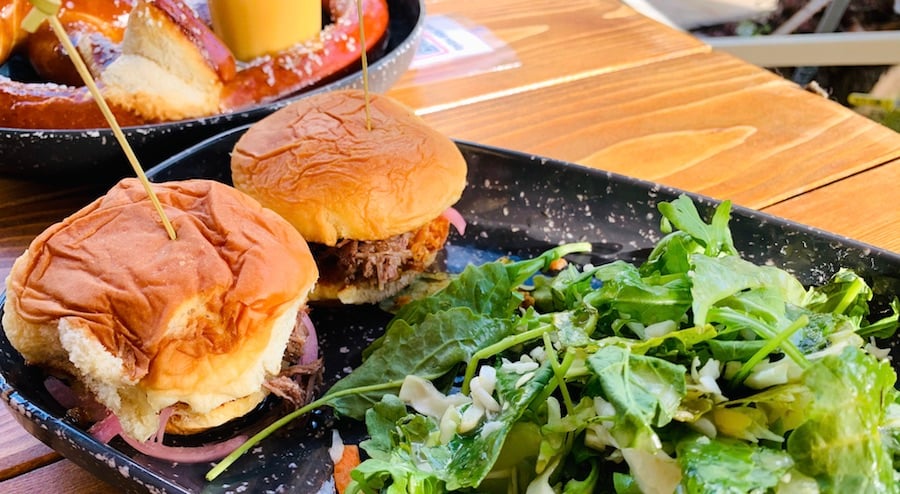 Flatscreen TVs abound both inside and outside, the centerpiece being a large projection screen that will be used mainly for larger events. For now, all the spaces have socially distanced tables, but in the future the lanai along Kalakaua Avenue will have corn hole and other outdoor games.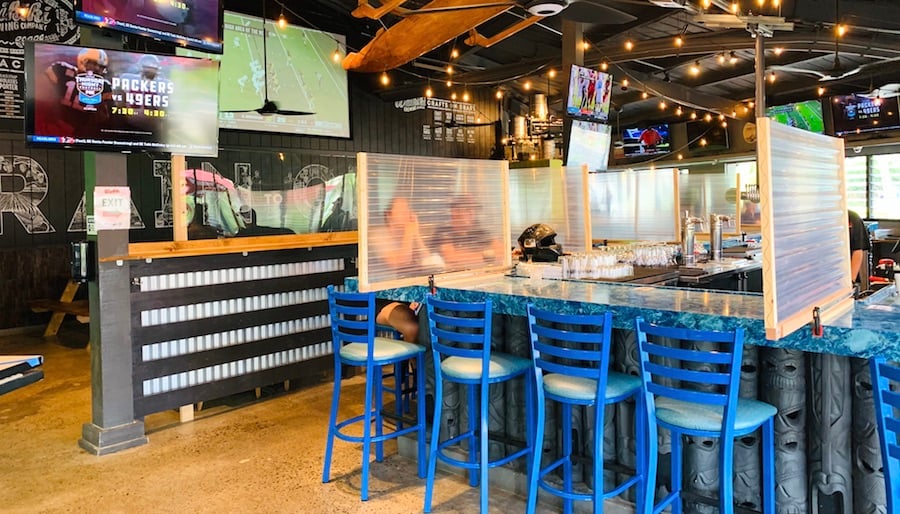 Non-beer fans will find an array of alcoholic beverages including draft wine, cocktails, hard cider and soon, house-brewed hard seltzers; soft drinks are also available. You can buy beer to-go in mix-and-match cases ($29 for 24 cans), 6-pack cans, and growler fills (bring your own and have it sanitized, or purchase one from the brewery).
Hours at the new Waikiki location are Thursday, Friday, Saturday and Monday from 11 a.m. to 10 p.m.; and Sunday 8 a.m. to 10 p.m. (closed Tuesday and Wednesday). Happy hour daily from 2 to 5 p.m. and 9 p.m. until closing. Last call is at 9:30pm.
1945 Kalakaua Ave. • Waikiki • 946-6590 • waikikibrewing.com/waikiki • @waikikibrewco