VJ's Butcher Block in Haleiwa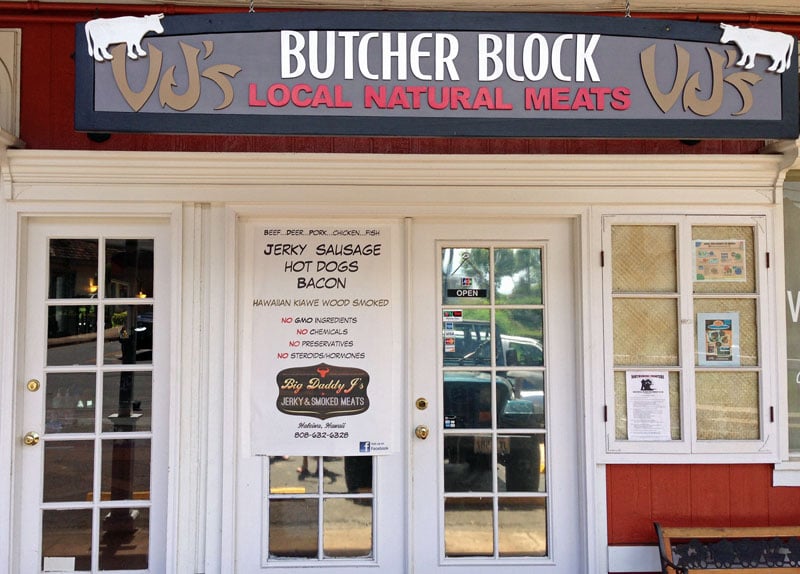 Our North Shore beach jaunt was supposed to end with a portabella stachewich at my favorite Haleiwa café (which happens to be vegetarian), but instead, the smell of smoke meat led us astray. Instead of Beet Box, we ended up with a meat box.
It brought us to VJ's Butcher Block, which turns out to be a great little butcher shop offering cuts of Molokai beef, from ribeyes to hearts, and wild Axis deer caught on Molokai. There's even lamb from Niihau. Because the emphasis at VJ's is meat fed a GMO-free diet, the pork is the only item in the case that isn't local: It comes from an Oregon farm. VJ's brings in all the animals whole and breaks it down into parts and grinds the meats in house. So whether you want a whole rack of ribs or venison marrow bones, VJ's can make it happen.
VJ's also smokes meats such as pork belly, deer shanks and sells kalua pig to take home. Can't wait? (We couldn't.) Then head to the hot dog and burger shack next door, where the rich lamb and deeply flavorful Molokai beef are grilled in perfect burgers—the patties packed not too loosely and not too tight, but just right. This is my favorite way to experience the meat, to taste its intensity. But hot dog lovers will dig the housemade sausages. The only disappointing thing was the sliced brisket sandwich, less like Texas barbecue than teri beef. Hope springs eternal for good barbecue in Hawaii.
But we were more than satisfied and returned to the butcher shop for some spicy beef jerky for the road and venison to cook at home. VJ's, nice to meat you.
Beef from $6.99 to $23.99 a pound
Pork from $15.99 to $19.99 a pound
Venison from $11.99 to $25.99 a pound
Lamb from $6.99 to $12.99 a pound
VJ's Butcher Block, 66-470 Kamehameha Hwy Suite C, Haleiwa, 637-6328, facebook.com/VJsButcherBlock