Viva Vegas: Todd English's P.U.B and Zarkana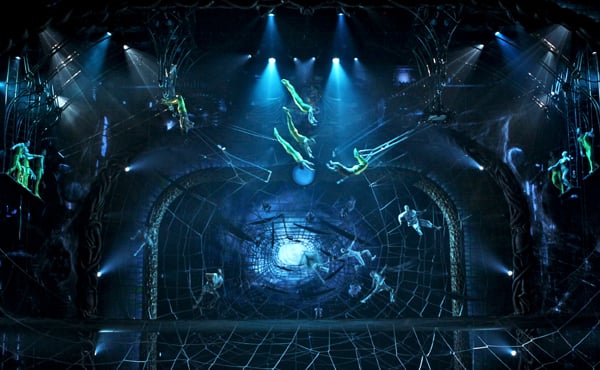 Before I start on our Aria experience, I want to give you some tips for shopping on December 26 (which is when this blog entry happened). I've been going to Las Vegas to shop the day after Christmas for several years now, so I can tell you from experience that you need to get to the mall — outlet or otherwise — by 7 a.m. when they open. Aside from the fact there are incredible doorbuster deals, there are no crowds, no lines just to get in to the stores, and lots of parking. You won't even understand how important this tip is until you are done shopping and try to leave the mall, and you see the lines of cars for miles waiting for your parking space.
Yes, it's an ungodly hour, but forget the makeup and any fashion sense and just GET TO THE MALL EARLY. You can take a nap later. Have I beaten this dead horse enough? That's how important (and worth it) the effort is.
Switching gears, the newest Cirque du Soleil extravaganza to hit the strip is Zarkana, which takes the place of their Elvis-themed show in the Aria Hotel theater. There's a definite story line to follow here: It is about Zark, a magician in an abandoned theater, who has lost his love and his magic. He cries to the gods for her return, and they plunge him into a dark, almost eerie, but surreally cool world with spiders, snakes, talking plants and floating eyeballs. (Note that his name is a cross between the words "bizarre" and "arcana," which refers to the strange world that he visits.)
The music is a rock-opera, but sung almost entirely in the company's signature "Cirque-speak," a gibberishy language that's a combination of Russian, French, Spanish, Italian, and manatee. But, who cares? This show is less about the sounds and more about the gorgeous visuals, from the elaborate 3-D video enhancements to the sand artist (my favorite) and, of course, the choreographed, nerve-wracking acrobatics. This is a great show to watch if you're into creepy visuals and (in my opinion) you've seen at least one other Cirque production to be able to appreciate it.
You'll probably want to have dinner nearby before the show; our twitter friends Cris and Christina Bartolome strongly suggested Todd English's P.U.B in the Aria, which was a good choice.
Outlet shopping on December 26
Picture 1 of 30
When you go shopping on December 26, don't even worry about getting ready for the day. Get to the mall (outlet or otherwise) by 7 a.m. and shop. There are no crowds, and lots of parking … just crazy people like this stuffing their shopping bags with designer deals that are off the hook.
Here's the official trailer from Zarkana:
For more photos from this day, click here.
Up next: Dinner at Raku. Yes, it's so good it stands alone.