Viva Las Vegas: Dinner at The D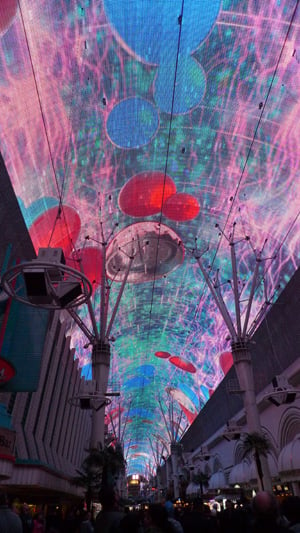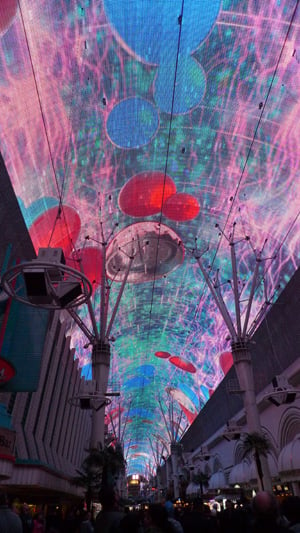 If you're from Hawaii, you can't stay away from Downtown Las Vegas (even if you like to stay on The Strip). It's got its own charm, it's more laid back than Las Vegas Boulevard, and it's way more walkable. Plus, there's the added bonus of running into people you know.
Over the last several years, all the downtown hotels have undergone some kind of renovation, even renamed themselves for rebranding, to keep up with the development on The Strip. One of those significant rebrands was Fitzgerald's, which became The D last year. It's a lot more hip, complete with an outdoor bar and go-go dancers.
Faye Muranaka, whom longtime Hawaii advertising people will remember, now works at The D and invited me to dinner at Andiamo, their signature steak house. Although she bought us dinner, I can tell you honestly that it was a wonderful meal. Ritsuko and I were still full from our brunch buffet earlier that day, so we were really sad that we couldn't finish our meal (not even to make room for dessert!), but we enjoyed what we could eat. We packed our leftovers for Robert, who had to work, and he reported back that he had some of the best leftovers ever. If you want a nice meal in Las Vegas with classic ambiance, I'd recommend Andiamo. I liked it enough that I'll probably go back, the next time I am there.
After dinner, we tried to walk it off by exploring Downtown and visiting the new Downtown Grand (the former Lady Luck), which recently underwent its own renovation and rebranding. I need to apologize in advance for the photo quality, as my camera broke before the trip, so I had to revert back to an old camera.
The D Las Vegas
Mahalo, Faye, for a wonderful dinner! To see all photos from this day, click here.
Up next: After-Christmas shopping tips and backstage at Zarkana!