Vitalsox: Not just for running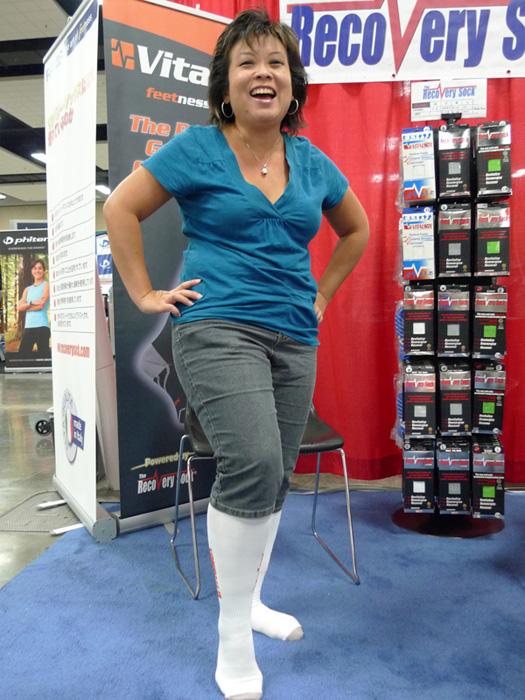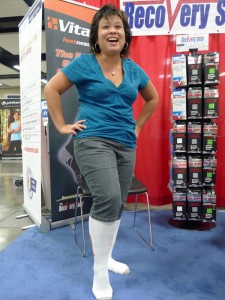 You may have seen Melissa Chang's Vitalsox video from the Honolulu Marathon Expo in December. I asked on Twitter what size socks would I wear, and in a prime example of social media in action, Vitalsox responded. Unfortunately, all they had was hot pink, so I opted to wait until they had other colors in stock.
Since intermediate school, I've never been able to wear tube socks. When I started playing football, I had chronic ankle problems. To avoid sprained ankles, the team trainer started me on exercises to build my calf muscles. My calves blew up, and my ankle problems went away. However, I could never find tube socks that would fit after that. The reason is the misproportion of my legs in relation to my feet. My feet are small for my size (10.5), my ankles are 10 inches around, and my calves are 19 inches around. If I got socks that fit my feet, the top part would stretch out after one use. If I got socks that fit my calves, the foot part would be loose, and I would get blisters. So, when I first saw the pair of recovery socks that Vitalsox gave me, I was highly skeptical that I would be able to get them on. To be honest, I thought that they looked like a pair of pantyhose.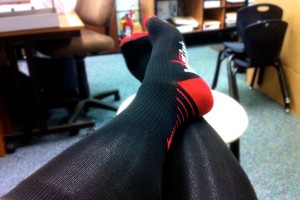 Granted, it took me five minutes to get them on, but to my amazement, the recovery socks fit. It's incredible how much they stretch. They are comfortable and snug, but not tight or constrictive. As a matter of fact, I noticed that my shoes were loose, and I had to pull my laces tighter than normal. But what would I do with these new compression socks? The first thing that popped into my head was to wear them on my flight to Las Vegas and see if they would help prevent my feet from getting swollen.
During the flight, I noticed they did indeed improve circulation in my legs. The compression prevented my feet from swelling, and I never once experienced that restless leg feeling. It was amazing to me how much less fatigued I felt at the end of the flight because my feet didn't hurt. After checking into my hotel, I met up with Melissa and Julie Yoneyama to walk the outlet malls, and thanks to the socks, I was able to stay on my feet the entire day without any discomfort.
As I said before, I was skeptical as to how well Vitalsox would work, but now I'm convinced. After seeing me with them, my mom wants a pair. Guess I'll be getting them for her along with my order.