Vintage Cave's New Chefs: Jonathan Mizukami and Eddie Lopez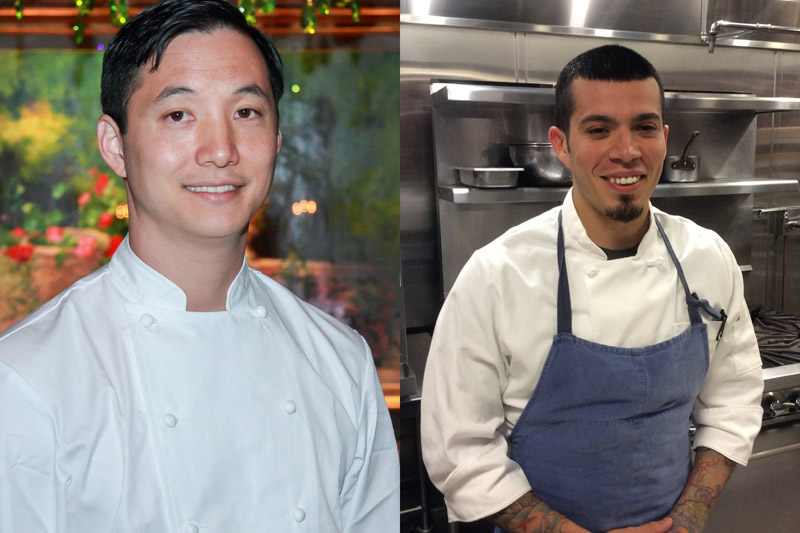 Vintage Cave, Honolulu's most expensive restaurant, has a new chef de cuisine: Jonathan Mizukami, 35, who took over when Chris Kajioka left. Mizukami, originally from Maui, spent the past 10 years at The French Laundry, most recently as a sous chef, and also cooked at El Bulli in Spain for a season (seven months). Mizukami had just given his notice at The French Laundry ("I was ready to come home," he says. "I've been away for 10 years.") when Vintage Cave's general manager Charly Yoshida called. The timing was perfect.
Mizukami's menu at Vintage Cave is "influenced by everything that I've learned and seen," he says. Lately, he's excited by his pasta extruder, which allows him to make hand cut macaroni. (Housemade pasta is not so much of a novelty anymore, but I can't think of a single restaurant in Honolulu that makes its own macaroni.) He serves it with black truffles, bacon and roasted cabbage.
While Vintage Cave was originally intended to be a members-only restaurant, it is still open to the public with two tasting menus: a chef's tasting and a vegetable-focused one. The vegetable menu includes a savory breadfruit pudding. "I had never used breadfruit before," Mizukami says. "The first time I tried making something with it, it didn't work out. Now, it's really good." He purees roasted breadfruit and blends it with young coconut water that he extracts from whole coconuts. It's paired with hearts of palm, lime, pickled ginger, cilantro and a vinaigrette made with finger limes, a lime varietal that's often called citrus caviar because of its looks. "When you eat [the dish], every bite is going to be different," he says. "It keeps it interesting."
For the vegetable menu, he also takes a whole carrot, cures it and then roasts it. The skin stays intact, but the inside turns into a kind of pudding. "It's like a carrot ravioli," he says. It's served alongside dates, pea shoots and almonds.
In addition to creating a new menu, Mizukami also had to build a whole new kitchen crew; when Kajioka left, so did everyone in the kitchen except for one pastry chef de partie. Most of the crew Mizukami hired locally, but he also brought four chefs from the Mainland that he had previously worked with. One of them is pastry chef Eddie Lopez, 26, originally from Chicago. The two met at the French Laundry, where "Johnny helped me inside and outside of work," Lopez says. "He became more of a friend, let me borrow his car, and we have a really good friendship." So when Mizukami called him about Vintage Cave, Lopez moved out within a few weeks.
Lopez says his food philosophy is to "create a story about what we've done with our lives and show it through our food. A lot of my food is what influenced me through my life." One of his desserts on the tasting menu combines popcorn, peanuts and chocolate. "I remember the first girl that broke my heart, that drove me crazy," Lopez says. "To this day I remember we went to the movies, watched The 40-Year-Old Virgin, and she said 'eat these peanut M&Ms and popcorn.' I don't talk to her anymore, but she has a big influence on me."
Tasting menus at Vintage Cave are $295 plus tax and gratuity per person. For reservations and more information, call 441-1744 or go to vintagecave.com.