Vikram Garg pops back up at his new TBD…
The acclaimed chef returns to the kitchen and leads MacNaughton Group's hospitality division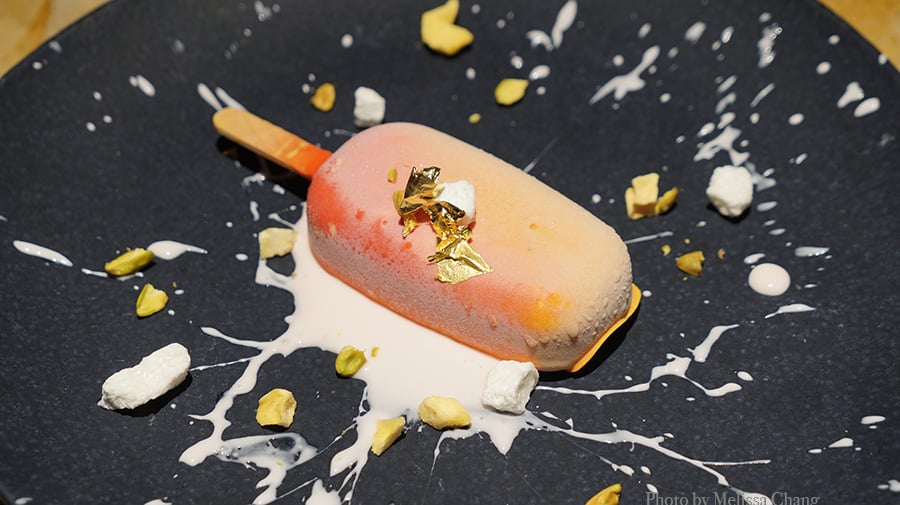 I couldn't believe so much time had passed since acclaimed chef, Vikram Garg, left the Halekulani in 2016. We'd see him around town every so often and ask what he had planned next, and he'd always laugh and say, "TBD!" It wasn't until he opened his new pop-up a few weeks ago, that he was honestly answering the question.
TBD… (yes, with the puncutation) is aptly named, as a reflection of what is and what is to come. It's located in the Lotus Honolulu hotel, in the space that was previously Wisp (or the old Bobby McGee's, for you old people). The MacNaughton Group bought the hotel in December, and with Garg heading up its hospitality division, the restaurant was created as a spot to exercise his creativity. Since the hotel and the restaurant will be undergoing renovations, making it temporary — popping up for about 18 months — was a good way to make use of the space. In fact, the following photos are also temporary, as the menu will be changing regularly.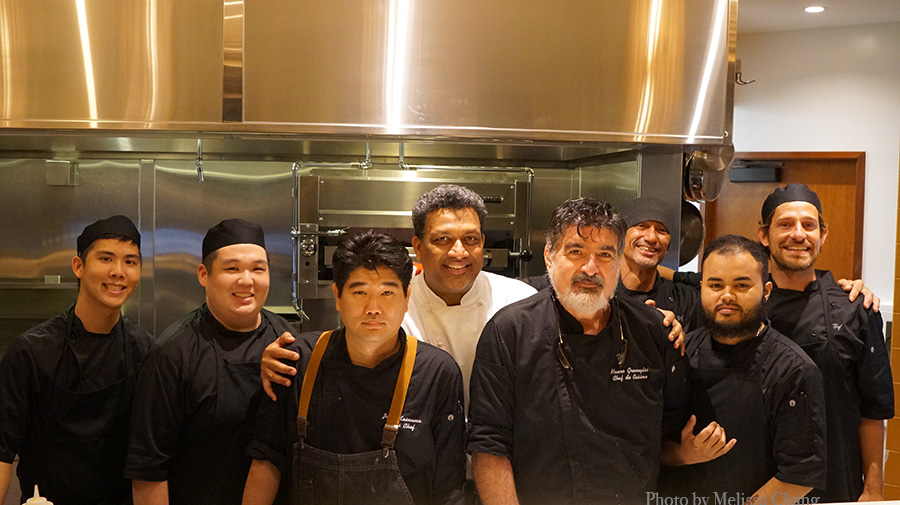 Most people in Hawaii know Garg as the executive chef at the Halekulani hotel, where he worked for eight years. But he is actually a graduate of the Oberoi School of Hotel Management and holds a post-graduate degree in Hotel Management. The menu at TBD… reflects his "global journey," as he calls it, from his roots in Andaman and the Nicobar Islands of India to his subsequent experiences around the world.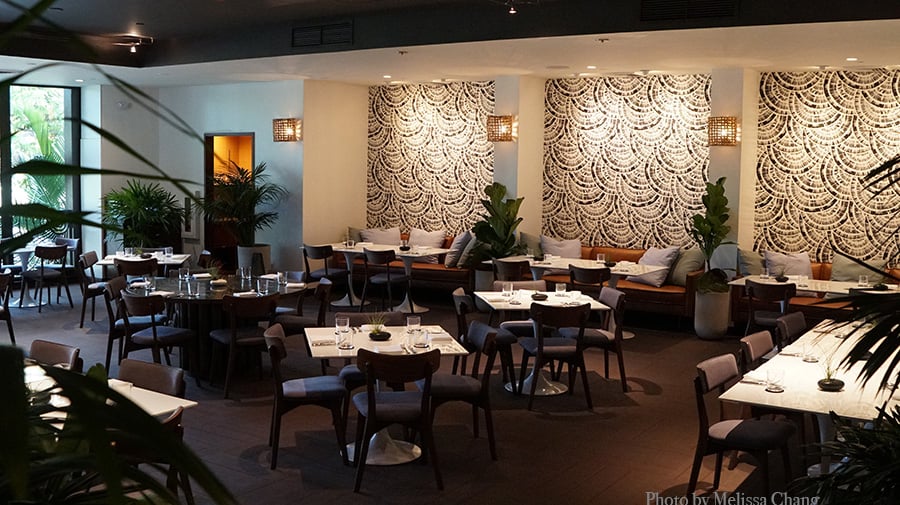 The basic structure and layout of the restaurant remained the same, with a bar at the entrance, a lounge area, dining area, and the chef's counter. The stylish decor, however, was part of Garg's vision. No matter which area you choose to dine in, you have access to the menu as well as wines by sommelier Drew Niles and cocktails created by mixologist Francesco Lafranconi.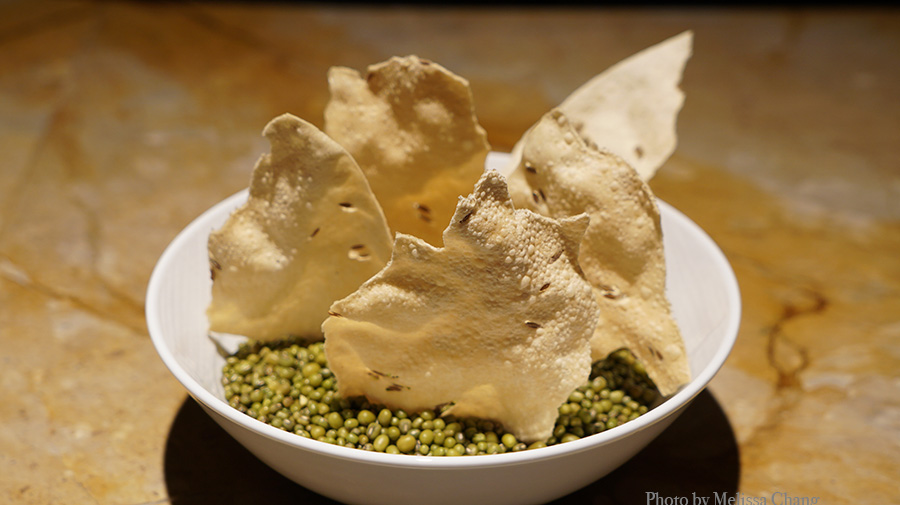 We started our evening with a bowl of lentil chips, which are light and crisp — good for snacking on while you decide what to order. Be careful not to eat the raw grains, as they're just in the bowl for visual appeal!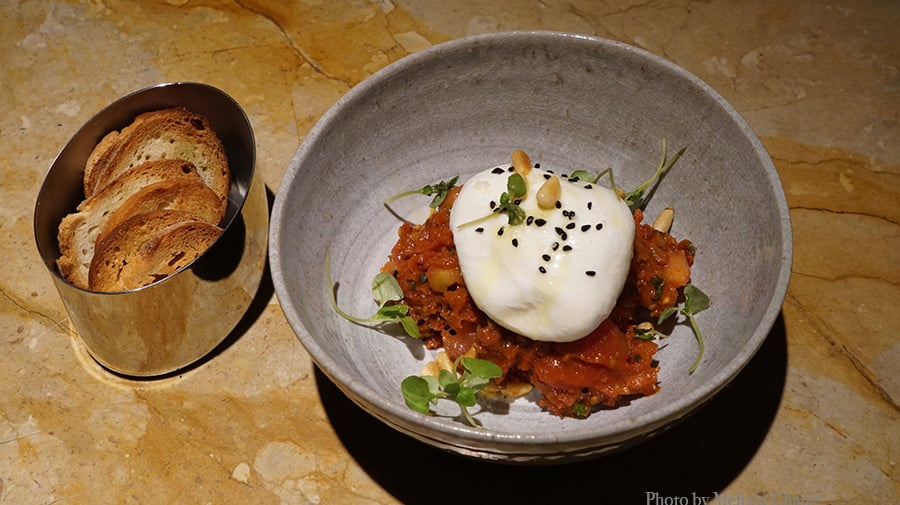 Tomato tartare with burrata and pine nuts over Nigella seed crackers are also a nice way to start. You might wonder why the appetizer is so pricey, so keep in mind that the ingredients are all carefully sourced, and he has a master cheesemaker on hand to make all the cheeses and butters in house.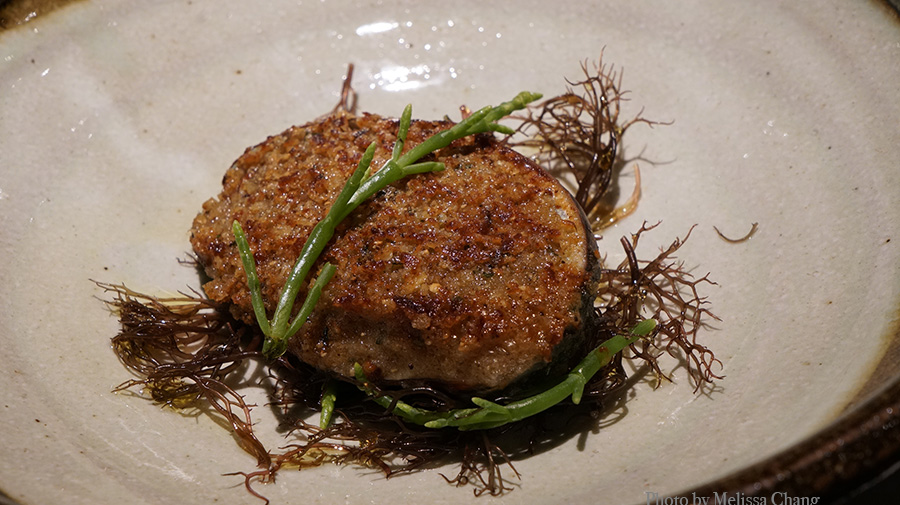 One of our favorite items was the Kona abalone, served with a mushroom miso pepper crust. The tender abalone is pre-sliced for easy eating, and that savory, earthy crust was good enough to just eat with bread!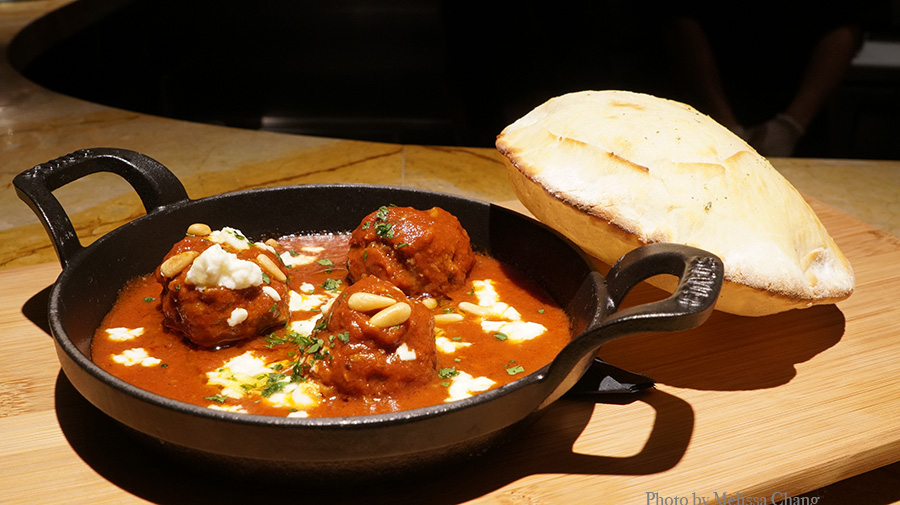 In India, kofta are spiced meatballs cooked in a spicy curry or gravy. Here, they're smotherd in a tomato-cinnamon sauce, sprinkled with feta and pine nuts, and served with flatbread — which isn't flat, but a puff (like pita). I don't know if the bread is served like that in India, but I remember it served this way in Dubai … a nice touch to nod to that part of the globe.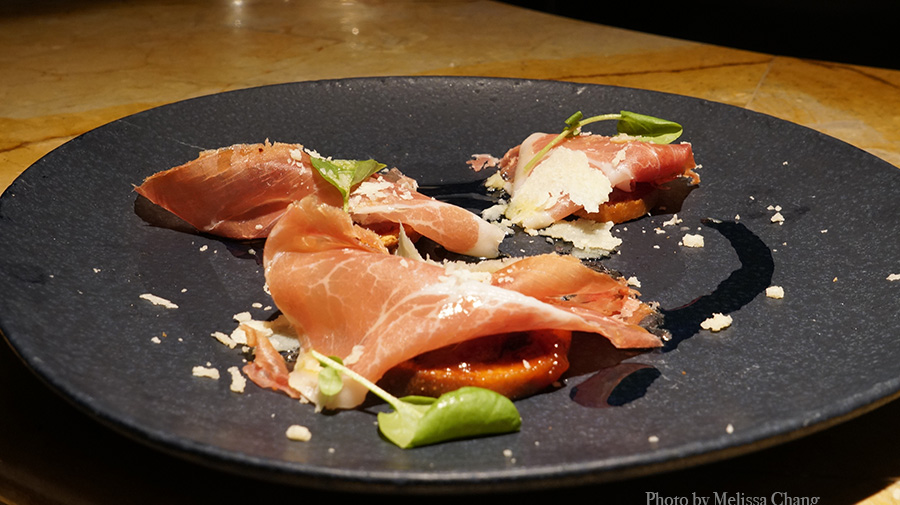 Thinly shaved iberico ham gave us a taste of Spain, and served with their tomato-raisin jam,you get an ooze of sweet-tart that balances the savory flavor beautifully.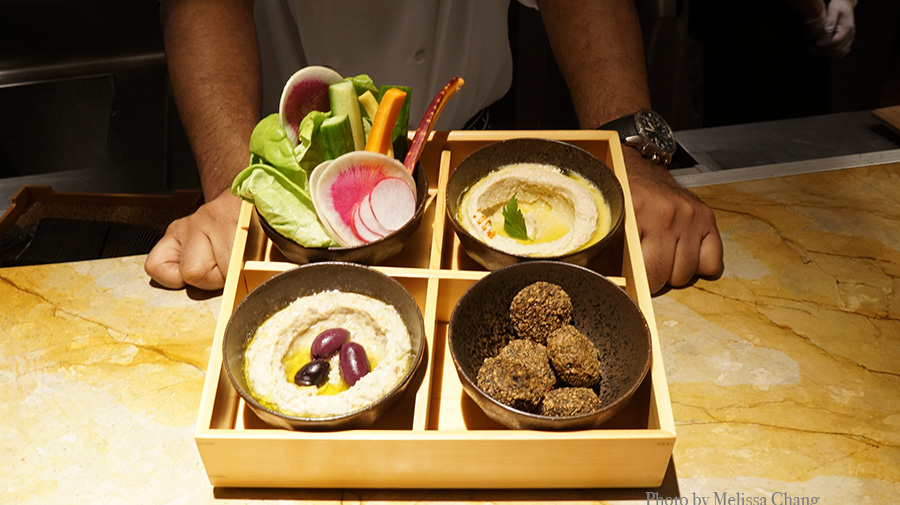 TBD… has something for everyone, and even omnivores will enjoy the vegan TBD… Bento, comprised of hummus, smoked eggplant, falafel, and assorted vegetables. This was accompanied by a basket of flatbread (which was actually flat this time). I was happy to just dip the vegetables and falafel in the hummus or eggplant.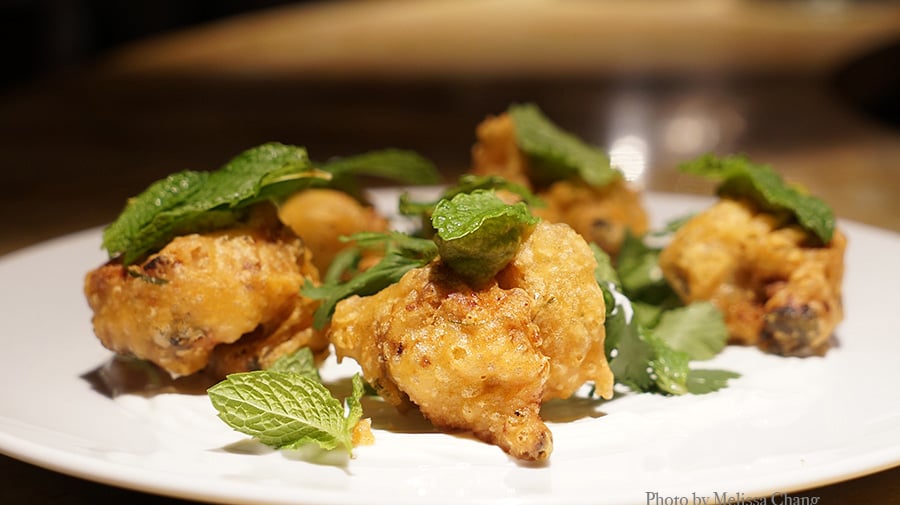 Garg, being from India, made sure there was an ultra-hot tandoori oven in their kitchen, where some of the items are made. One dish you won't want to miss is the "TFC," or tandoori fried chicken, served with Greek yogurt, raw mango chutney, and herbs. It's both tender and crunchy, and the yogurt with the chutney offer a unique contrast in flavors that oddly wake up your palate while mellowing it out.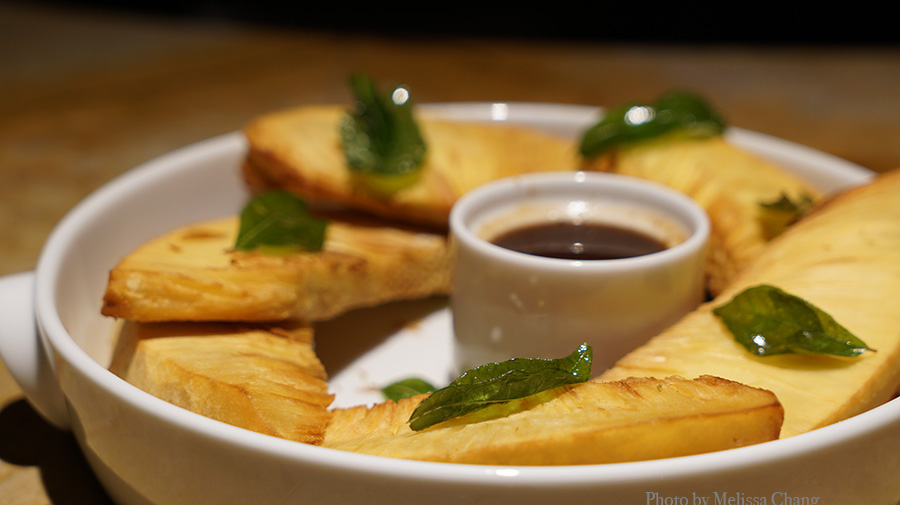 Why serve French fries like everyone else, when you can offer trendy breadfruit as an alternative? I liked them plain, but if you need to kick up the flavor, you can dip them into the house-made tamarind ketchup.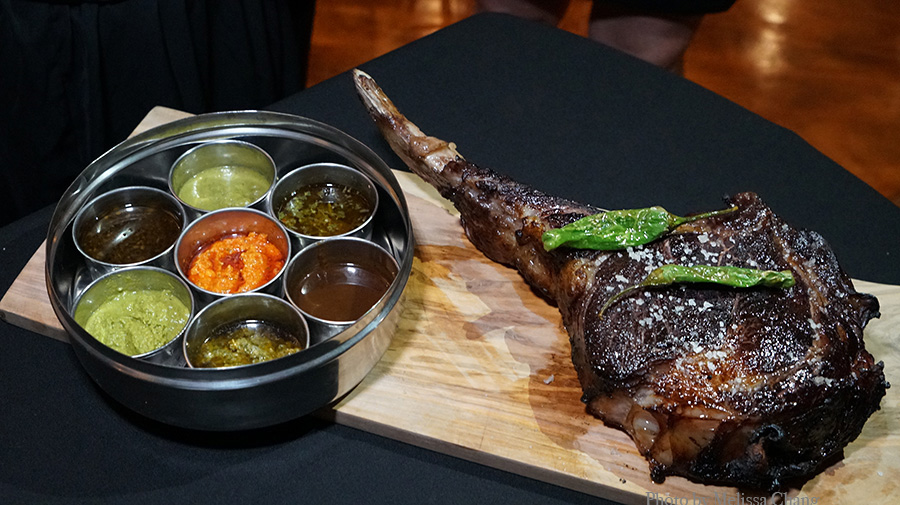 The highlight of our media dinner was the aged tomahawk steak, which was also cooked in the tandoori oven. Garg rolled it out on a cart to carve it for us (you can see it on my video) and we were instructed to try it with each of the seven accompanying sauces and chutneys to see what we liked best. Normally, this is something that two people would share, but since this was a media dinner, it was split among several people — which was fine, because we had so much food! But if I were to split this with just one or two other people, I would definitely do a second round of steak with the sauces, and experiment with combining them. It was as flavorful as it was fun to try!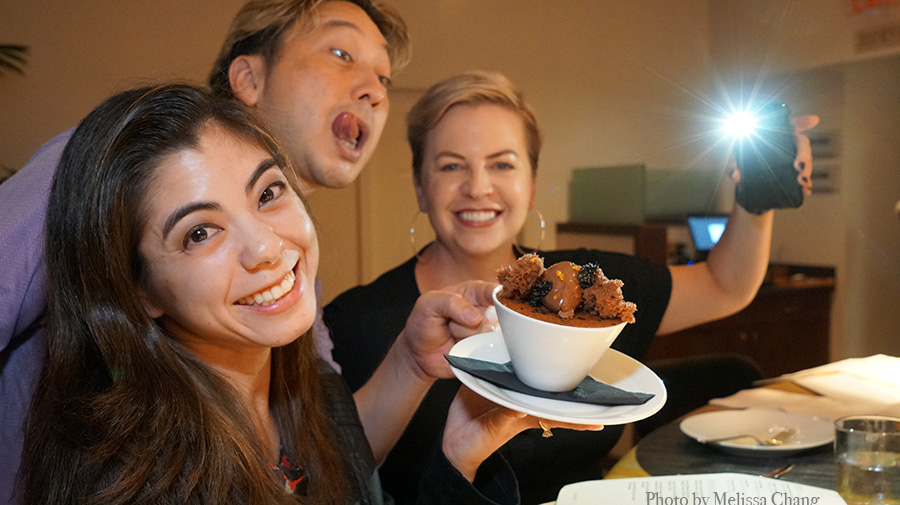 Now we get to Kelli Shiroma's favorite part of any meal: dessert. Garg presented us with a chocolate cup cake (get it?) topped with black sesame crunch cremeux and berries. It's definitely for chocolate lovers, but don't worry — it's not overly sweet or heavy, so it won't put you over the top when you eat it.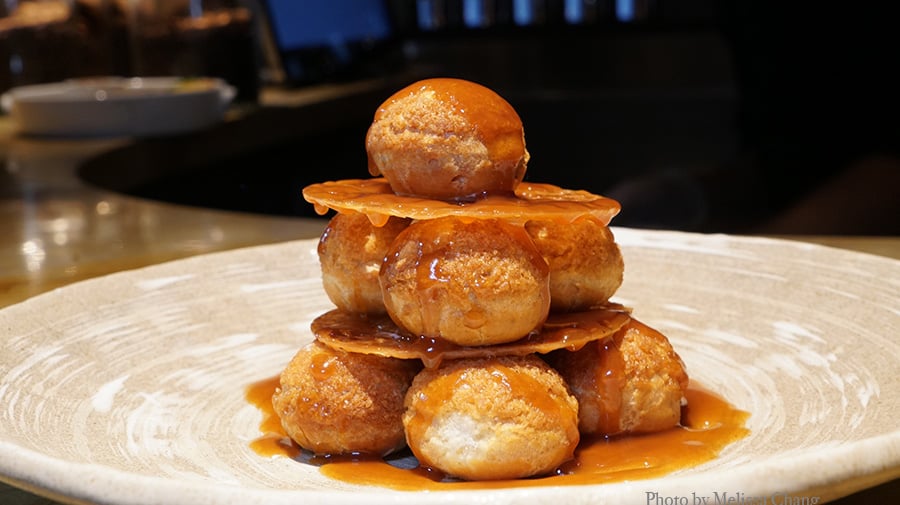 Normally, a French croque-en-bouche is a pile of cream puffs held together by spun sugar and caramel. At TBD…, the banana cream puffs are neatly stacked with caramel discs separating each layer, which helps lend to the name that means "to crunch in the mouth." This photo shows a conservative pour of caramel sauce; everyone else that has posted this dessert shows it completely covered in sauce. Either way, it's delicious!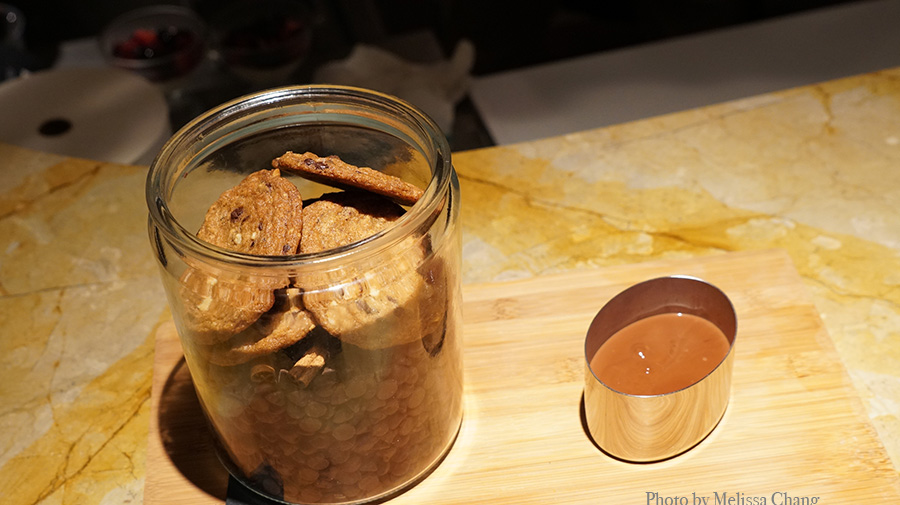 I loved the way they served the "El Nobles" cookie jar, and was even more charmed by Garg's demonstration of breaking each cookie and dipping it in the chocolate sauce to eat. It's a very fancy version of a childhood treat … with fancier ingredients, of course.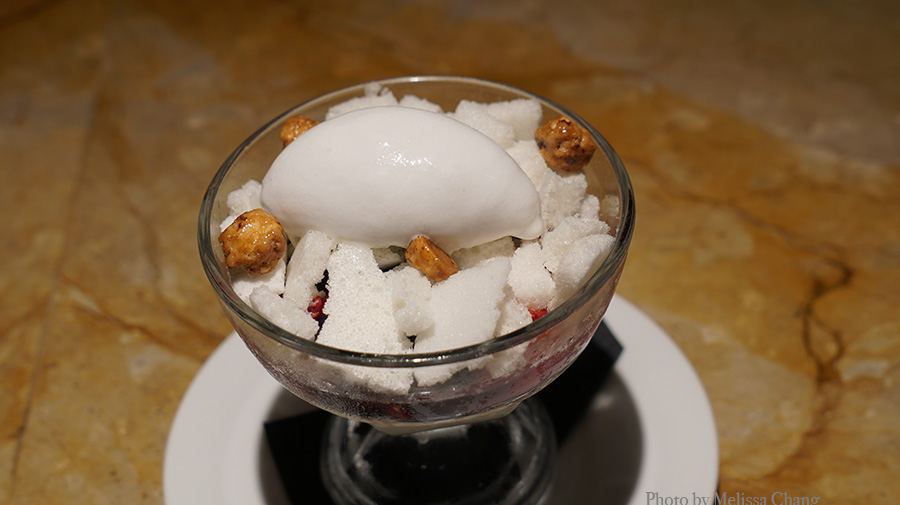 The berry pudding was one of my favorites, as it offered a nice mix of textures and flavors. hazelnut milk crisp with the soft custard, cool coconut sherbet, and the berries made the refreshing dessert even more interesting.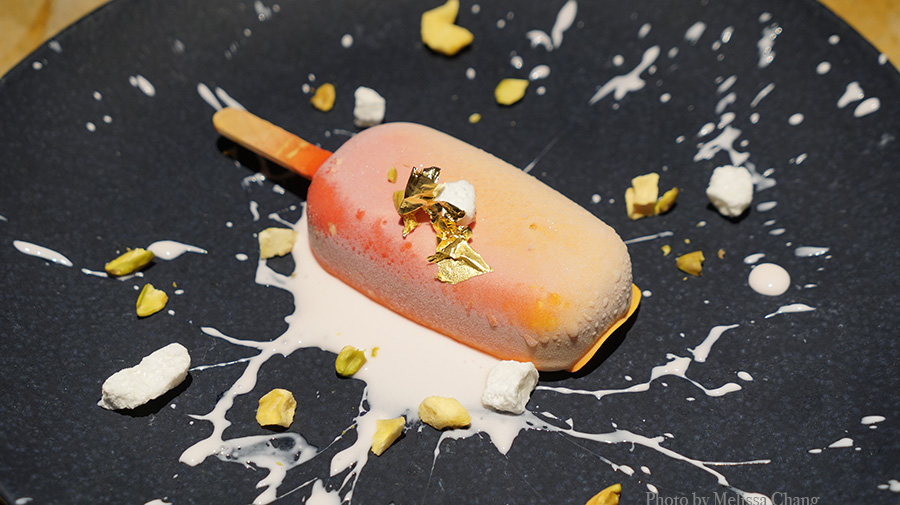 Hands down, though, the most poular dessert will most likely be the highly instagrammable mango kulfi, a frozen dairy dessert topped with Gastronaut freeze-dried yogurt, pistachios and 23-karat gold. It's as good as it looks, especially if you like mango lassis.
TBD… is open 5 to 10 p.m. Sundays to Thursdays; 5 p.m. to midnight on Fridays and Saturdays. Breakfast will be added to the restaurant offerings in the coming months. What happens after the pop-up is done? TBD…
TBD…
2885 Kalakaua Ave.
808-791-5164
Parking is on street or in the hotel ($5 with validation)