VIDEO: How Biki just made lunch more ono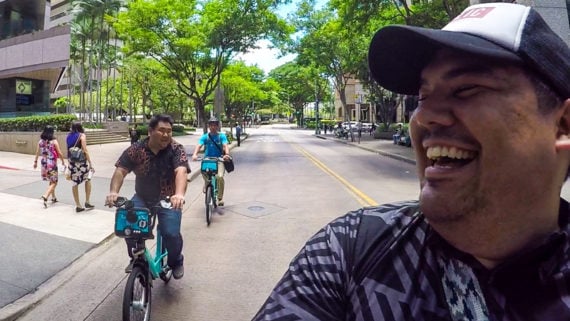 Biki, Honolulu's new bikeshare program, is a contentious topic on my Facebook newsfeed. With friends arguing on both sides of the debate, I decided to test it out for myself. Would Biki be a plus for my lifestyle?
I'm always on the hunt for new places to eat (duh!) so I checked the Biki map and discovered that station 103 (Chinatown/Fort Street Mall) is behind my office downtown, and station 406 (Lower Makiki at King and Piikoi streets) is across from a new taco shop that I've been meaning to check out. Perfecto!
For the curious, Biki lets you rent bicycles to ride between 100 stations from downtown to Waikiki. You rent per ride, per minute or per month: Pick up a bicycle at one station and dock it at another.
My inaugural ride from Fort Street Mall to King and Piikoi took about 10 minutes each way. Including lunch, the round trip was just over an hour because we ran into a friend.
I don't own a bike myself because I live in the far reaches of Makakilo and those hills are not my friends. However, I did own one when I lived in Long Beach, arguably one of the most bike-friendly cities in Southern California, and I rode it on the weekends religiously.
With bikeshare in place, I have a renewed sense of liberation. I don't have to worry about registering or maintaining a bicycle or finding and paying for parking. The fear of having a bicycle stolen is gone completely. And my lunch options now stretch all the way to Waikiki.
Biki's Spirit Pass gets me 300 minutes of ride time for $20. When I feel like I'm low on time, I'll check the app or pop my card into a kiosk to check my balance.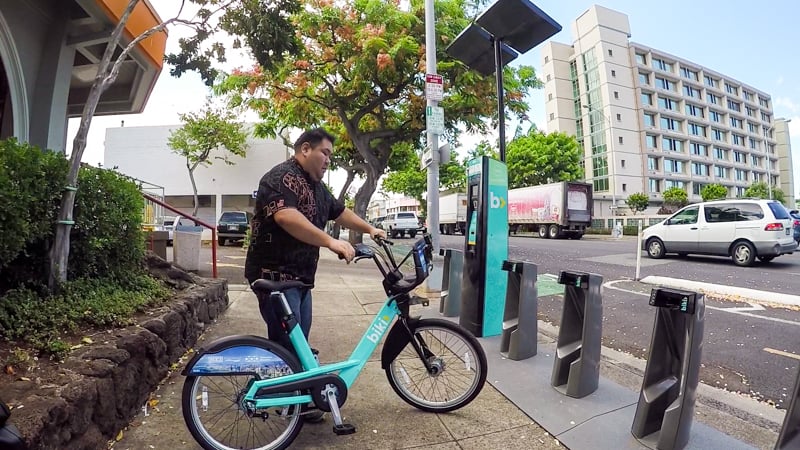 There are 100 Biki docks and 1,000 bicycles scattered throughout the urban core, many within 10 minutes walking or 5 minutes biking distance of each other.
As with any new program rollout, we experienced a couple of hiccups. The first was a system malfunction during account registration resulting in having to create a new account and second, one of the bikes had a burned-out flywheel and could not stay in any of the three gears for more than a few pedals. We called the number on the back of the card and told a local representative about the broken bike. We also observed that in denser areas, the number of bikes at a station will fluctuate more, so check the Biki app or website for a live read of available bikes.
As for King Street Tacos, they're definitely worth another bike ride. The meats are smoky and the portions generous – more details coming soon!
Now that there's an easy, economical way to escape the monotony of downtown lunching, we just may be using up our 300-minute Biki passes faster than we expected.
For more information on Biki, visit their website at gobiki.org.