VIDEO first look: Vintage Cave


Probably everything you might have heard about Vintage Cave, the new restaurant opening under Shirokiya next week, is true. Fantastical, but true:
It's one man's dream. Takeshi Sekiguchi, whose developments span Maui's Grand Wailea Resort and Four Seasons to Ko Olina to properties on the mainland and in Japan, has built the restaurant of his fantasies. Two years in the making and occupying the entire mall-level space under Ala Moana Center's Shirokiya, it's filled with Sekiguchi's private collections of art, crystal stemware gifted by the Ferrari family (he collects their cars) and a 12,000-year-old amphora. Walls and ceilings are lined with bricks, the concept inspired by the ancient underground cities of Rome. Total cost: $10 million.
It's a restaurant open to the public, though memberships are available. And it's not so much that memberships are available, but the price they're being sold at that matches Sekiguchi's fantasy: They start at $5,000 a year and go up to $500,000. What you get: credit toward meals and drinks, the right to book the restaurant, store wine in your own hand-carved, temperature-controlled wine lockers and have your guests treated as members. Word is that memberships are already selling.

There will be one tasting menu, and it will cost $295. Add $100 if you'd like wine pairings — all before tax and tip. What you'll get: 25 to 35 courses, most consisting of one to three bites, made with ingredients sourced from around the state, the country and the world according to what's available and what's in season. Or as the chef puts it, "We're gonna forage and then we're gonna cook whatever we get."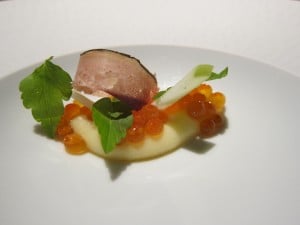 Which brings me to Chris Kajioka. When I met him a year ago, I got a text from Pili Hawaii's Mark Noguchi naming Kajioka as one of the five best chefs in Hawaii. He was the only one not in Hawaii. I knew he'd worked at Per Se, Thomas Keller's three-Michelin-star restaurant in New York, was then sous chef at the Michelin-starred Aziza in San Francisco, and would soon be called back to the Ritz-Carlton there by his old mentor, Ron Siegel (known to Iron Chef fans as the first American to score a victory in the original Kitchen Stadium, against Iron Chef French Sakai).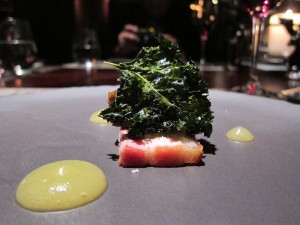 Then Kajioka came home. He landed the Vintage Cave gig and was tasked with designing the kitchen (he and executive pastry chef Rachel Murai made wish lists of state-of-the-art equipment, and every request was fulfilled). Then he hand-picked the crew from around Hawaii and the country.
The menu also would be up to him. Sekiguchi told him he wanted Michelin stars. Kajioka asked how many. Sekiguchi said four. "Obviously I know the restaurant will never get a Michelin star, because Hawaii won't get reviewed," Kajioka says. But "it's not about the star. It's about matching the ambition of one."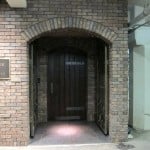 Kajioka showed me around in October and mentioned a media dinner at the end of November. When he tweeted the invitation, I would have crawled to Ala Moana. As it was, I showed up uncharacteristically on time. Only I couldn't find the entrance, and so I'm going to give you directions in the only detail that breaks with the Vintage Cave fantasy: You enter either through the brick elevator shaft you won't be able to miss in Coral Level parking (yes, the bottom-most level where employees park and there aren't any stores) or through the magnificent wine cellar-like entrance at the foot of the escalators in Shirokiya, the escalators that take you up to the ramen and beer gardens of Yataimura two floors above.
And one more thing: There will be a bar menu available in the lounge, where you can opt for a la carte dishes from the tasting menu, and where you will be able to find the egg you'll see in the video. Get the egg.
Kajioka is 29. When he told me this story, I wished someone had been putting it on film. It would make a fantastic documentary, about a time when the career arc of a skilled young chef finds the successful orbit of an aging financier with a vision and an unquestioning trust. What would happen? How will the story turn out?
Here's how it started last Friday. And there was no documentary crew, of course, only me, and I apologize for the rough camera work. This is how we experienced a 27-course dinner at Vintage Cave.
Vintage Cave
Opens Dec. 10
1450 Ala Moana Blvd. under Shirokiya
808-441-1744
vintagecave.com
P.S. If you have any questions, I'm assuming they're these: Was I full? Yes, but not so I couldn't breathe. And would I pay $295 to go again? Yes.