Video bites from Korea: Grandma Toast
Bites of Korea is a mini-series of short videos documenting the delicious food mecca of Seoul, South Korea. Each episode is a tiny look into the cuisine and food culture found in every corner of the bustling metropolis, from Michelin-rated mandoo to street food.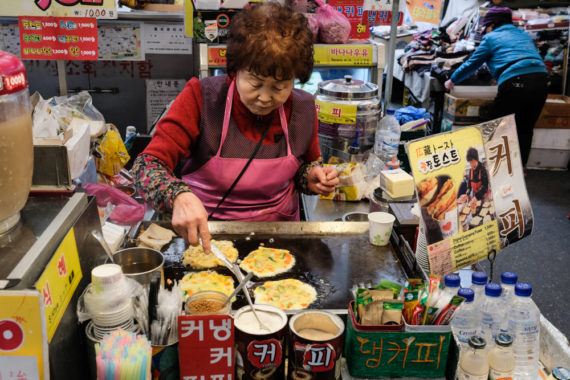 Gwangjang, or grandma toast as I like to call it, is a simple sweet and savory sandwich served at the entrance to Seoul's Gwangjang Market in the Jongno gu district. For 1500 KRW or $1.30 USD, a halmoni (grandmother) will whip up a delicious breakfast sandwich for you made with a simple omelet, ham, a drizzle of ketchup and a sprinkle of sugar (optional). In a place that just doesn't do breakfast, this cart is a lifesaver. The sandwich itself is pretty light on ingredients, but once you get to the meat of it, it's the bomb. With a simple "an-yeoung" and smile, halmoni springs into action to make your sandwich – it's as joyful to watch as it is to eat.
Gwangjang Toast stall
Gwangjang Market
8 Changgyeonggung-ro, Jongno 1(il).2(i).3(sam).4(sa),
Jongno-gu, Seoul, South Korea