VIDEO: A chance for fresh cheese on Oahu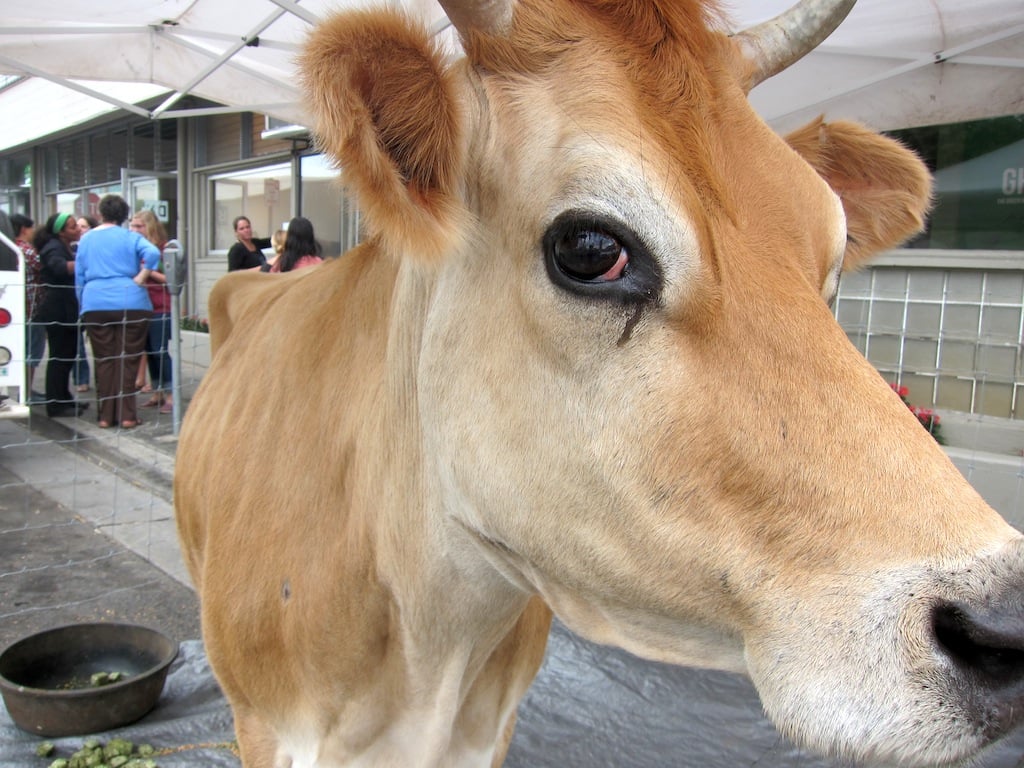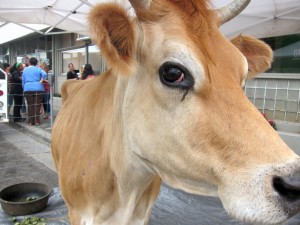 Saturday in Kakaako, I met a cow named Pickles and got to eat her cheese. How amazing is that? I haven't eaten that close to the breathing source since I was 6 years old and met Lani Moo and ate her ice cream.
But the thrill of a cow occupying a Kakaako parking space aside, the real news point is the boldness of this step toward producing food we eat right here on these islands where we live. We don't grow rice any more. We don't raise commercial chickens any more. We're even importing mangoes. We've lost our ability to feed ourselves.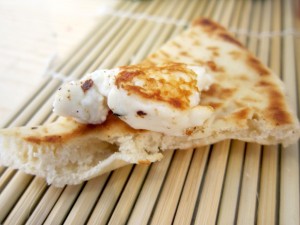 And here's Naked Cow Dairy, the one remaining dairy on Oahu, proposing to make the state's first-ever commercial cow's milk cheese. With $6,730 raised out of $15,000 it needs to build a cheese-aging room and buy a heating element for its 230-gallon vat, Naked Cow brought out the goods on Saturday for a public sneak peek at a pop-up cheese sampling.
Here's what Pickles and her 19 herdmates produced:
Farmer's cheese, firm, fresh and tangy
Gouda two ways: fresh and aged with local herbs and spices
Halloumi, studded with local mint and grilled
Labneh, a Middle Eastern yogurt cheese
Bleu rubbed with alae salt
Romano-style grating cheese
Big Cream Little Rind: a name made up by cheese maker Gida Snyder and my favorite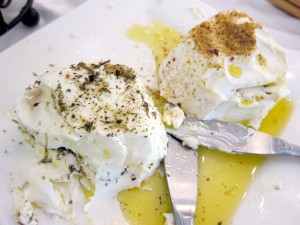 I showed up with my cooler bag, ready to support with some purchases, but nothing was for sale. All support was being directed toward the $15,000 Indiegogo goal. As of late Sunday, excitement from the pop-up sampling had pushed Naked Cow's Indiegogo total to $9,095.
Go to this site if you want to bolster your chances of scoring locally made cheese. You can give anything from $10 to $5,000 — and you'll get something in return, ranging from shoutouts on Twitter and Facebook to a Naked Cow T-shirt or hand-crafted cheeseboard to monthly cheese deliveries and a personal cheese-making lesson for you and your friends. Ninety dollars will get you a five-course cheese dinner, complete with beverage pairings, at Prima Kailua on April 8. Deadline for the equipment campaign, by the way, is March 20.
The cheese was very good. I'm dreaming of Big Cream Little Rind.
Here's Melissa Chang's video interview with Naked Cow's chief cowgirl about the dairy's fresh, made-to-order butters and where you can find them.
— Naked Cow Dairy photos courtesy of Naked Cow