Vegas: The Downtown Cocktail Room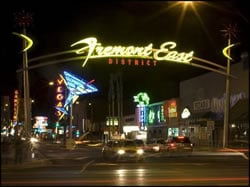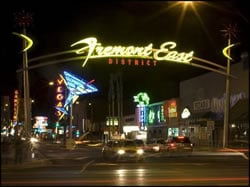 If you're headed to Las Vegas, make a point to visit the Fremont Street East district, an area just past the Fremont Street Experience that was redeveloped a few years ago. It's filled with bars, clubs, and cafes, new sidewalks, landscaping and neon signs that are like a modern nod to Sin City's original glory days.
Make no mistake, the target audience for this area is Vegas locals, not tourists, so you won't find any slot machines at the bar or cheap alcohol. The bars here serve classic and creative cocktails in classy, themed environments.
One of our favorites is the Downtown Cocktail Room, which is known for its seasonal, hand-crafted cocktails. Each season, the bartenders experiment with new drinks and the official menu is (sort of) decided by committee. As each season ends, the cocktail's life ends, as well. It's kind of cool to be drinking something unique when you're there, but kind of sad to know you can never have it again.
Here's what we had, and I think you can have these (or any of another two dozen cocktails) until about March 2012. Note to you unsophisticated peeps: No pina coladas served here.
Downtown Cocktail Room
Picture 1 of 17
There are many exquisite bars to choose from in Fremont Street East, but our favorite is the Downtown Cocktail Room (DCR). It's a nice, chill place to have great drinks while taking a break from the Vegas madness.
Downtown Cocktail Room
111 Las Vegas Blvd. South
Las Vegas, NV 89101
702-880-3696
I like the decorum that they've laid out on their website for customers:
1. All attire must be tasteful in nature, but individualism is encouraged.
2. No outside food or beverages will be allowed.
3. Please do not rearrange or mistreat the furniture. Staff will handle all adjustments of furnishings.
4. Talk of religion and politics is strongly discouraged unless you are a priest, rabbi or politician. In that case, it is probably past your bedtime.
5. You are responsible for all of the guests in your party. No shouting or other raucous behavior will be tolerated.
6. Gentlemen must use manners and common courtesy at all times. Ladies can do as they please.
7. Please refrain from asking guests or staff inappropriate questions. If you don't know what constitutes an inappropriate question, please go elsewhere.
8. All guests are expected to buy beverages. Non-alcoholic options are available. Tap water will only be served when accompanied by a cocktail.
9. Members will always have priority. You may sit anywhere you like, but may be asked to move if table is needed. In that case, please do so expeditiously.