Vegas eats with John Curtas: Marché Bacchus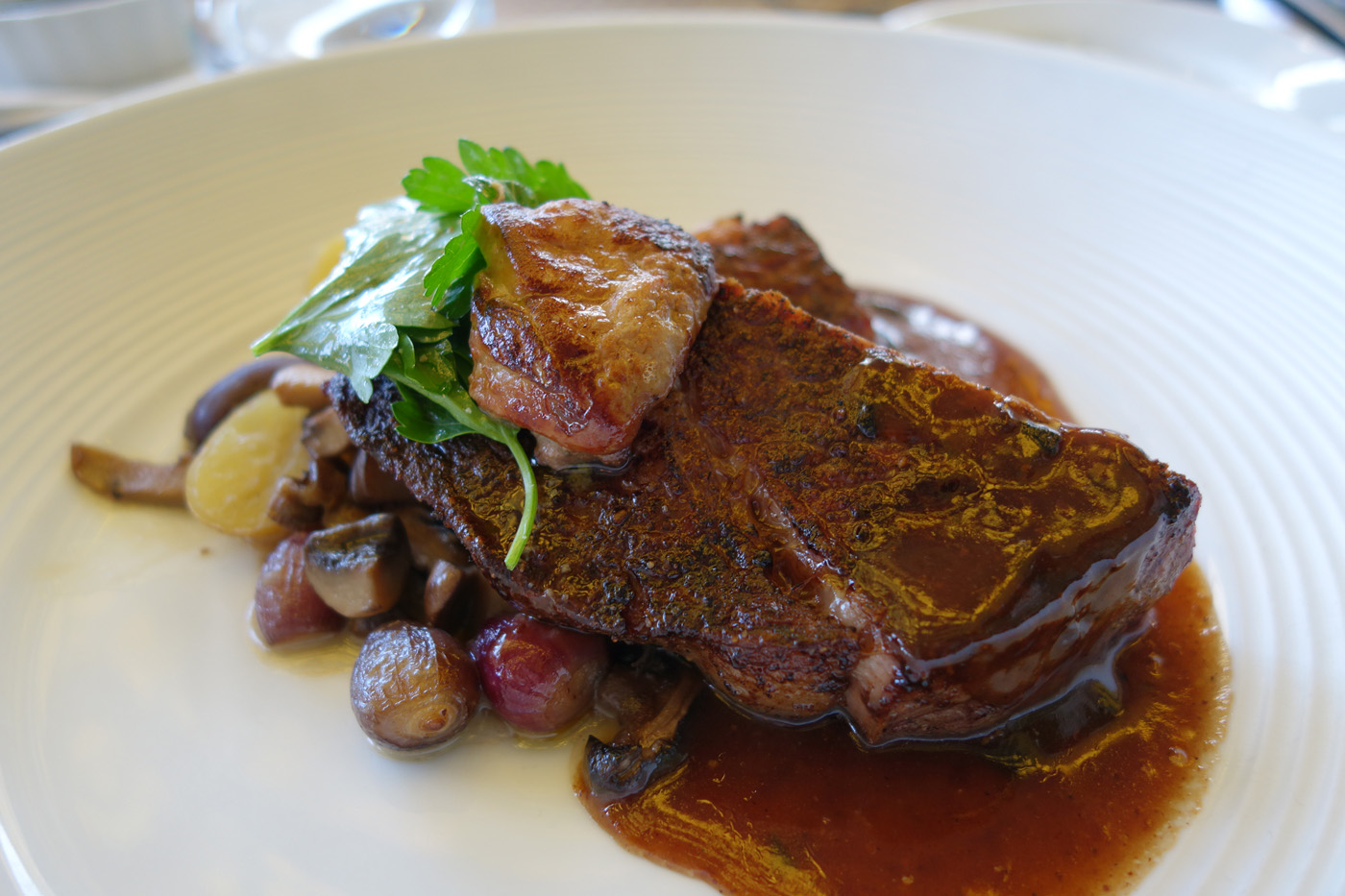 If you are into "Top Chef" or just the Las Vegas food scene, you probably have heard of John Curtas. He's one of the city's top food critics, but controversial for sometimes being too harsh on chefs/restaurants. People still talk about how he told a Top Chef finalist his dish was "embarrassingly bad," while critic Francis Lam said it was "the best thing (he's) eaten in 30 years," as well as a Twitter fight he had with Anthony Bourdain. He's blunt, outspoken, satirical and yes, entertaining, but hey, food is subjective … and he's comfortable in his skin to say what's on his mind.
Foodie friend Sean Morris got to know him at a party by Jöel Robuchon and they kept in touch, so he invited us to Marché Bacchus in downtown Summerlin for lunch. The venue was started by Gregoire and Agathe Verge, a couple from Burgundy, France, apparently first as a wine store and then expanding out to the restaurant it is today. Longtime customers Jeff and Rhonda Wyatt bought Marché Bacchus in 2007 when they heard the Verges were selling it, and put their own personal touches on the place.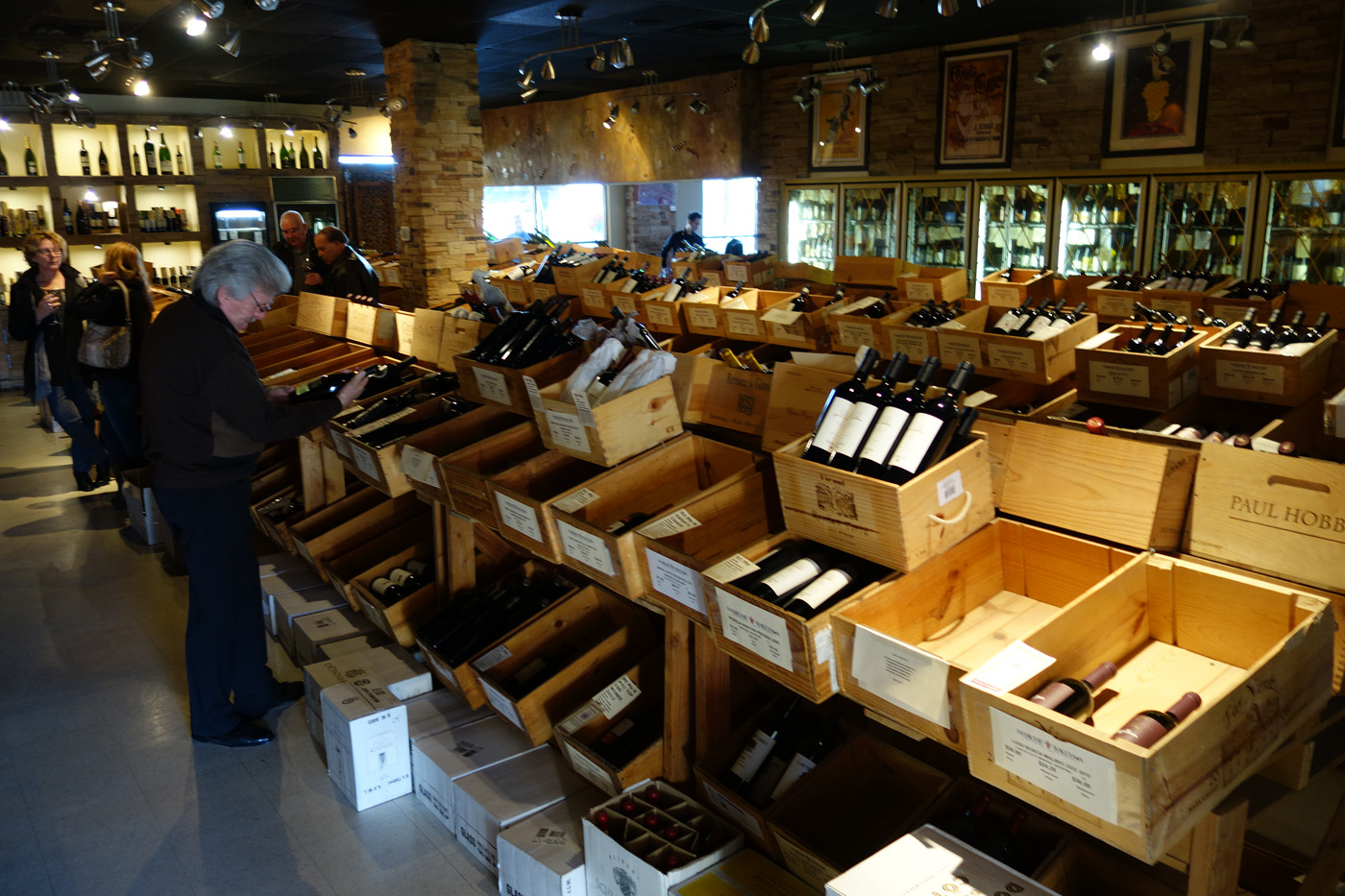 When you walk in, there is an extensive collection of wines in the store. I saw some names that I had never seen before; then again, I'm not a super oenophile and we do live in Hawaii. Like HASR in Honolulu, many people opt to drink the wine from the store with their meals.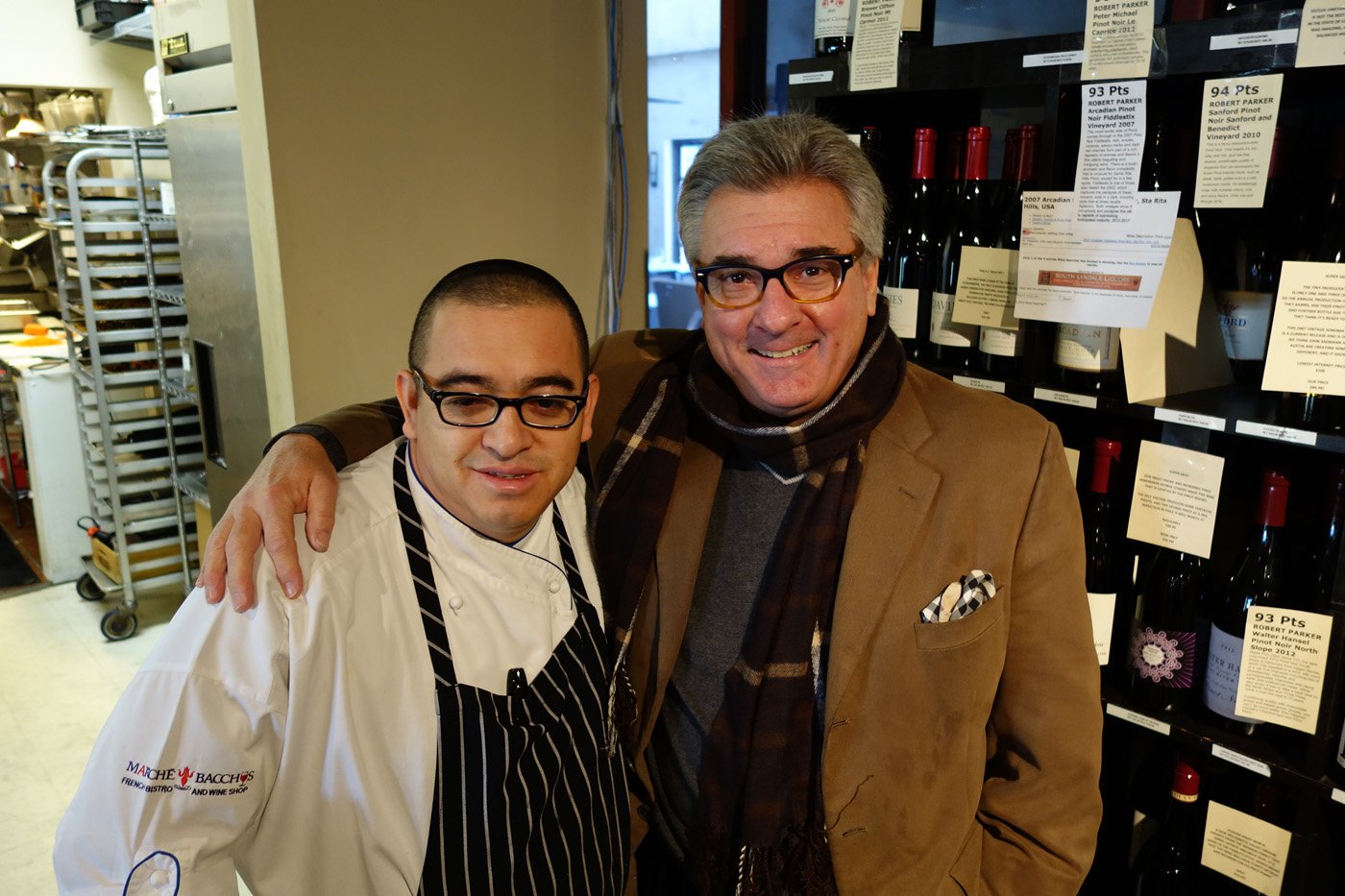 As I was browsing, I saw an open door in the wine shop and chef Jose Aleman was right there, prepping in the kitchen! John introduced him to us and sang his praises. See, John isn't always harsh. If he likes a chef/restaurant, he is outspoken about that, too. Actually, I found John to be very genuine, funny and warm, and unlike some writers who think they know it all, he knows what he doesn't know and is honest about it. I appreciated that more than anything.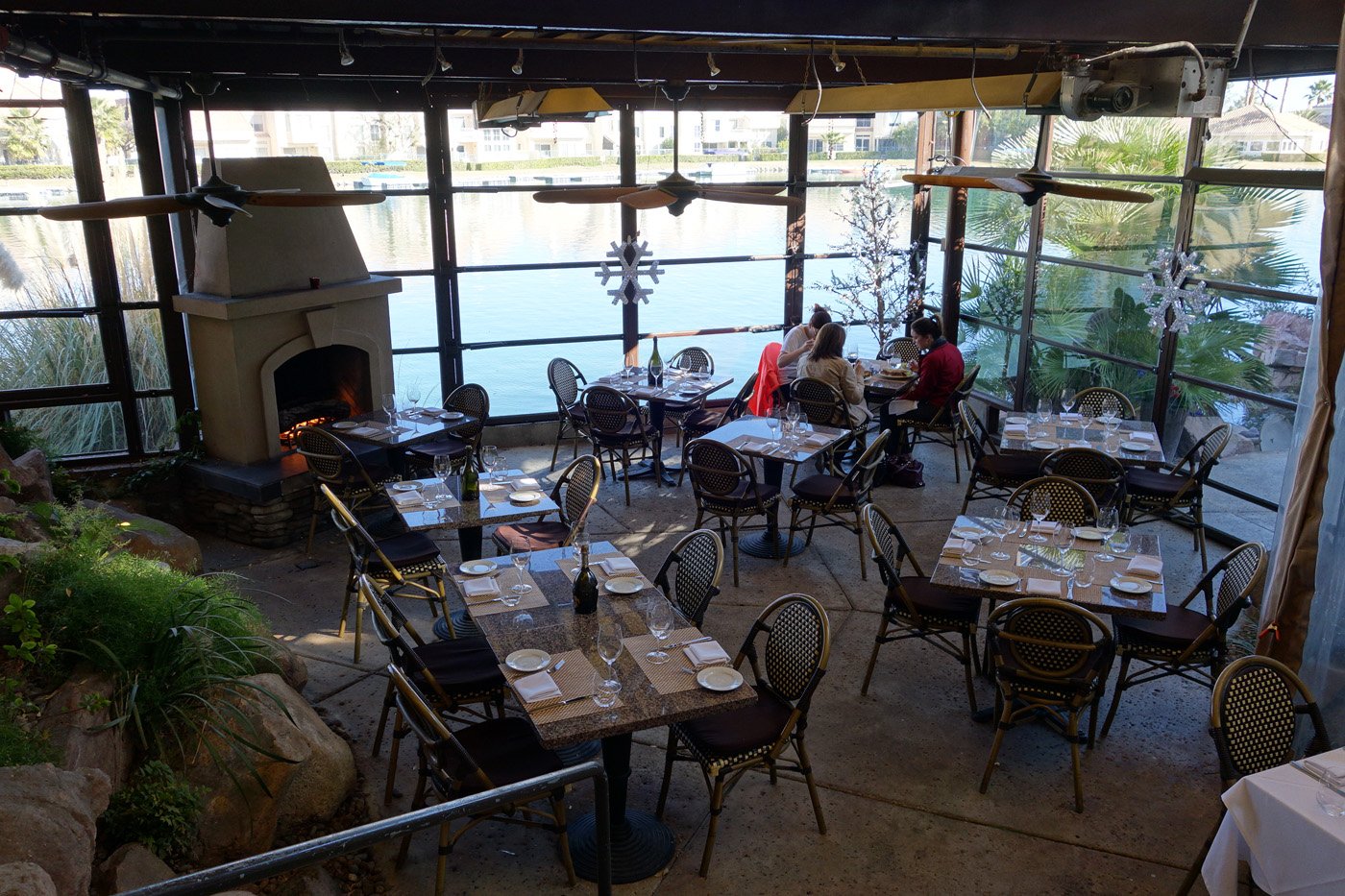 The restaurant area overlooks the man-made lake. This is just one side; we were in an area on the left.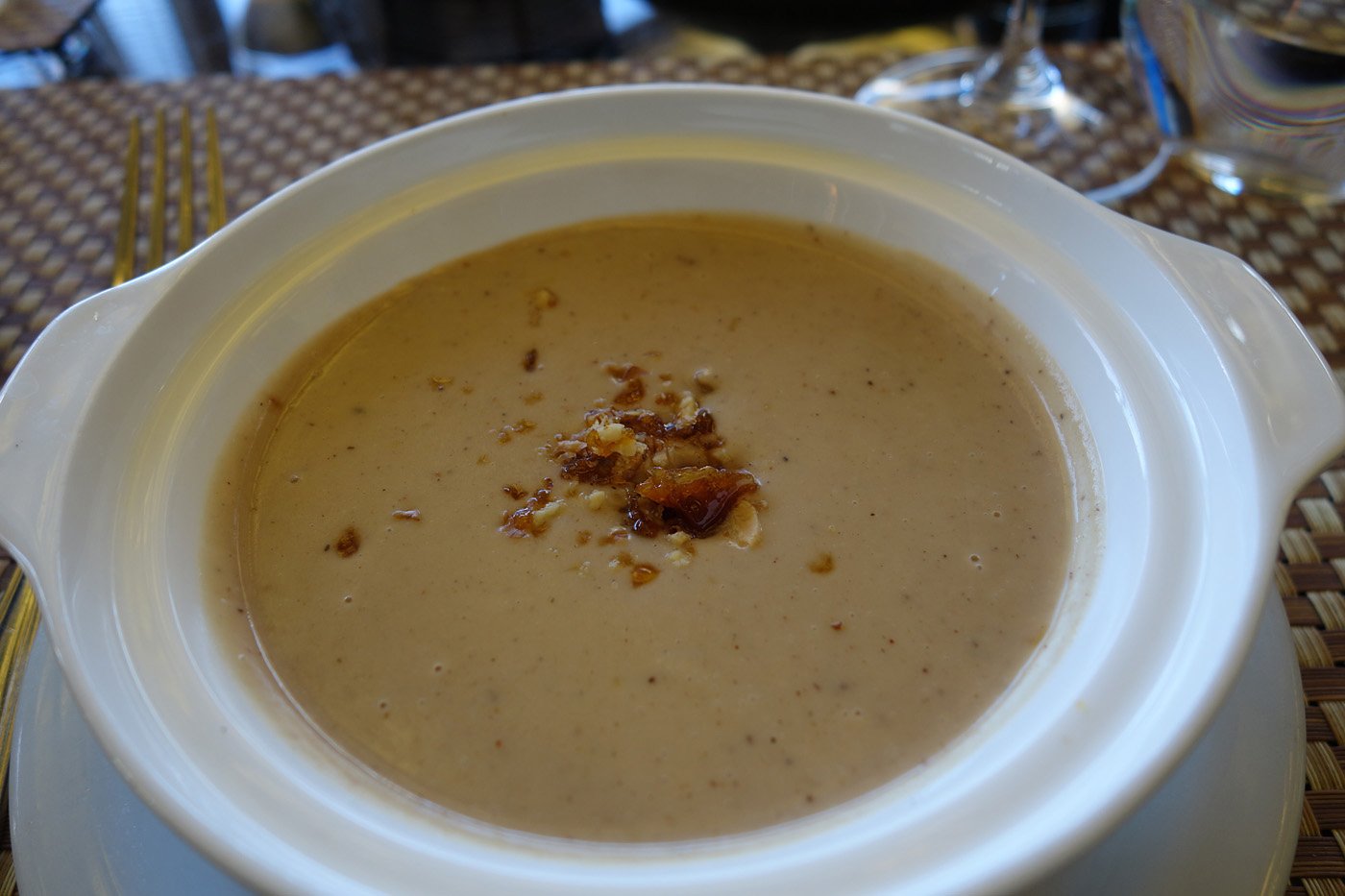 To start: We had a cream of chestnut soup with candied walnuts. At first I thought it would be sweet, but it wasn't. Brilliant! There was a delicate chestnut flavor, not to sweet and not too creamy. I'm not even a huge fan of nuts, but I found myself scraping the bottom of the bowl to get all of it. It was perfect for the chilly weather.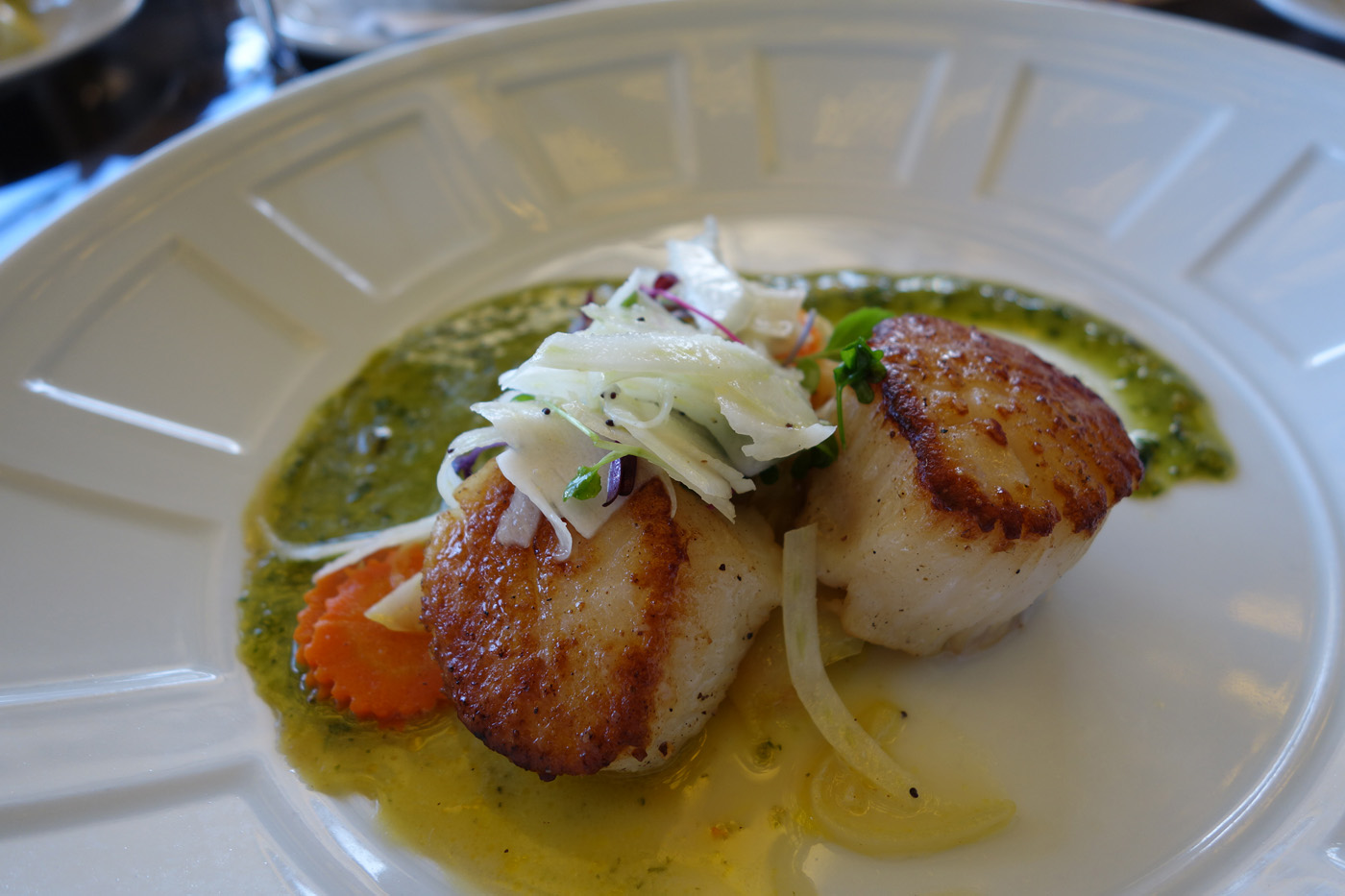 I love scallops, so really enjoyed these, seared to perfection with shaved fennel, garlic sprouts, carrots, onions, and a homemade pesto. There was something different about the pesto that we liked, but I'm not sure what it was since the waiter rattled off a lot of things in this dish. We paired this with a chablis, which complemented it nicely.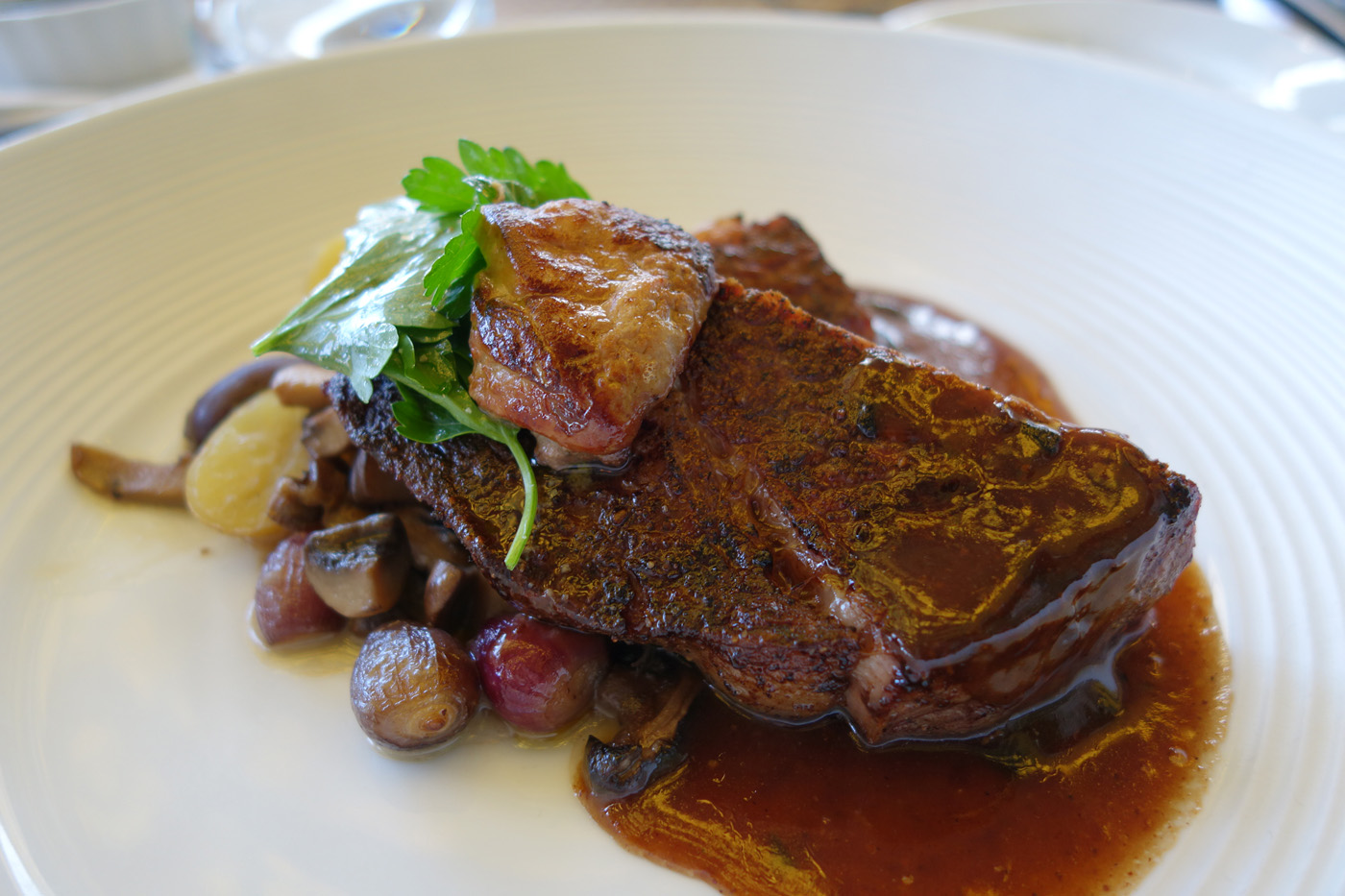 The main entree was a corn-fed Angus ribeye, aged 28 days, served with truffle madeira sauce and topped with foie gras. Wow. The meat actually didn't need to have the foie, but that just elevated it to another level. All the flavors worked well together in this very hearty dish — I could have licked the plate to get all the madeira sauce, but I was being polite.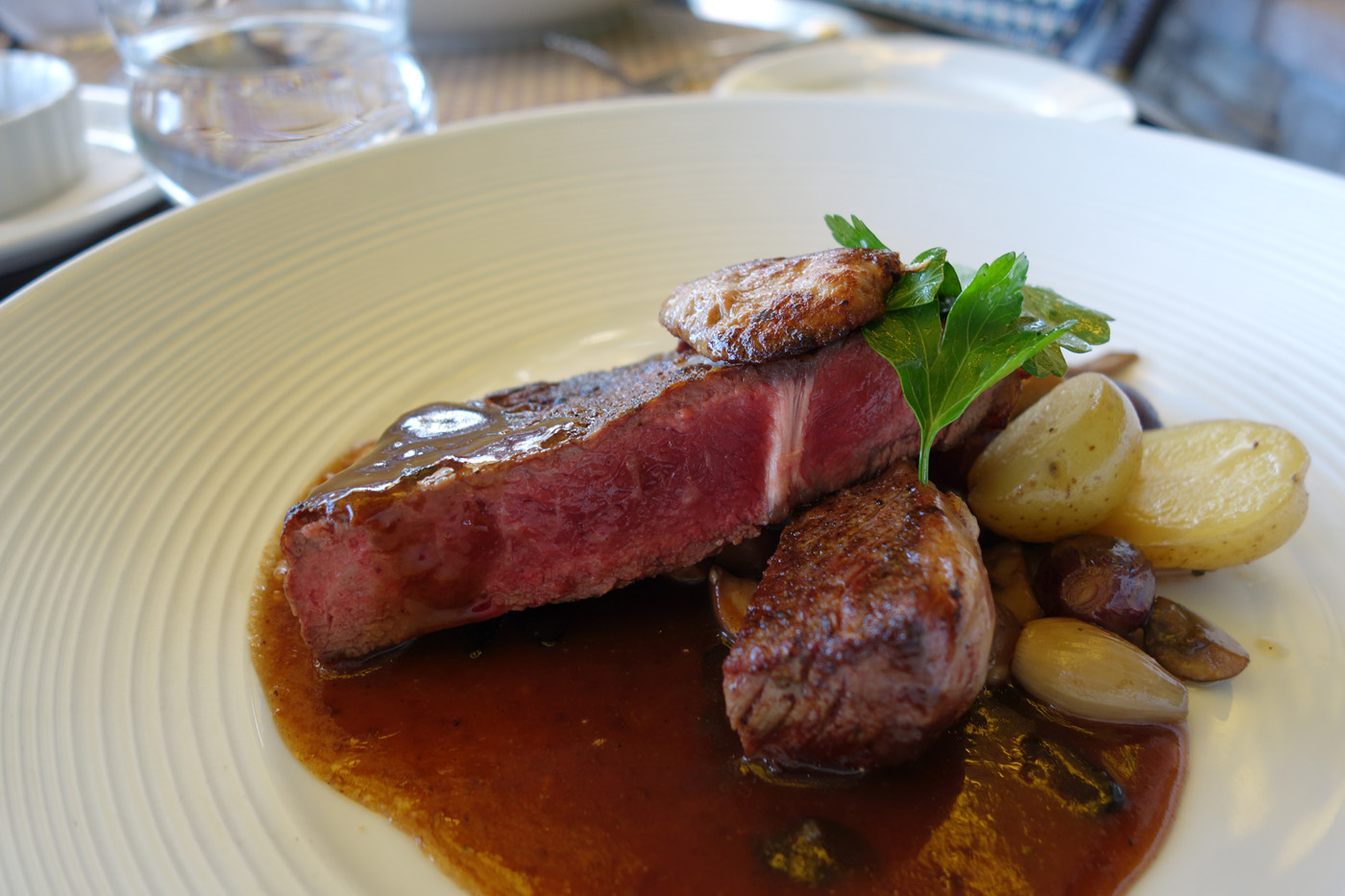 This is what the meat looked like on the other side. I'm salivating just reliving this meal.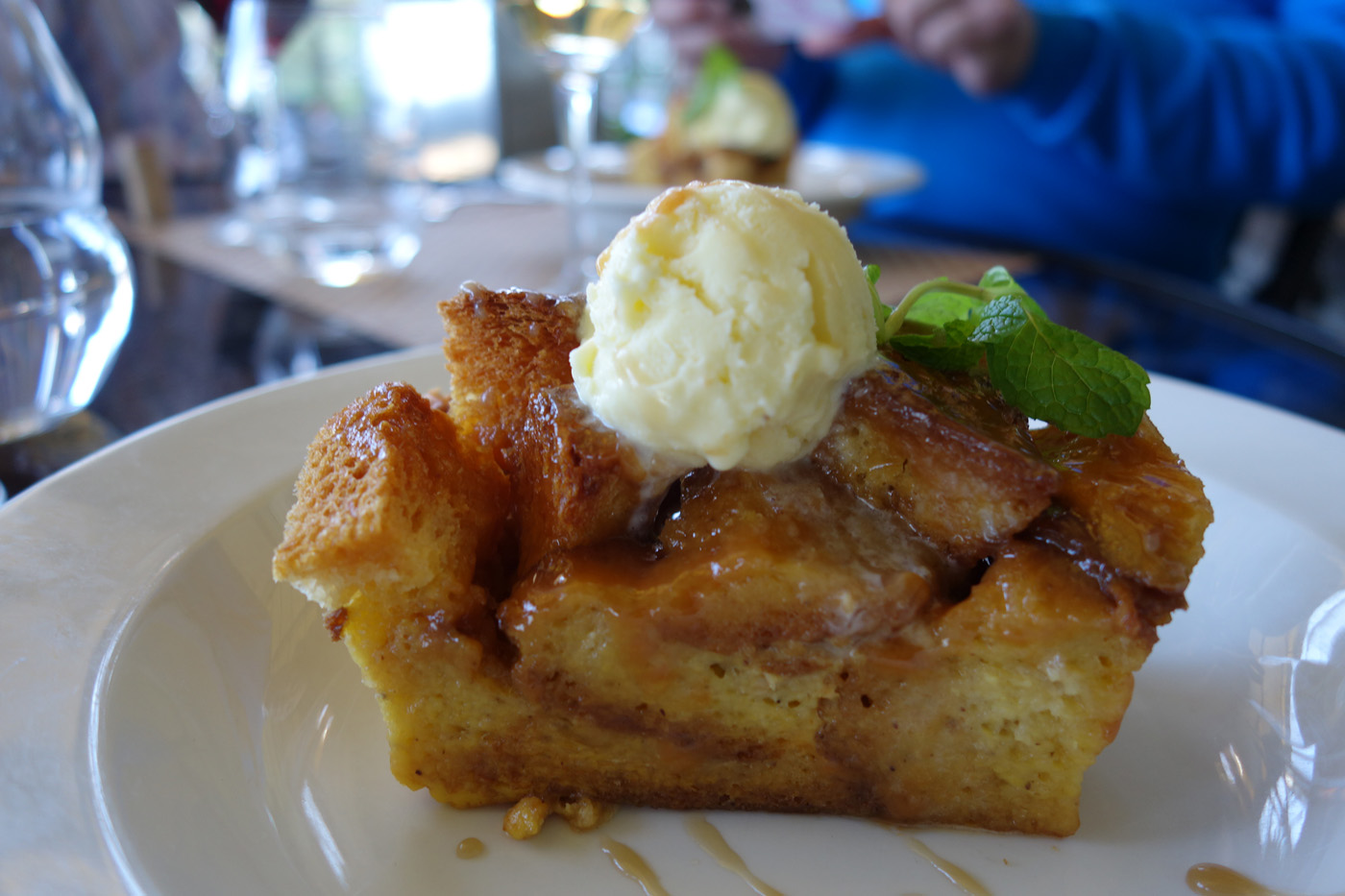 For dessert, we had their signature brioche bread pudding. I was too full to eat all of it, but if we had a smaller meal, I might have! It wasn't too rich or heavy, and I liked the crunchy edges.
Lunch was great, but the company was better: John's accountant and girlfriend both trickled in during lunch, so we got to talk story with them and about the food scene beyond the Las Vegas Strip (and shopping!), as well. Oh, and he bought us lunch! I'm treating you to a loco moco when you finally make it to Hawaii, John.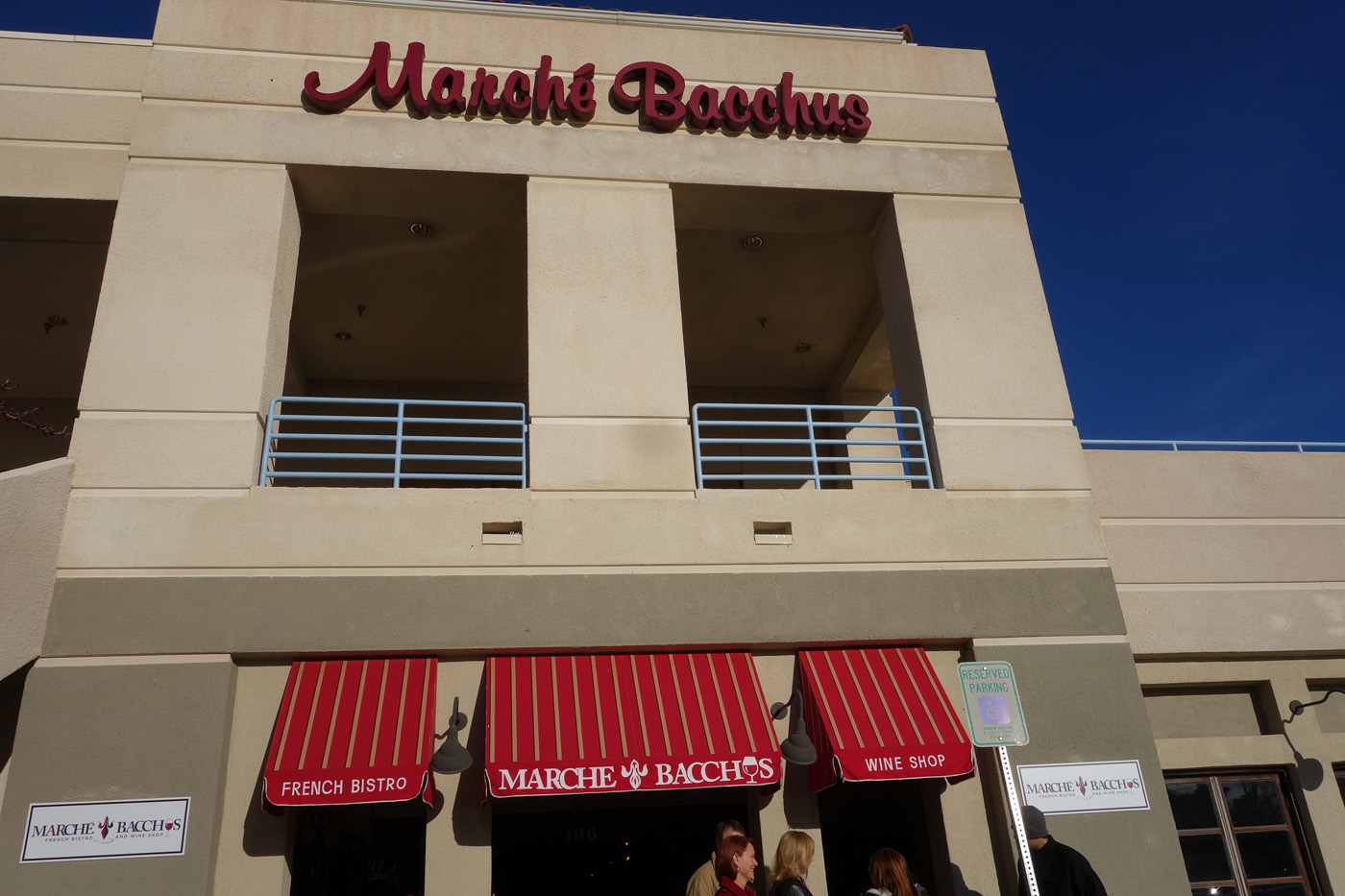 Marché Bacchus French Bistro and Wine Shop
2620 Regatta Drive, Suite #106
Las Vegas, NV 89128
702-804-8008
These photos are just the highlights. To see all photos from this trip, click here. To see John Curtas' blog, click here.
Up next: A day-o-fun on The Strip!