Vegas eats: Flock & Fowl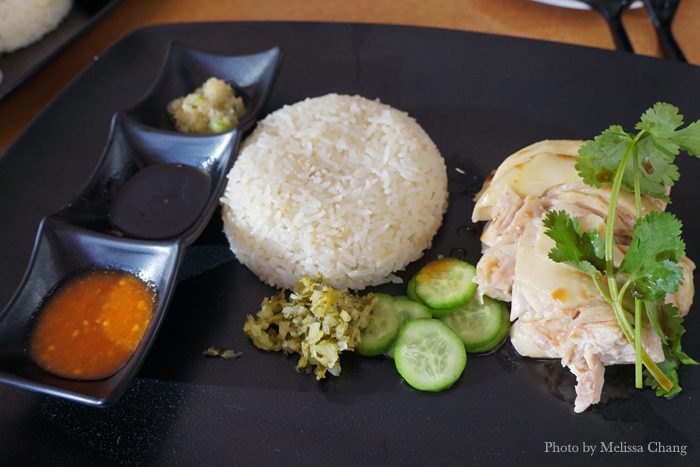 Most of you Hawaii readers have been to Las Vegas many times, probably more than I have. So I'm not going to talk about the same old stuff that everyone has tried already. On my recent trip to The Ninth Island, I tried to seek out some places that I think local folks will like. Here's one at the top of my list.
I tend not to eat Chinese food on the mainland unless it's in San Francisco Chinatown, so I surprised myself by showing up at a place that Las Vegas critics recommended: Flock & Fowl. If I'm going to spend precious gambling time eating Chinese food, it better be good.
Julie Yoneyama and I met up with foodie friend Connie Ng and her boyfriend, Peter Sohn, to try this new spot on West Sahara between Downtown and The Strip. Given the many accolades it gets from critics, I was surprised to find it in an old strip mall. Don't let that fool you; this place is legit.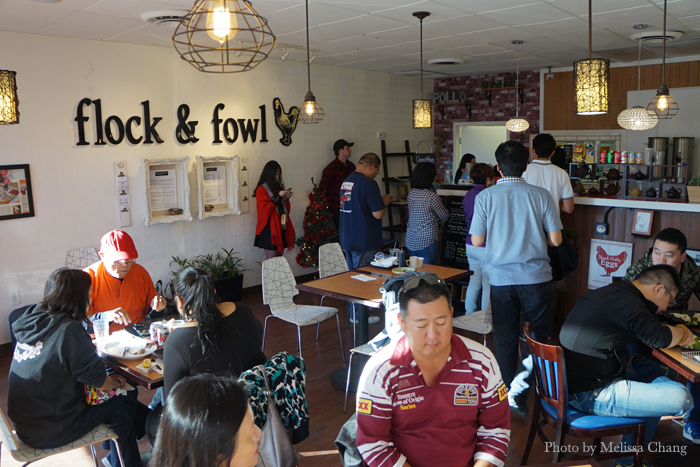 The restaurant is pretty tiny, but it was promising to see a lot of real Chinese people in there. I recommend you go early, since things will run out as the day goes on. By the time we got there, I think there was only one Hainanese chicken rice left, and 10 wings.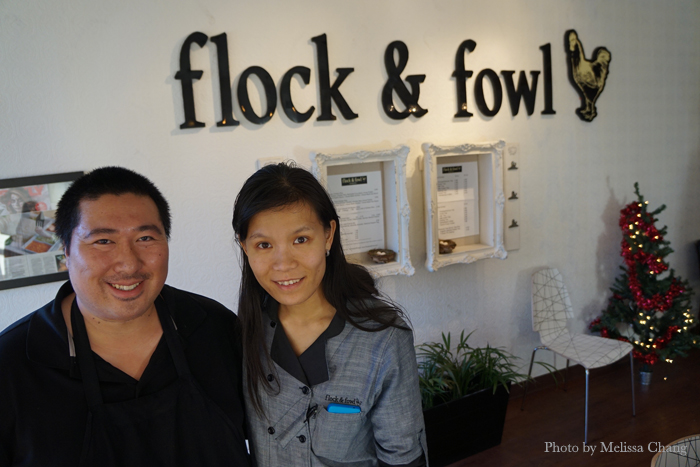 Flock & Fowl is owned by chef Sheridan Su and Jenny Wong, who are partners at home and in business. Sheridan, in fact, has worked at places like Joël Robuchon and Comme Ça, so that gives you an idea of his skill and palate. He turned the coffee shop at the Eureka Casino into Fat Choy, a hidden gem that was featured on the Food Network's "Diners, Drive-Ins and Dives." (Sadly, I didn't have time to get to Fat Choy.)
Basically, they had Hainanese chicken rice in Taiwan and Jenny wanted to recreate that unique flavor at home. I've never made it, myself, but I have to assume good chicken rice is hard to make, since so few places in Hawaii offer it. I can only imagine how scarce it is in Las Vegas. They use the best chicken they can find (I am told it's Mary's free-range chicken) and keep their menu to just five items. That's how it should be, right? Just do one or two things really well, and people will stand in line for it. Like us.
Before I get to the star of the show, here's what else they offer. At first I was disappointed to see the chicken bao was in an open, Peking duck bun instead of enrobed in a full bun. But those feelings all changed after the first bite. The bun is filled with a buttermilk fried chicken tender (another word for chicken strip), organic kale, sprouts, and mustard greens — reminiscent of the flavors you get at the night market stands in Taiwan. You get the nice, crunchy, mellow chicken tender with the slightly tart, salty and bitter veggies. After devouring our bao, we all wanted another one, but we knew we had to save room for the rest of our meal.
We ordered the Thai caramel chicken wings and the blackboard special, which was spicy wings with a homemade garlic aioli. The Thai wings (right) tasted just as we expected, with that sweet-salty garlicky flavor and tender meat. The spicy one was really spicy, but not in a way that masked the overall flavor. Oh yeah, we had to guzzle our water to put the heat out, but we kept going back in for another bite because it was that addicting.
If you're really into fried chicken, the #2 special is a good choice (and probably all you can get if you go too late in the day). I've never had chicken like this with a squeeze of lemon and spiced salt, but that was a pretty brilliant move on Sheridan's part to bring out the flavors. The condiments on the right are what makes the whole thing really special, though. See that house made, original take on sriracha? Julie tried to take a container of it home. It's spicy, but has its own range of flavors on your tongue. It's not cloyingly sweet like the chili sauce you find at other restaurants, and not overly sour like sriracha. Sheridan needs to bottle this!
Holy… When I ate the Hainanese chicken rice that Flock & Fowl is known for, I almost started swearing out loud. I've eaten this dish in Taiwan, Singapore, Malaysia and even at home in Hawaii, and this was better than all of that. The traditional dish sounds boring on paper: cold poached chicken with rice that's been cooked in chicken stock and a cup of chicken broth. When it's done properly, as Sheridan has, the delicate flavors make a strong statement; I have liked the Hainanese chicken rice I've eaten, but Flock & Fowl makes me crave it. The condiments are key, too, as you get marinated cucumbers and pickled mustard greens, plus that house-made chili sauce, a thick house-made shoyu, and freshly-pounded garlic-ginger sauce. You have to combine the condiments to your liking with the chicken and rice and you'll find the flavors elevate each other.
I'm glad I don't have to spring for a ticket to Asia to get some really good Hainanese chicken rice anymore.
My friends usually know to wait for me to take a photo before eating. But Connie's eyes lit up when they brought the lup cheong and chicken skin to the table, and she immediately desecrated the plate. These are good accompaniments to your Hainanese chicken rice. Do you need either of them? No. Do you want them? If you are hungry enough or your name is Connie Ng, then absolutely. I promise it looks more appetizing than this!
We didn't eat the chicken salad, but that's okay. This was all we needed.
Flock & Fowl is only open for lunch Tuesday through Saturday, 10:30 a.m. to 3:30 p.m. or until they sell out.
Flock & Fowl
380 West Sahara Ave., Las Vegas, NV 89102
626-616-6632