Vegas: Drink & Drag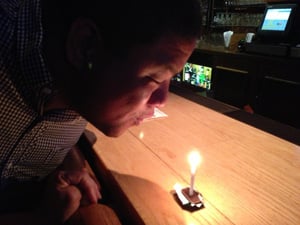 As I do every year at this time, I vacationed in Las Vegas — it's a good way to escape the holidays as a singleton, and spend time with my second family, the Yoneyamas. Just two weeks prior, our twitter friend Matthew Erickson (@LhccMatt) and Rob Ola Kawaa (@RobOlaKawaa) had moved from Maui to Vegas, so we spent time with them, as well.
It was a reunion of sorts, as Julie Yoneyama (@JulieYakacoco), Matt, and Tioni Taylor (@TioniTaylor) — who works at the Golden Nugget — all worked together at Old Lahaina Luau at one time. It was good timing, too, as it was Matt's birthday. What could we do with Matt that would be oh-so-Vegas? Celebrate at a big drag queen bar, of course.
Drink & Drag
Picture 1 of 23
Neonopolis in downtown Las Vegas needed a boost with something that would draw people to what should have been a bustling mall. Drink & Drag, its newest tenant, has breathed new life into the building.
Drink & Drag
450 Fremont St., #250
Las Vegas, NV
702-489-DRAG (3724)
www.drinkanddrag.com
Here's the video of the "Cell Block Tango" as performed by the ladies of Drink & Drag: