Vegas: A day-o-fun on The Strip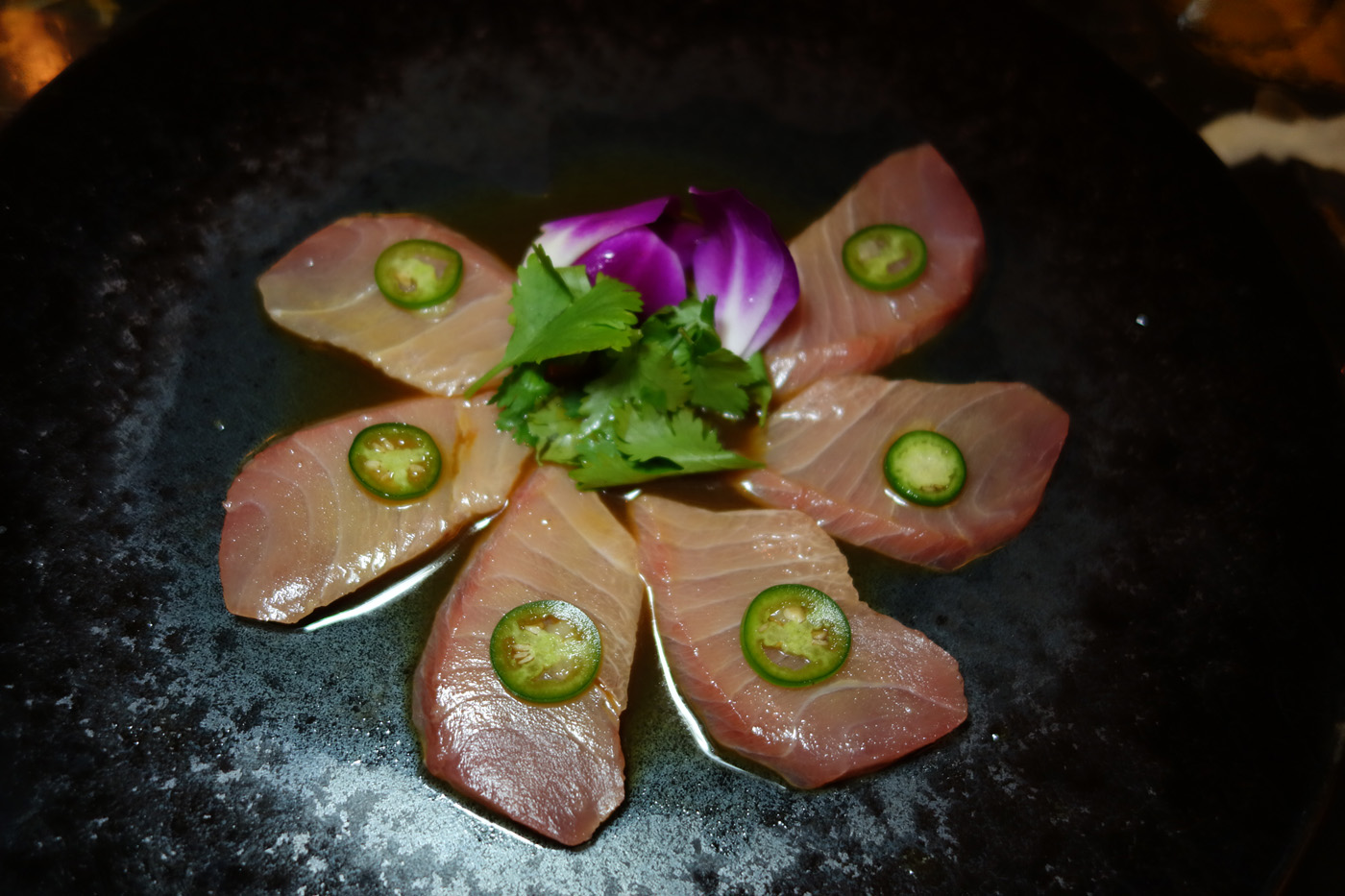 I'm actually being modest: we did the Downtown Container Park and Pizza Rock in this same day. But it goes to show you that you can do a lot in Las Vegas in one day if you put your mind to it!
We started our day at The Linq, which is at the site of the former Imperial Palace on The Strip. It's now a contemporary hotel and casino with an open-air shopping and dining promenade. Last year when I walked through, they had just finished it, but the High Roller wheel wasn't in operation yet.
I highly recommend you start the Linq adventure at Squeeze, a fresh juice bar near the street entrance. I went twice: Once for a fresh, healthy juice, and again for a fresh, boozy juice. Both were good and they were super accommodating with adjusting the juice-to-booze levels.
Walk a little farther and you can see the High Roller in front of you. Along the way, though, you can stop at spots like Kitson or Sprinkles Cupcakes.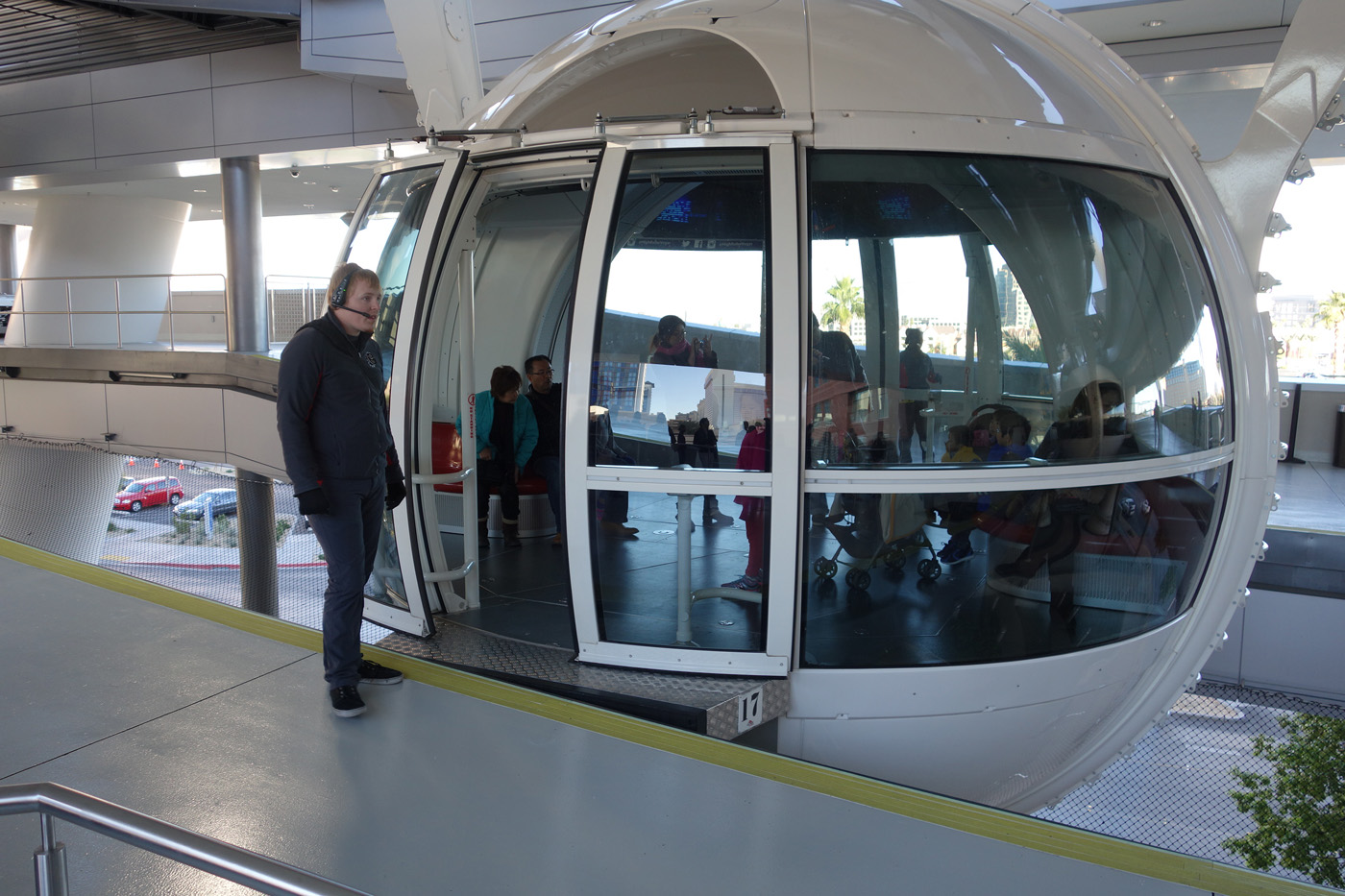 There are 28 spherical cabins that can hold up to 40 people. As you can see, there are floor-to-ceiling glass windows for unobstructed views of Las Vegas and the surrounding valley. Regular tickets are $25 in the day and $35 at night but you can book the special bar cabin, which has a bartender to make you all the drinks you want ($30 per person during the day, $45 at night) during the ride.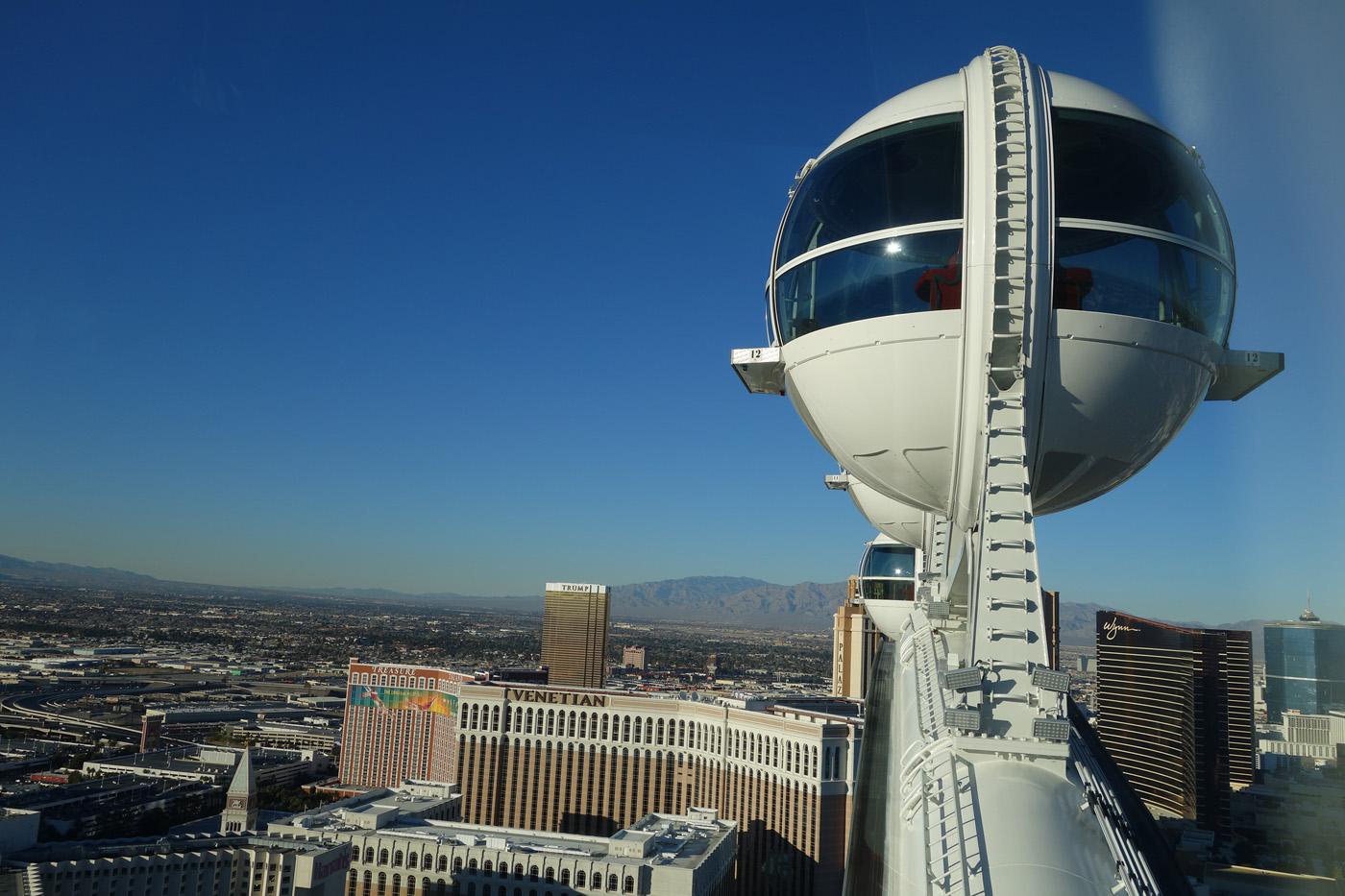 The High Roller tops out at 550 feet and is the tallest observation wheel in the world. It takes about 30 minutes to to a full revolution. You don't have to stand the whole time; there are seats if you decide you're tired.
After more gambling, we headed to Nobu in Caesar's Palace to meet Sean's friend Kazumi Claeys. They have really unique cocktails with a nice array of ingredients.
I loved the kanburi (winter hamachi) with jalapeños and ponzu.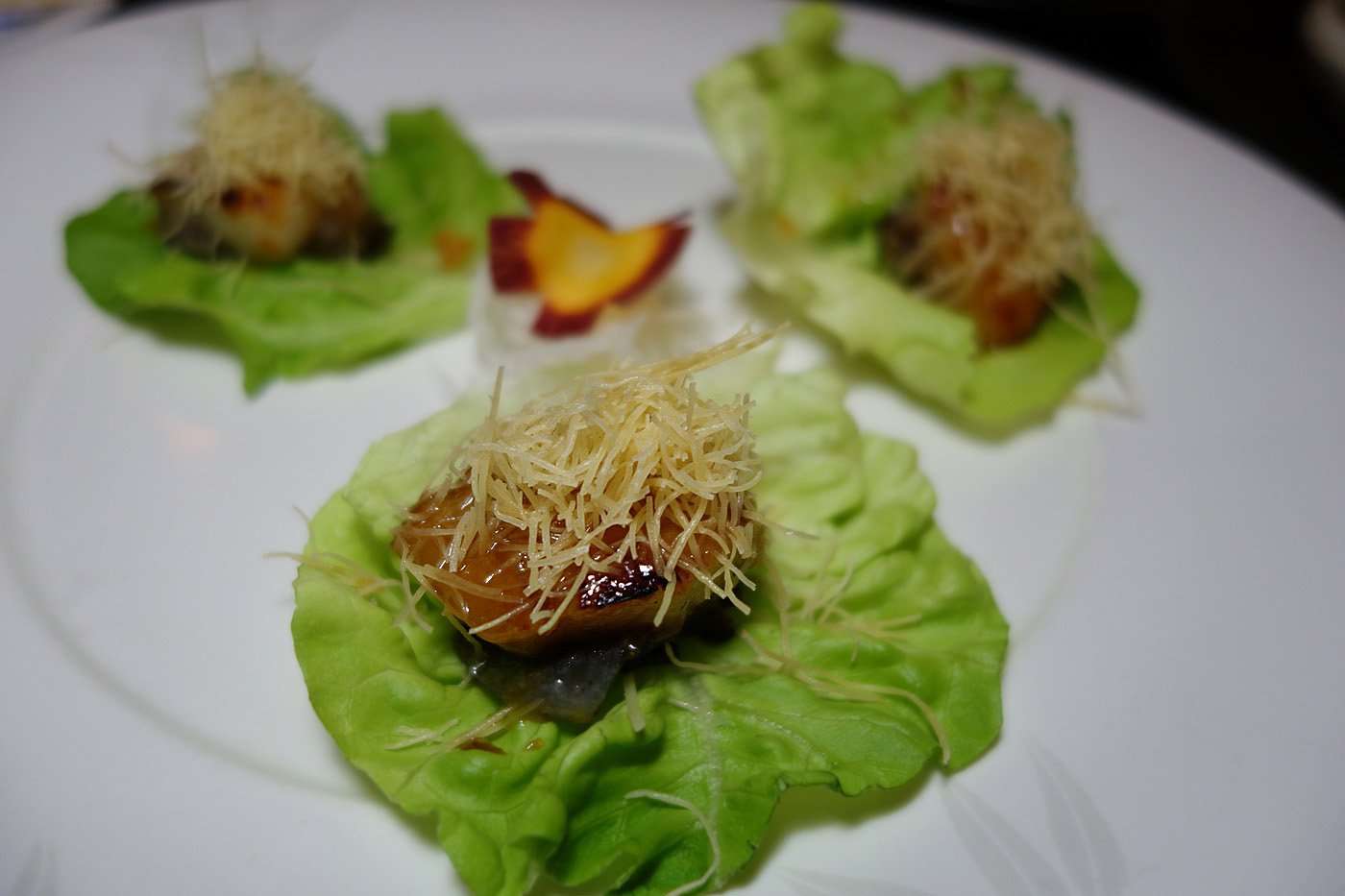 You can't go to Nobu without having their signature butterfish on lettuce cups. So good! The kataifi sprinkled on top makes a nice little crunch.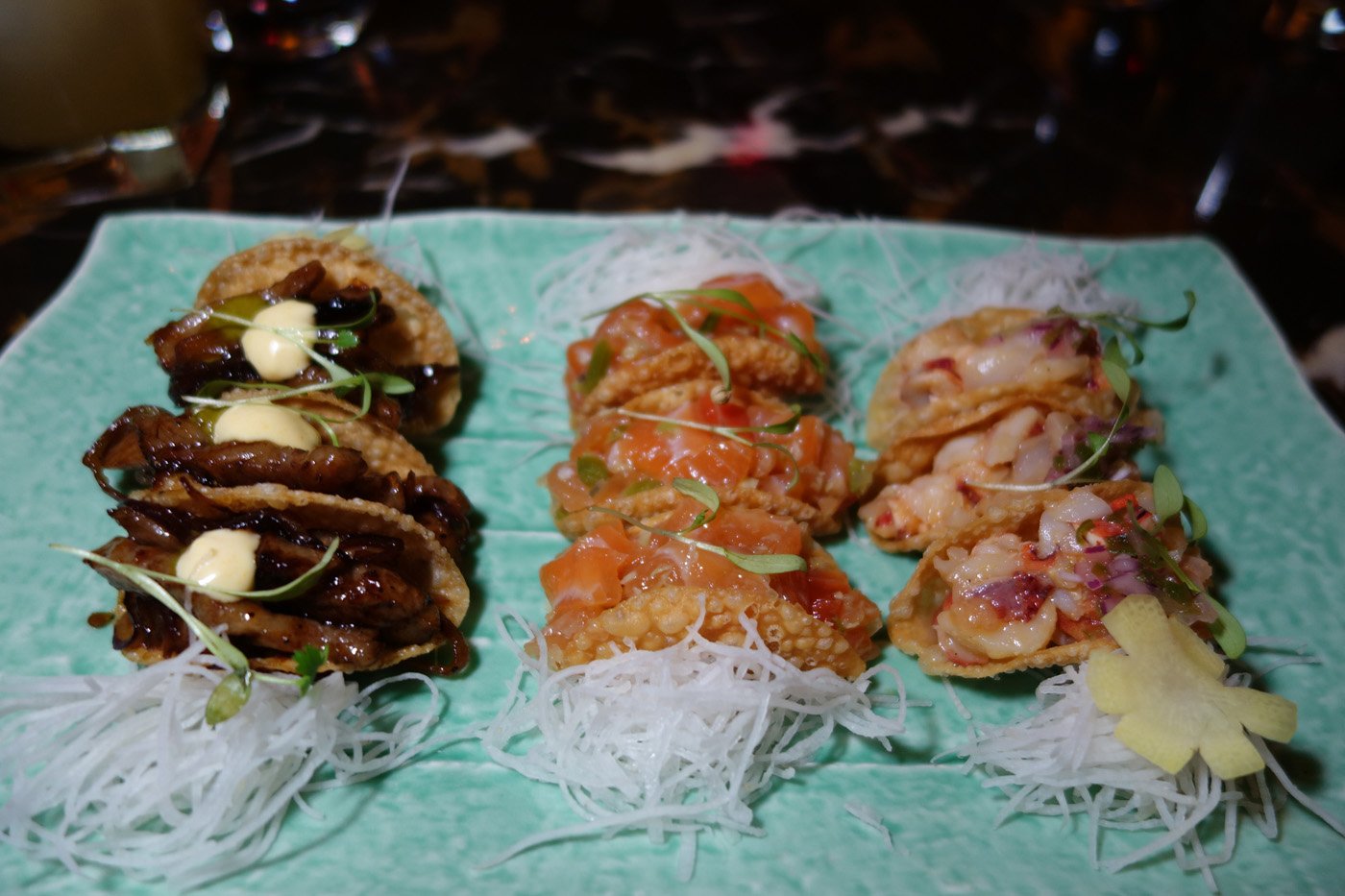 The mini tacos were also really good! Surprisingly easy to eat, too. They were filled with beef, shrimp, and salmon.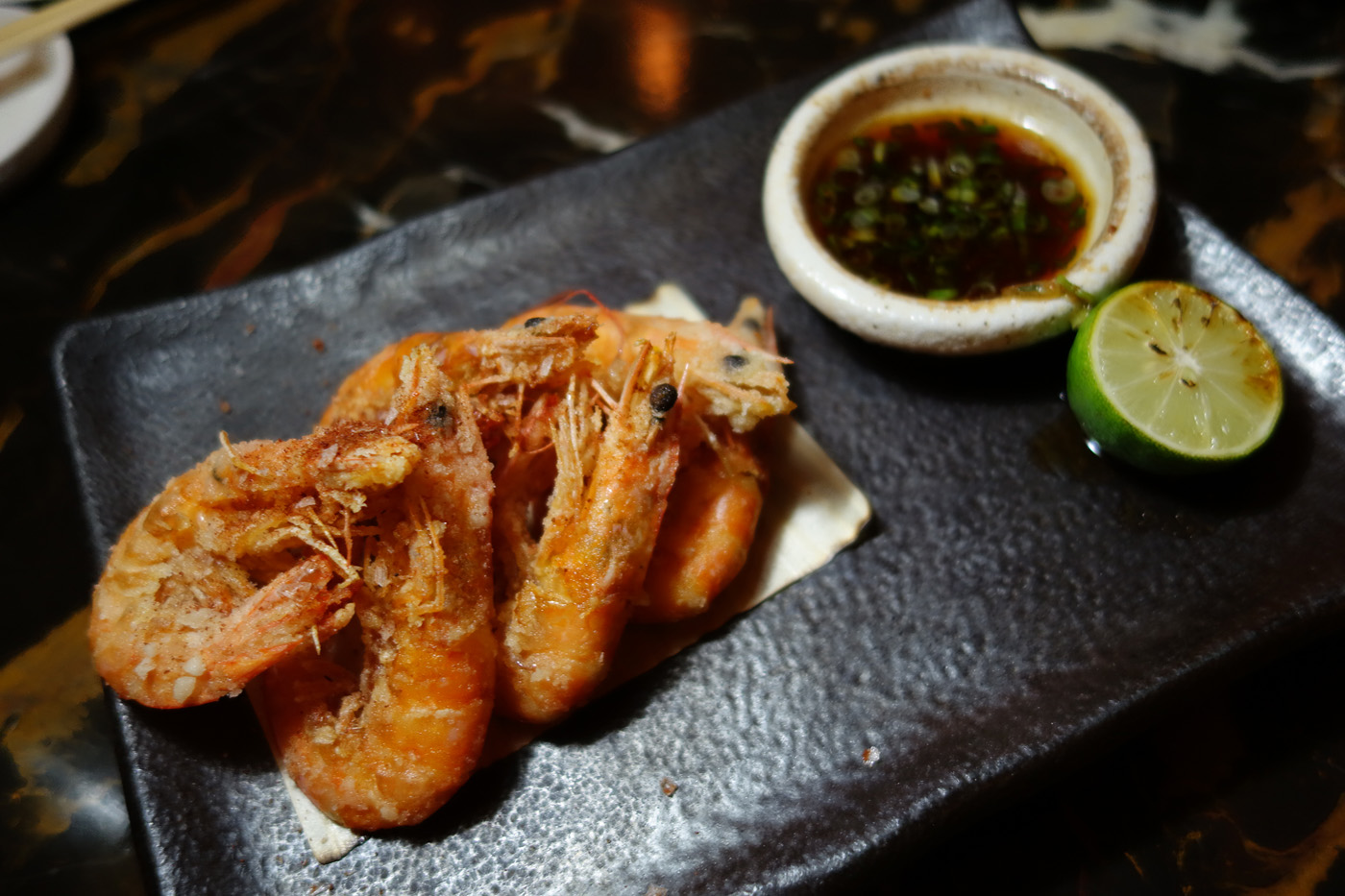 None of us had any qualms about eating the head-on shrimp. The shrimps are deep fried to a crisp, so you can (and should) eat the whole thing. The shoyu dipping sauce really pulls it all together.
As if that were not enough eating, Sean's friend at Caesar's hooked us up with dinner at Gordon Ramsay's Pub & Grill, which opened at the end of 2012. Judging by the crowd, I'd say reservations are highly recommended. This is just half the restaurant!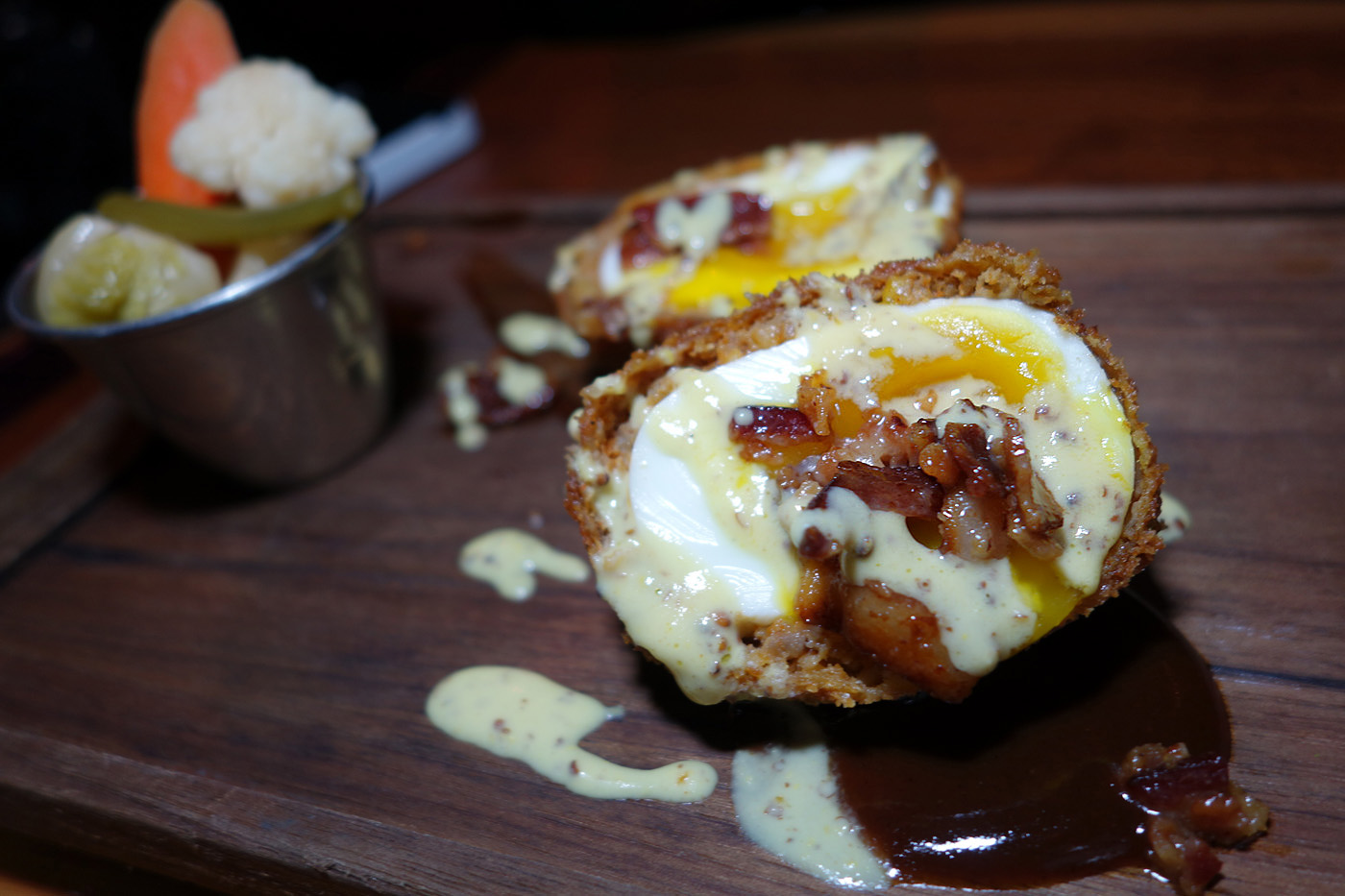 I highly recommend the Scotch eggs, which were the best ones I've had so far. They were done to perfection, with just enough breading and sausage. The bacon didn't hurt, either! Sean really liked the pickled veggies that came on the side.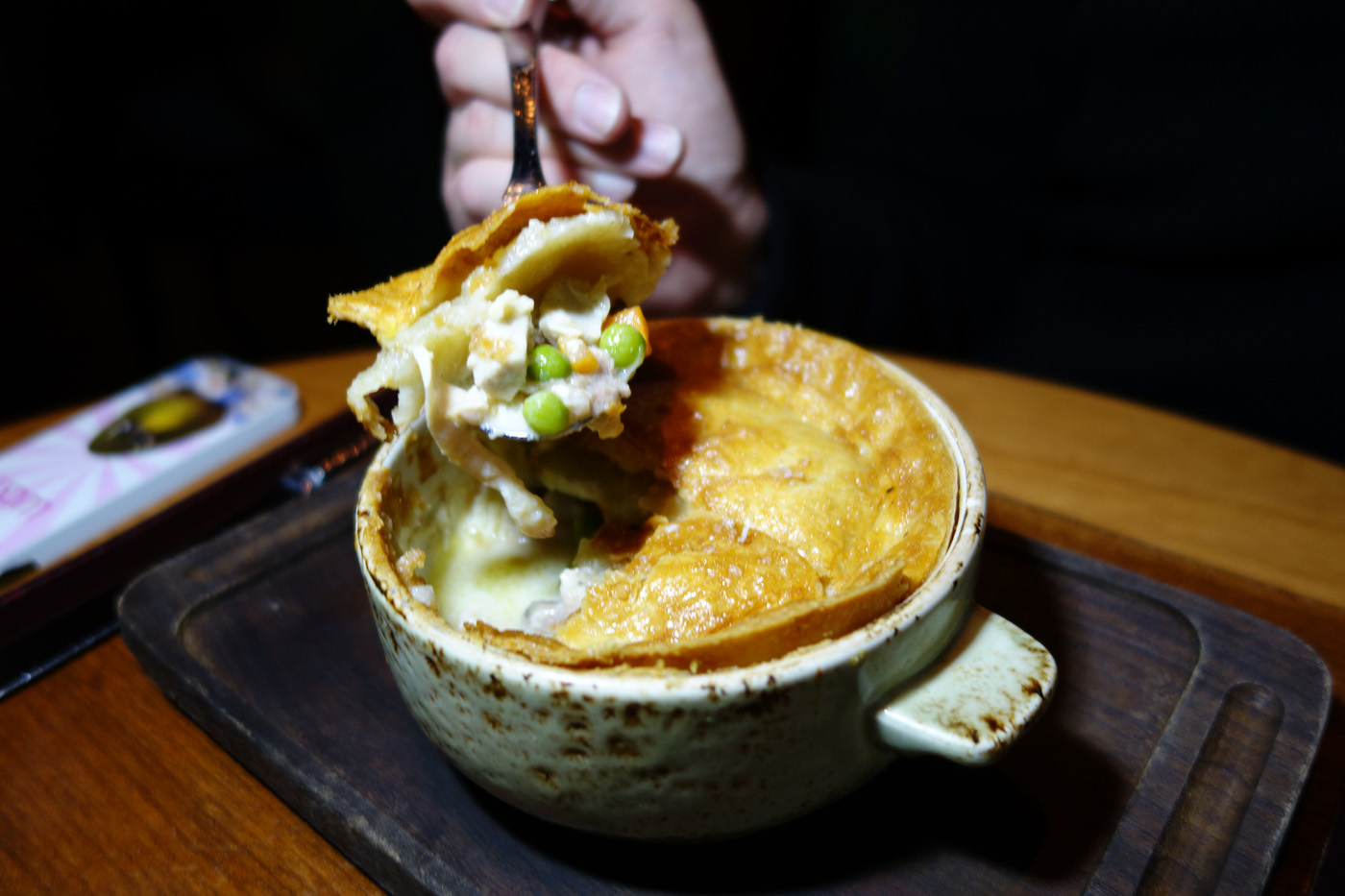 Sean had the pot pie, which sounds so simple, but both of us had the same reaction when we bit into it: It was full of warm, comforting flavor. He ate the whole thing.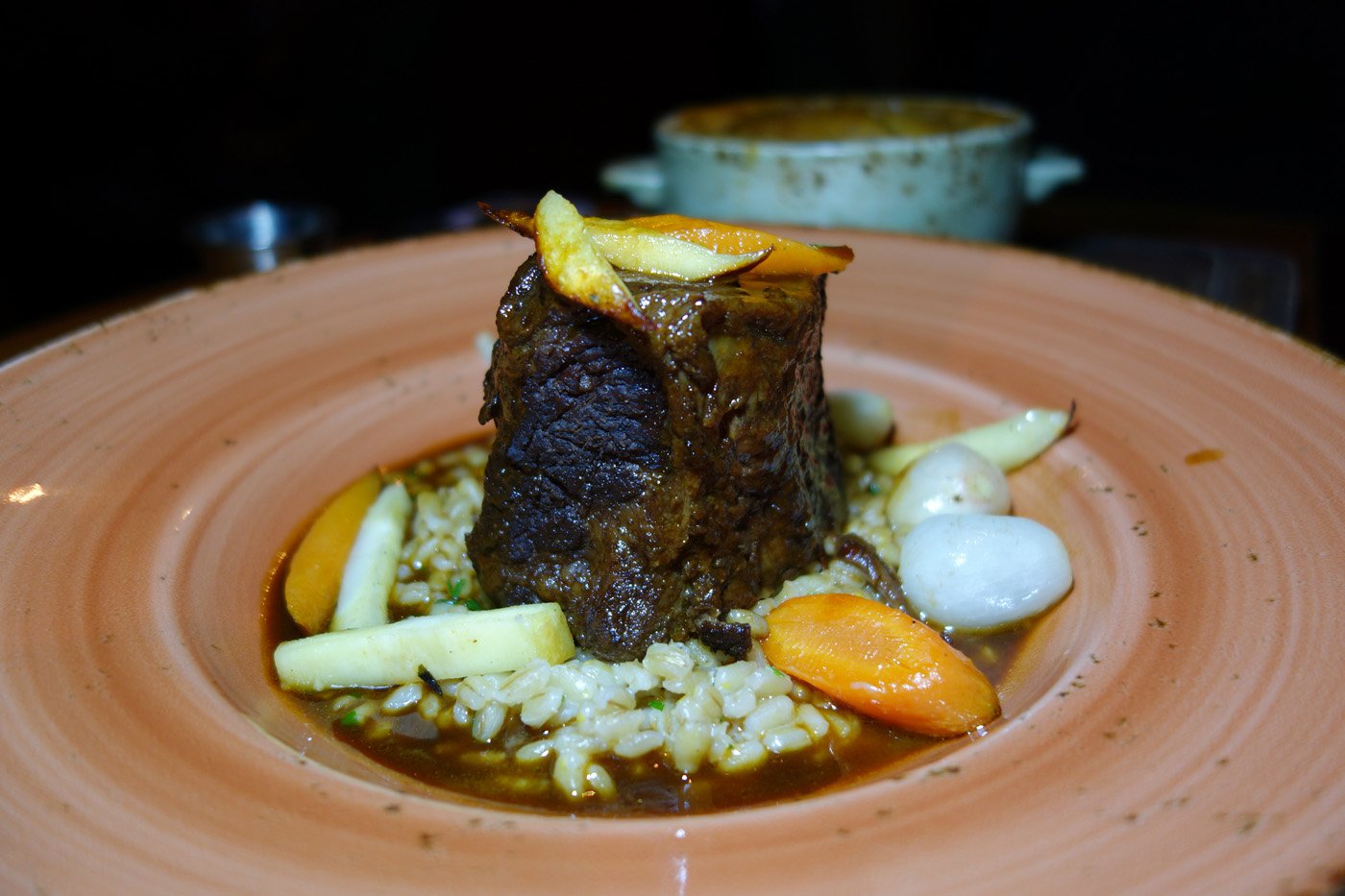 I had the braised short ribs on barley risotto, which came on high recommendation from our waitress. I shouldn't have ordered it, though, because we had already eaten so much and I was too full to eat such a hearty dish! It was good, tender and tasty, but I had to take a doggie bag home.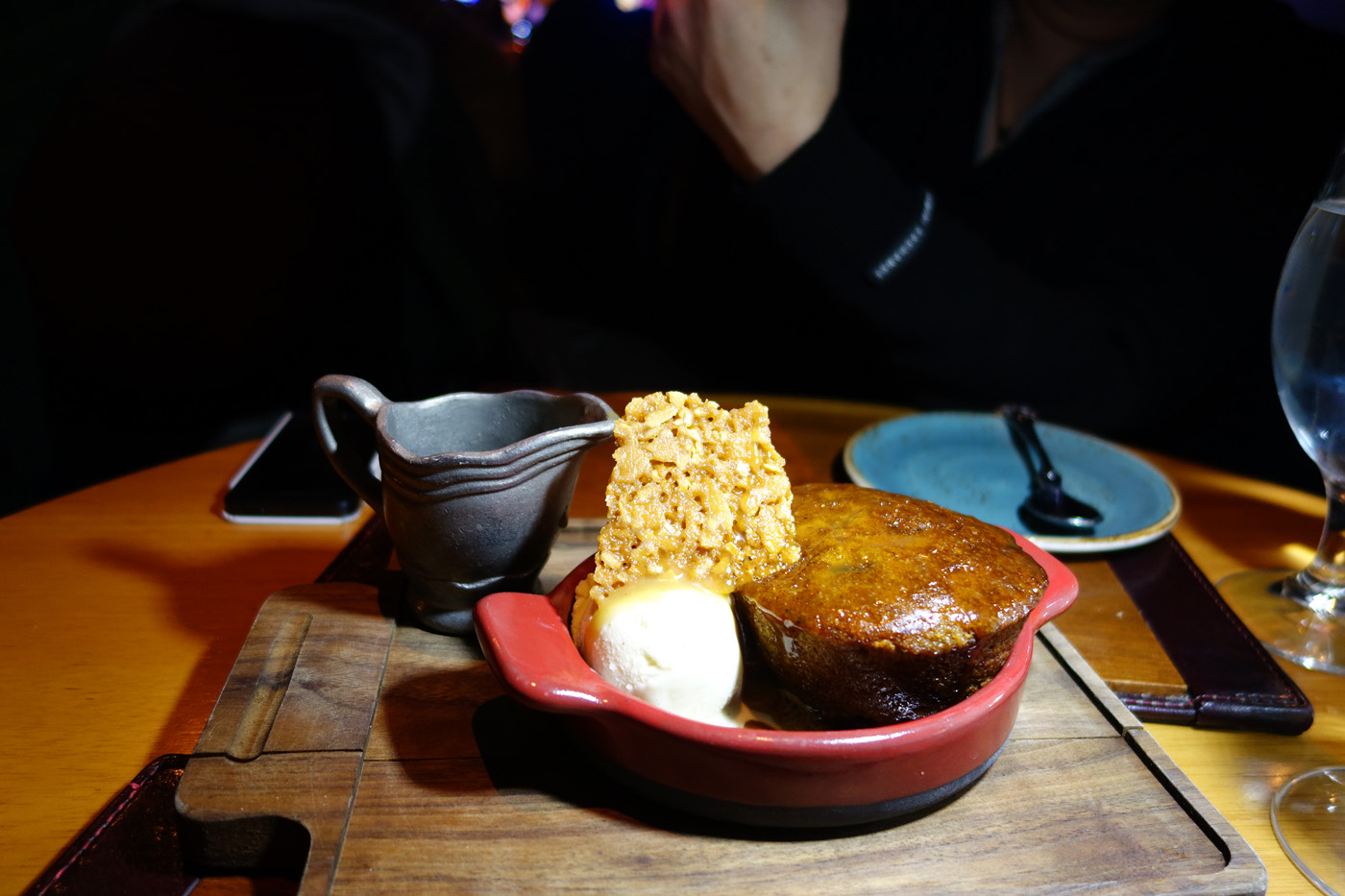 And yet somehow, we managed to find a little room for dessert. The sticky toffee pudding is a crowd favorite, with ice cream and extra sauce on the side. For those of you who have never had this, it's more like cake than pudding that we know. But it's quite good.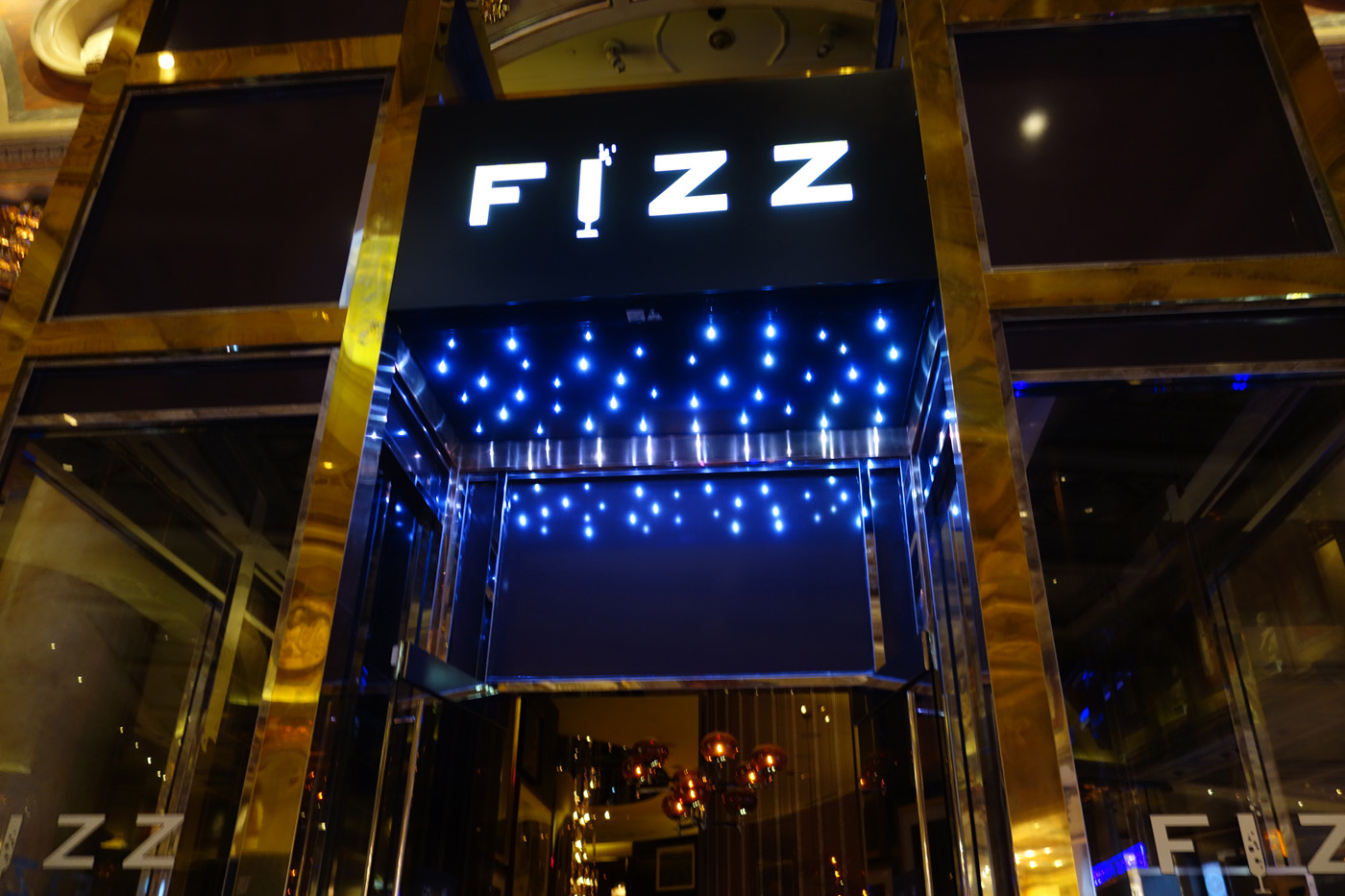 If you still have room, we really liked kicking back at Fizz, a cocktail bar and lounge owned and created by David Furnish — better known as Sir Elton John's husband. It's opulent and luxurious, but not snobby (at least, not when we were in there).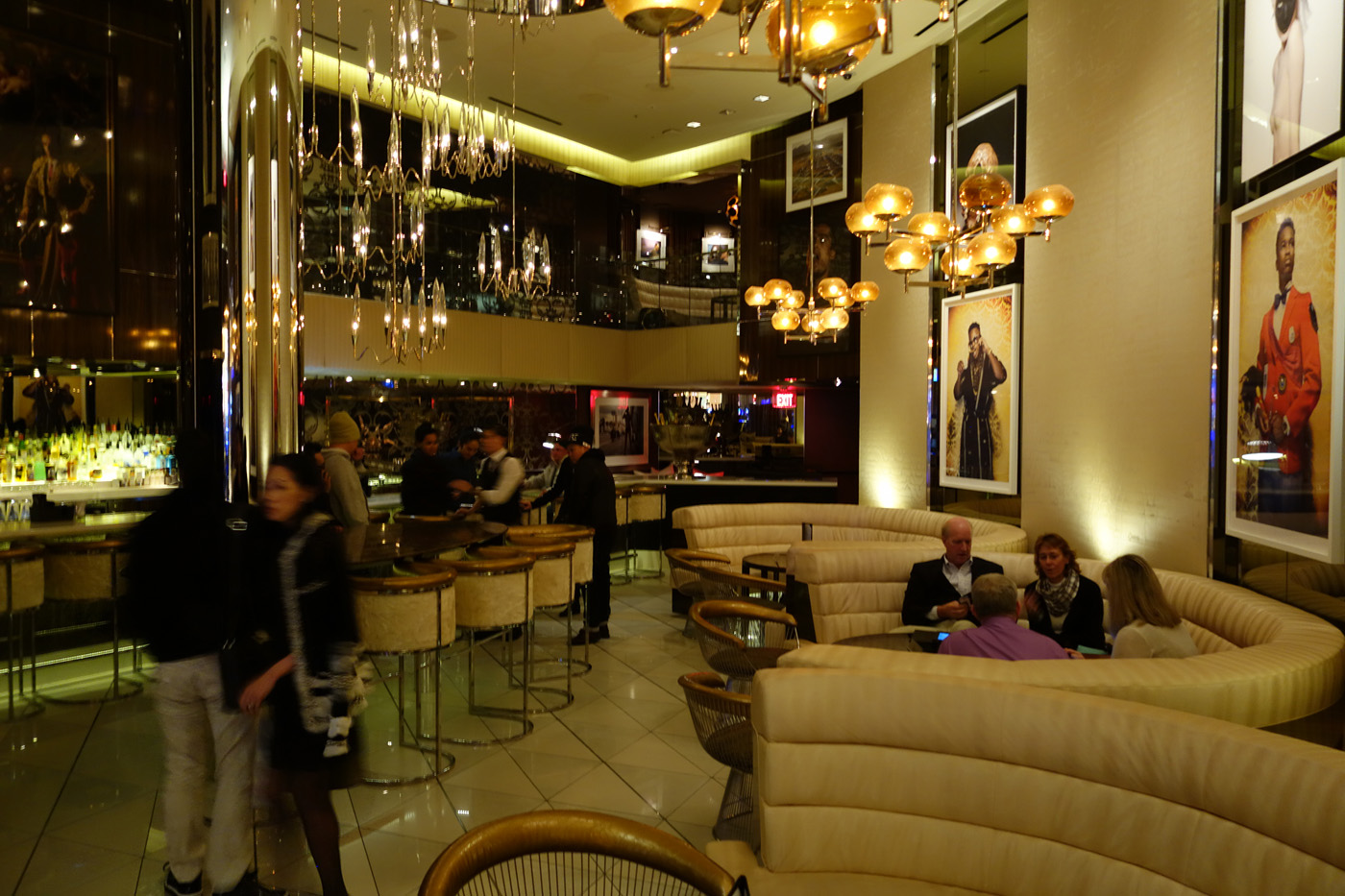 The walls are supposedly decorated with pieces from Furnish and John's personal collection.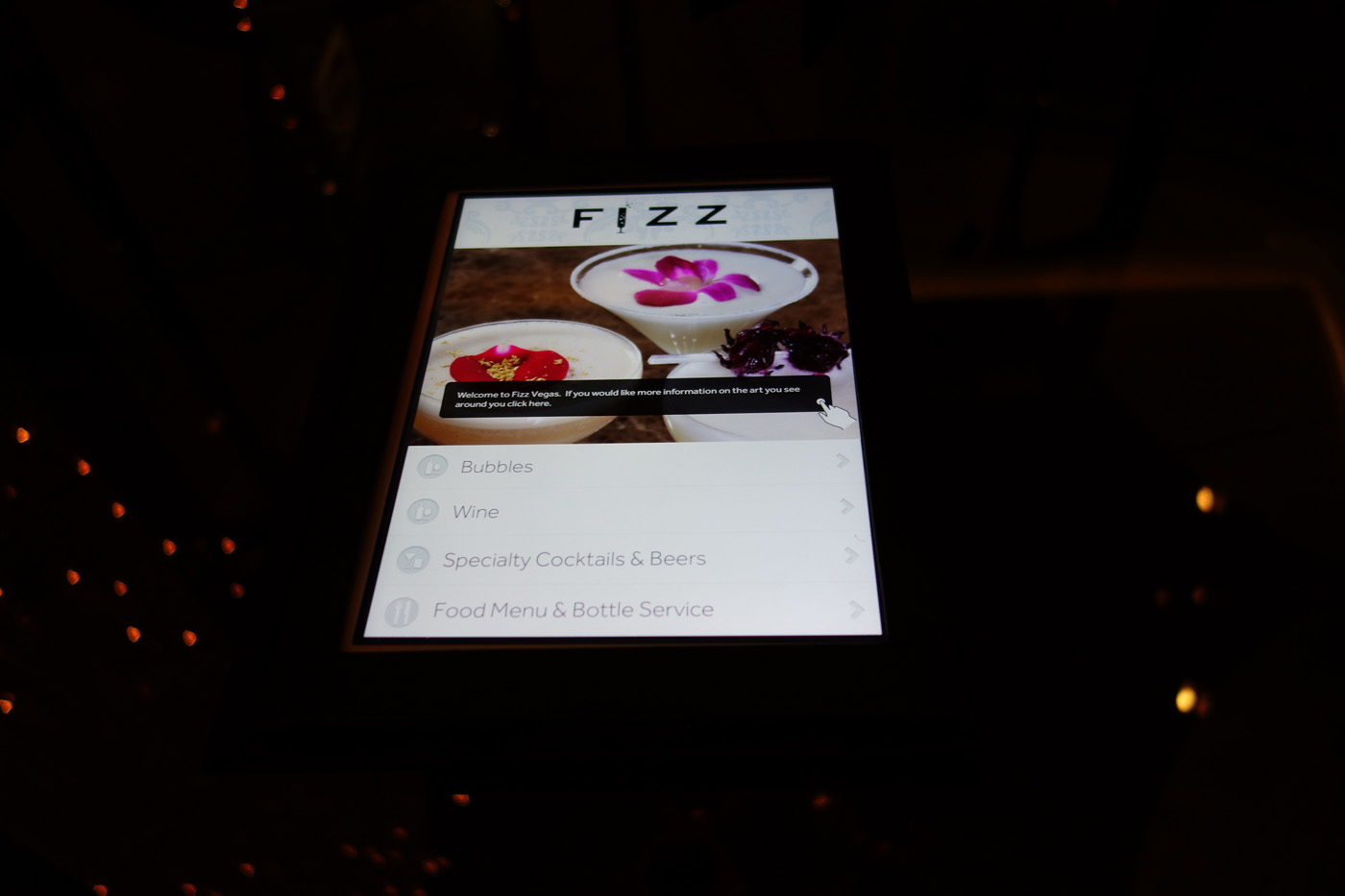 They have an extensive drink menu, organized and presented on iPads. I think most cocktails are almost $20.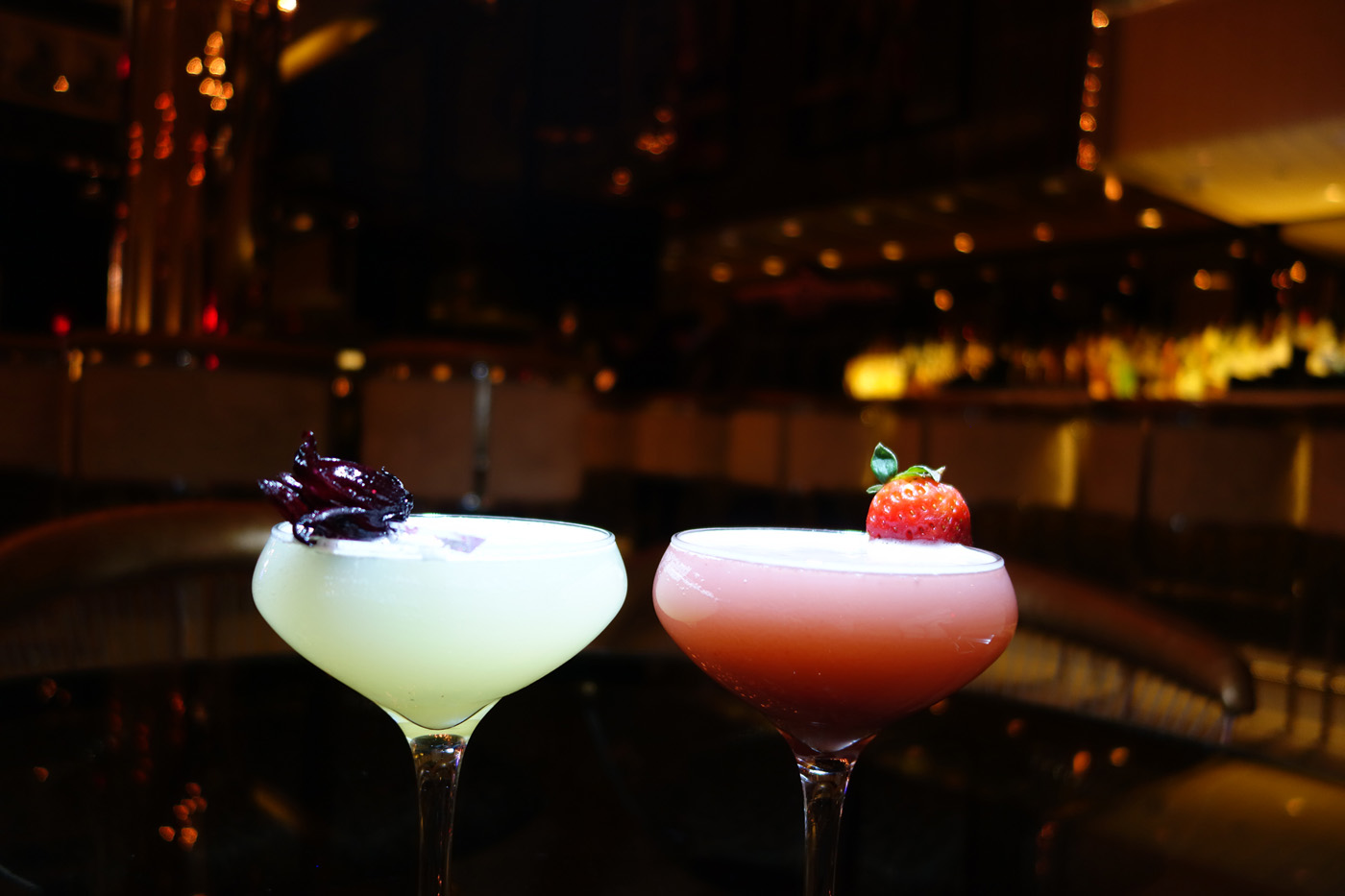 I got Le Fizz, which features a candied hibiscus blossom, and Kazumi got Le Fizz Fraise, which has strawberry. Very classy!
And so ended our big day on The Strip. Mahalo to the folks at Caesar's Entertainment for hosting us!
These are just the highlights. To see all photos from this trip, click here.