Valentine's Day Guide For Guys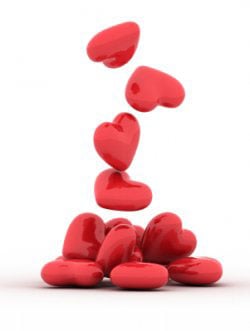 A HonoluluMagazine.com web exclusive
It's not about being a sexist, it's about being a realist. A significant percentage of you men out there don't realize you have only a couple days left until Valentine's Day. And your girl does not want the "it's a made up holiday" speech this year. Trust me.
Instead, use one of these last minute ideas—because they won't seem last minute to her.
The ship has probably sailed for reservations at a great restaurant. (For the optimistic, you can check out dining editor John Heckathorn's suggestions.) But there's always a table available at Chez You. Pick up a copy of Alan Wong's new cookbook, The Blue Tomato (awesome recipes and stories), hit up the KCC Farmer's Market on Saturday for your ingredients, and bone up on cooking lingo and techniques at www.reluctantgourmet.com under "how to." And watch her swoon over your kitchen skills.
If the idea of cooking makes you woozy, try ordering out—it's not as cheesy as it sounds. Pick a humble-yet-yummy place from your relationship history: Like the place you used to go on Sunday mornings, for example. You can class up the simple food with an elaborate setting—tablecloth, candles, non-plastic utensils, the works. For a tutorial, hit up the Emily Post institute here. Accompany with a card from Green Field Paper Company embedded with flower seeds. All she has to do is read it, love it, wet it down and plant it. In a few months? A beautiful bouquet you don't have to order online. (Available at Fresh Inc. Stationary, Windward Mall).
A gift is always in order. Buy her something sparkly at Mellow's Antiques, open weekdays and this Saturday from 10 a.m. to 2 p.m. It's conveniently located downtown—perfect timing for a lunch break outing—and full of antique-inspired new jewelry at a lower price point, so any salary can sustain a visit. And it will be unique, just like her (and you can borrow that line, no need to credit me.)
Lastly is the old reliable: a spa day. But first—and please promise you won't forget this step—find out if she likes massages. I've been told countless times: "I don't like to be touched by strangers." You need to find out or it will flop. If she is one of the "no touch" types, get her a mani/pedi. Here are places that still have openings on Monday:
Heaven on Earth has a full massage, facial and mani/pedi for $250. www.heavenonearthhawaii.com/monthly-specials.html
Serenity Spa at the Outrigger Reef has a massage, facial, manicure, Aveda gift set and a box of chocolates for $99. It doesn't get much better than that. www.serenityspahawaii.com
Elements Spa has a massage, facial, foot treatment that comes with a box of chocolate and an ankle bracelet, but book fast, they're filling up. elementshawaii.com/specials-valentines2011.html
You may be able to make Valentine's Day great at the last minute, but next year, make reservations early.