Uzbek food hits downtown at Silk Road Cafe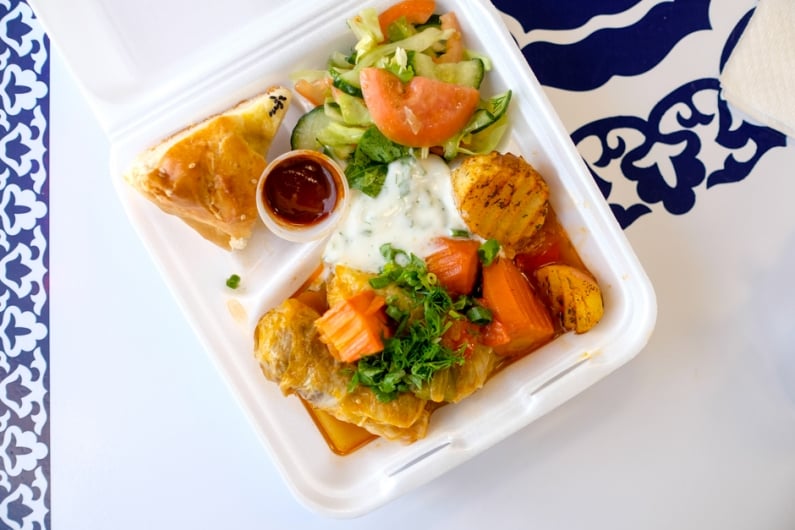 On a map, Uzbekistan is worlds away from Downtown Honolulu. But since a hot new lunch spot called Silk Road Cafe opened, we can get a taste. It's pretty safe to say this is the only Uzbek restaurant in Hawaii.
Uzbekistan, a landlocked country in Central Asia and former Soviet republic, sat in the middle of the Silk Road, a major trade artery that ran from the Korea Peninsula to the Mediterranean Sea. With so many influences streaming through, it became a cultural melting pot early on, making Uzbek food as diverse as the people that traveled there.
The menu at Silk Road Cafe is equally diverse. It's approachable for local palates yet extensive enough to make multiple visits during the work week.
Take the lagman soup, an aromatic tomato- and beef-based soup with hand-pulled noodles that's derived from dishes in China and India. The noodles are soft and make for easy eating with tender chunks of beef and stewed vegetables. There's also a plate of stir-fried lagman and vegetables ($9.25) that's calling my name.
Another item of Indian persuasion is the somsa, a flaky pastry stuffed with a decent amount of spiced ground beef and soft minced onions. While the Indian version tends to be smaller and dense with legumes, the cafe's Uzbek style is lighter and with a nice buttery crumble. For a different texture, opt for the deep-fried piroshki bun which has similar, if not the same beef filling.
While dining in, I've overheard a number of people with Russian accents order blini, thin crepes with a savory filling ($5.45 for two) and borscht ($8.25), a beet-and-cabbage soup served with Uzbek naan. The Eastern European and Russian influence is also found in the tender goluptsi ($9.25), beef with rice rolled in cabbage leaves and served with a caraway-infused broth and veggies. A sucker for dumplings, I'm tempted to try the pelmeni soup ($8.75) and manti ($8.25) on my next visit.
The vast majority of Uzbeks are Muslim and therefore halal food is a very common thread woven into the tapestry that is Central Asian cuisine. I enjoyed the lulya shashlik ($9.75), ground beef kebabs similar to Persian kofta koobideh, on top of fragrant golden hued rice.
Silk Road Cafe has the perfect downtown lunch formula: quick, delicious and under $10. Sitting at one of the tables, you'll notice a constant stream of hungry patrons who order with a touch of curiosity and are served within five minutes – a key to success in busy downtown.
After my first introductions to Uzbek food I'm definitely a fan. And by the looks of the crowds, much of downtown is, too.
Silk Road Cafe
Arcade Building (former CeeGee's)
212 Merchant St.
585-8212
Monday – Friday 7 a.m. – 5 p.m.
Saturday 10 a.m. – 5 p.m.