USDA grants awarded to five Hawaii farms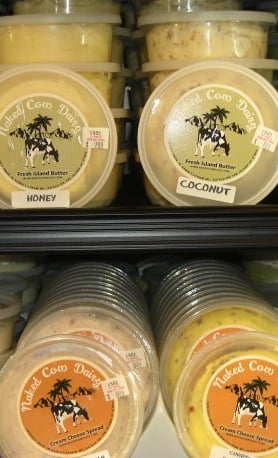 Earlier this month, the USDA awarded $285,930 to five Hawaii farms to help market their products.
Naked Cow Dairy received almost half of the funds, $140,000, to help promote its future cheese production. However, because the grant money cannot be used for equipment, the dairy is still trying to raise money through its IndieGoGo campaign (see a previous post) for a cheese vat and pasteurizer that it needs before it can even start making cheese on a more commercial scale.
Hawaii Cattle Producers Cooperative Association (HCPCA) received $58,180 to market Hawaiian Red Veal (5- to 6-month old calves that have just been weaned off the mother cow and have been allowed to roam on pasture), ground beef and Country Natural Beef (a program in which Hawaii-born calves are sent to an Oregon co-op with ranches certified by Food Alliance, and the finished beef is sent back to Hawaii for distribution). HCPCA represents cattle producers from all the islands.
Noni Biotech International on Maui received $48,000 to market its noni juice, capsules and spa products.
Mauna Kea Tea, which grows organic green and oolong tea in Waimea, Big Island, received $27,750.
Kalapana Organics on the Big Island received $12,000 for its organic farm. Some of its products—such as SugarRush cane juice—can be found at Kokua Market in Honolulu.
The full list of the 298 USDA's Rural Development Value-Added Producer Grant recipients nationwide (which include a caviar production operation in Idaho!) can be found here.
[Editor's note: A previous version of this article mistakenly stated that the Oregon feedlots were Food Alliance Certified. The ranches are Food Alliance certified, not the feedlots.]