Upscale pop up in Hilo is here and Na'au
A unique approach to local ingredients aims to intrigue and educate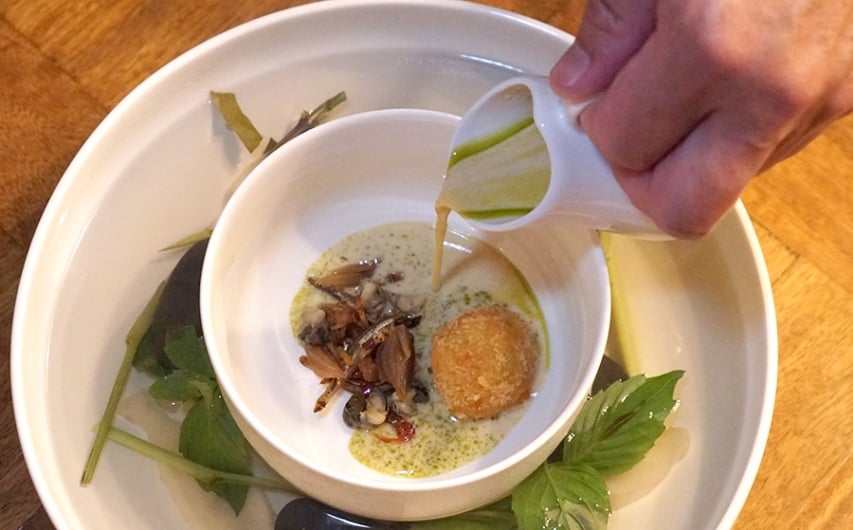 Despite its reputation as a sleepy little town, Hilo has really become a destination for foodies. From okazuyas to acclaimed restaurants, you can easily eat your way through Hilo in a week and still not touch every spot that would be considered a "must try."
The latest culinary adventure on Hawaii Island is called Na'au, a Hawaiian word that literally refers to the intestines, but also has a double meaning as your gut, or instinct. It was created by Brian Hirata — an instructor at the Hawaii Community College (HCC) culinary program and previously a sous chef at The Hualalai Grille by Alan Wong — who, as a longtime hunter and fisherman, sees the younger generations knowing less about sourcing foods and the wide range of ingredients available to them in Hawaii. As an educator and a chef, he wants to teach people about the native and invasive ingredients, and then create a beautiful, interactive meal with them.
Na'au doesnt have a permanent spot yet, and HIrata is still teaching at HCC, so while he seeks invetors, he pops up once a month. In fact, tickets will be available tomorrow for his next two dinners in October and November; you can subscribe to the restaurant mailing list on their website for an early-access code. The October 13 dinner will be at the Anna Ranch Heritage Center in Waimea and the November 10 dinner will be at Palms Cliff House Inn in Hilo. Tickets are $265 per person (inclusive of gratuity but not taxes and fees) and includes a multi-course tasting menu and pairing of both alcoholic and non-alcoholic beverages.
I was lucky to experience the first Na'au dinner in Hilo, and I can easily say there's nothing like this experience anywhere in Hawaii right now. It is reminiscent of the Ka Malama dinners the Grand Wailea used to do, which sparked the Search Hawaii television show, so you can kind of get an idea of how special this is. Here's a look at the first dinner, but the menu will change constantly.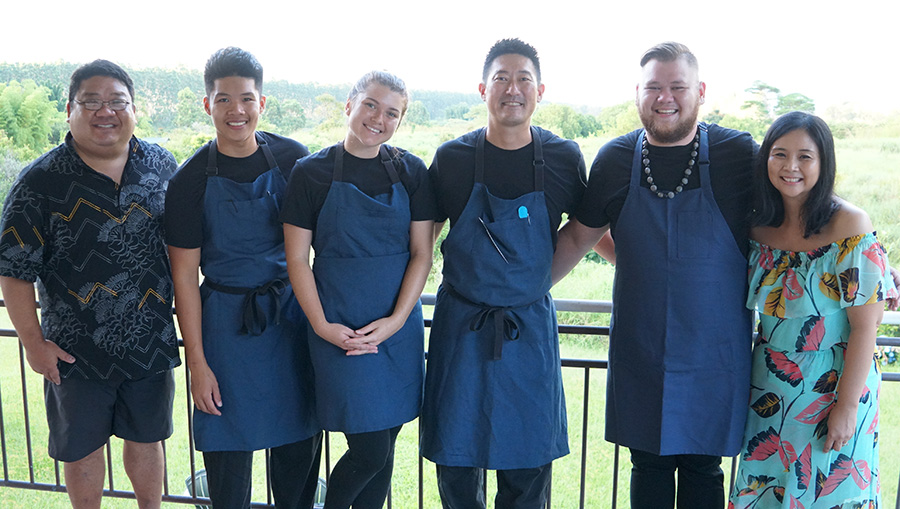 From left, Ryan Kadota, who created the wine pairings; Nemuel Palilo and Kiana Simmons, who are cooks on the Na'au culinary team; chef Brian Hirata; Adrian Wagner, who helped Hirata for the first dinner; and Na'au project coordinator Gem Nishimura.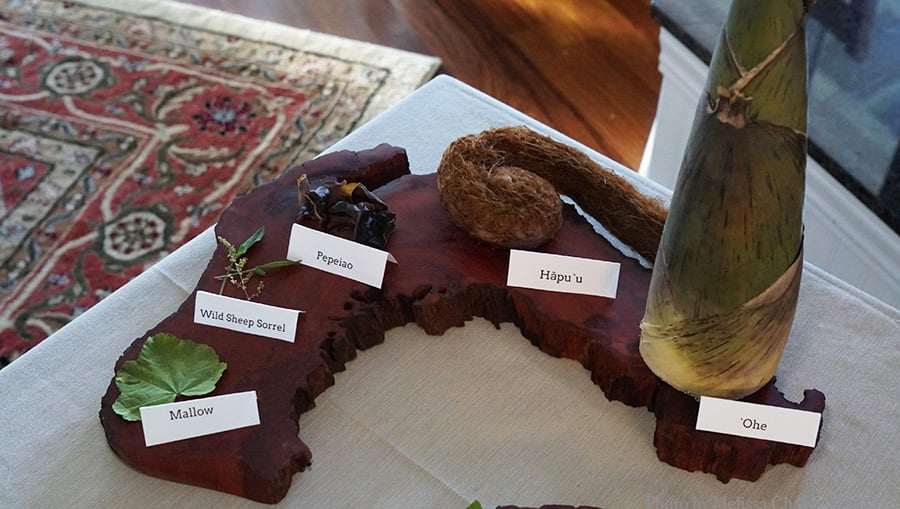 Hirata puts the ingredients on display before dinner so those who are unfamiliar, can learn a little about what they're about to eat.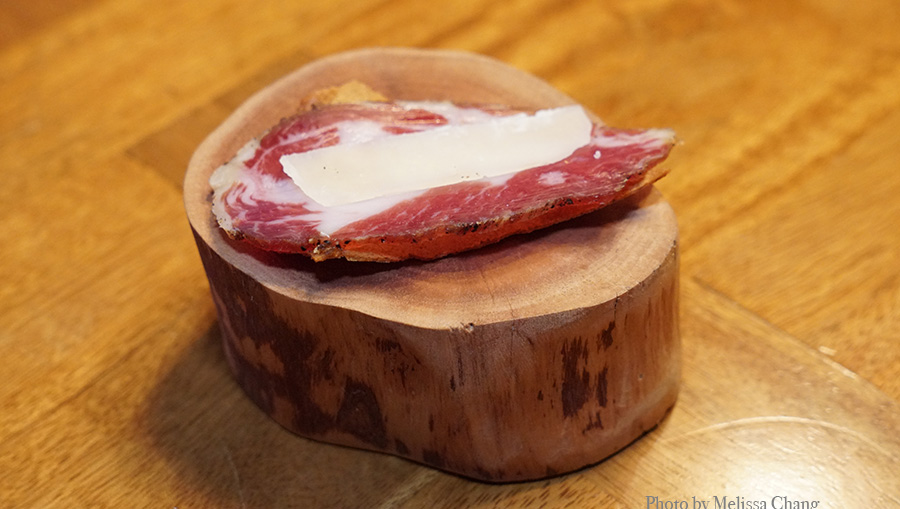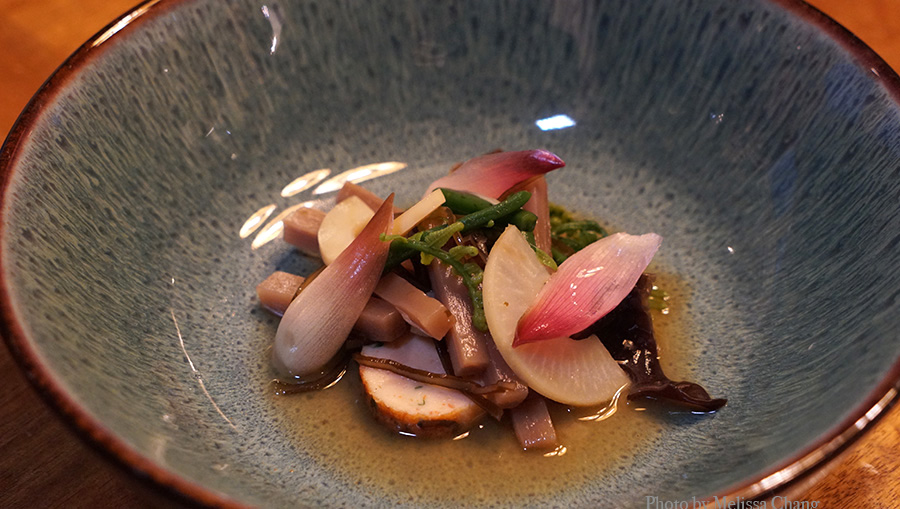 Remember that platter of ingredients? This first course used most of those: Hapu'u, ohe, ho'i'o, pepeiau, a wild prawn fishcake and charred wild ohe and prawn broth. This was colorful and delicate, with a very thoughtful blend of textures in each bite. The broth was savory, and really pulled together all the flavors of the fresh ingredients. I could have eaten a whole bowl, but we had to power on.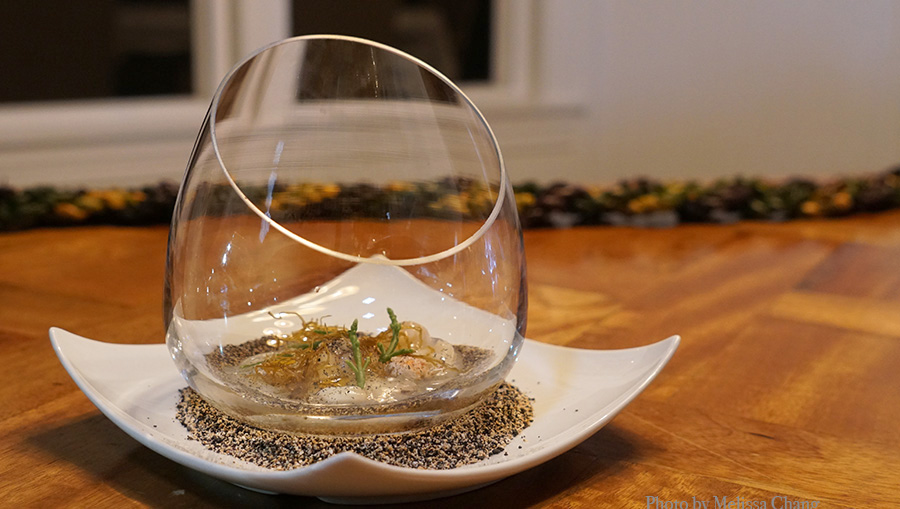 Hirata created a dish incorporating sand turtles and Samoan crab in an ulu miso, topped with corn husk ash and sea asparagus. If you go to the beach enough, you might learn about sand turtles, or sand fleas. They aren't insects at all, but a kind of sand crab. So here, the ulu miso brought out the sweetness of the crabmeat in a presentation that looked kind of like a sand globe souvenir of the beach.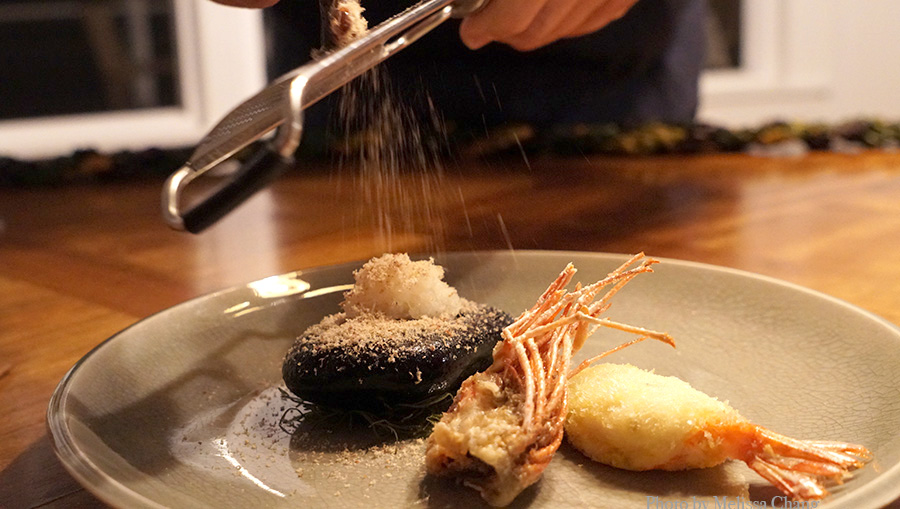 Hirata prefaced each dish with a story, either of his own experiences in foraging or in this case, memories of his childhood. He took Molokai amaebi and made tempura in his grandmother's style, but with o'io stuffing and his own grated daikon. He had smoked and dried akule himself, which was then grated fresh over the daikon to impart the saltiness for the tempura.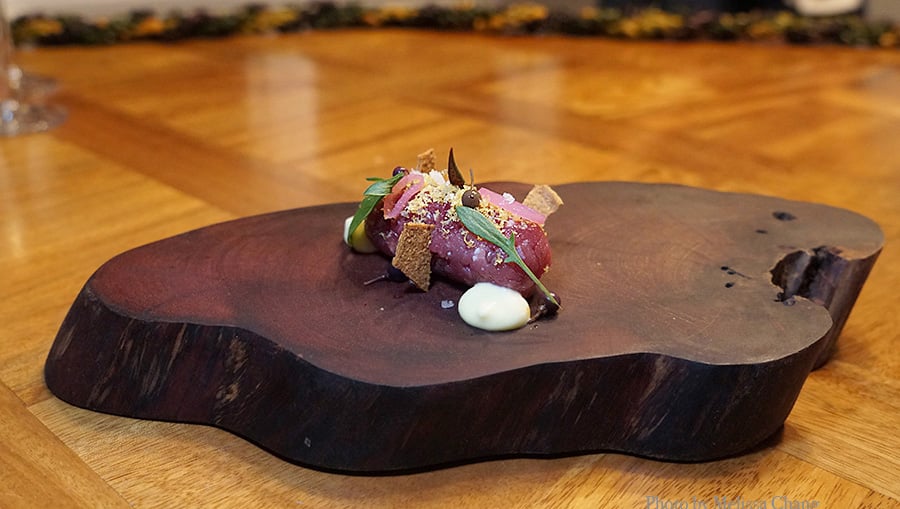 This was a complete surprise for the palate. I expected the venison to be gamey and tough, but it wasn't like that at all — if you blindfolded me, I probably would have just thought it was lean beef tartare. The venison taste was clean, but meaty. The sheep sorrel, capered popolo berries, garlic aioli, cured egg yolk, and Hanapepe salt helped to create complexity in a brand new mix of flavors, and the keawe crepe pieces, of course, provided a light crunchiness.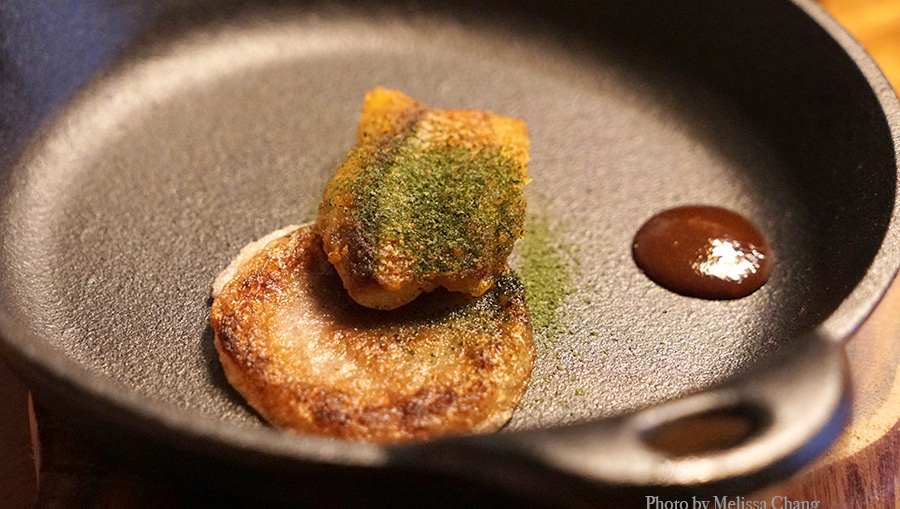 The flavors of fish and poi were here, but definitely not in a way we'd ever had it! Fried pa'i'ai was topped with menpachi that Hirata had caught. He originally wanted to serve kole, but since he caught this and it was fresh, he changed it on the fly. One of the neat things about such an interactive dinner was the ability to get up and watch him cook (whether he wanted us to or not, haha) and have him talk about his process. I just need to point out that the green powder is dried 'ele'ele, a very fine seaweed. After harvesting it, Hirata had to painstakingly pick through it with tweezers to get the sand out. Fortunately, he didn't need a lot, but just the amount he used for us was a lot of tedious work.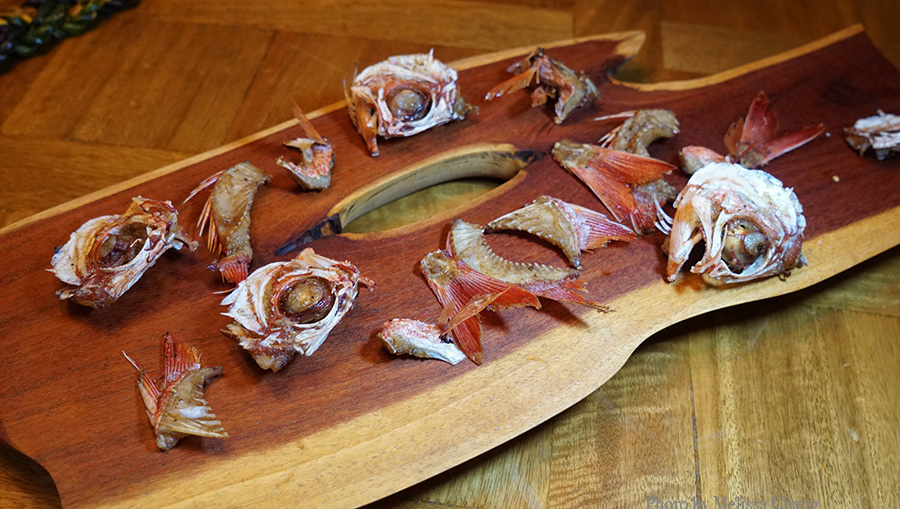 You don't see a lot of people eating fried fish bones like this, but that was part of Hirata's point: it's a lost practice. These were delicious, especially dipped in shoyu, limu kohu and chili pepper water. If we weren't so full, it would have been a great snack!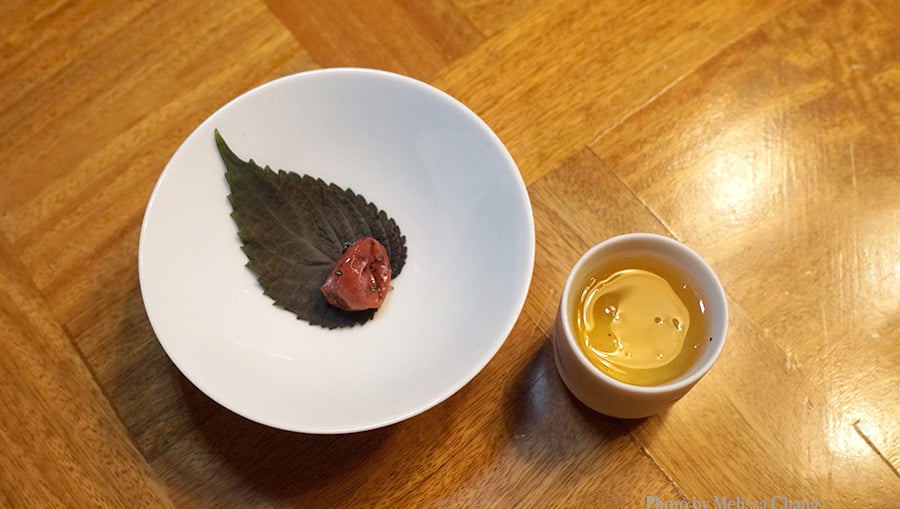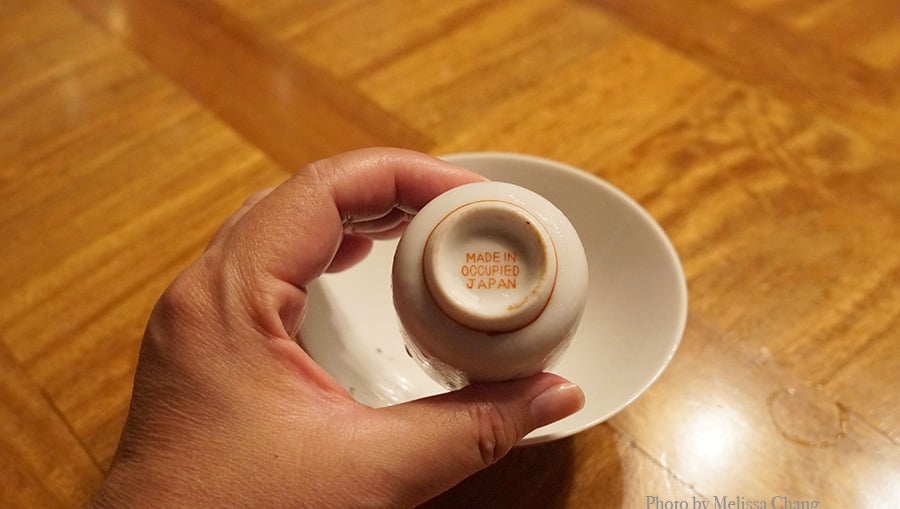 Did you know that plums grow on Mauna Kea? Hirata obtained some local plums and made his own umeboshi, then served with mamaki tea, which is also grown on Hawaii Island. I have to be honest, I don't even remember what this tasted like because I was so intrigued with the fact that he had obtained these fruits and was busy marveling at the teacup.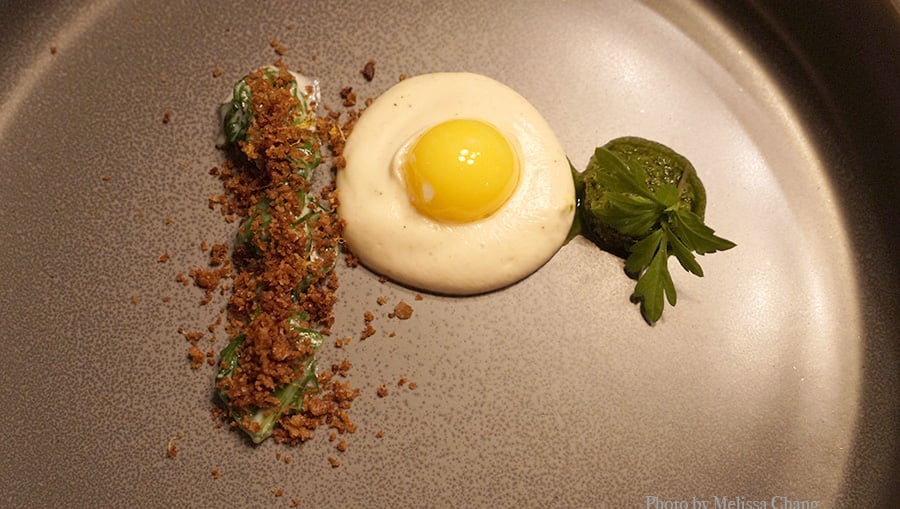 This was a nice play on ingredients. Hirata took egg whites and whipped them with cauliflower to create the white of the egg, then topped them with a 65-degree egg yolk. Served with garlic creamed mallow and kī nehe sauce vert, this was like a very elevated play on bacon and eggs.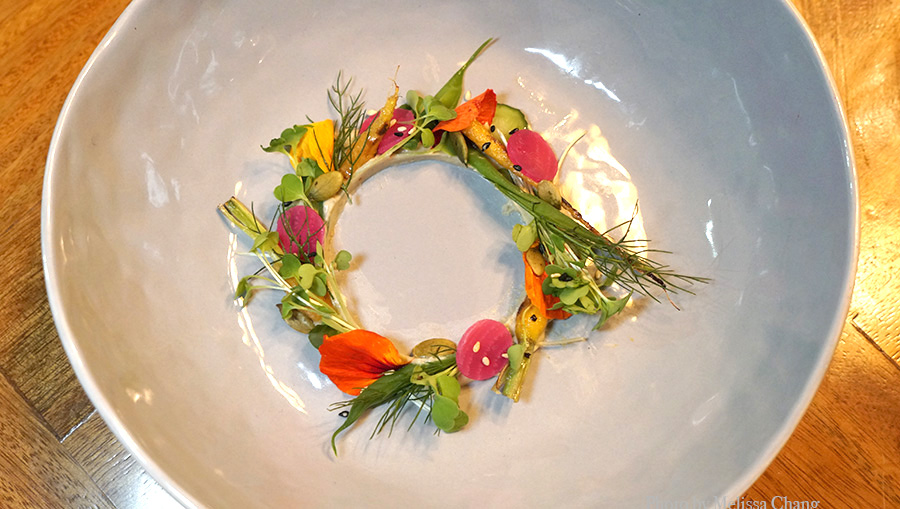 What better way to showcase the work of Hawaii farmers than with a salad? Hirata took opelu bagna ganoush, baby carrots, Japanese cucumber, baby pickled beets, roasted seeds and baby harcots verts and made a colorful lei. Almost too pretty to eat. Almost.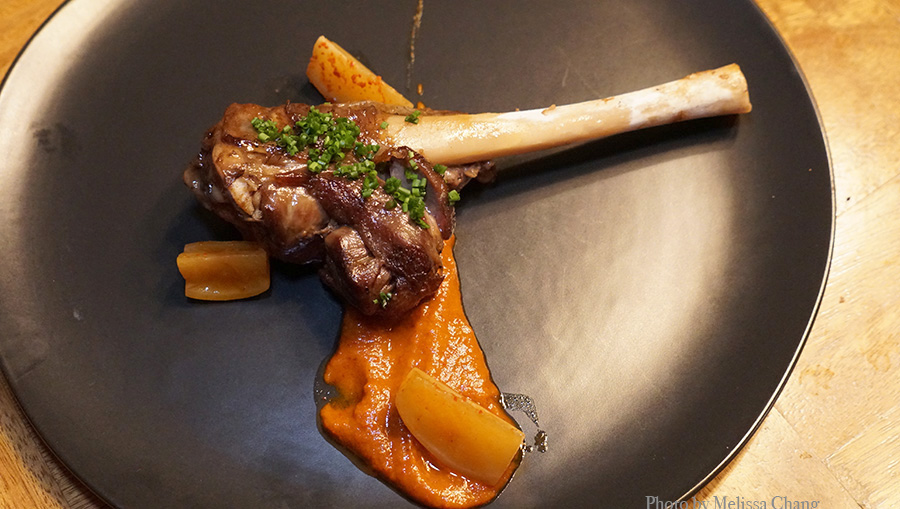 The lamb shank was a total departure from how many people in Hawaii expect to eat it, which was a good reminder of how we need to expand our horizons. This was served with kim chee harissa and kim chee hakurei (a Tokyo turnip). Again, no gaminess, just pure meatiness, and it completely fell off the bone. We were feeling sorry that there weren't two shanks.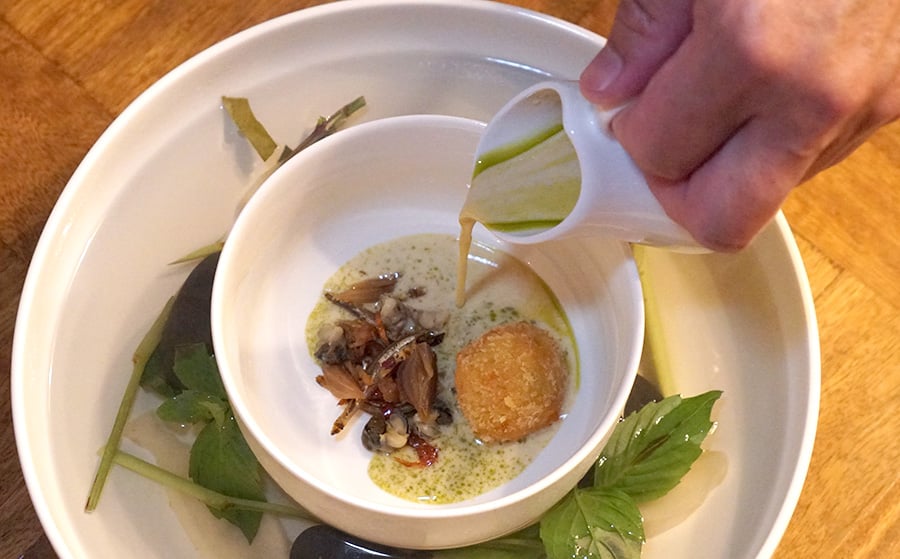 This was probably one of my favorite dishes of the night, partly because of the presentation. The dry bowls were presented to each person, then the outer ring was filled with hot water to bring out the aromas of the Thai herbs. Then the Thai coconut broth was poured over the fried nehu and opae, kupe'e, and kabocha arancini. The concept was that as you leaned forward to take each bite, you'd breathe the aromatic steam and enhance the experience. The chowder itself was amazing, light and rich. But the extra touch of the tidal pool really took it over the top.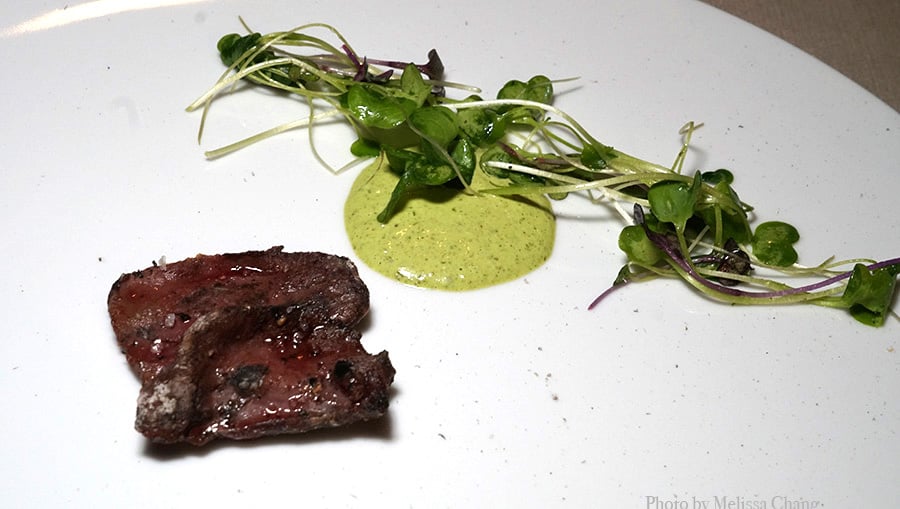 When Hirata goes hunting, he makes use of every part of the animal, but his favorite part is the heart. He explained that the best way to eat it is most simple, just grilled over a fire or coals. This was actually a favorite for me, too — if you've had chicken or beef heart, you can understand the appeal. It's clean and non-fibrous, with a different consistency. All you need is a little salt or shoyu and you're good to go.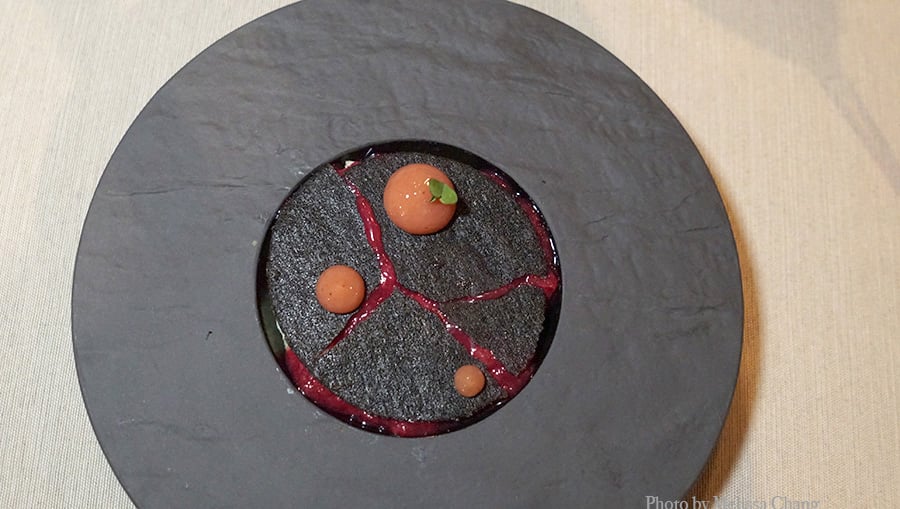 Hirata got chevre from Hamakua Dairy to make this cheesecake, using an ash tuile to look like lava rock and ohelo berry compote for the molten lava. It was actually pretty light for a cheesecake, not too sweet, and a lovely way to end the meal. Even though we were full, we all finished it, so that speaks to how good it was.
If you want to get tickets to the next pop up, sign up on the Na'au website. There is a limit of 12 people per night and although tickets are non-refundable, they are transferable. To see more about Na'au's dishes, how Hirata forages for ingredients, and his prep for each dinner, follow them on Instagram, Facebook or Twitter.
Disclosure: Airfare and dinner were provided by Na'au Hilo.