Upcoming on Biting Commentary TV: Coffee Cupping at Beach Bum Cafe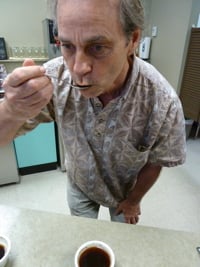 This Sunday, July 24, is the final episode of Honolulu Magazine's Biting Commentary with John Heckathorn.
It's a reminder that Hawaii grows the only coffee in the United States, and we are starting to see single-source coffees of exceptional quality all across the state.
The episode includes a trip to a high-elevation Kona coffee farm. (For more on that story, see our Farm to Table article in this issue.)
For those of us who make coffee at home, however, one of the most interesting segments will be with Dennis McQuoid, of downtown Honolulu's Beach Bum Cafe.
McQuoid's shop is unique in that it carries only 100-percent Hawaii coffees, from small producers all over the Islands. (For more background on Beach Bum, click here.)
McQuoid gives tips on brewing the best coffee at home, with a whole range of equipment, from French press to vacuum drips. Tip No. 1: Always grind your beans fresh.
We also did a formal coffee cupping. It was a blind test for Biting Commentary, right in front of the cameras. (That's producer Susanne Kurisu and cameraman Max Gibbons at the left, ready to video the cupping.)
McQuoid brewed up some coffee from Maui's Upcountry Farms and other coffee he'd plucked off the supermarket shelf, the kind of "Kona blend" in a bag that contains only 10-percent Hawaii coffee.
Coffee cupping requires brewing a precise quantity of grounds in a cup at a controlled temperature.
You wait four minutes, then break off the crust. No adding cream and sugar, just slurping small samples into your mouth to get the whole flavor profile.
Under those circumstances, even Biting Commentary could tell the difference.
The Maui coffee was full of flavor overtones and undertones, chocolate, tobacco, even a hint of citrus. The Kona blend was mainly tasteless, except for the bitterness at the end.
Tune into KGMB, this Sunday at 2:30 p.m. to catch the whole coffee episode.
For previous episodes, click here.