Uno de 50 — Mediterranean collection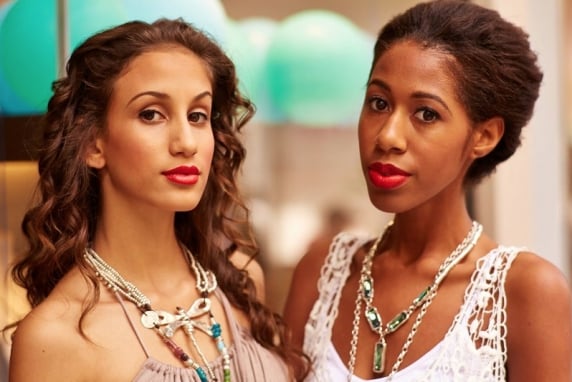 Uno de 50's new Jewels of the Mediterranean collection was highlighted last weekend during an in-store fashion show at Ala Moana Center. The wearable art jewelry collection includes pieces that are unique and pairs well with outfits for all seasons, but especially spring with the intense multi-colored crystals and organic shapes.
I find the workmanship so interesting. The entire process, including design, molding, coating, mounting and handling, is carried out in Madrid, Spain, where the company is headquartered. The use of metal alloys is very unisex, but paired with ultra-feminine or even office attire, it would add an interesting edge.
"Uno de 50 is one of my favorite jewelry brands because it has such a unique aesthetic," says Jenny Cao Wu, who styled the show. "I love styling with the Jewels of the Mediterranean collection because of the vivid reds and shades of blue that make these pieces stand out."
For the show, the models wore looks from Global Village, a local boutique in Kailua, which complemented the essence of the Mediterranean feel with its rich hues and flowing silhouettes. Hair was by Paul Brown Salon and make-up by Team Motives Hawaii.
A little history about Uno de 50: In the late '90s, a group of creative designers established a jewelry and accessories business that would break away from existing trends. The project was based on a Utopian idea — to make only 50 units of each design, so that whoever had one piece would have one of the existing 50 – Uno de 50.
Photos by Orlando Benedicto