University
In a world of big-box stores and national chains, this college neighborhood manages to keep the indie vibe alive and well.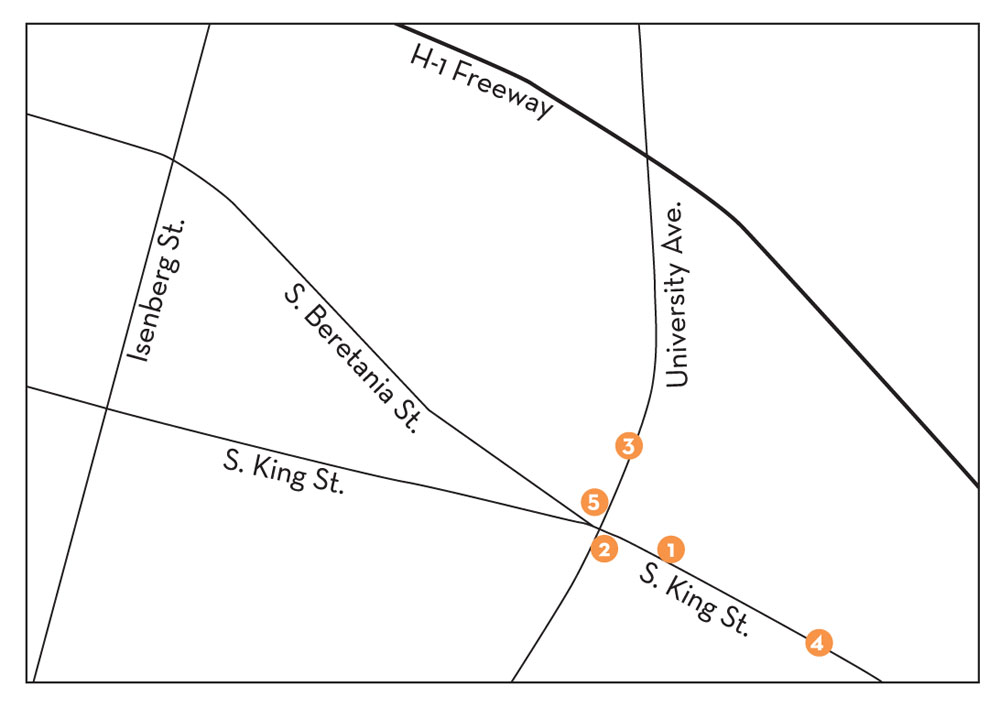 1. Glazer's Coffee
Every college town needs a good coffee shop. Nearly a year ago, Seattle transplant Sam Han opened a cozy little shop to fill that caffeine craving. Obsessed with serving the perfect espresso, Glazer's boasts the only La Marzocco espresso machine of its kind in the state. The coffee beans are roasted locally and a pared-down, uncommonly uncomplicated drink menu keeps regulars coming back. The open seating area is perfect for studying, socializing or just relaxing-with latté in hand, of course. 2700 S. King St., 391-6548.
2. Stylus Honolulu
The third floor of University Square doesn't get much foot traffic. If more people knew there was a clothing and music exchange with 90 percent of the merchandise under $10, however, hoards of fashion lovers would be running up the three flights of stairs. Inspired by Mainland vintage shops and former University area stores such as Cheapo's and Jelly's, owner Shawn Lopez created a place to buy and sell cool clothes, CDs, records and DJ accessories. "Every day, someone new will come in and say the store reminds him or her of a store in New York or Tokyo," he says. "I take that as a compliment." 2615 S. King St., Suite A-301, 951-4500.
3. Qi Center Honolulu
There's a whole lot of healing going on in the heart of the University Avenue area. The center, founded by Grandmaster Hong Liu and the Natural Healing Research Foundation, offers regular Qi Gong classes, seminars and events to the community. Qi Gong, an ancient Chinese practice, incorporates different breathing patterns with physical postures and motions to help improve health. Twice-weekly sitting Qi Gong classes have become hugely popular with seniors, who can move on to standing classes as their health improves. "Oh, they just love it!" says teacher Joyce Settle. 1110 University Ave., 947-1333.
4. Kokua Market
When you shop at Kokua Market, the cashier asks you if you're
a member. What she's really asking, however, is, are you an owner? As Hawaii's only natural foods cooperative, the market offers customers the unique opportunity to have a say in the store's products and policies-"and that's important," says general manager Brad Salmon. A fee of $150 buys you a share of the store, a vote in its board of directors election and daily discounts on the usual healthy suspects: locally grown fruits and vegetables, organic cosmetics, homemade foods and more. 2643 S. King St., 941-1922.
5. Rainbow Books
Rainbow Books is full of characters—and not just the fictional variety. This University fixture attracts customers from all walks of life with its extensive, if not-so-organized, selection of secondhand books, magazines, music and movies at discount prices. Peruse ceiling-high stacks of best sellers, travel guides, old textbooks and much more. With everything from Plato to the Tao of Pooh, you get the feeling that if you looked hard enough, you'd find whatever you were looking for-or exactly what you didn't know you needed. 1010 University Ave., 955-7994.
What's In a Name?
Puck's Alley got its name from a restaurant that occupied part of the property in the late '60s, according to Moiliili: The Life of a Community. That restaurant, Puck's Pub and Broiler, took its name from the 19th-century satirical magazine Puck, namesake of the mischievous Shakespearean character.