UH-Manoa has THE best college food — here's what to get
Even non-students can enjoy what Forbes magazine calls the best in the country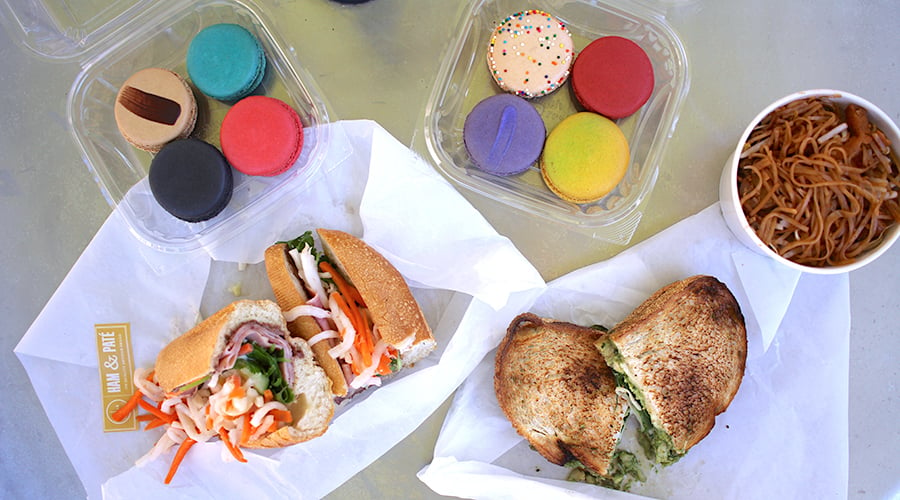 Earlier this year, Forbes raved that the University of Hawaii at Manoa has the best campus food in the nation. This was because Manoa Dining Services, aka Sodexo's UHM branch, asked students what we wanted and implemented our feedback. After that, Sodexo's customer satisfaction rose from an average of 84% to 94%.
As a huge foodie and third-year student who practically lives at UH-Manoa, I started seeing changes around food options last fall. Vegan and vegetarian options were popping up and takeout containers became eco-friendly. We got a Starbucks on campus. All my friends were using a mobile app called Tapingo to order food. Even non-students can use the app to make ordering, paying for and picking food up hassle-free. Plus, you get $1 off when you order through Tapingo, and its Bite app makes it easy to track calories and check out the daily menus across campus.
See also: HPU's AYCE Cafe at Aloha Tower has Sam Choy dishes
Here's the 4-1-1 on the best places to eat on campus for students and the public. Each includes recs from Manoa Dining Services general manager Donna Ojiri, Manoa Dining Services marketing specialist Marcie Moribe, and myself.
Campus Center Food Court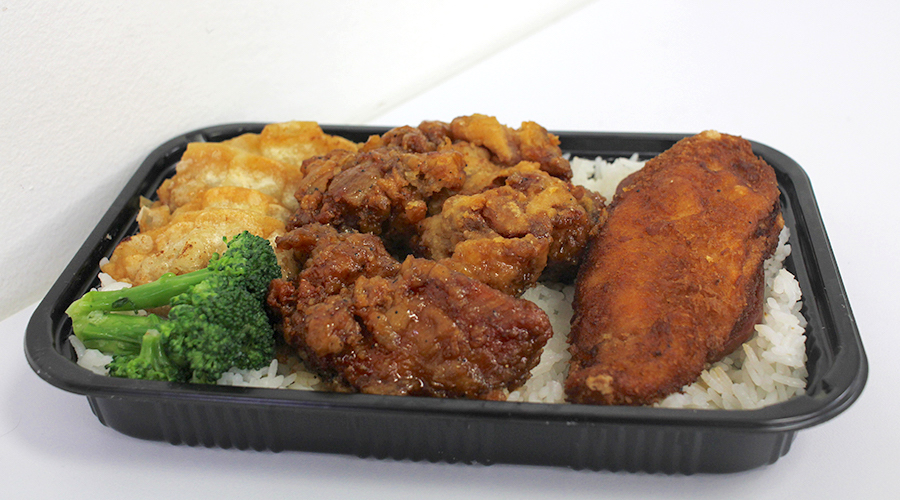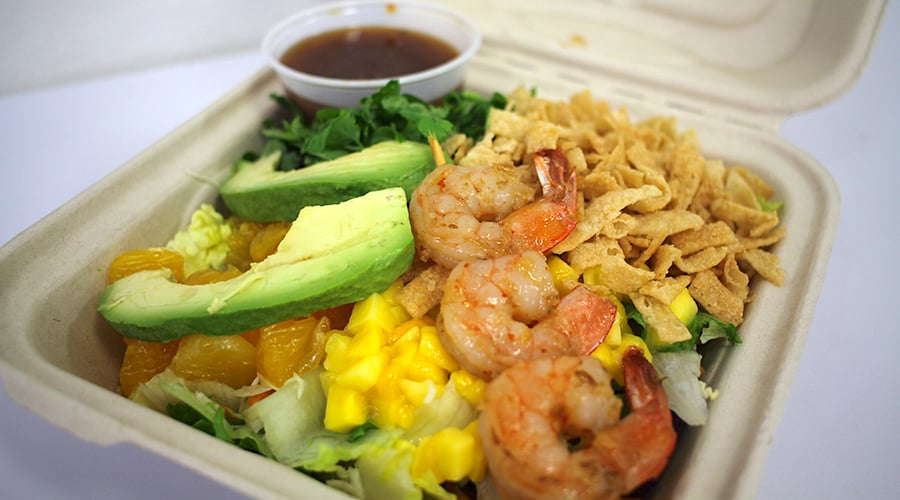 Where: 2465 Campus Rd.
What times: M-F 7 a.m.-3 p.m.
Price range: $4-12
When high school students imagine what lunchtime in college is going to be like, this is probably what they're picturing. Campus Center Food Court is home to the largest variety of ethnic foods on campus. Here you can get a daily plate lunch combo, a bento from Aja, a quick bite from the sushi stand, a custom burger from Da Grill or a healthy salad for your post-workout lunch.
My rec: aja PAC ($9.64). The garlic chicken is the best I've had on the island, and with broccoli, four pieces of gyoza and two mixed fried items, there's so much variety in one bento. It's also hefty — I've yet to finish it all in one sitting.
Donna's rec: Middle Eastern Salad and Kale and Quinoa Salad. She likes the healthy and delicious options at the salad stations.
See also: Raising Cane's first Hawaii location now open near UH-Manoa
Ba-Le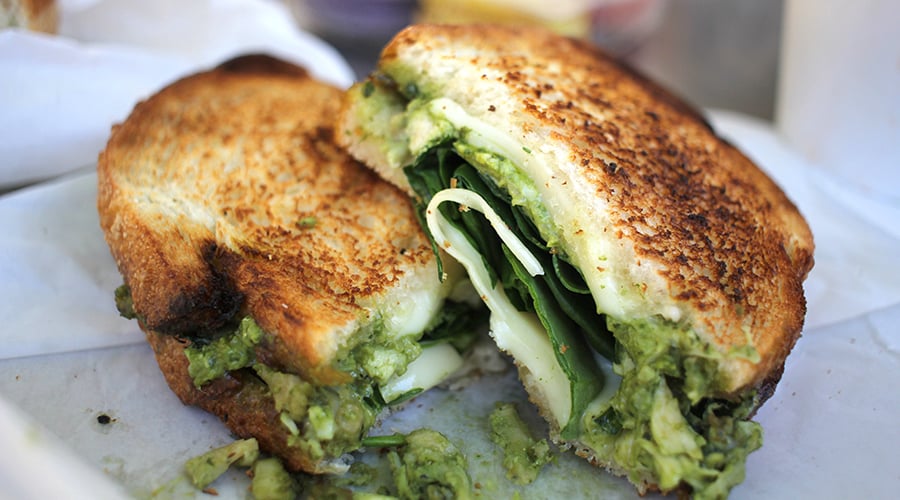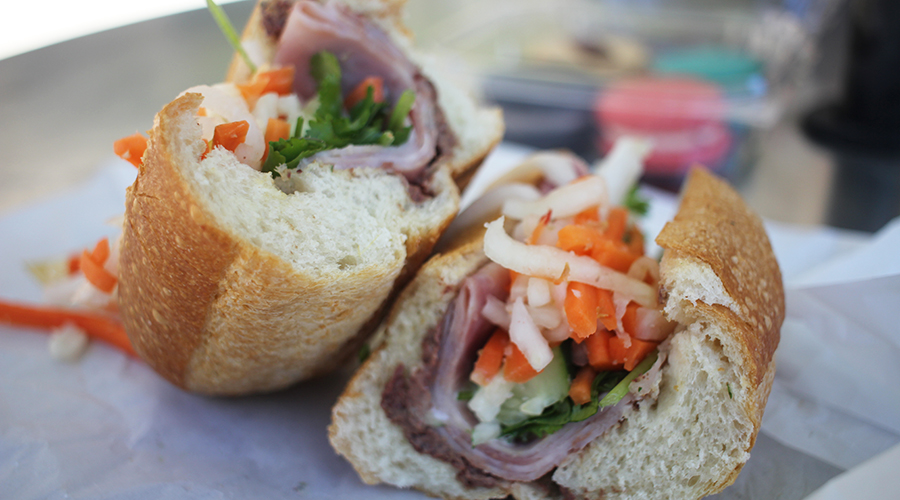 Where: 2445 Campus Rd.
What times: M-T 10 a.m.-8 p.m., F 10 a.m.-9 p.m.
Price Range: $3-10
Ba-Le is one of my favorite places to grab lunch because it has a variety of savory and sweet foods. Milk tea, summer rolls, pho, macarons, fries … it's hard to choose just one. If you're looking for a good pau hana spot with your friends, Ba-Le is also the only place on campus that offers alcoholic beverages. The food is easily portable, but I also love to unwind in the café's casual environment.
My rec: I'm a die-hard Chicken Pesto Panini ($7.50) fan because there's so much cheesy, chicken-y, pesto-y goodness all wrapped up into a loaded sandwich. I always tell myself that I'm going to try something different, but I end up going for the same thing every time.
Donna's rec: Ham & Pate Banh Mi on French bread ($6.50) because it's the classic banh mi combination.
Marcie's rec: Pad thai ($4.50) every time because it's filling, portable, less messy than a sandwich and you always get a good portion for a reasonable price.
See also: Manoa gets a new Feast
Stir-Fresh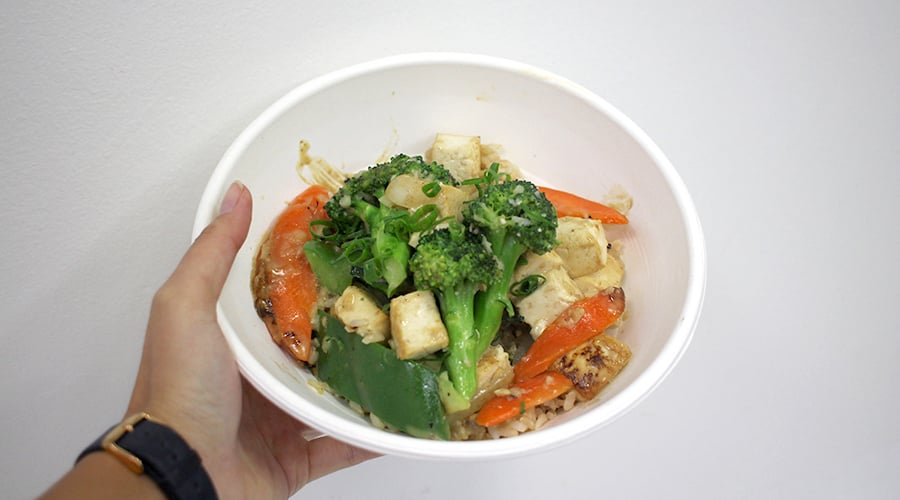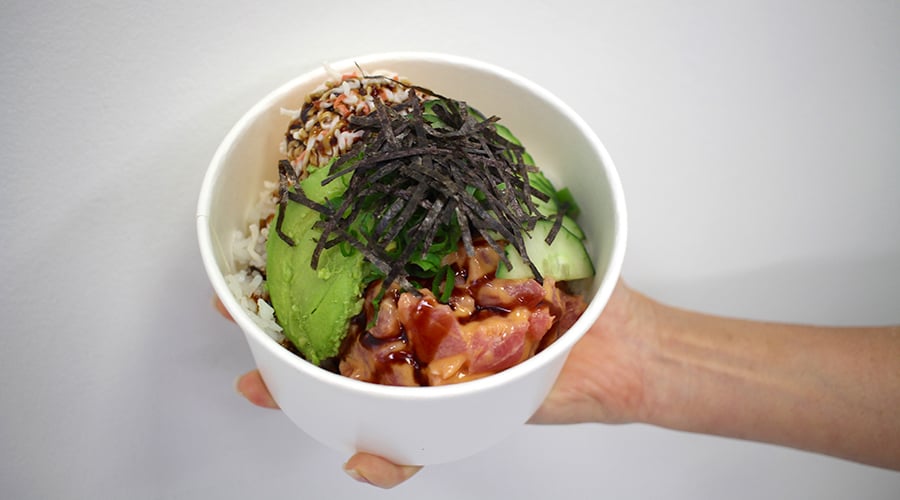 Where: 2465 Campus Rd.
What times: M-F 10 a.m.-2 p.m.
Price range: $6.50-11.50
Known for its healthy dining options, Stir-Fresh is an Asian stir-fry restaurant on the first floor of Campus Center. Choose between a poke bowl or a build-your-own stir-fry with protein, sauce, veggies and starch. For indecisive customers, Stir-Fresh also offers a combo bowl that lets you choose two of their poke bowl dishes.
My rec: I love the tofu stir-fry with Thai curry sauce ($9.29) because I'm not a huge meat-eater. This is the perfect protein-and-veggies option before going to the gym and to keep me full during classes. The yellow curry sauce coats everything, down to the rice.
Donna's rec: Ditto the tofu stir-fry with Thai curry sauce because tofu is a healthy option that pairs well with the slightly sweet curry, and she always loads up on fresh local veggies at the station.
Marcie's rec: Cali and spicy ahi combo bowl ($12.29) because it blends the sweet flavors of the Cali bowl with fresh poke. The Cali bowl includes imitation crab with tobiko, avocado and unagi sauce.
Gateway Cafe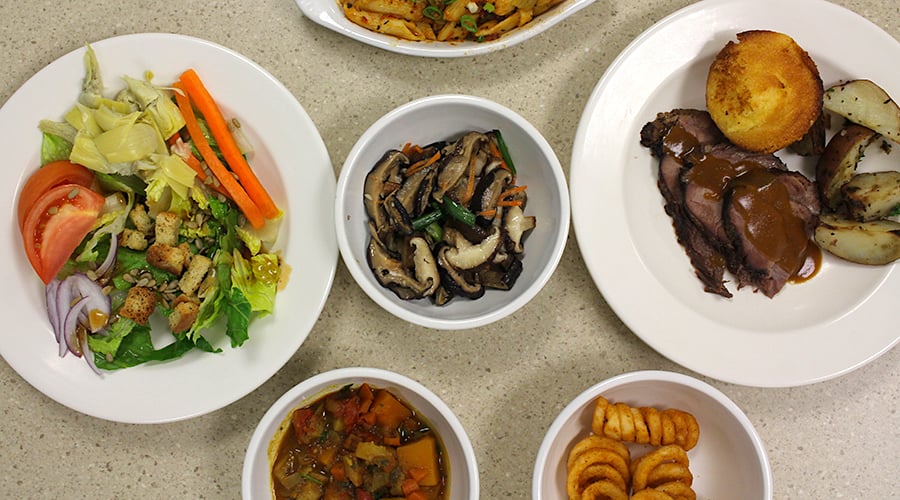 Where: 2563 Dole St.
What times: M-F breakfast 7-10 a.m., lunch 11 a.m.-2 p.m., dinner 4:30-8 p.m.
Price range: $10-$14
One of the two Residential Dining locations, Gateway Cafe is right outside student dorm Gateway House and offers buffet-style breakfast, lunch and dinner on weekdays. The menu changes daily and there's always vegan and vegetarian options. The Simple Servings station serves foods free of the eight most common allergens, so those with dietary restrictions don't have to stress.
My rec: The vegetarian shiitake mushroom stir-fry because it's a healthy, plant-based choice packed with flavor. The shiitake mushrooms are hearty; I don't even miss eating meat. My favorite part of Gateway Cafe is the ice cream station. With six different flavors every day, I can always find one I like. My ultimate faves: Macadamia Nut and Mint Chocolate Chip.
Marcie's rec: The salmon because Gateway Cafe makes a great caper sauce to go with it.