Two Hawai'i Dancers Cast in "Michael Jackson ONE" in Vegas
Best friends, Kent Shinomae and Christianne Moss, outperformed hundreds to appear on stage in the popular Cirque de Soleil production.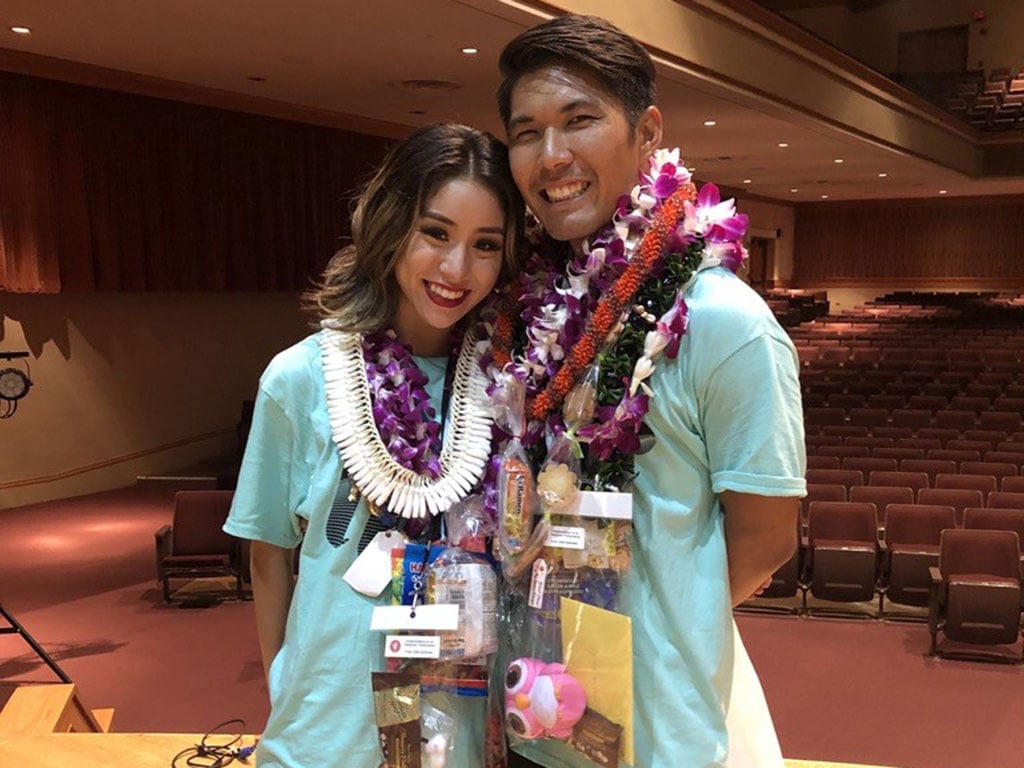 Fighting for a spot in one of Cirque de Soleil's premier Las Vegas shows can be off-the-charts intense, mentally and physically. Yet, two Honolulu dancers and friends, Kent Shinomae, 31, and Christianne Moss, 23, got in the zone and outperformed hundreds around the world to land the dream gig.
Competing for the Cirque show was intimidating, and definitely not black or white. The company has multiple shows to fill, so tryouts are not for any particular production. There are ballet routines for Mystère, groovy numbers for The Beatles LOVE, while MJ ONE leans heavily on hip-hop and contemporary moves. Dancers need to be accomplished in all areas to wow producers, creative directors and casting agents.
"The auditions were two days from 8 a.m. to 5 p.m., and 700 to 800 dancers from all around the world were trying out at different venues nationally," Shinomae says. "We were informed by email about our progress and advancements. Soon enough, we knew both of us were getting scouted for MJ's show. They asked me if I knew how to breakdance."
Moss adds: "We kept texting back and forth, 'did you get another email?'"
Eventually, after several callbacks, they both received the news: They got in. And not only did they secure spots, but they were also the only two to make it in with full-time contracts for a year. Boom!
They made their Vegas debuts at Mandalay Bay on the Vegas Strip in December, and now dance five nights a week, two shows a night, in the hugely popular, dancer-and-acrobat-driven spectacle with Michael Jackson's vast and beloved collection of hits as the soundtrack.
"Since not being able to perform for two years, dancing for an audience is euphoric," Moss says.
And even though they were competing against each other at the auditions, they had and continue to have each other's back every step, move and unexpected turn of the way.
"Honestly, we support each other as best friends," Shinomae says. "We're able to push each other and give constructive criticism. I would watch her and give my feedback. Sometimes I would be inspired by a move she made and use it in my routine, but add my own twist."
Shinomae and Moss have a long history together as rising dancers. He was her teacher at Honolulu Dance Studio years ago, and always believed she had a solid future in dance. Shinomae himself has 21 years of experience in the arts and has taught at a handful of studios across the island. "His mentoring and teaching style of being humble and working hard pushed me to do my best, especially when I had my doubts," Moss says. "In 2017, we came to Vegas and saw a Cirque show. I asked him if he thought I could ever dance in a show like that, he said, 'of course.' And here we are," Moss says.
As exciting as all of it is, and they are on the ninth island, they do miss home. "I miss beaches," Moss says. "We eat out a lot, Korean BBQ and sushi, food that reminds us of home. But I'm so fortunate Kent is here. He's family. He's my emotional support and my emergency contact."
Shinomae laughs. "Christi is fun, and I need that," he says. "She helps me come out of my shell and has been an amazing friend. I'm truly grateful she's in my life and on this journey with me."
View this post on Instagram