Tweets from the road: Marathon 2010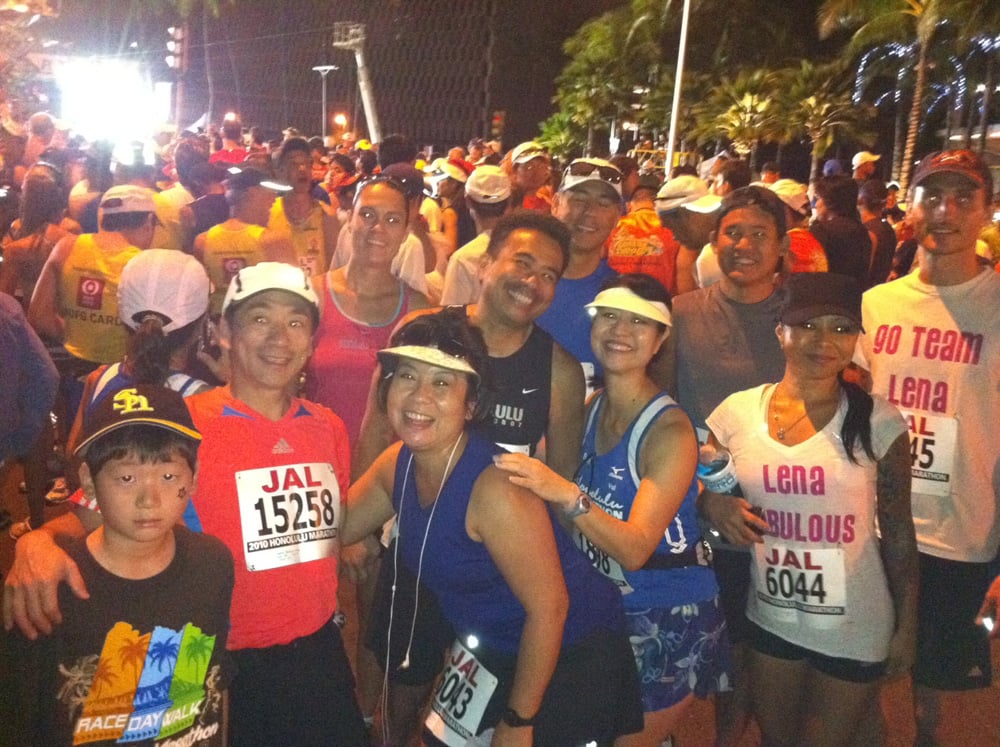 Yesterday was (I think) my 17th marathon. I want to say that I knew going in to the 38th annual Honolulu Marathon that this would be my slowest and most painful run ever. I'd been having foot problems all year, changing shoes to progressively feel better but not quite fix the problem. So don't ask me about my time, I'm too embarrassed.
It was the smallest Honolulu Marathon since 1991, but you would never know it by the mass of humanity packed like sardines on Ala Moana Blvd. at 5 a.m. As we waited for the start, I gave my shy and docile friend, Lena Hanson, final instructions on how to hold her own against sweaty tourists jostling for position during her first marathon.
I knew a lot of first time marathoners yesterday, which is unusual. It's so funny to see the fear in their eyes as they embark on 26.2 miles of the unknown, although they've been training all year for it. Hopefully, if you've never done a marathon before, you got a taste of what it's like through my live tweets along the route. If you're a veteran marathoner, I hope I captured the experience as you know it.
We were lucky that it didn't rain the way it did in 2008 and 2009; those storms provided conditions that resulted in slower times and more lost toenails. However, yesterday's marathon was at 80 percent humidity from 5 a.m., so we were sweating and miserable before the run started. I guess you just can't win! The hot and humid conditions probably contributed to the overwhelming amount of ambulances speeding through the course — at the 24th mile, even I found one of my veteran marathoning friends had passed out on the sidewalk. (I was already on my way to my slowest marathon, but since I stayed with her till the ambulance came, she said I could blame my time on her. So I will!)
When we got to the medical tent, one of the doctors recounted several instances of people who had jumped into the marathon on a whim, without training — including one man who collapsed before he even finished the first mile. "You wouldn't believe what we've seen today," he said in amazement. Even more amazing, I'll bet some of those people show up at next year's event.
People often ask why my running friends and I do this grueling race, sometimes through injury and always with the reward of two days of stiff muscles. The answer for this, and some other extreme things we do, is pretty much "Because I can." Once you do a marathon, you often get hooked on the camaraderie, the character-building experience, and of course, wearing the badge of pride afterward.
If you missed my tweets, you can still scroll through some of the pictures I took with my phone, below, and additional videos here. Note that I didn't capture three things yesterday:
People who had collapsed on the sidewalk, to preserve their privacy and dignity.
Christie Adams, who dresses like a Christmas elf and plays her accordion on Kalanianaole. I was on the other side of the road and had to keep moving.
Theone Chock from Kamehameha Schools, who is in charge of the kids who greet you at the end with shell lei. Every year, when I see her smiling face, I know my run is officially over. This year —I guess because I took so long— I never saw her. So if any of you know Theone, please let her know I'm waiting to get the signal that my marathon is done.
By the way, many of you asked if the Vitalsox worked on the marathon for me. They did work for my legs; however, it was too late to fix my feet. I gave a pair to Christine Lu to sleep in for recovery and she said they were like magic socks for her.
========
You can read all of Melissa's blogs at www.nonstophonolulu.com/urbanmixplate. Follow Melissa on Twitter@Melissa808, on Foursquare as Melissa808, or email at Melissa@nonstophonolulu.com.
My recent blog posts:
What's up with the knee high socks?
I want a Bit of Sugar!
Terry's Place and the Underground Chefs
What's your passion?
Hawaii: In Real Life at Padovani's Chocolates
Black Friday aftermath
Happy Thanksgiving
Introducing Hawaii: In Real Life
Visiting the Waialua cacao farm
It's super sake week!
Breakfast at Eggs n' Things
Stewing for a good cause
Sushi Surfer Sliders and more