How Tutoring Supports Learning
Discover great tutoring resources and helpful homework tips from the experts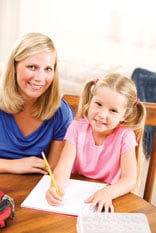 There are many reasons children may need tutors. Teachers and counselors may recommend them because grades are declining, homework assignments seem increasingly difficult, tests may cause extreme anxiety, self-esteem may be dropping, there is a loss of interest in learning or a resistance to homework. Tutoring can be beneficial in many ways. Fortunately, there are great tutoring resources on Oahu.
Dr. Takahashi Juku Tutorial
Benefits of tutoring:
Working closely with teachers, students can adopt strategies most effective for them. In a large classroom, students are often presented with only one style of instruction or one strategy, which may not be best suited to their individual learning styles.
Immediate feedback and guidance allow students to learn at a faster, more effective pace. In classroom settings, students may not be making the same types of mistakes as others. Tutoring enables students to identify the types of mistakes they make, instead of just getting the correct answer. When students understand where their mistakes are made, they can acknowledge them and avoid making the same mistakes again.
Developing a logical process to work through intricate problems allows students to become more self-reliant and less dependent on someone else to tell them how to get the answer. When this skill is developed, students are able to tackle problems whose answers might not seem obvious.
Services provided:
Subject enhancement, foreign language, practice testing and intensive night study classes.
Specialties: Preparation for private-school admissions, SSAT (fifth- to eighth-graders), PSAT and SAT II.
What sets it apart?
Emphasizing individualized attention for each student, tutors at Juku teach a maximum of two students per session. This allows students to complete one academic year's worth of material in less than 20 hours. It believes every student learns differently; thus, all students are on individualized lesson plans tailored specifically to their needs and goals.
All students experience significant academic growth.
Developing confidence in one's inherent potential is a hallmark of the Juku philosophy.
Kid Potential Hawaii
Services provided:
Kid Potential Hawaii is one of 550 providers of a nationally researched pair of programs called PACE and Master the Code, whose goal is to build brain-based learning skills until students reach or exceed age-appropriate levels.
Specialties:

Kid Potential Hawaii works on the six areas of the brain that govern learning:


• Processing speed

• Active working memory

• Visual processing skills

• Central auditory processing

• Word attack

• Logic and reasoning
If these areas are strong and well developed, students will get As and Bs. If they are weak and underdeveloped, students may struggle in school. Students who complete the program can read, write and spell fluently.
What sets it apart?
Traditional tutoring re-teaches a subject, such as math, reading or history to the struggling brain.
Kid Potential Hawaii trains the brain to grow and develop new tracks and connections that result in permanent change.
It helps to change the lives of children and adults with:
• High IQs and low grades
• Dyslexia, ADD/ADHD
• Learning disabilities
• Overachievement issues, who want to super size their brains.
Results are guaranteed.
Quick Stars Tutoring
Services provided: Quick Stars Tutoring is 100 percent committed to children's success. Locally owned and operated, it gives personalized attention to both students and parents. It listens to your concerns and communicates closely about your child's progress.
Specialties:
The mission of Quick Stars Tutoring is to motivate students to reach their highest potential. Its tutoring is one-on-one, and teaches all subjects, from preschool to college level.
What sets it apart?
One-on-one tutoring gives students undivided attention, which is not always available in classrooms. Individualized programs meet students' specific needs. Parents often see major differences in their children's confidence levels. The key to true learning is in the heart and skills of the teacher. Quick Stars' well-trained, professional tutors are able to motivate and encourage children.
It is not uncommon for parents to see results as soon as the third or fourth tutoring session with Quick Stars. Students have raised their grades from Fs to As and improved reading and math scores by two grade levels.
Should you prep your child for private-school admissions and
other test taking?
It is recommended students prepare for private-school admissions, SSAT and SAST testing three to six months in advance. They should learn test-taking strategies, multiple-choice techniques, math concepts and essay writing.
Alternative Learning Solutions Hawaii
Services provided:
It provides solutions for families whose children have learning disabilities, and attend schools or work with tutors that do not have the resources or methodologies to help.
Specialties:
The Davis method provides a missing piece for dyslexia and other learning challenges. Children or adults may advance one to five grade levels in reading in one week.
What sets it apart?
Alternative Learning Solutions Hawaii is not traditional tutoring. It provides students with tools that make learning and reading easier. It teaches them how they learn best and the methods that match their unique learning styles, so they can perform at their best. Knowing how they learn best increases their self-esteem and enables self-advocacy.
There is no drill or repetition; visualization is the key. Alternative Learning Solutions uses a comprehensive, integrated approach, looking at all factors that impact learning.
Its approach is geared to the creative, three-dimensional thinking strengths that accompany dyslexia. It combines multisensory techniques to resolve attention-focusing issues and perceptual problems with hands-on methods for mastering sight words, reading fluency and comprehension. It breaks down major learning barriers and often results in dramatic reading improvement. This method may also be an alternative to medication for ADHD.
Wiz Kids Learning Centers
Services provided:
Wiz Kids Learning Centers has developed a successful method of teaching math, reading and writing to students in grades K through 12. Lessons are given after school and on Saturday.
Specialties:
The multisensory method of instruction provides a maximum amount of learning in a minimum amount of time.
What sets it apart?
Affordable and effective, it's unlike any other learning system. Rather than simply walking students through worksheets or assisting with homework, Wiz Kids is a productive, exciting way to learn. Lessons accommodate students at any ability levels. All students benefit because the programs are personalized. Pre and post tests measure the students' improvement. Outstanding progress is made because each lesson challenges students while ensuring specific skills are mastered. Each lesson has a variety of learning activities, including personalized instruction, hands-on manipulatives and individual computer sessions.
There are never more than two students per tutor. Sessions are 70 minutes, and pre and post tests are free.
Instruction is individual. Students are in a comfortable environment where it is safe to ask questions and make mistakes. Parents can expect one semester's growth in 20 lessons.
Club Z! Tutoring
Services provided:
Club Z! Tutoring provides one-on-one services for children with qualified tutors in the convenience of your own home.
Specialties:
It works with students from ages 4 to adults in all subject areas.
What sets it apart?
Club Z! Tutoring matches tutors to children's needs. All of its tutors have a minimum of a bachelor's degree. Its one-on-one services give children 100 percent attention. Tutoring is driven by each student's strengths and challenges.
Test prep and learning disabilities:
Admissions testing protocol is different in different schools. Parents and their children should strategize with their tutors to reach their desired outcomes of being accepted into their schools of choice.
It considers children's strengths and needs, and customizes the instruction accordingly when working with students with learning disabilities.
KUMON
Services provided:
Tailored math, reading and enrichment programs.
Specialties:
It is based on the simple philosophy that practice makes perfect.
What sets it apart?
Students begin the program at a comfortable starting point and work independently on daily worksheets. To build confidence and improve concentration and self-learning skills, students advance at their own pace. This approach allows students to achieve individual goals.
Tutoring Resources
Alternative Learning Solutions Hawaii
Contact: Vickie Kozuki-AhYouPhone: 664-9608E-mail: Vickie@unlockingdyslexia.comWebsite: davisautism.comClub Z! Tutoring


Contact: Keith Hui

Phone: 688-0111

E-mail: khui@hawaii.rr.com

Website: clubztutoring.com



Dr. Takahashi Juku Tutorial


Contact: Dr. Takahashi Juku

Phone: 949-3366

E-mail: info@juku-in-hawaii.com

Website: juku-in-hawaii.com



Kid Potential Hawaii


Contact: Stacy Smith

Phone: 744-2867

E-mail: kidpotential@hotmail.com

Website: kidpotential.net



Kumon


Contact: Stephanie Nakai

Phone: 1-877-KUMON-71

E-mail: snakai@kumon.com

Website: kumon.com


Quick Stars Tutoring


Contact: Tracy Lee

Phone: 375-244

Website: quickstarstutoring.com


Wiz Kids


Contact: Scott Evans

Pearl City location phone: 455-5437

Kaimuki location phone: 738-5437

E-mail: wiz803@msn.com

Website: wizkids.cc
Helping Your Kids with Homework
Homework usually provides extra practice for skills already learned. Your role as a parent should be mostly one of support and encouragement. Very young children need a lot of support and guidance, while older children should require less assistance.
Children need to know you are interested and available if they need help. You could start be saying, "Let's see what you have for homework tonight." Try to keep your tone light and helpful.
When children share their homework, parents should offer encouragement, such as, "I bet you will be good at that once you practice."
Get children to explain what they need to do. Let them take the reins and develop pride in what they already know. If they are not sure, try to get them on track, saying, for example, "It looks like you need to write these words in a sentence."
If children don't appear to understand the homework, talk them through part of the first problem. Make sure you model (say out loud) how you think about the problem in your head.
Once it is clear children know what to do, encourage them to try it, while you watch. If they are doing well, encourage them and move away.
It may help to set a timer if they are distracted. Do not feel compelled to "teach" children anything new. If they do not understand the concepts, their teacher needs to know; just write a short note.
For children who are hesitant, but start on their homework, come back quickly to offer more encouragement. Make sure they are still doing things correctly. If not, give them a chance to find their mistakes. "I think I see a problem with No. 4. Can you fix it?" Follow with praise, such as, "Good job."
Now, move away again and come back when they are almost done. "Excellent, you've really got the hang of it. Tell me when you are all done." When children are finished with their homework, you might offer a small reward, such as time on the computer or something else they enjoy doing.
Studying for tests and assignments may require a different tack, but the idea is the same. You are there to assist, not to dictate the homework. Children should have ownership of their learning.
Remember to still set aside time every night to read with your children. Nothing assists children's learning more than reading regularly with their parents. Parents' attitudes are important, and can make a great difference in their children's educations.
Homework Advice from Tutoring Experts
Keith Hui, of Club Z! Tutoring, recommends these helpful homework tips for parents:
• Provide a regular, quiet study area in which your children can do their work.
• Be involved by working with your children and acknowledging their efforts and accomplishments.• Be patient. Support children in the areas in which they need help.• Minimize distractions while they are doing their schoolwork.Tracy Lee, of Quick Stars Tutoring, suggests the following:
• Make homework a priority. Let it be first on the list of things to do after school.
• Encourage, encourage, encourage! Pick out the "good things" in your children's work instead of focusing on the "bad."
• Preschoolers and kindergarteners should have at least a half hour a day of one-on-one teaching time because their attention spans are short. It's better to break the time up into 10-minute intervals.
• First- to sixth-graders should have a minimum of one to two hours of homework a day.