Tucker and Bevvy: Breakfast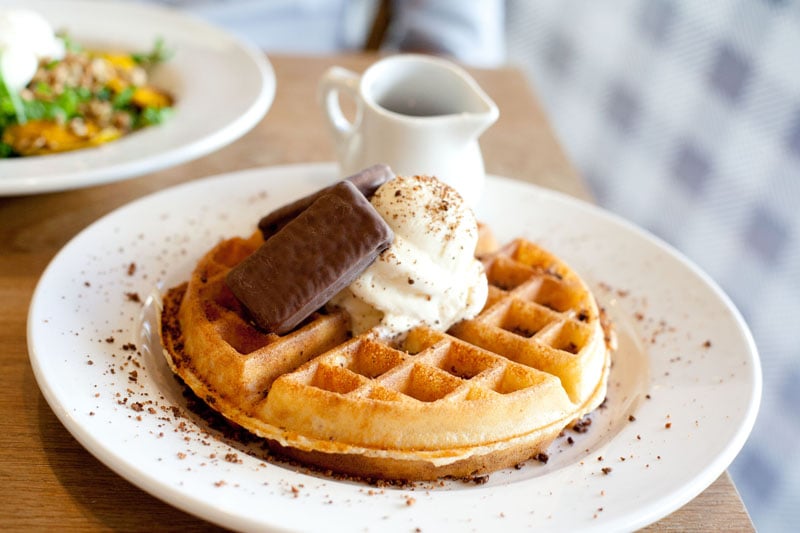 Today's continued exploration of Honolulu's great breakfast boom: the new Tucker and Bevvy Breakfast, in the Hee Hing plaza.
Both the new spot and the original Tucker and Bevvy, a picnic takeout spot, are Sydney-influenced eateries. And "what's hot in Sydney is really just what's healthy," says owner Cecily Ho Sargent. Except the first menu item I'm drawn to at the new Tucker and Bevvy is the Tim Tam waffle, a waffle topped with chocolate-covered cookies and ice cream. It's the kind of breakfast you'd dream up as a kid, or maybe, in my case, the college dining hall.

Kale and quinoa salad (left) and Burger with the Lot
But being an adult now also means finding joy in Tucker and Bevvy's kale and quinoa salad. It's more kale than quinoa, the nutty grain an accent along with tamari-seasoned sunflower seeds. Two poached eggs and roasted kabocha give it a little more heft, but it's still light enough that you can get a waffle, too, or a side of ricotta pancakes. These, though, don't (ahem) stack up against Bills and Koko Head Cafe's.
Love burgers? Try Tucker and Bevvy's: Who knew that Aussies could teach us a thing or two about hamburgers? Here, it's a beef and pork patty paired with beets (in Australia, you're just as likely to find beets in your burger as tomatoes), which gives it a sweet, juicy, earthiness. Oh, and there's an egg in there. And bacon. This is the Burger with the Lot (Aussie slang for The Works).
The rest of the menu is pretty simple—eggs on roast beef hash, eggs on mushrooms and a potato rosti, like a hash brown. Put an egg on it! seems to be Tucker and Bevvy's motto. But then, it wouldn't be breakfast without them.
Dishes $9.50 to $14.50
Hee Hing Plaza, 449 Kapahulu Ave., Suite 203, 732-0050, tuckerandbevvy.com