Towering Tonkatsu Burgers Have Arrived at Sheridan Street's 808 Center 
808 Island Katsu Burgers serves up Canadian Mugifuji pork katsu on purple buns and in bentos.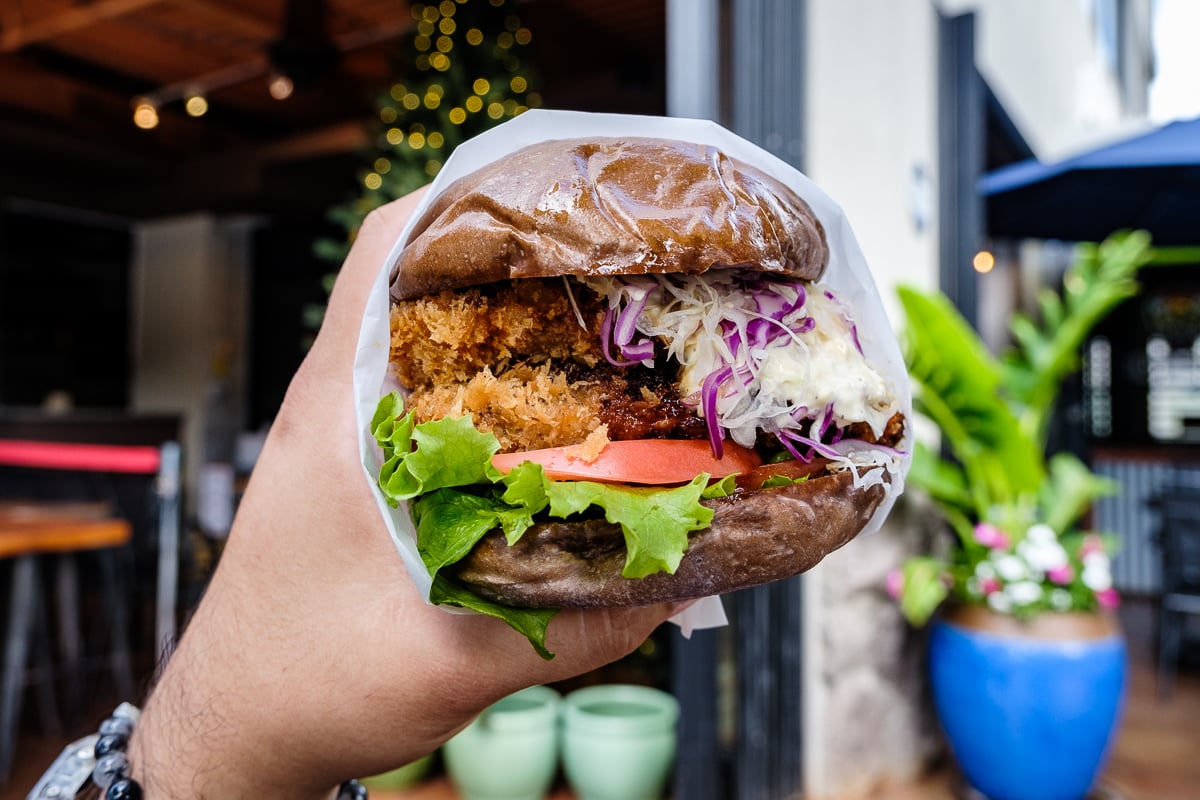 Do you have the same lunchtime dilemma as me? On the one hand, I want a burger: a quick, self-contained meal of juicy patties, a bit of veg and sauce all on a soft bun. On the other hand, I could go for a bento with something fried atop a bed of glistening rice with pickles and a creamy potato salad. Some might tell me to get both, but I just can't let myself do that. Sigh.
Well, now I have a solution—an enormous sandwich from 808 Island Katsu Burger behind Walmart Ke'eaumoku. A newcomer to the 808 Center, it fits right in with the complex's mix of restaurants, including the Szechuanese joint Chengdu Taste and Japanese-style lunch purveyor Sho's Kitchen. It's right at the corner of Sheridan and Rycroft streets, which makes for easy takeout, and there are shaded outdoor tables for dine-in.

---
SEE ALSO: Sho's Kitchen Is Cooking Up Oishii, Affordable Bentos on Sheridan Street
---
The menu is straightforward with a handful of tonkatsu burgers that progress from the tiny Keiki burger (with a 2-ounce katsu for $8.50) to the Maui (4 ounces, $11.50), O'ahu (6 ounces, $14.50), and Big Island (9 ounces, $18.50) burgers. Our group quickly noted that Maui (the island) is much larger than O'ahu, a point of confusion when we perused the menu. These burgers also come with a bit of customization, including your choice of plain or ube bun, the type of katsu (loin or tenderloin), and a choice of sauce to dress your sandwich. You can make it a combo with a canned drink ($1.50) and a side of fries, onion rings or mac salad ($3).
The fries reminded us of the blond spuds you get at Zippy's while the onion rings, for the same $3 price tag, are a disappointingly slim serving with only four rings total. TL;DR: save a few bucks and skip the sides.
If you want a tonkatsu bento or plate, you have that option, but they're limited to the 6-ounce or O'ahu-size katsu ($12.99 to $13.99). Plates are served with rice, mac salad and a small pile of shredded cabbage.
The food is prepared to order so it often takes a while, especially at peak meal times.
Island Katsu Burger uses Mugifuji pork, a Canadian-Japanese hybrid breed of pigs that gorge on various grains, resulting in rich, red meat marbled with pure white fat. In the katsu, it's luscious—tender with pockets of melting umami coated in crispy panko breadcrumbs. The house-made katsu sauce is an acquired taste for those that favor sweeter versions made with fruit, as this one skews more Worcestershire-like with a heavy tinge of vinegar. It cuts through the juicy cutlet like a blade.
---
SEE ALSO: What's New in Honolulu: The 7-Layer Tonkatsu at 'Ohana Hale Marketplace
---
In my enormous Big Island katsu burger, two cutlets are cocooned in chunky tartar sauce with lettuce, tomato slices and a mound of shredded cabbage on a pillowy purple bun ($19). The flavor is excellent on all counts, especially with the choice of the creamy tartar sauce that's borderline egg salad. The sandwich is intimidating at first, but after a few breaks to munch on fries, I manage to finish the whole thing. The veggies add to the height so they technically make this burger a salad, right? Wishful thinking.
So the next time you have a burger-or-bento lunchtime dilemma, remember 808 Island Katsu Burger: They have it all worked out.

Open Monday to Saturday from 10 a.m. to 9 p.m., Sunday from 11 a.m. to 6 p.m., 808 Sheridan St., (808) 773-7477, 808islandburger.com, @808islandkatsuburger