Touring the Hitachino Nest beer brewery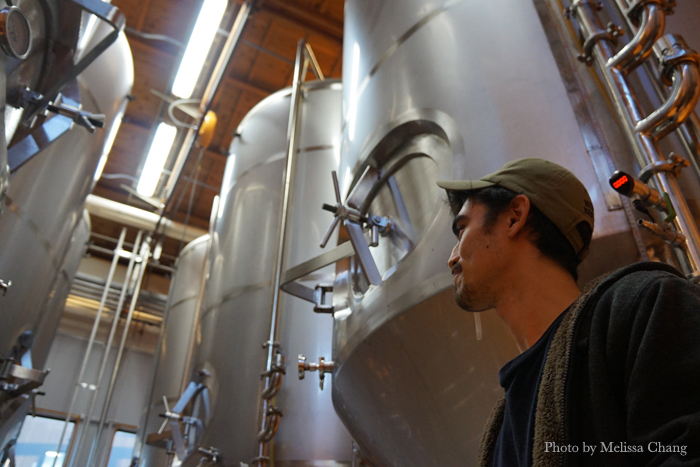 Deb's route took us north toward the coast, to Hitachinaka. Yes, Hitachi brand is the primary employer in this area, so pretty much everything bears its name. These towns are cute, but really small, so it was appropriate that I was wearing my Route 99 tank top on this day. (Route 99 is out in Wahiawa.)
Deb and her manga industry friends are very into beer, so they wanted to explore the Hitachino Nest beer brewery — more accurately, the Kiuchi Brewery, since they make beer, sherry, sake, and in a couple of years, whisky. I'm not a beer drinker, so was happy to find they had something for everyone.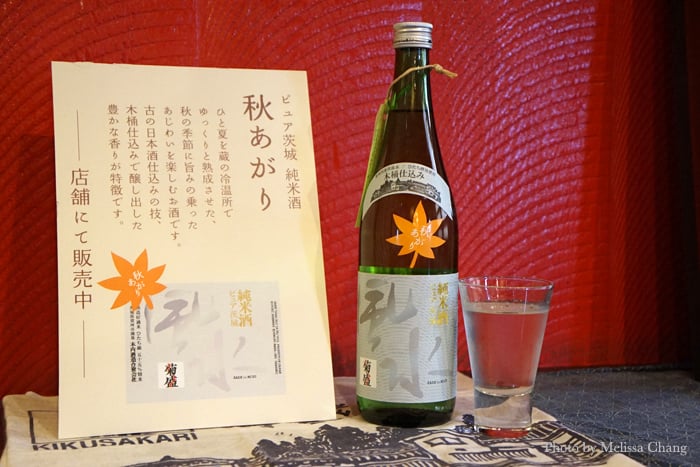 Kiuichi's special seasonal sake, which I had with lunch. It's clean and mostly smooth, with a slight bite and very robust but not manly. (My go-to sake is Narutotai Namagenshu and that is kind of manly.) I say this because that quality will probably appeal to both men and women. It seems versatile enough to drink on its own, or pair with simple Japanese foods like the lunch we were about to have. At 1500 yen, it is a very good buy.
We recommend you go early and grab lunch first at Nakaya, the brewery's restaurant. They make fresh soba noodles using the same water as the brewery, so you know it's high-quality. The sets are pretty reasonable, too.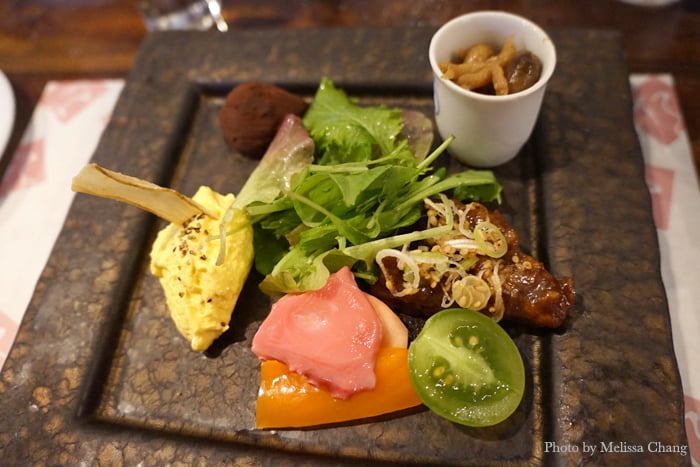 The Sagakura Course (1700 yen) starts with six seasonal appetizers. These were all amazing, very tasty, but in that delicate Japanese way. For example, the veggies at the front of the plate were pickled, but they weren't overpoweringly vinegary, just a little tart and a little sweet. The miso pork was done just so you could get the pork flavor, but not so blatantly meaty that it overpowered the vegetable items. The pumpkin cream cheese mousse on the left, though, was some kind of magical spread that was everything and nothing at once. When I was done, I wanted to lick the plate, especially that mousse.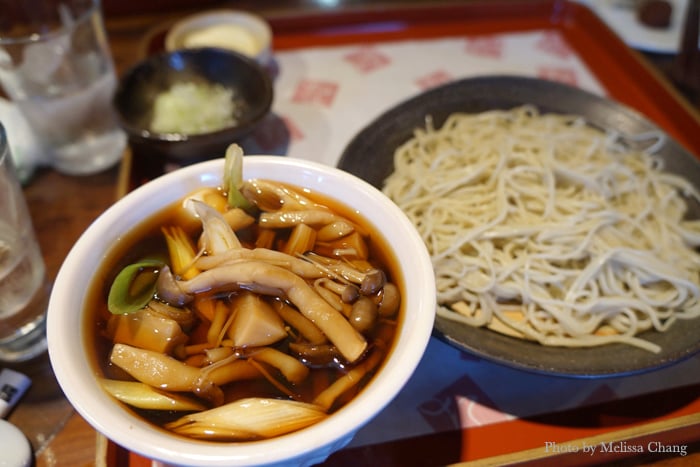 We all ended up ordering some kind of cold soba with hot dipping broth. This one is with a mushroom broth, which was not just rich and earthy, it was chock full of mushrooms! I kind of wished I ordered this one because it was so comforting.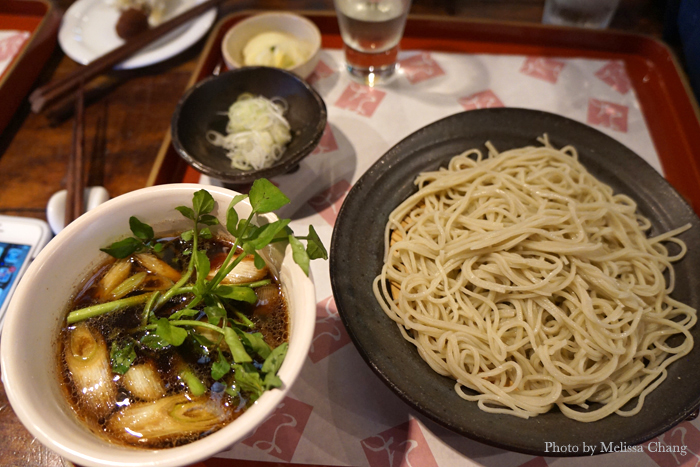 Mine was no less delicious, though. I had the duck soup, and you can't see it but there are medallions of duck in the broth.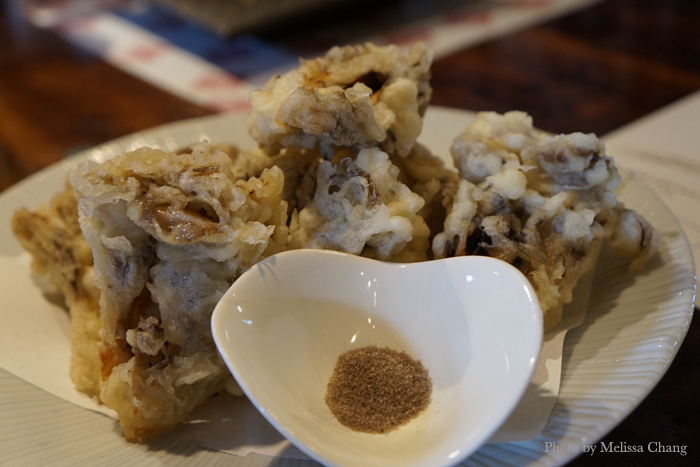 Chris ordered his soba with tempura, so we ordered a side of mushroom tempura to share. Instead of a shoyu dipping sauce, we had a special dipping salt. I'm kind of a fanatic about tempura in Japan, since it's always so light and crunchy, not doughy or oily. This was just perfect.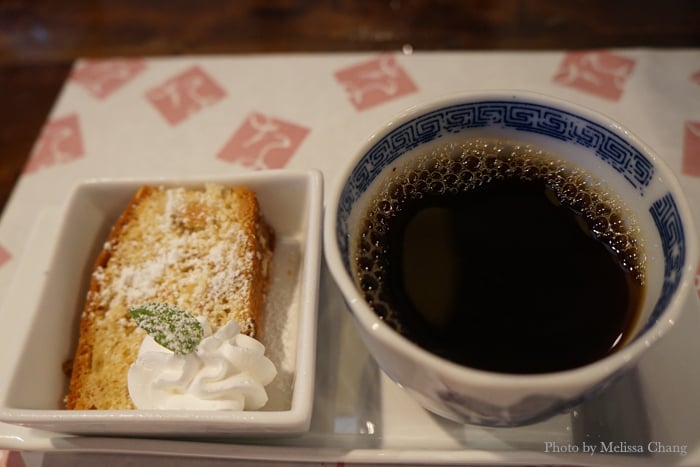 Dessert was included in the lunch set, so we each got a piece of pumpkin cake and coffee made with the same water they use at the brewery. (I couldn't really tell the difference, but it was nice!)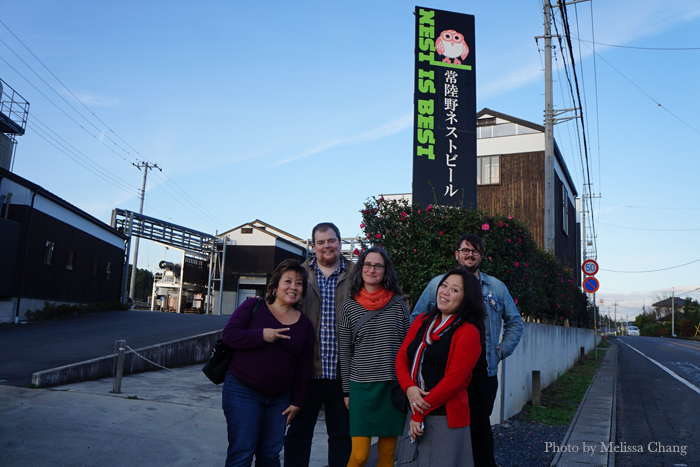 After lunch and a spin around the gift shop, our guides piled us into two cars and drove us to the actual facility where all the beer, sherry and whisky is made.
Our hapa guide, Sam, is a Brit who came to Japan to teach English, but eventually got a job with Hitachino. He took us through every part of the plant from the mash room to bottling and packaging.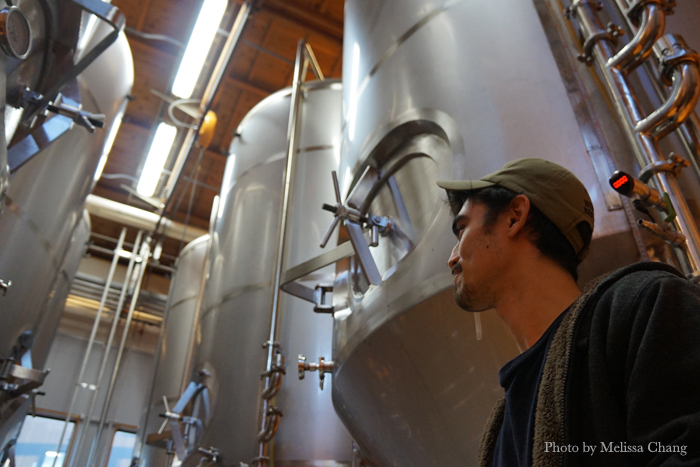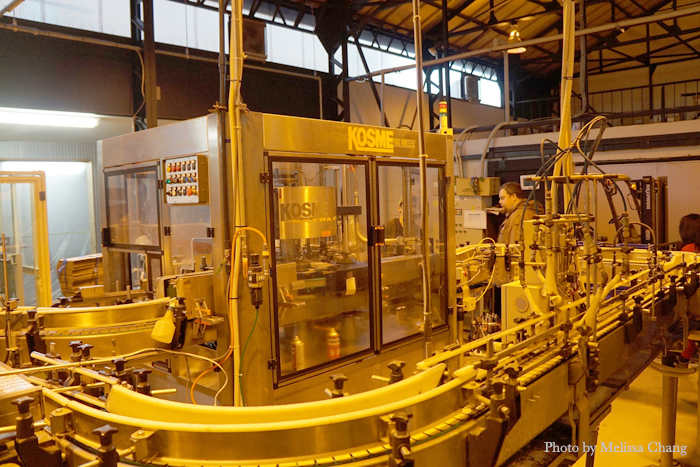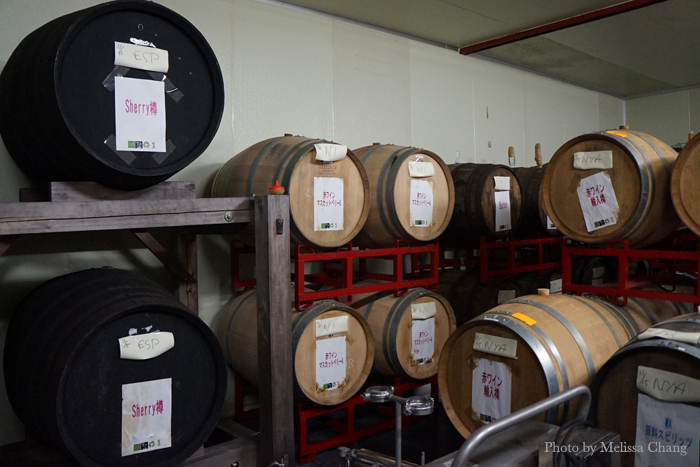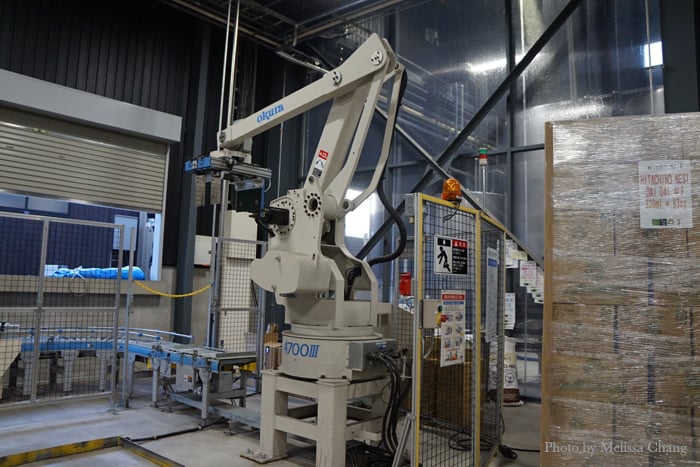 The whisky-making operation is still very new, and you won't see any of their products on the market for at least a couple of years. But the company has bought state-of-the-art equipment to get it going.
I can't wait to try this new whisky. I hope it's good!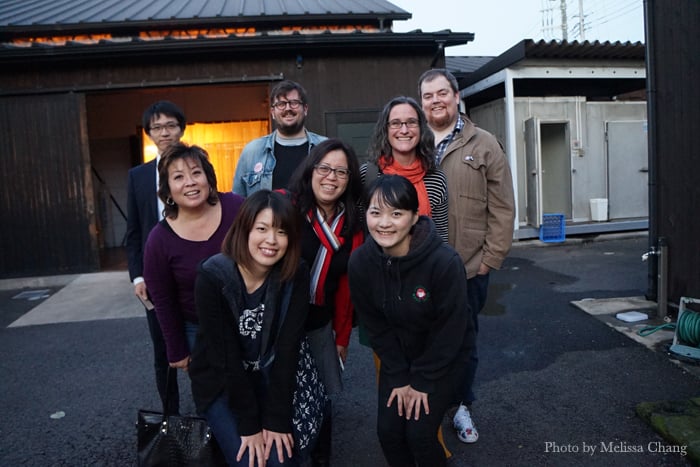 Mahalo to our guides!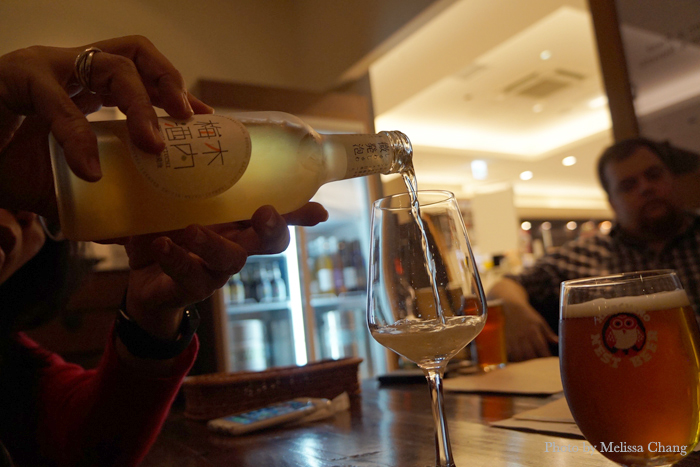 Post-tour sake for me, while everyone else had a beer. The tour is 2,000 yen (about $18) and included the tour, plus a coupon for a free beer of our choice at their bar at Mito Station. Here's the weird thing, though: At the end of the tour, you get to taste a flight of four beers and compare them, as they talk about their various products. There was another couple on the tour with us and they had to share a flight of beer. Then the rest of us, all five, had to share one flight between us. Good thing I don't drink beer. Then at one point we asked for water, and the guides brought ONE glass for five people to share. The tour was very enjoyable, but for 2,000 yen, you would think every person would at least get a small flight of beer to themselves and wouldn't have to share the same glass of water.
Be sure to discuss this when booking the tour, and maybe pretend you're not with anyone so you can get your own flight. For more information on the brewery and tour, click here.
By the way: While we were drinking at Mito Station, our chairs started vibrating! An earthquake, about 4.9 on the Richter scale, hit somewhere nearby. No one else flinched, just us gaijin. Exciting!
When we got back to our hotel, Deb and I drank a bottle of Yamazaki 12-year whisky while watching Japanese TV. I highly recommend watching their various television shows to get a glimpse of the bizarre side of their culture! The program of the night seemed to be a version of The Newlywed Game, where couples had to show how well they know their spouse. But somehow these two naked guys got thrown in the mix, and at one point they did a little dance. (By the way, I'm kidding about the Hokkaido promotion.)
The larger guy on the right is apparently a famous comedian whose schtick is wearing skimpy underwear and getting into poses that make him look completely naked, while reciting the line, "Don't worry, I'm wearing (underwear)." He's so popular right now that I showed this video in a new business pitch on the trip and immediately impressed people with my being very trend-savvy. Alrighty then.
For more photos from this trip, click here.
Up next: The Nakaminato fish market, where I found a new boyfriend!