Tori Richard grand opening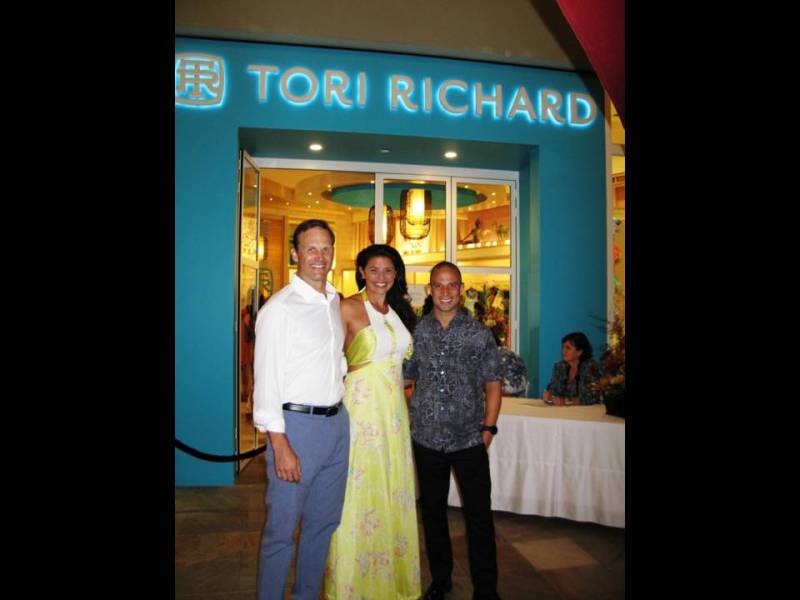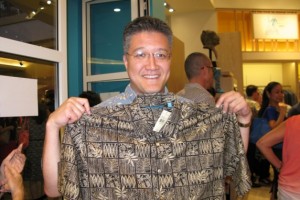 Tori Richard celebrated the grand opening of its new Ala Moana store last night. Through April 8, the vibrant new space will feature artwork from youth participating in Art to Go, an outreach program at the Honolulu Museum of Art. Fifteen percent of the sales of the evening were donated to Art to Go programs. Attendees enjoyed shopping mood music by Taimane.
Can I just say this was one of the most surprising and fun grand openings I've ever attended. First, I was asked to do an impromptu styling on J. Garrett Karr, owner of MW Restaurant (they provided the appetizers for the evening.) It took me three tries to get it right, because the first two shirts I chose… he already owned. Mind you, I just met the man, so you could say I was in tune with his aloha shirt aesthetic. Needless to say, he bought the shirt and immediately wore it.
Next, I met THE most interesting aloha shirt enthusiast ever. His name is Jerry Boster. He and his wife Janice live on the Windward side of the island and know everything there is to know about Tori Richard. She explained to me that shirts with the blue tag are the traditional fit shirts whereas shirts with the orange tag are slim fit, for men like Daniel Dae Kim. Jerry owns 155 Tori Richard shirts and started his collection in 2008. Although he owns aloha shirts from many brands, his Tori Richard collection is his largest. He prefers the cotton lawn line above all else, but has a number of silk and linen pieces for that special occasion. You go Jerry!