Top 5 things to do this weekend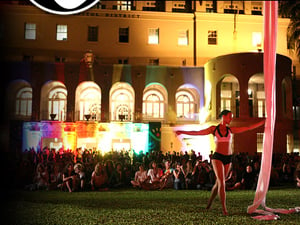 The first weekend of October brings in the wealth of fall with art, music, coffee, history and brunch!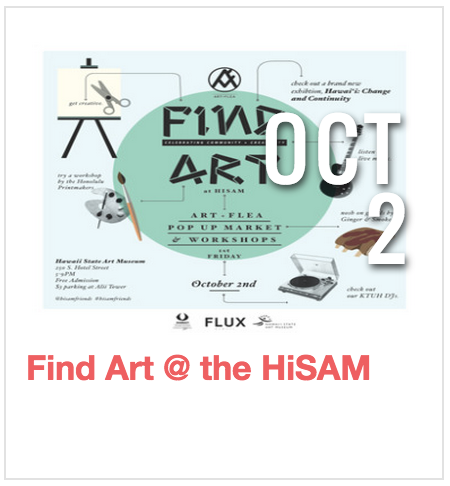 Find Art @ HiSAM
Friday, Oct. 2
6 p.m.
Can you believe it's already First Friday? Find Art, music, fun and more at the Hawaii State Art Museum this Friday with Art + Flea's monthly Find Art popup market featuring local handicraft vendors and creatives. Get hands-on with Honolulu Printmakers and unwind to Dayton Watanabe's slack key performance in the second floor lobby.
Aloha Concert 2015
Friday, Oct. 2
7 p.m.
For the second year in a row, Red Dot Productions brings your favorite YouTube stars and artists to Hawaii for a one-night concert. Last year the likes of AJ Rafaeal, Alex G, Clara C, David Choi, Jason Chen and TimothyDeLaGhetto made the roster. This year features online star Joseph Vincent of L.A. and a host of other YouTube famous acts.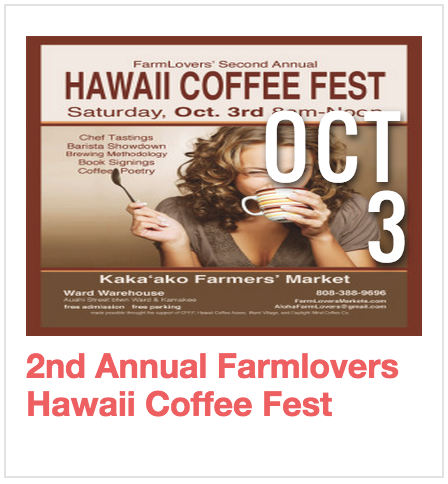 Hawaii Coffee Fest
Saturday, Oct. 3
8 a.m. – 12 p.m.
Kick it into high gear on Saturday morning with a stop by the Kakaako Farmers' Market for the 2nd Annual FarmLovers Hawaii Coffee Fest! From 8 a.m. to noon, explore Hawaii-grown coffees brewed in a variety of ways to bring out their unique flavors and qualities. Learn about coffee from cherry to cup, and everything in between.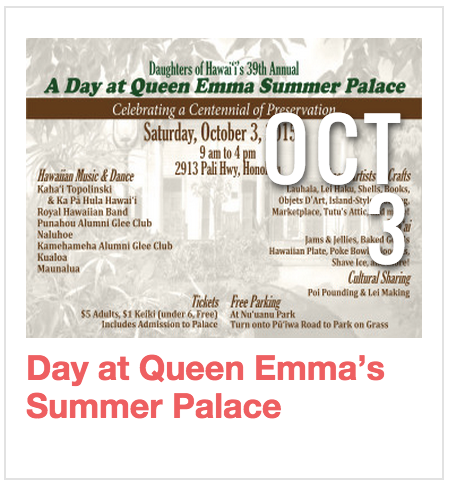 A Day at Queen Emma's Summer Palace
Saturday, Oct. 3
9 a.m.
Here's a chance to get the full immersive experience of one of Hawaii's historical sites. Load the family up for a day at Queen Emma's Summer Palace in Nuuanu. This year marks 100 years of the preservation of the palace, which was saved from destruction in 1915 by the Daughters of Hawaii. Enjoy Hawaiian music and dance and a marketplace stocked full of lauhala, lei haku, books, objets d'art and local-style clothing. Free parking on site.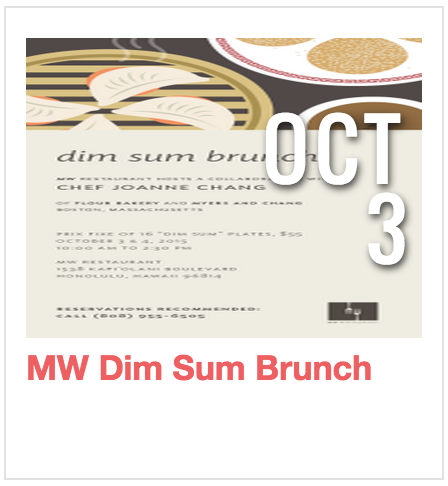 MW Dim Sum Brunch
Saturday, Oct. 3 & Sunday, Oct. 4
10 a.m. – 2:30 p.m.
If you've missed out on past collaborations at MW Restaurant, here's your chance: Brunch this weekend is a three-way collab featuring Joanne Chang of Boston's Flour Bakery and Myers and Chang and MW's Wade Ueoka and Michelle Karr-Ueoka. Guests will enjoy a prix fixe 16-course meal of dim sum-inspired plates. Come hungry!